On the 75th year of India's independence, we are celebrating India's glorious culinary diversity.
We have compiled a list of 75 dishes that India loves. We asked you to vote on our social media handles to tell us which dishes are your favourites.
While the results are obvious it was also heartening to see the growing popularity of dishes that are not mainstream.
Starting with the 75th, here are India's favourite 75 dishes:
75. Rasam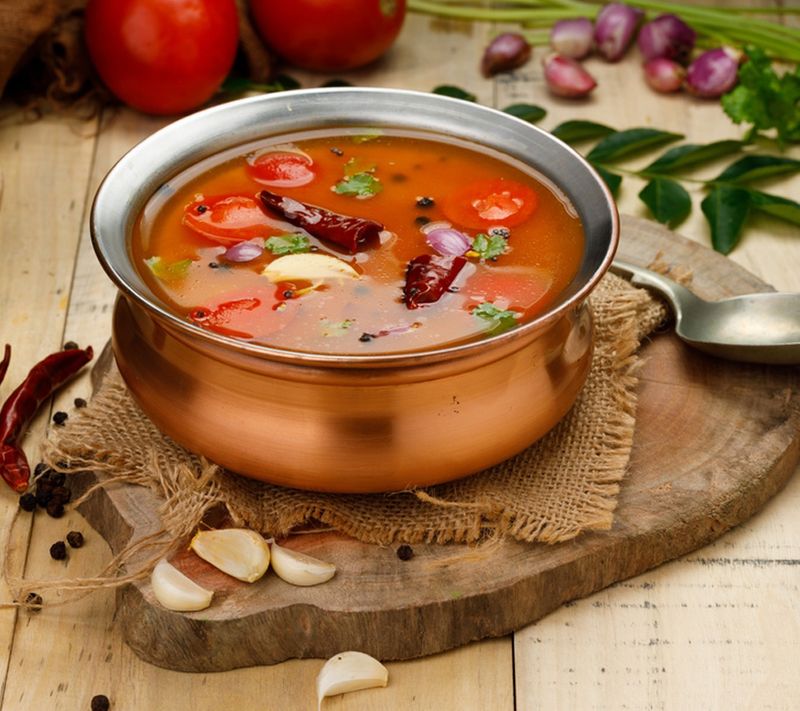 A soup-like broth bursting with an array of flavours – spicy, sour, and mildly sweet – rasam is a south Indian dish best paired with rice. It is called 'rasam' in Tamil and 'charu' in Telugu, and it is traditionally prepared using tamarind juice or tomato and water, and tempered with mustard seeds, cumin seeds, curry leaves, garlic, hing, and black pepper. Rasam is not only a delicious soup/broth that has medicinal benefits too. If made a certain way, it helps soothe cold and cough, and speeds up our metabolism.
Best places to try: ATamilian or Malayali household would be the best place to try rasam or Konkan café at The President, Mumbai (nandu rasam aka crab rasam)
74. Baghare baingan
If you are one of those rare ones who love eggplants, then you must give Hyderabadi baghare baingan a try. Like many other dishes that travelled to India from Central Asia with the Mughals, this tempered eggplant dish travelled to Hyderabad in the form of imam bayaldi. It took on local colours and flavours such as tamarind and besan to become the much-loved baghare baingan. The popularity spread particulary when Aurangzeb invaded the Deccan kingdom. Today, bagharebaingan is not just a wholesome dish on its own, it makes for a great partner to Hyderabadi biryani
Best places to try: Mehfil, Pista House, Grand Hotel in Hyderabad are known for their baghare baingan
73. Dal Pakwan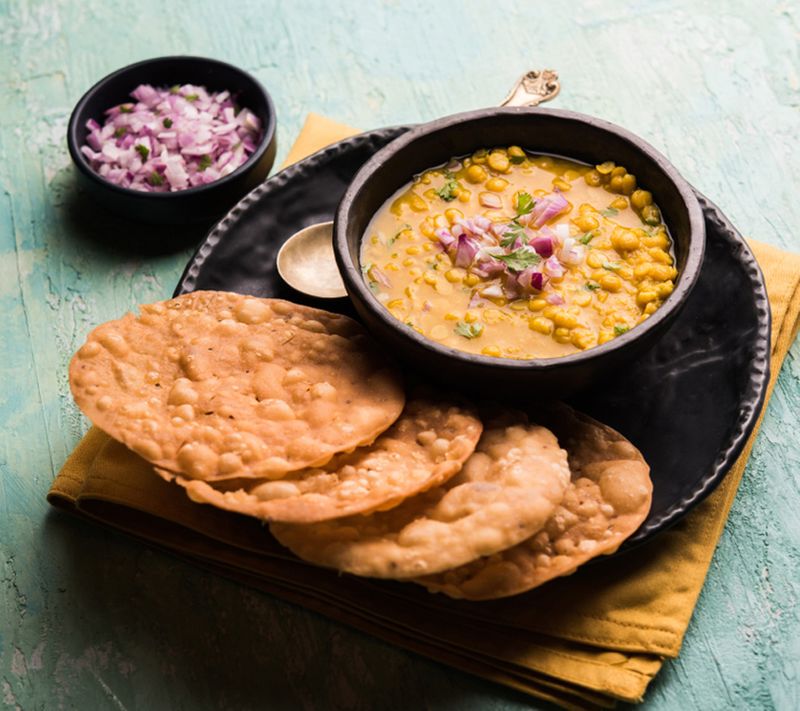 Not many dishes from the Sindhi community have become part of the mainstream culinary conversations in India. Of all the dishes, dal pakwan is perhaps the most popular. The breakfast dish is a wholesome one with spiced dal served with deep-fried flatbread. It is topped with finely chopped onions and chill-coriander chutney. 
Best places to try: Guru Kripa Sion in Mumbai, Sindhi House in Delhi, Sindh Kitchen in Bengaluru
72. Mishti Doi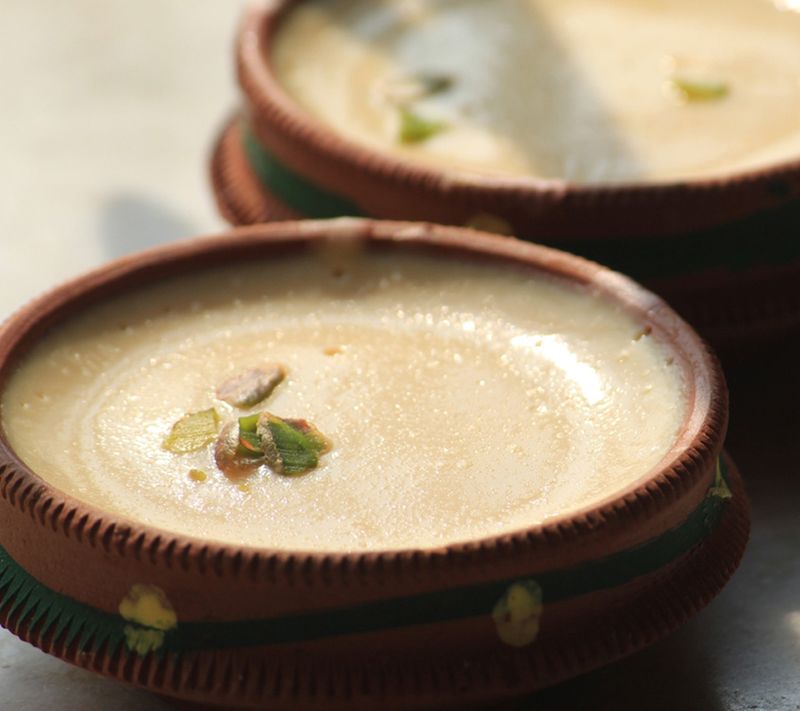 Literally translated into 'sweet curd', mishti doi is one of Bengal's favourite desserts. The curd is set in traditional earthen pots once the milk is sweetened with jaggery. It is said that the tradition of making mishit doi is almost 150 years old.  In the 1800s, doctors used to recommend mishit doi as a remedy for typhoid, since its rich in Vitamin B. 
Best places to try: Jadab Chandra Das, Putiram Sweets, New Naba Krishna Guin sweets in Kolkata have the best mishit doi.
71. Vindaloo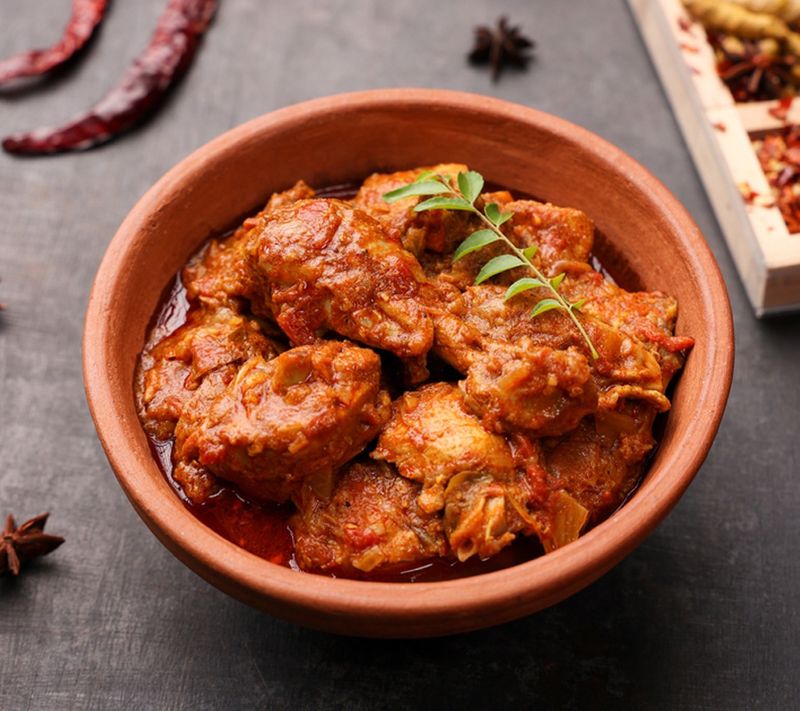 A traditional Indian recipe of the Catholic community of Goa, Vindaloo is an Indian meat curry. As early as 1500, the Portuguese landed in Goa and brought the preparation with them. In contrast to the Portuguese recipe that uses garlic, cloves, thyme, paprika, vinegar, wine, and red pepper paste, the Goan version incorporates Kashmiri chillies and palm vinegar.
Best places to try: Britto's (Goa); Horse Shoe (Goa); Martin's Corner(Goa)
70. Pooran Poli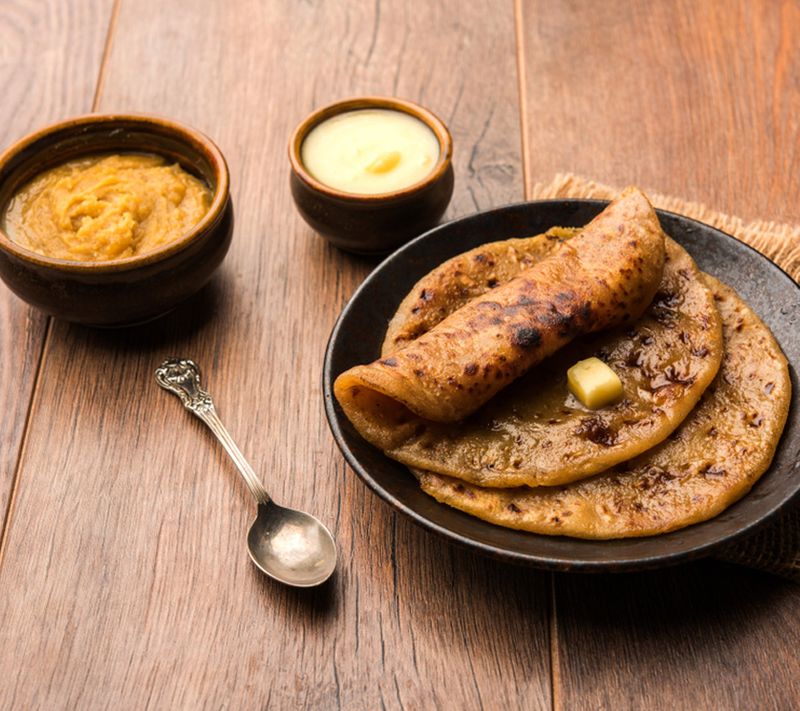 These traditional Indian flatbreads stuffed with sweet lentil filling are served with a generous amount of ghee. It's a signature Maharashtrian dish prepared on almost every occasion. However, it does have its own versions in different states of India, in which the stuffing changes. Like some use jaggery instead of sugar, and some serve it with milk instead of ghee. In Karnataka it is known as Holige or Obbattu in Gujarat and Uppittuu in Kerala and so on.
Best places to try: At home.
69. Upma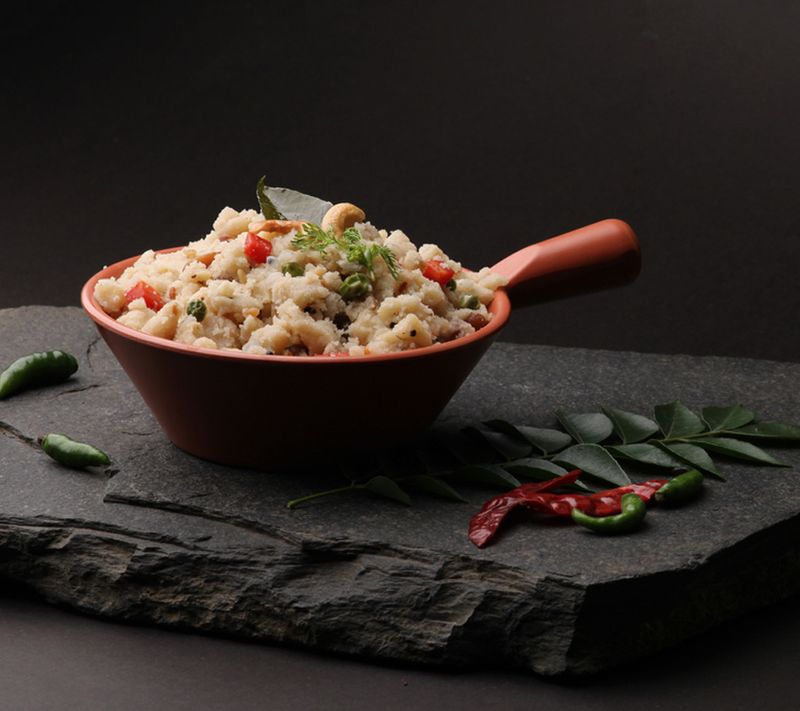 Made with semolina, upma is one of India's favourite breakfasts. Semolina is roasted, tempered ghee with mustard and then cooked with veggies. Water is added to bind A typically south Indian dish has widespread popularity and can be had any time of the day. Etymologically, the word upma is derived from Dravidian words uppu meaning salt and mavu meaning ground grain. 
Best places to try: At home.
68. Rajma Chawal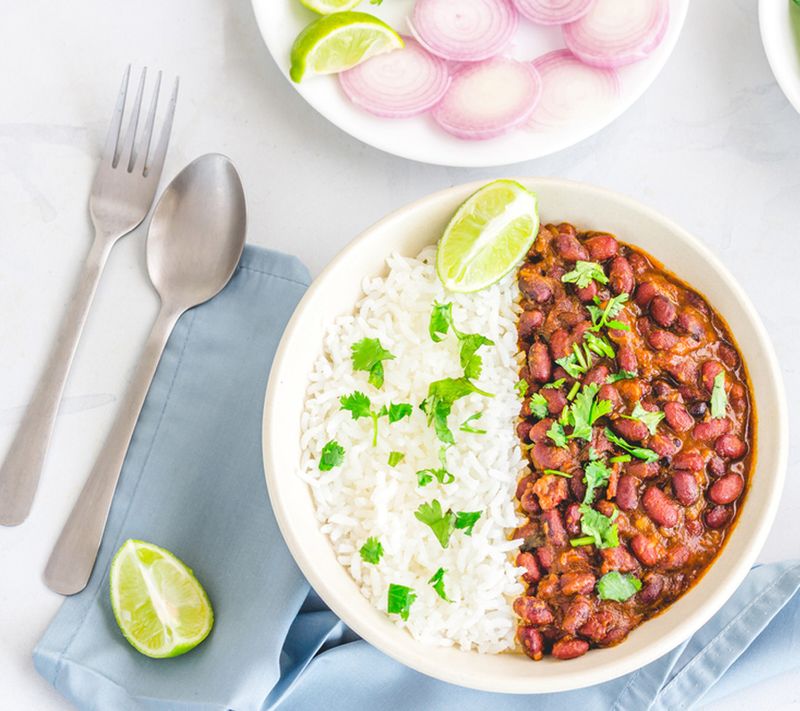 A dish from the core of northern India, rajma chawal is a curried recipe which is served with rice on the side. Considered as comfort food, the dish traces its origin to the North Indian state of Punjab. Made with kidney beans, tomatoes, onions and household spices it makes for a healthy and proteinaceous meal. Served with a variety of condiments in a variety of places, this dish is enough to fill your tummy happy. Definitely, a very wholesome meal!
Best places to try: Jain Chawal Wale; Sitaram Diwan Chand, Sona Sweets Udupi Restaurant in Delhi are renowned for their rajma chawal.
67. Kadhi-Chawal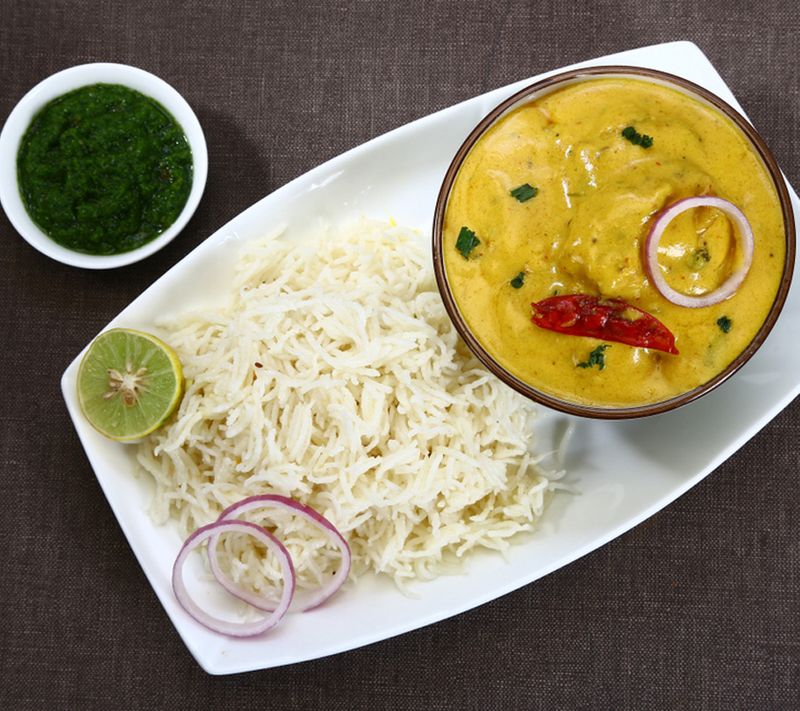 A dense gram-flour-based curry, this Rajasthani dish is comfort from the first bite. Vegetable pakodas are fried and doused in the gravy which also contains curd, lending that sourness to the dish. Now while kadhi is often eaten with rotis, it's the kadhi-chawal combination that's a winner. Here's an interesting bit. Kadhi is also Gujarati, Sindhi, Punjabi, and Maharashtrian—and these different regions have different recipes. Typically, the Punjabi and Gujarati recipes call for buttermilk instead of curd, making it less sour; the Maharashtrian version uses kokum as a souring agent. In the Gujarati kadhi, sometimes bhindi is added instead of the vegetable pakoda. 
Best place to try: Soam, Mumbai; Sharma Bhojnalay. GaliParantheWali, Chandni Chowk, New Delhi; The Rajasthani Pure Vegetarian, Jaipur; Swati Snacks, Panchvati Road, Ahmedabad.
66. Shrikhand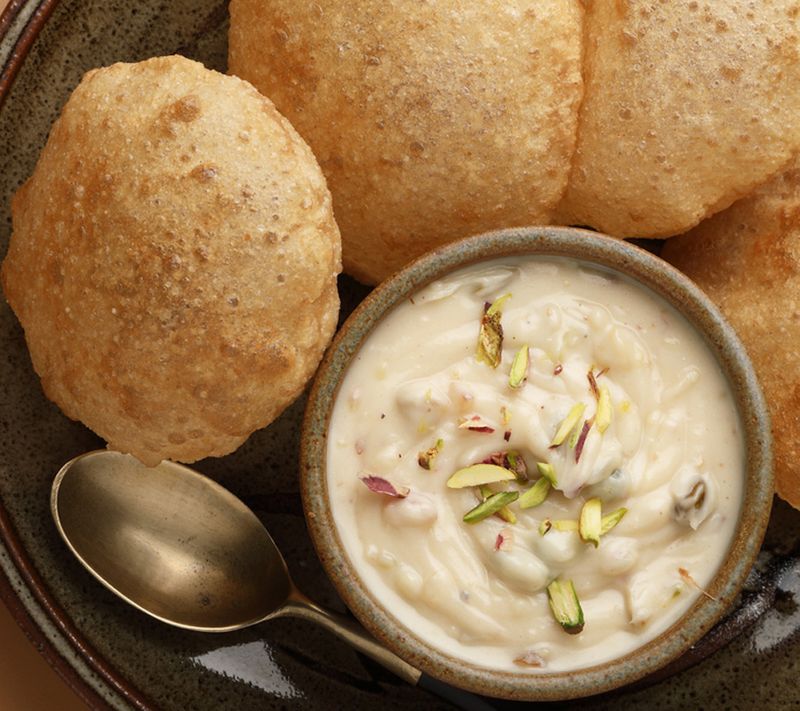 A sweet dish prepared from hung yoghurt and sugar, and flavoured with cardamom, saffron, nuts and sometimes, fruits, shrikhand is part of the cuisines of Maharashtra and Gujarat. There are several legends associated with the invention of shrikhand. Some believe it was created by Mahabharata's Bhima, while a few others believe it was invented by travelling herders, who strained out the whey of yoghurt to make it easy to carry. The herders noticed that the yoghurt turned sour the morning after, so they added sugar and nuts to make it tastier.
Best places to try: ChitaleBandhu in Pune, Panshikar Mithai Kendra in Mumbai, and Vijay Shrikhand Samrat in Vadodara
65. Pachadi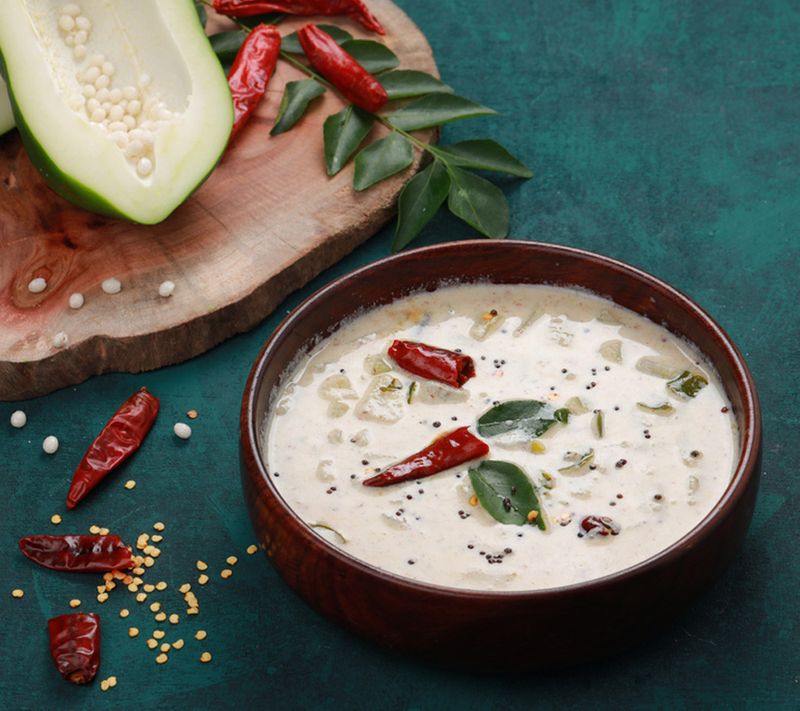 A side dish made with yoghurt and veggies comparable to north Indian raita. Each of the southern states has a different style of pachadi. Everything from eggplants and ladyfingers to cucumber and beetroot are used to make pachadi. A tempering of coconut, mustard seeds, curry leaves is added and mixed with the yoghurt-based dish. 
Best places to try: At home.
64. Rogan Josh
From Persia to Kashmir, the rogan josh has had an exciting journey before making its home in India. This delightfully fragrant curry, identified by its rich red colour, is a signature in Kashmiri cuisine. Interestingly, the Kashmiri Pandits have their own rogan (means clarified butter) that has no onion or garlic. The meat is supposed to be melt-in-the-mouth and despite its appearance, the curry is delicate. Traditionally, the flower of the cockscomb was used to achieve that deep red hue.
Best places to try: Kake da Hotel, Delhi; Sarposh, Bengaluru; Shikhara, Mumbai
63. Aloo Gobi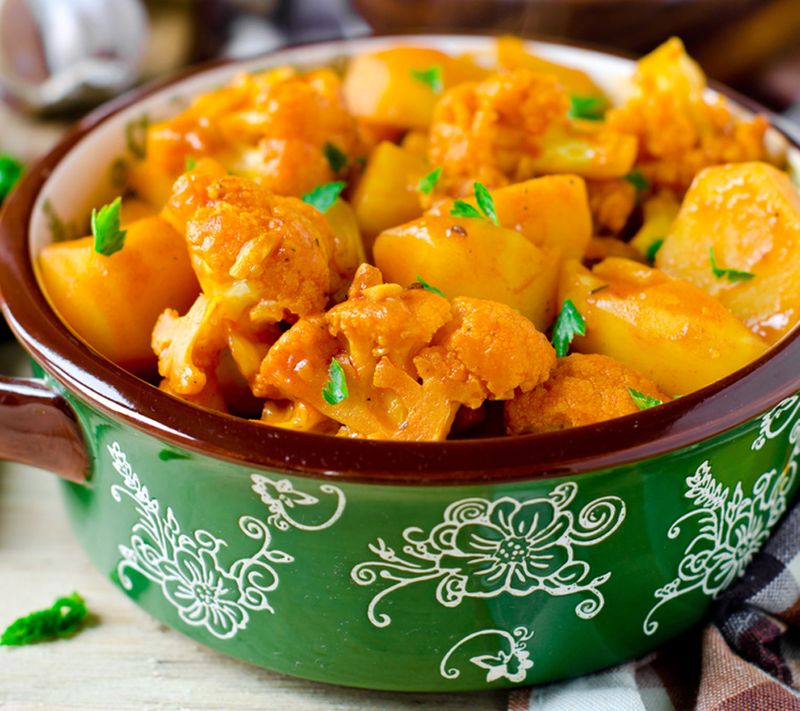 A Punjabi staple dish, aloo gobhi is best served with hot chapatis with ghee. The name is self-explanatory, the dish is made with potatoes and cauliflower. The flavour and seasoning could be anything from cumin, mustard seeds and asafoetida. 
Best place to try: Every home has its own recipe for aloo gobhi.
62. Phirni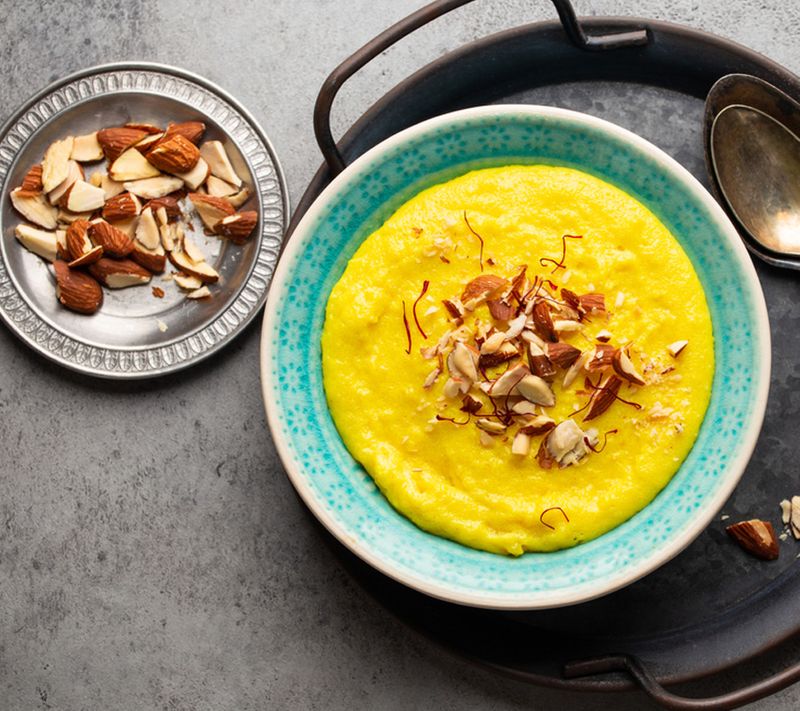 While the history and origin of phirni is still unknown, many believe that it came to India during the Mughal era via Persia or the Middle East. Phirni is a rich and creamy milk pudding. Soaked rice (ground) and milk are cooked on a medium flame for an hour or more to make phirni. It is flavoured with cardamom or saffron strands. Many people use nuts and silver varq (foil) to decorate phirni.
Best places to try:  Tunday Kababi and Azrak in Lucknow, A One Catering shop in Jama Masjid area in Delhi.
61. Modak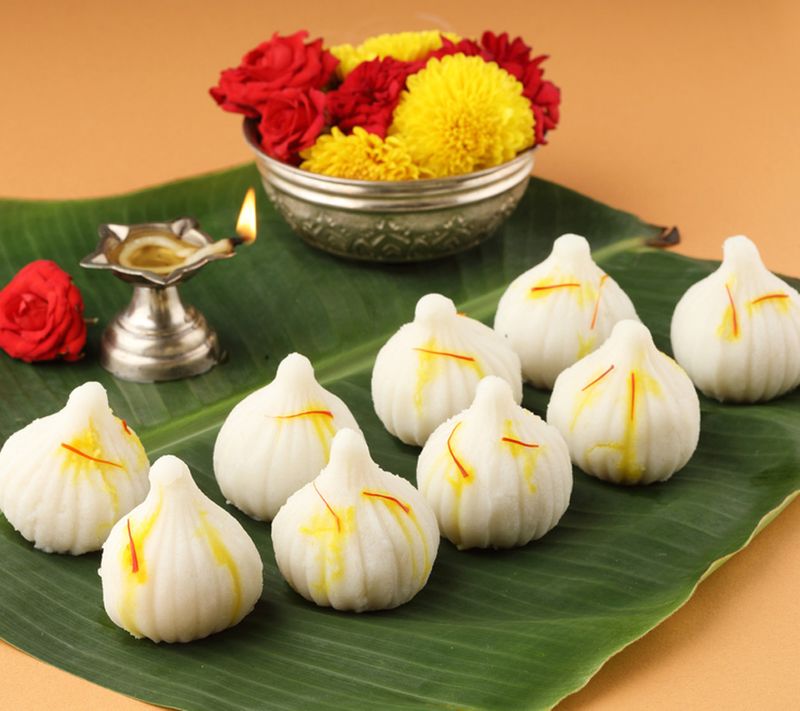 Famous as Lord Ganesha's favourite treat, modak is a Maharashtrian sweetmeat commonly made of khoya and sugar or jaggery. Modak has several varieties, from nut-based to fruit-flavoured—but one of the most popular ones is ukdiche modak, which is a steamed dumpling with coconut-jaggery filling. Modak is eaten all year round as prasad on special days associated with Lord Ganesha, but they more in demand during Ganeshotsav—which is a 10- to 11-day festival centred around the elephant-headed God in Maharashtra.
Best places to try: Aaswad Uphar and Mithai Gruh in Mumbai, Kutirudyog Mandir and UpharGruha, Thane, and home chefs across Mumbai (for ukdiche modak). 
60. Motichoor Laddoo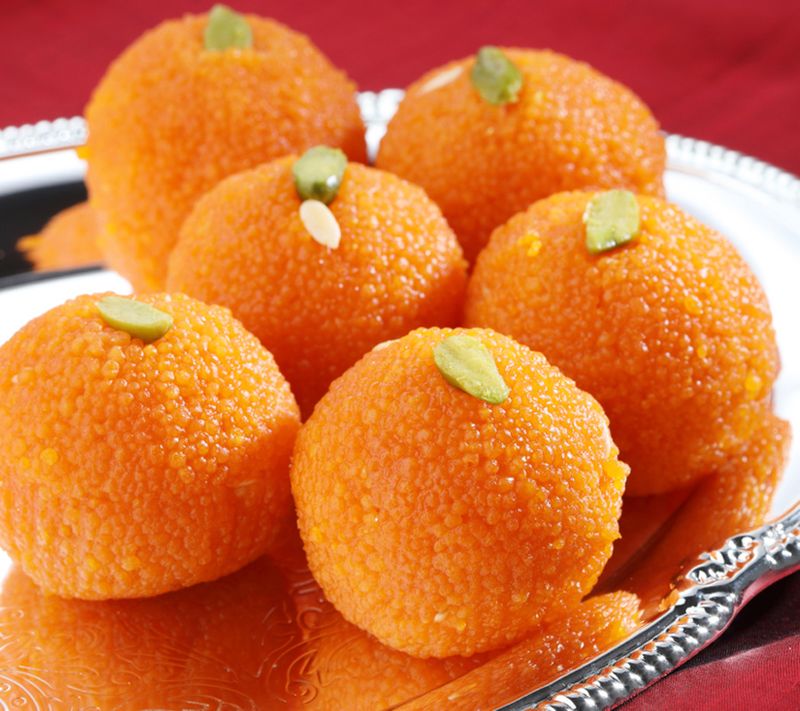 Motichoor laddoo is definitely the staple Indian dessert for any festivities. It's also a quintessential sweet, offered to gods and goddesses as prasad during festivals and auspicious occasions. These sweets have also found their mention in ancient and medieval texts of South and Eastern regions. Prepared from tiny gram-flour pearls, sugar syrup, and flavourings, it is originally said to hail from the Northern region of the country but happens to be a favourite across the country. 
Best places to try: Anupama Sweets (Delhi); Tewari Brothers (Delhi); Trupti (Mumbai); Bombay Sweet Shop (Mumbai).
59. Chingri malaikari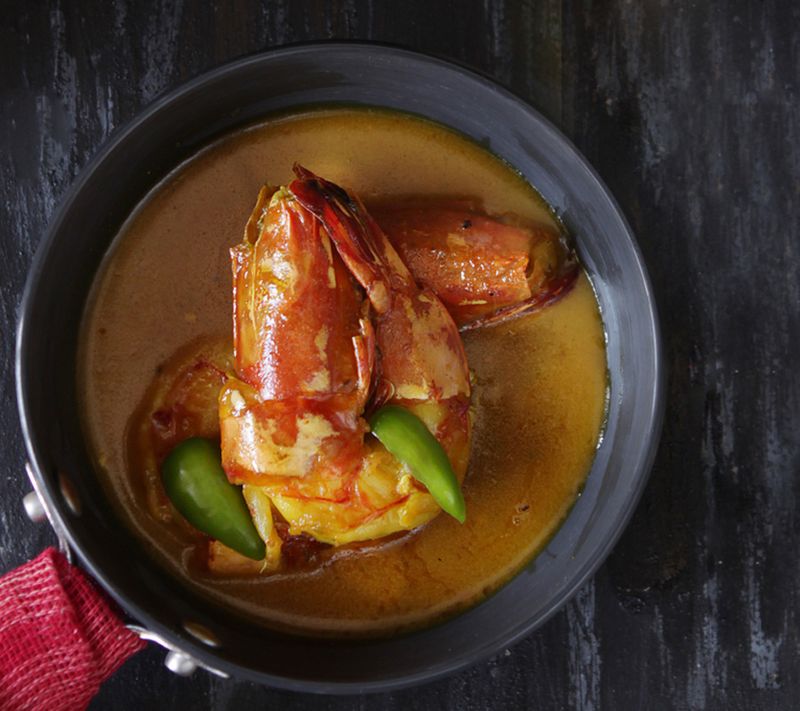 Chingrimalai curry is a decadent prawn curry that can make or break a Bengali wedding feast. If you think the 'malai' refers to cream, it does not—it's the Malay influence on the dish in the form of coconut. Coconut cream and coconut milk form the base of the luscious gravy of chingri malai curry or chingri malaikari.
When it comes to prawns, it has jumbo prawns that add depth of flavour. The smaller prawns or shrimps simply cannot hold up to the richness of the curry. 
Best places to try: 6 Ballygunge Place, Kasturi, Koshe Kosha in Kolkata 
58. Undhiyo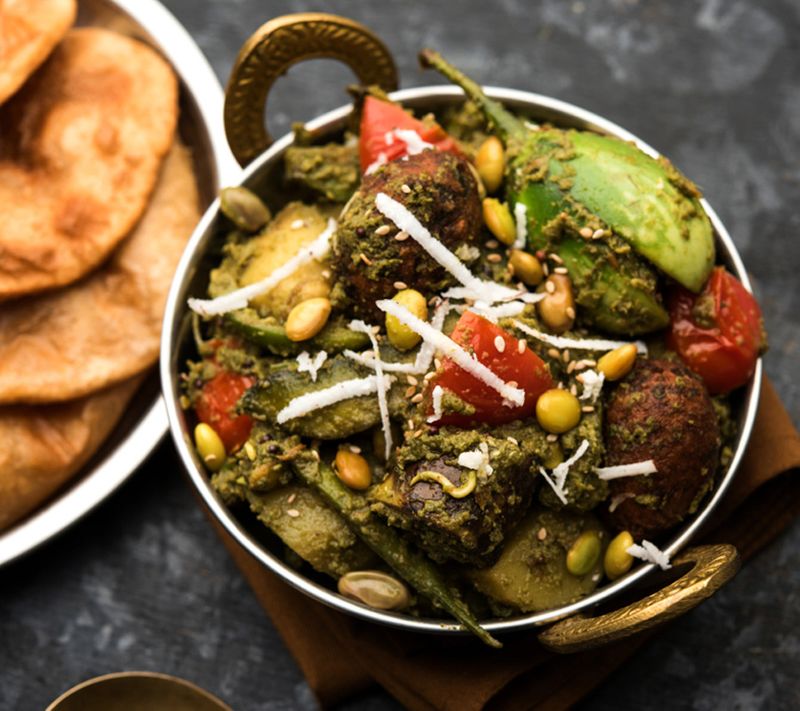 This traditional Gujarati dish originates from Surat and is a beautiful mixture of vegetables cooked traditionally in an earthen pot called 'matlu'. The dish derives its name from undhu which translates to 'upside down' and that's exactly how it's prepared and slowly simmered in a fire pit that adds the smoky flavour to it. It includes ingredients such as yam, sweet potatoes, baby potatoes, brinjals, raw bananas, ivy gourds and pigeon peas.
Best place to try: A Gujarati home.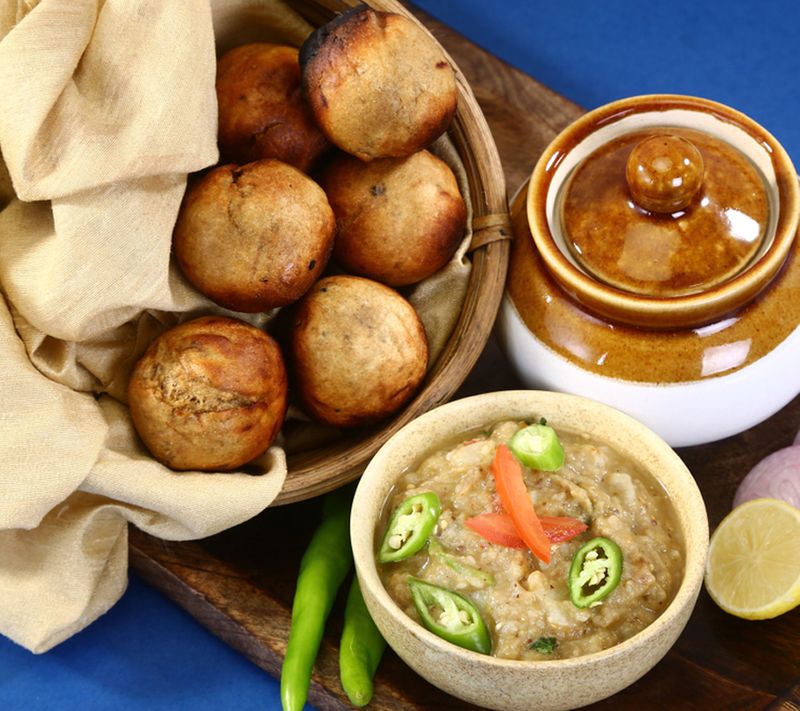 States of Uttar Pradesh, Jharkhand, and Bihar are renowned for the humble dish of litti chokha. Litti is a dough ball, stuffed with sattu, that is baked using wood and charcoal or using dung cakes, and dates back to the Magadh empire. Because it is baked with very little water in it, litti travels well and thus became a common food carried by soldiers and farmers. Chokha is the local mash made by chargrilling potatoes, eggplant, onions and tomatoes, which is tempered with mustard oil, salt, and chillies. This rustic and delicious combination is one of Bihar's famous dishes.
Best places to try: Jeevan Hotel, DK Litti Corner in Patna; Surendra Kewat Litti Chokha in Jamshedpur.
56. Puliyogare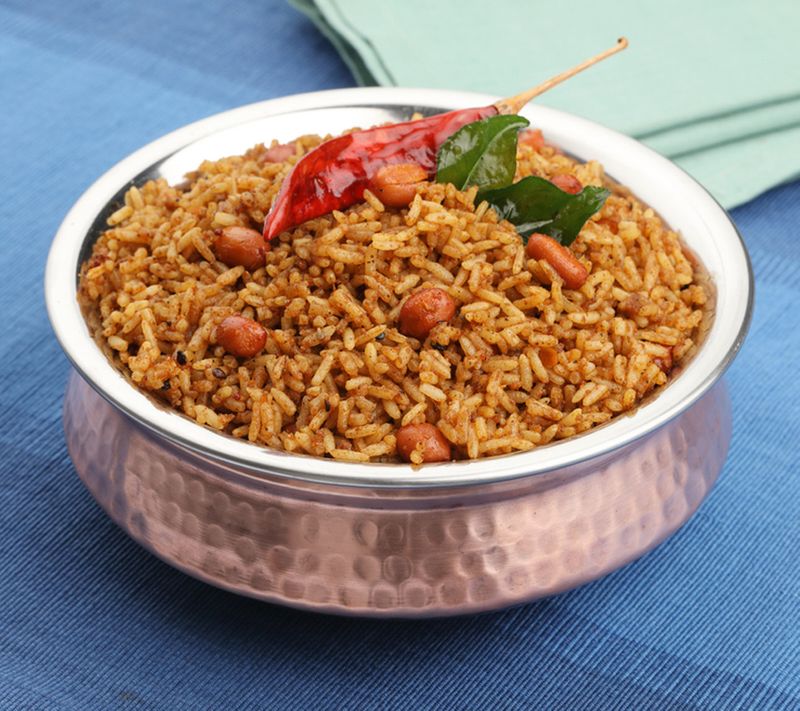 Another popular Indian dish, particularly in Karnataka, Puliyogare is tamarind rice often served with spicy coconut chutney.  This popular dish is prepared by grinding fried lentils, chillies, and spices that are then mixed with tamarind extract or essence along with jaggery. A spoonful of Puliyogare leads you to an explosion of flavours—the tanginess of tamarind, spices, and freshness of curry leaves. It is said that this version of mixed rice has been around since at least before the 3rd century BC. However, this dish has varied names in the south of India: Kannadigas call it Puliogare; Telugus call it Pulihora; Tamil Nadu calls it Puliodharai; and the Marathis call it Ambil Bhath. 
Best places to try: Puliyogare Point (Bengaluru); Puliyogare Sadam (Mumbai); Pindi Restaurant (Delhi)
55. Gatte Ki Sabzi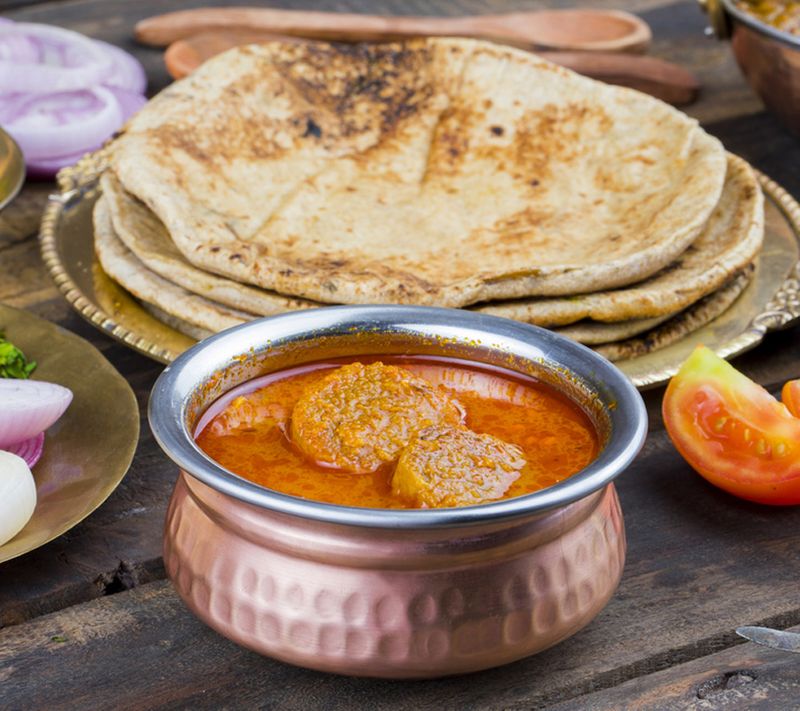 A typical Rajasthani dish, the gatte ki sabzi is made from steamed besan cylinders in curd-based curry. The besan or gram flour dumplings are flavoured with turmeric, garam masala, cumin, red chilli powder and salt. Given that Rajasthan did not have many green vegetables as its produce, a lot of their curries rely on improvisation and gatte ki sabzi, which does not really have any sabzi, is one of those. To get the best variation of this curry at home, look up a good recipe and cook it. 
Best places to try: Spice Court, Civil Lines and Samode Haveli. Both in Jaipur
54. Sambar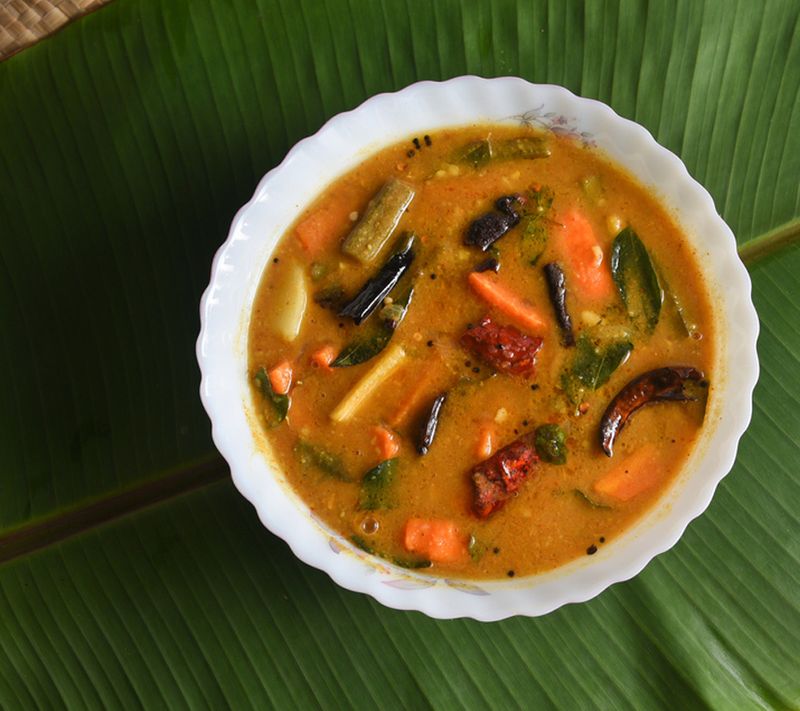 Sambar is a versatile Indian dish that goes with everything. While it is considered to be a South Indian dish, it is said to have actually originated in Maharashtra. The creation of the heavenly stew can be traced back to the late 17th century.  Legend has it that Shivaji's son Sambhaji decided to cook dal for himself. Instead of using toor dal, Sambhaji decided to experiment with moong dal. To add the tangy flavour, Sambhaji experimented with tamarind. When the dish was served to the court, it was so loved that it was named Sambar. 
Best places to try: Saravana Bhavan(Delhi); Triplicane Ratna Cafe (Chennai)
53. Kheer, Payesh, Payasam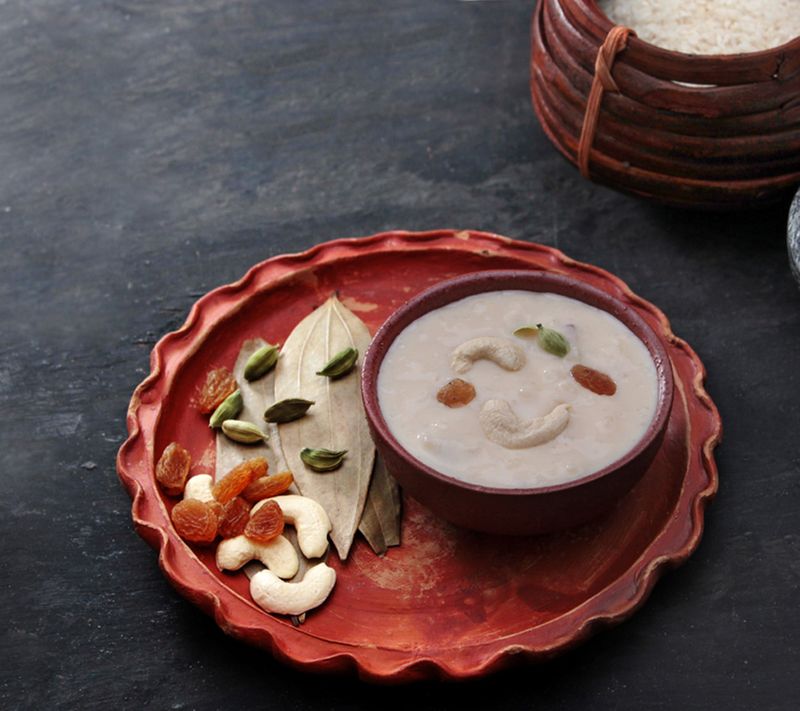 This versatile sweetened milk and rice pudding-like dish is easily one of the oldest desserts and one of top Indian dishes. While the basic three components will remain the same, there are additions that are made based on which part of the country you are in. Local variants of rice are preferred—gobindobhog in the East, local red rice is a common occurrence in the South, while central and north India uses locally available short-grained rice. Sweeteners also vary, like in Bengal sugar is substituted with seasonal nolen gur during the winter months. Southern states of India use jaggery or coconut.
One of the biggest reasons for the predominance of kheer or payasam as a popular Indian dessert is the abundance of dairy and rice being the primary cereal for millennia. But rice isn't a necessity, you can easily substitute it to make coconut payasam or moong dal payasam. The importance of this dish is such that it is an offering to the deities in the Hindu pantheon.
Best place to try: Every Indian home has a different and delicious recipe. Ask your mother for your family's recipe.
52. BisiBele Bath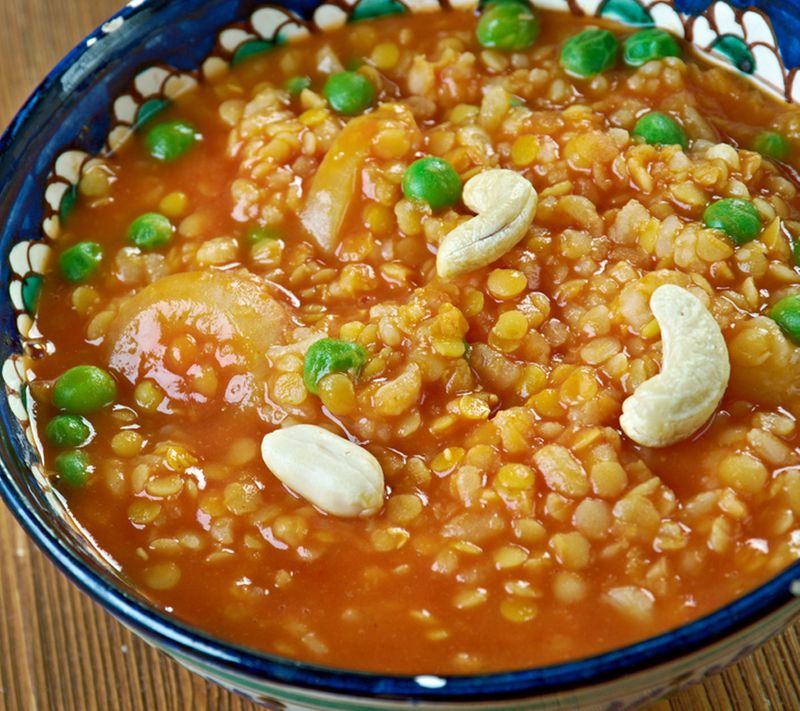 A dish from Karnataka, the bisibele bath is quite similar to a khichdi, well sort of. It translates to hot dal rice in Kannada and can be eaten for breakfast, lunch or dinner. 
This dish also uses a special spice mix to add extra flavour, not to mention the generous serving of ghee on top. In many households, it's served with kharaboondi on top and with raita on the side. It's said to have originated in the Mysore Palace before becoming a "hot" dish across the State. The best bisibele bath is found at a traditional Kannadiga household, no arguments there. 
Best place to try: MTR, Bengaluru
51. Nihari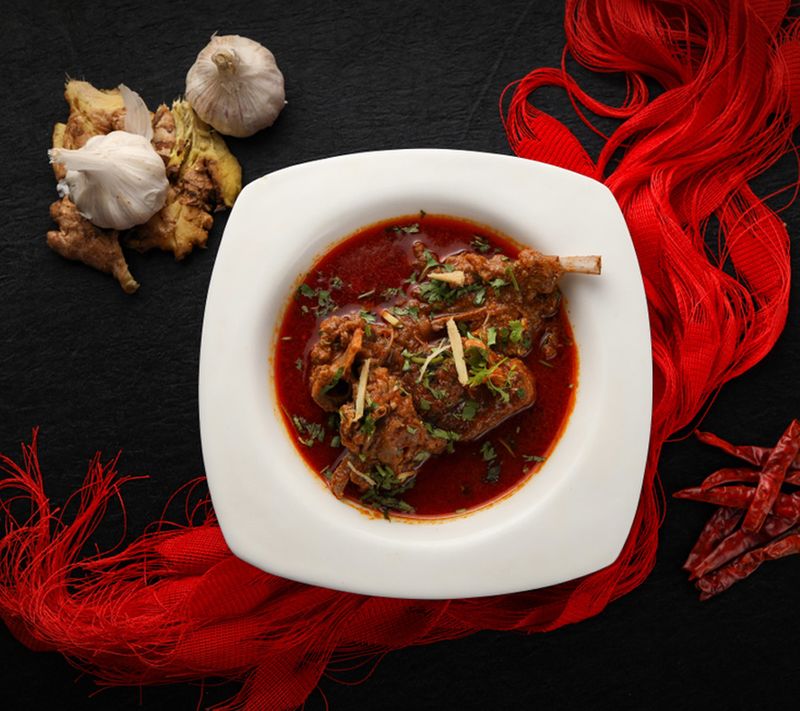 Another crown prince from the house of Nawabs of Awadh, nihari is an irreplaceable stew from the northern part of the country. Slow cooked in a myriad of spices, it is a strong flavourful dish with an assortment of spices. The word 'Nihar' originates from the Arabic word 'Nahar' meaning 'morning'. During the reign of the Mughal Empire, Nihari was developed in Old Delhi, India. Nawabs in the Mughal Empire ate it as a breakfast item after their morning prayers. Best served with naans, parathas, and rice it is a meal that will fill your heart and your stomach.
Best places to try: Raheems Kulcha Nihari (Lucknow); Kallu Nihari (Delhi); Haji Shabrati Nihariwale (Delhi); Karim's (Delhi); Noor Mohammadi Restaurant (Mumbai)
50. Medu Vada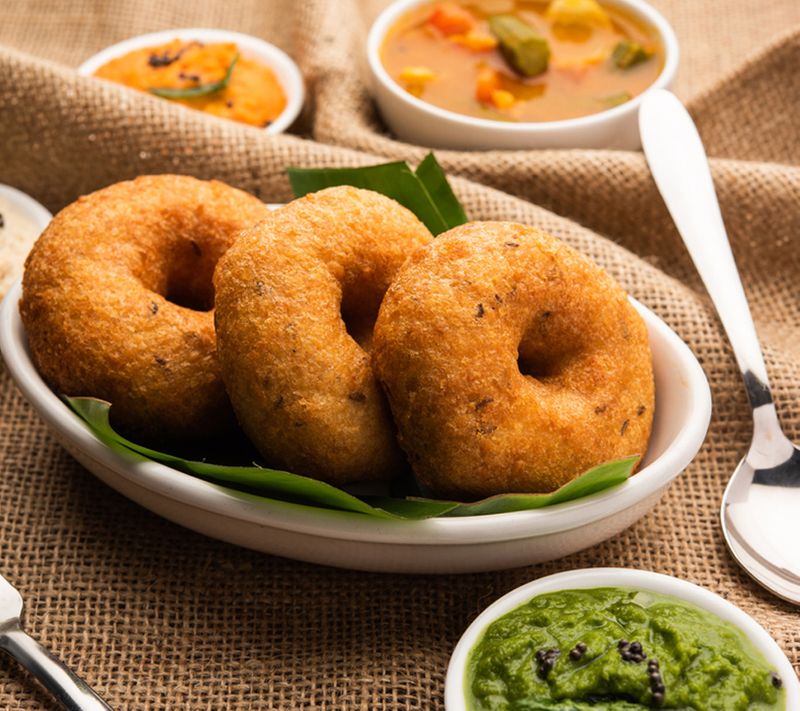 Another quick on-the-go staple South Indian breakfast is the doughnut-shaped medu vada served with hot sambar and coconut chutney. It's made with urad dal batter and deep fried, crunchy on the outside and soft on the inside. This snack is said to have originated from the Maddur town in Karnataka.
Best places to try: Cafe Madras in Mumbai, Ramashray in Mumbai, Dakshin in Chennai.
49. Patra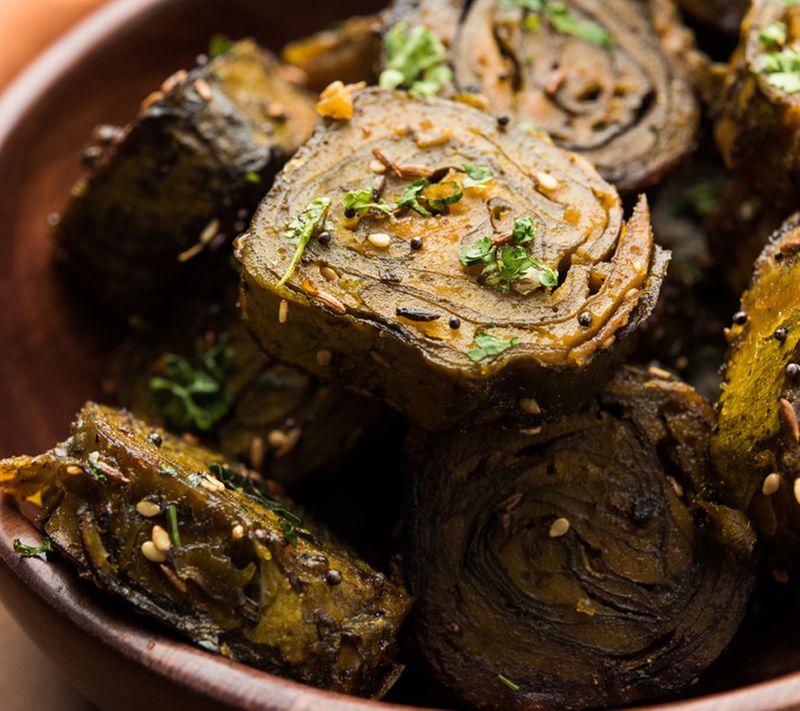 Yet another dish that has different versions across different Indian states. The premise remains the same—colocasia leaves layered and slathered with besan batter. It is then rolled up and steamed. From here on, the recipe changes—sometimes the steamed roll is fried or the roll sliced and tempered. 
Best places to try: Soam, Swati Snacks in Mumbai.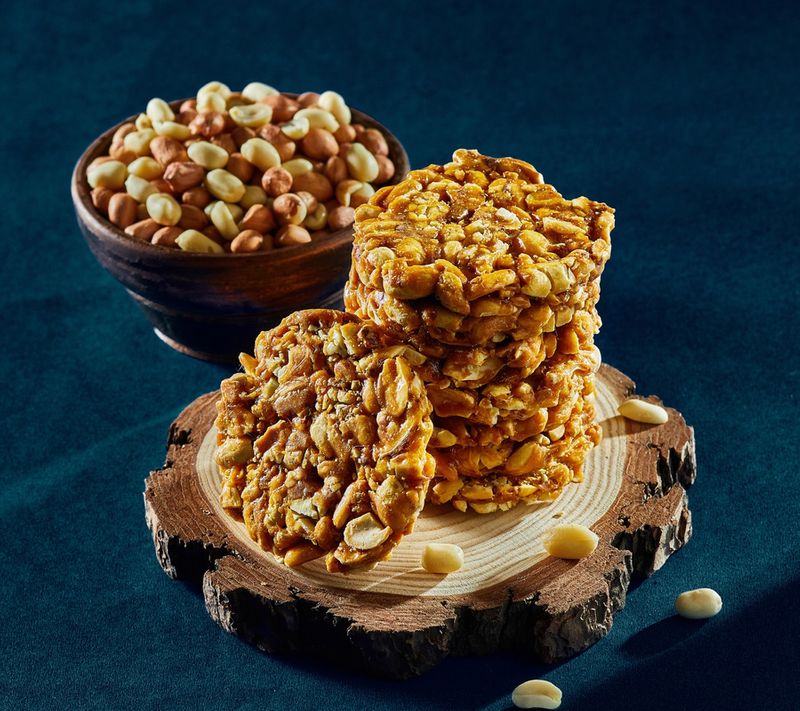 India's version of a brittle, chikki is made from peanuts and jaggery. The origin story goes back to Lonavala by Maganlal Agarwal who decided to create this sweet treat for the workers who were setting up the railway track from Mumbai to the hill station.
Best place to try: Maganlal Chikki in Lonavala.
47. Chicken 65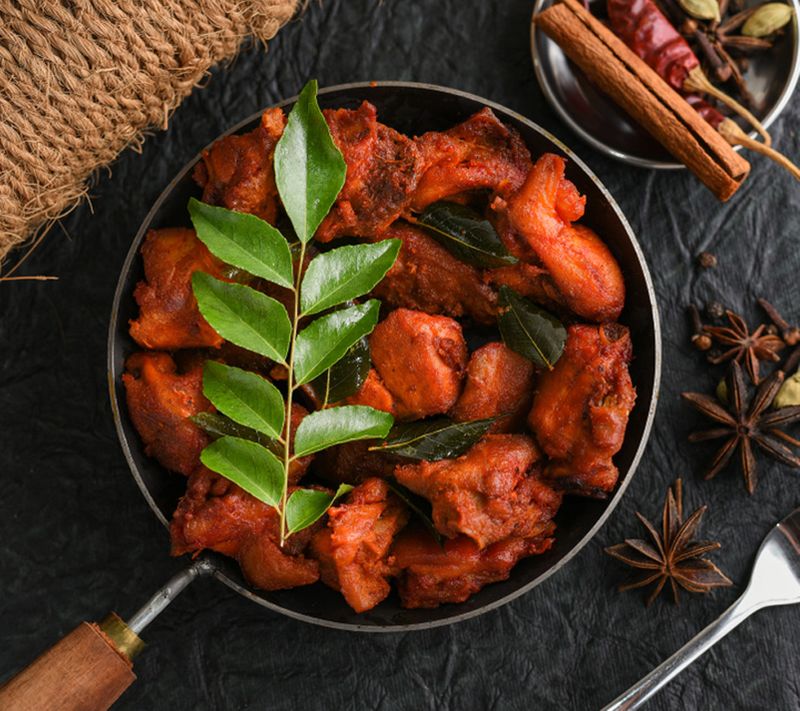 There are many stories about the invention of the iconic Chicken 65. These include the use of 65 chillies, 65 different slices, year of origin being 1965, and more. Of these, the 1965 story is the true one. Chennai's restaurant Hotel Buhari is the progenitor of the dish, when they introduced Chicken 65 on their menu in the year 1965. Later, they created different vintages of the dish, which included Chicken 78, 82, and 90; but none got as popular as Chicken 65. As to the recipe of Chicken 65, as long as there is batter-fried chicken tossed in desi masalas such as red chillies, coriander, mustard, curry leaves, and more—you are on the right track. The recipe has also evolved as it has travelled across the country.
Best place to try: Hotel Buhari in Chennai
46. Khichdi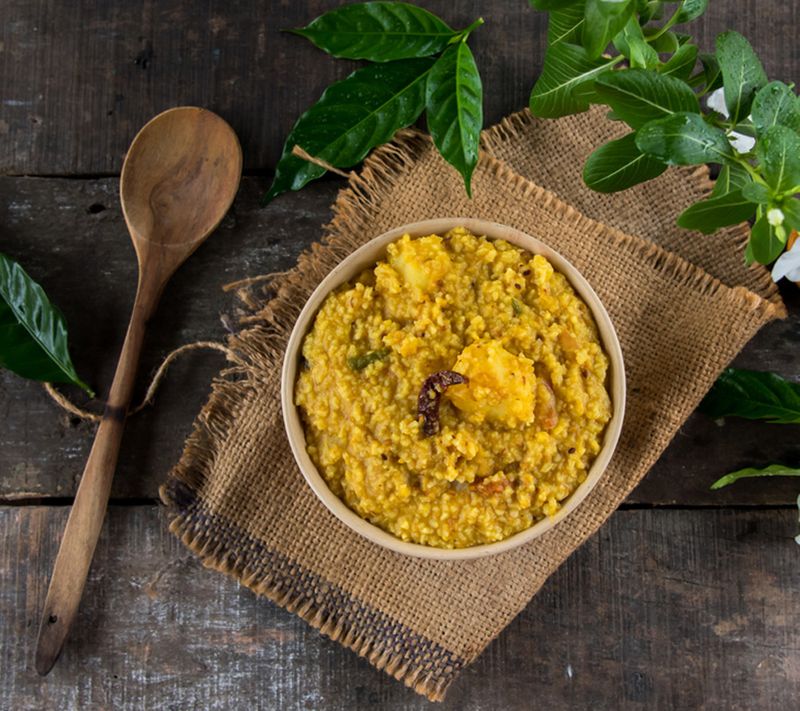 India's favourite comfort food, khichdi is believed to be the inspiration behind the Anglo-Indian dish 'Kedgeree'. The Indian epic 'Mahabharata' contains the earliest reference to khichdi, whose events took place between the 9th and 8th centuries BCE. According to the Mahabharata, Draupadi fed khichdi to the Pandavas during their exile. It was under the Mughals that khichdi rose to prominence. Akbar-Birbal's story about Birbal using khichdi to convince Akbar to accept a mistake is well known to everyone.  
Best places to try: Gujarat Bhawan (Delhi); Prasadam (Delhi); MKT Chanakya (Delhi)
45. Dum Aloo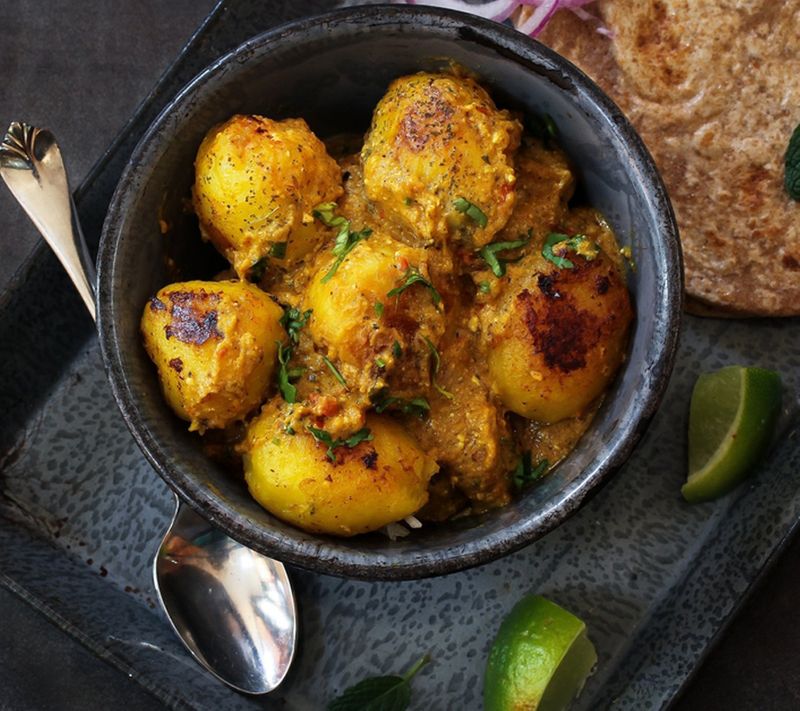 Nothing beats a potato dish and dum aloo is one of India's favourite dishes. Depending on where you are in the country, there are subtle differences in the dish. The Kashmiri dum aloo uses yoghurt as a base, while the Bengali dum aloo has a reduced onion-based sauce and the Benarasi dum aloo has tomatoes and onions. The basic cooking technique for the dish is 'dum' where the food is slow-cooked in a sealed pot under the steam and pressure of the dish.
Best places to try: Try it at a local home in Srinagar, Kolkata and Benaras. 
44. Appam Ishtu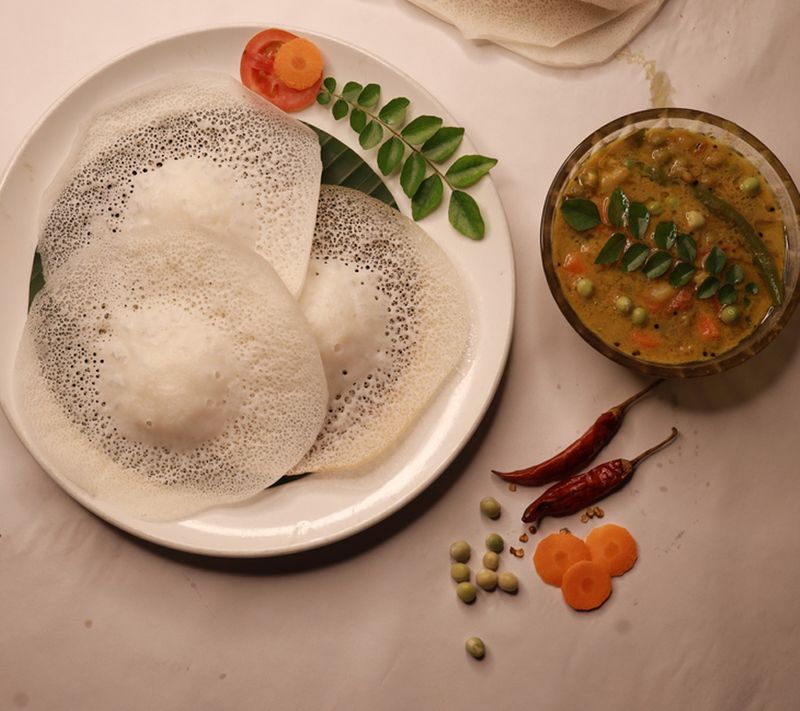 Appam and Ishtu is a very popular breakfast combination mostly in Kerala. Appam is a popular Indian bowl-shaped pancake made from a batter of rice flour and coconut milk whereas the accompanying Ishtu is a mildly spiced potato and coconut milk stew. Tamil Nadu is often credited with the invention of this combination as mentioned in the Perumpanarrupattai of Sangam literature from the 4th/ 5th century.
Best places to try: Nalukettu (Cochin); Dakshin (Delhi); Karavalli (Bangalore)
43. Bombil Fry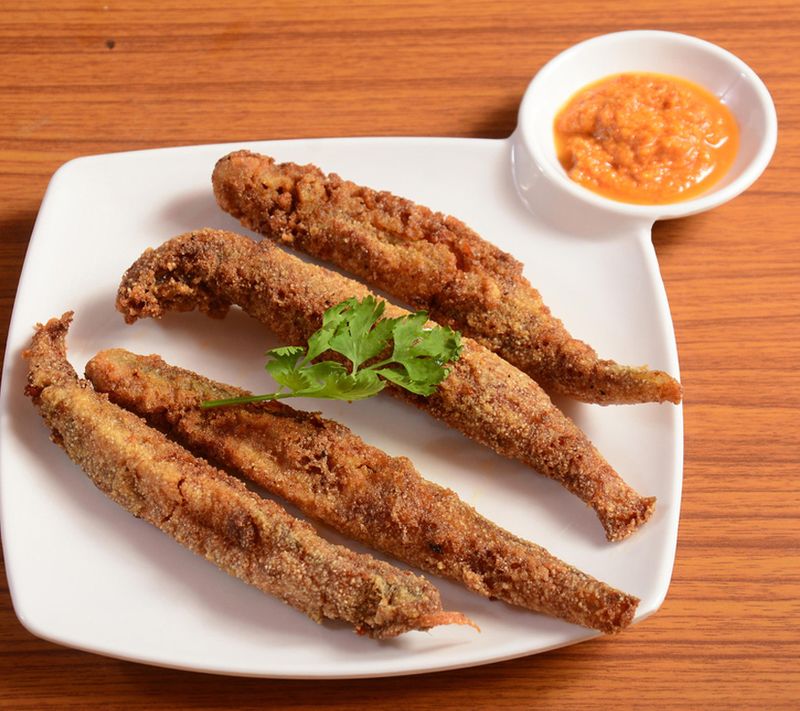 Bombay duck or bombil is Maharashtra's pride and joy. The best way to enjoy this seafood is fried. The jelly-like fish is coated in seasoned semolina, which is either deep fried in oil or shallow fried. It tastes best with a sprinkle of lime juice. 
Best places to try: Gajalee, Jai Hind, Mahesh Lunch Home in Mumbai.
42. Bhelpuri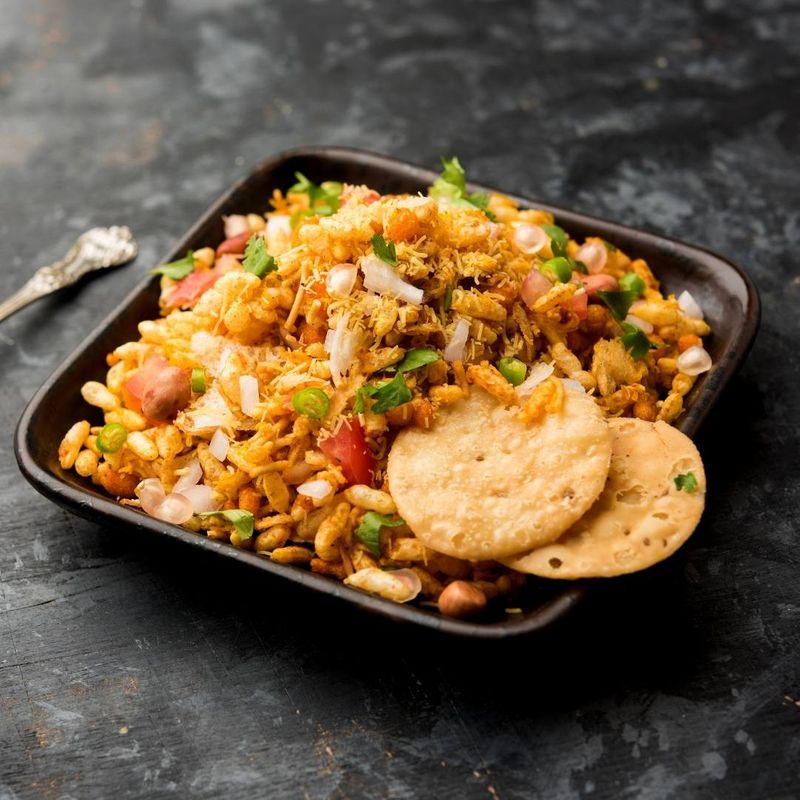 A savoury dish with almost iconic status in the Western region of India, this staple street food is spicy, but also sweet and salty and can be adapted to enhance any of those characteristics; the versatility in taste is the beauty ofbhel puri. Although very popular in Mumbai, it is believed that the snack was invented by an unknown Gujarati migrant.
Best places to try: Sharma Chaat Bhandar (Mumbai); Sea Lounge (Mumbai); Imly (New Delhi); Bombay Bhelpuri (Delhi)
41. Idli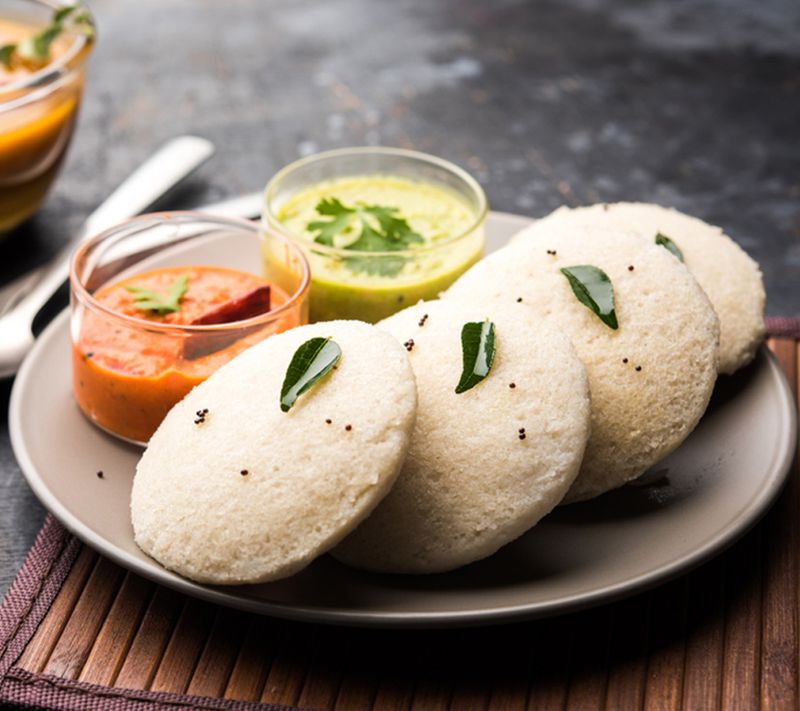 The number of theories around the origin of the idli is endless. While some believe that idli came to India between 800-1200CE from Indonesia where it is known as 'kedli', others claim that it was the Arab traders who introduced India to idlis. Well, the debate can go on forever but that doesn't stop the humble steamed rice cakes made from fermented rice and pulses batter to be our go-to breakfast.
Best places to try: Cafe Madras in Mumbai, Ramashray in Mumbai, Dakshin in Chennai.
40. Jalebi Rabri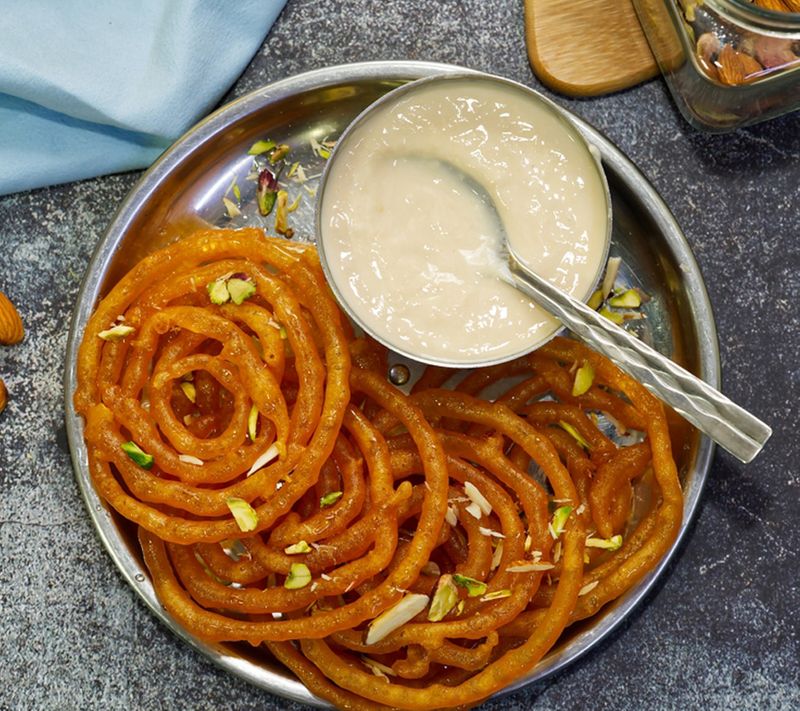 While there's a whole range of jalebis such as khoya jalebi, mawa jalebi, paneer jalebi and so on--nothing really beats the combination of jalebi and rabri--truly a match made in heaven. It is believed that Jalebi was invented by Harprasad Badkul in 1889 in Jabalpur, but unfortunately there's not enough information about it.
Best places to try: Gurdas Ram Jalebi Wale, KatraAhuwalia in Amritsar, The Ram Bhandar in Varanasi, JJ Jalebi in Mumbai and Tripathi MisthanBhandar in Lucknow.
39. Nimbu ka achaar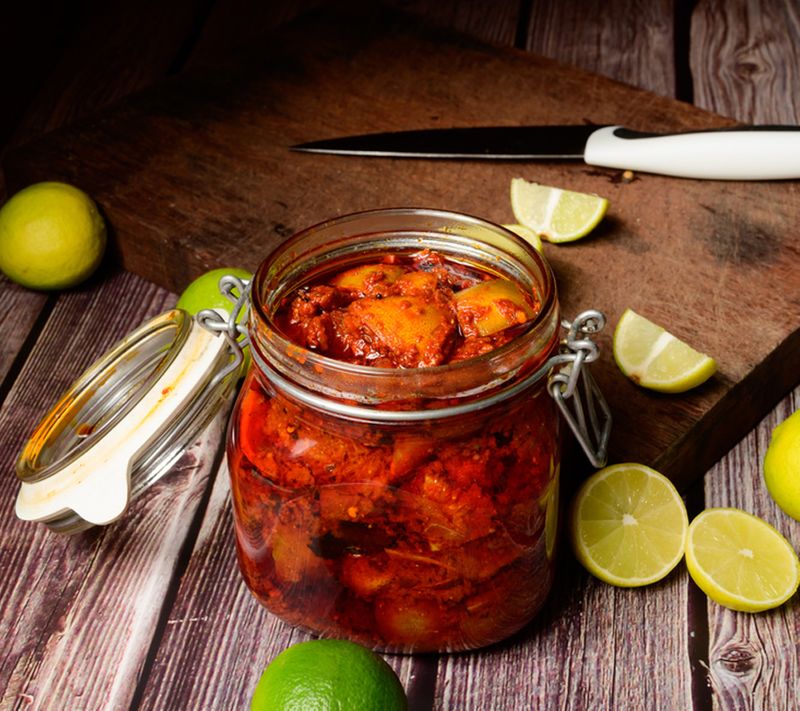 No Indian meal is complete without a pickle. And lemon pickle or nimbu ka achaar is a sour and piquant one. It is made using spices and oil and left in the summer sun for at least a month to mature—the longer the better.
Best places to try: At home
38. Galouti Kebab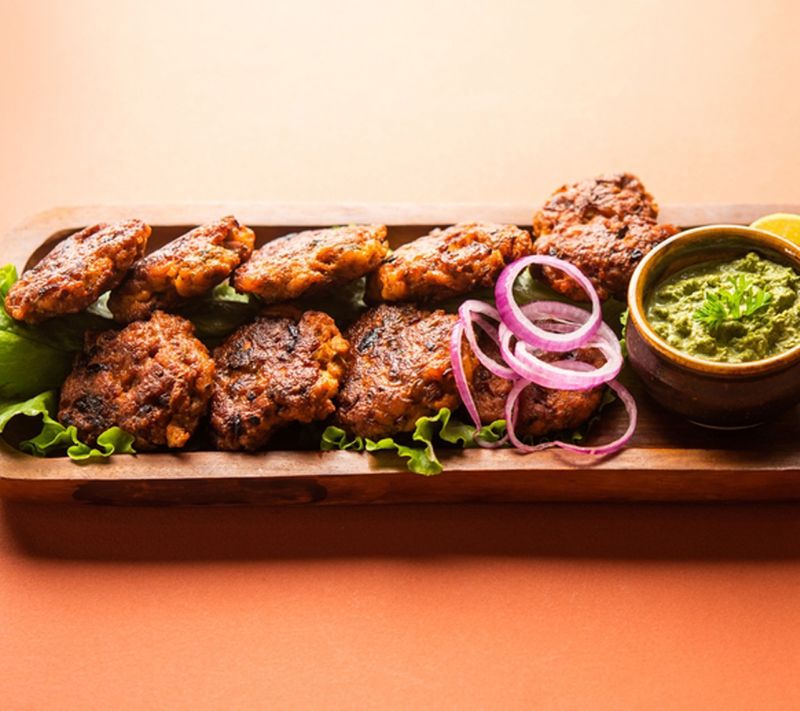 This melt-in-the-mouth kebab owes its legend to the Nawabs of Lucknow. Finely minced meat, seasoned with herbs and spices and then grilled or even pan-fried on the tawa, the galouti kebab is ideally eaten with an ulte tawa paratha, which is as big as the kebab.
Best place to try: The Awadh's Dastarkhwan, Lucknow; Falaknama, Lucknow; Alkakori Alkauser, Delhi
37. Dal Makhani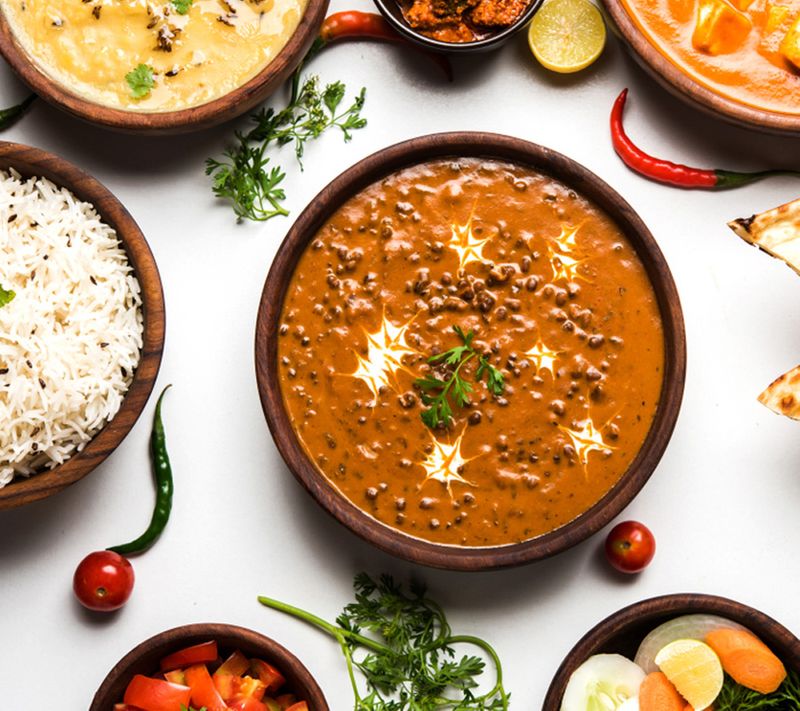 A traditional dal that pretty much belongs to Delhi, is loved all over, and is a favourite in most North Indian restaurants—dal makhani is made by cooking black dal in a tomato-based gravy, and thickened with butter and cream. As per legend, Kundan Lal Gujral, founder of the Moti Mahal chain of restaurants, was said to have invented this decadent lentil-based dish. Eaten best with tandoori rotis, dal makhani is also a favourite at most homes, though often not as rich as the commercial version. 
Best place to try: Moti Mahal, Delhi; ITC Hotels across India
36. Kaju Katli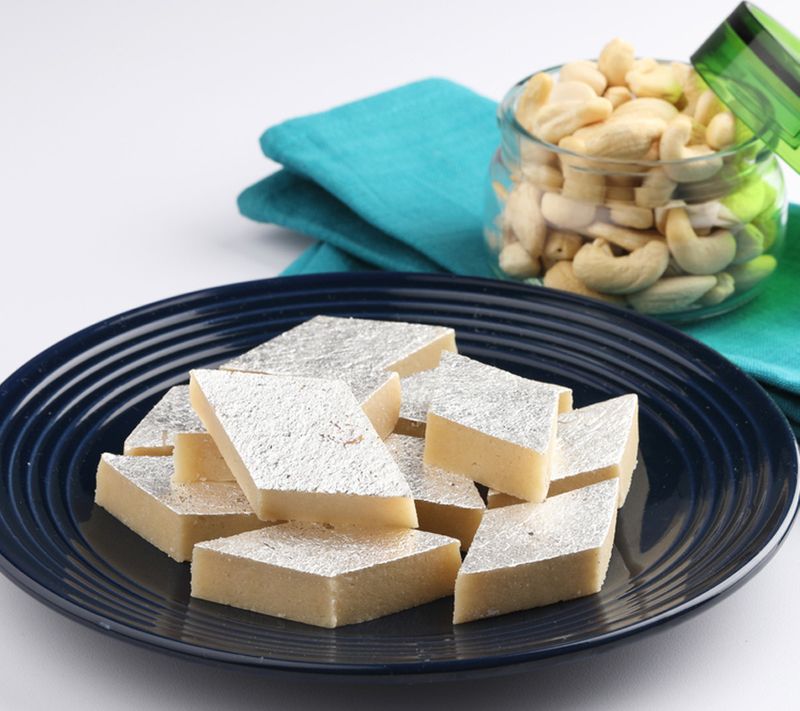 Also known as kaju barfi, kaju katli pretty much marks Indian festivals and occasions—from housewarming gifts to Diwali. Made from cashew nut, almond paste, and thickened milk, kaju katli is yet another national dessert of India. As per legend, it's said that the royal chef at Mughal emperor Jahangir's court invented the kaju katli as a sign of respect for Guru Hargovind, the sixth Sikh guru—who was a prisoner of the emperor —to mark Bandi Chor Diwas. How fascinating!
Best place to try: Each state in India has fairly great quality kaju katli but it's oft said that Chaina Ram in Delhi's Chandi Chowk is one of the best.
35. Malai Kofta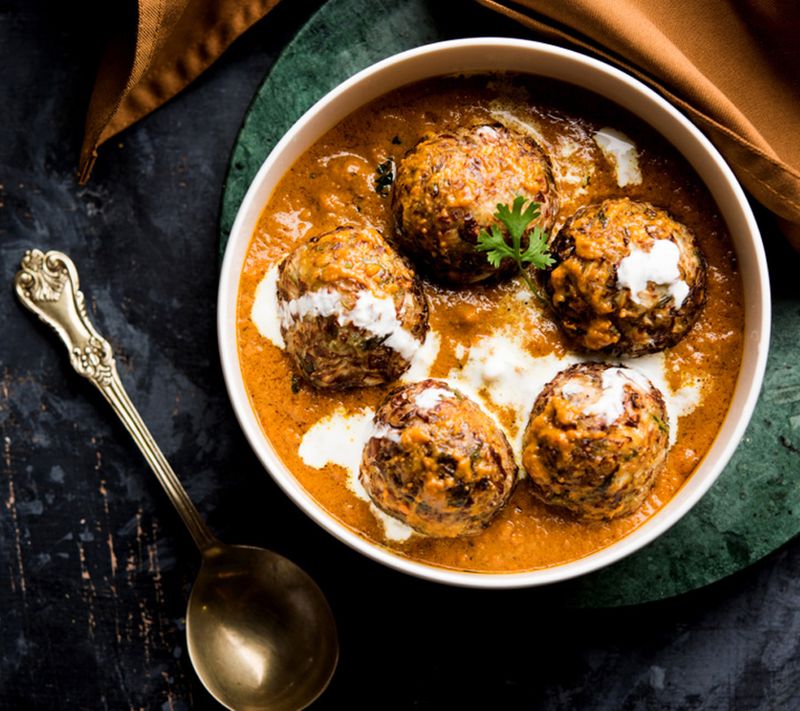 Malai kofta is a Punjabi curry that contains deep fried round balls of paneer and potato dunked in a rich tomato and creamy-based curry. The gravy is usually prepared with onion, tomato, ginger, garlic, cream, and a host of spices. Some people replace the dairy-based cream with cashew paste, and the paneer and potato in the kofta with grated bottle gourd. Malai kofta is best paired with garlic or butter naan.
Best places to try: Rajinder Da Dhaba near Delhi, Bansi Vaishno Dhaba in Ludhiana, and Joney's Place in Agra.
34. Naan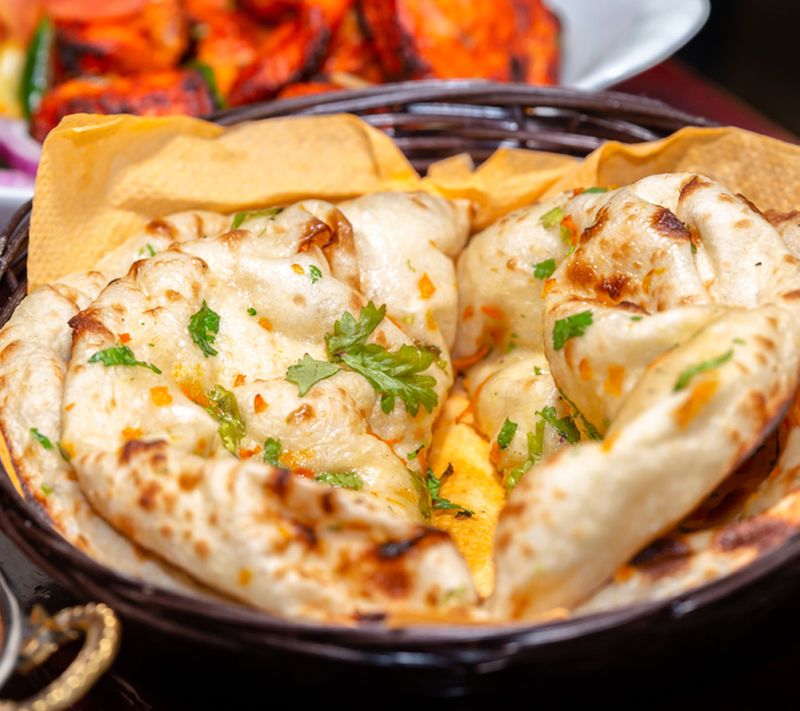 Commonly prepared in a tandoor, naan is a yeast-leavened flatbread made using all-purpose flour or maida, yoghurt, oil, and yeast. It is an inseparable part of several North Indian cuisines and is mostly shaped in either a teardrop or oval. Best relished with loads of butter, naan is often paired with butter chicken and dal makhana. Apart from the classic, there are several new varieties of naan that have been introduced over the decades, including, garlic naan, Peshawari naan, keema naan, chur chur naan and stuffed naan.
Best places to try: Karim's and Kake Di Hatti in Delhi-NCR, and Bhai Kulwant Singh Kulchian Wale in Amritsar.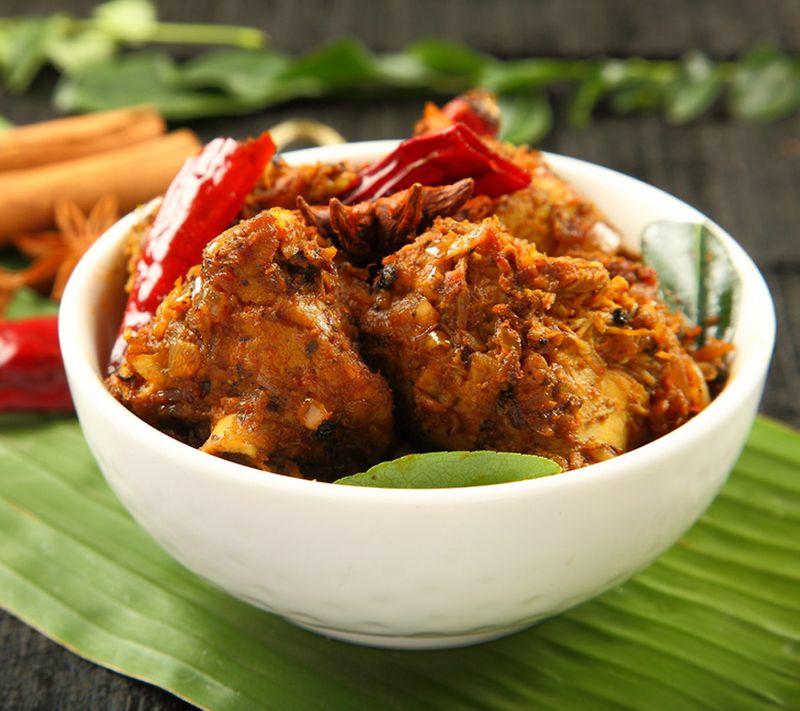 A popular Indian dish that hails from the Chettinad region of Tamil Nadu, Chicken Chettinad is a culmination complex flavours and simple cooking techniques. Chettiyars of Tamil Nadu had great access to spices and produce thanks to trade and nautical adventures. The spice blend is what makes Chicken Chettinad special. Use of spices such as stone flower, fenugreek, and coriander seeds is unique in a Chicken Chettinad. The addition of coconut, black peppercorn, and curry leaves results in a spellbinding flavour.
Best place to try: Hotel Ponnusamy, Anjapar, Dakshin in Chennai have the best Chicken Chettinad.
32. Rasgulla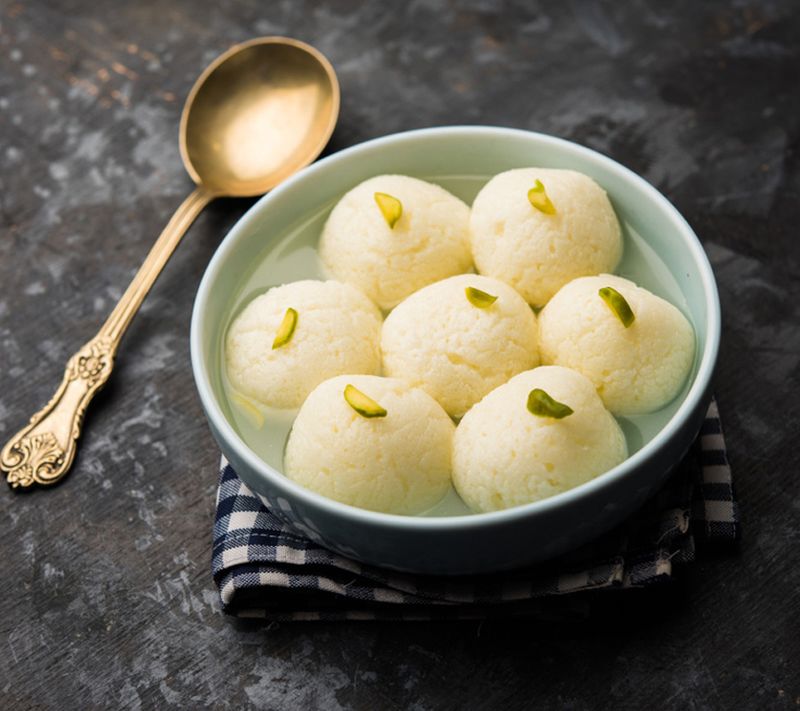 There is a big debate about the origin of rasgulla between Odisha and Bengal. Odisha stakes claim to rasgullas as a dessert that was offered to Lord Jaggannath in Puri almost 700-years-ago—the original name was khira mohana. A few kilometres away and a few centuries later, in Kolkata, Nobin Chandra Das invented the rasgulla in the 1800s to be different from the rest of the other local confectioners.
A rasgulla is made by gently boiling chenna balls in sugar syrup. As these little dumplings cook, they inflate and soak up the syrup making it a delicious delight. Odisha or Bengal—let's just agree that it's a delicious and syrupy sweet treat.
Best place to try: KC Das, Putiram, Nalin Chandra Das & Sons have some of the best rasgullas in Kolkata. The town of Pahala in Odisha is lined with sweetshops selling delicious rasgullas.
31. Laal Maas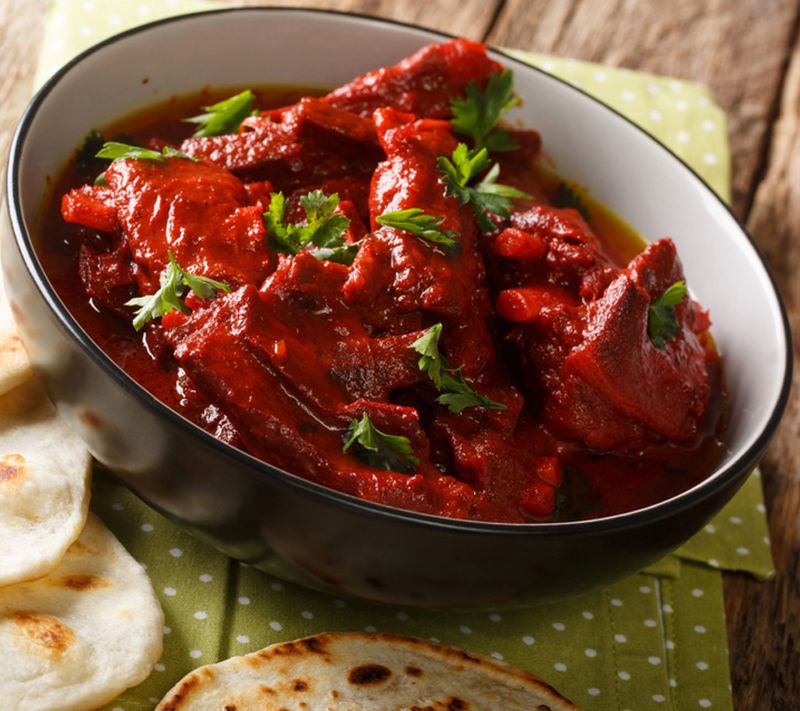 Laal maas, literally meaning red meat, is a Rajasthani mutton curry with spicy yoghurt, chilli, and spices base. The dish is red in colour courtesy of the mathania chillies used in the curry base. According to a legend, laal maas was invented in the 10th century AD in the kitchen of a Mewar King. It is said that the king of that princely state did not like the game meat that was prepared with garlic and yoghurt and demanded it to be made differently.
Best places to try: Spice Court and Niros in Jaipur and Tashli in Jodhpur.
30. Kheema Masala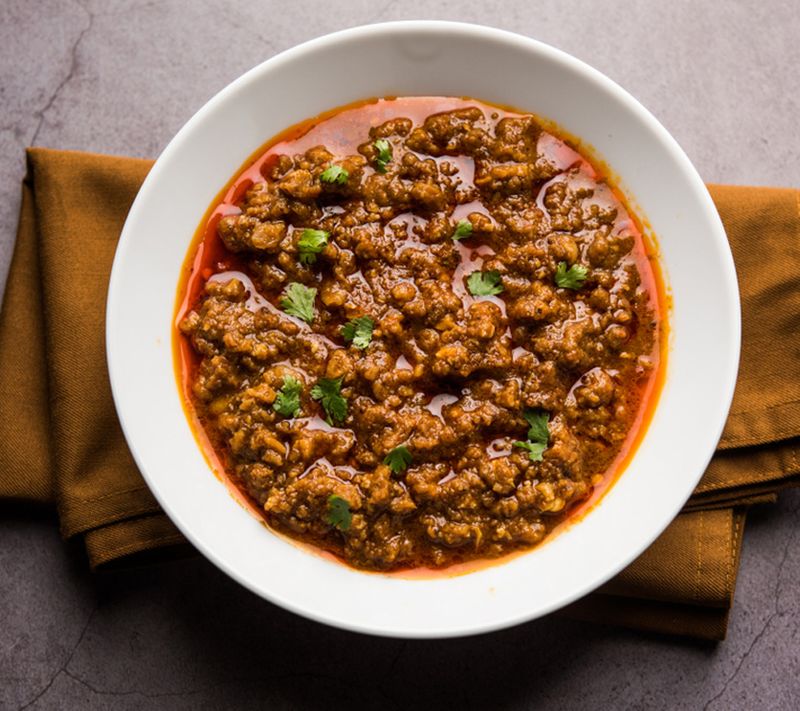 A famous fare, Kheema is definitely one of the top Indian dishes to try. Believed to have been borrowed from the Turkish word 'Kıyma' which means minced meat, Kheema was a popular breakfast staple in the Awadhi cuisine during medieval India. The royal cooks of several Mughal and Awadhi rulers invented many kheema delicacies, however, one of the most popular ways to make kheema is as a dry curry served with paratha or naan. Moreover, it is accompanied by pav buns or naan and other flatbreads, also used as a filling for samosas and parathas.
Best places to try: Hotel Grant House (Mumbai); Sindhful (Mumbai); Maurya (Delhi).
29. Aamras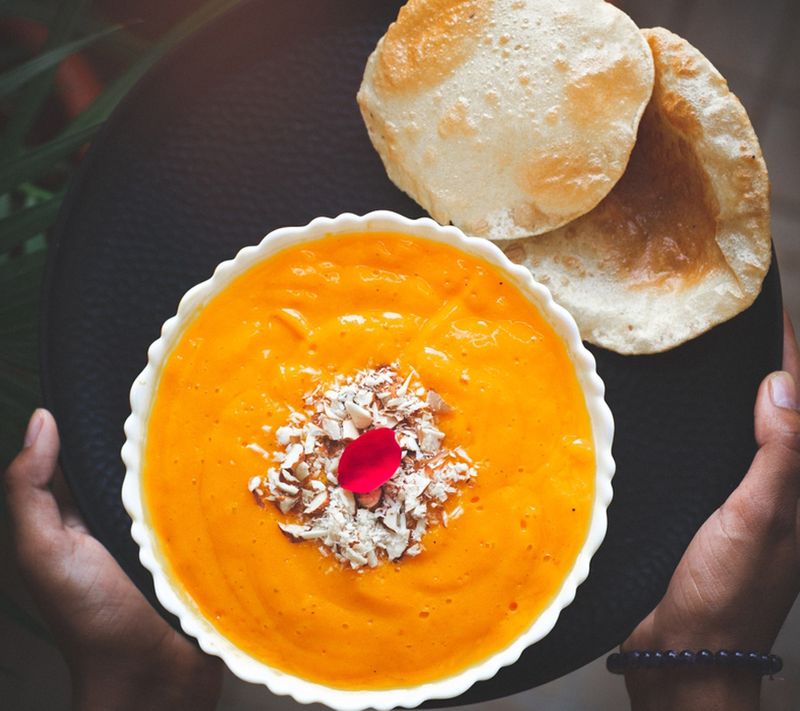 This sweet creamy dish is made with ripe mango pulp, milk, cardamom and sugar. It's a popular summer dish in Gujarat, Maharashtra, Rajasthan, and Uttar Pradesh. You can either savour it on its own, however, it goes best when paired with pooris.
Best place to try: Pancham Puriwala, Mumbai.
28. Aloo Tikki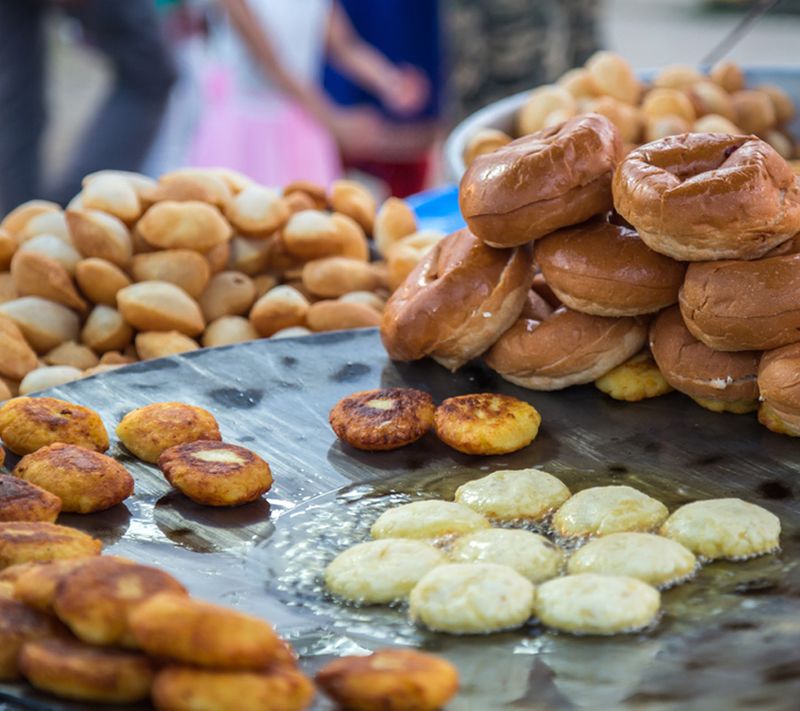 A popular chaat is aloo tikki; it looks like a croquette. The patty often has a stuffing of peas or dal and is served with a lashing of yoghurt, tamarind chutney and coriander chutney. It is served across the country with local variations.
Best places to eat: Prabhu Chaat Bhandaar, Natraj Dahi Bhalle Corner, Bittoo Tikki Wala, Sindhi Corner in Delhi
27. Dhokla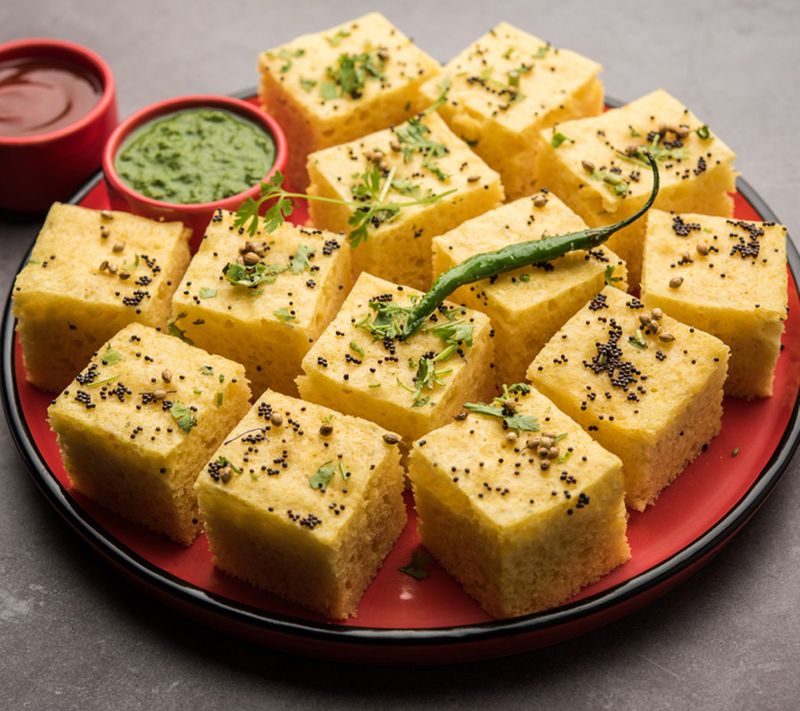 This popular and widely-consumed breakfast dish that originates from Gujarat is made with a fermented and fluffy batter of lentils and rice. The batter is first steamed into a spongy mould and then topped with chillies, mustard and curry leaves.
Best places to try: Das Surti Khaman in Ahmedabad, Amdavadi Gujarati Snacks in Chennai, Soam in Mumbai.
26. Sarson ka Saag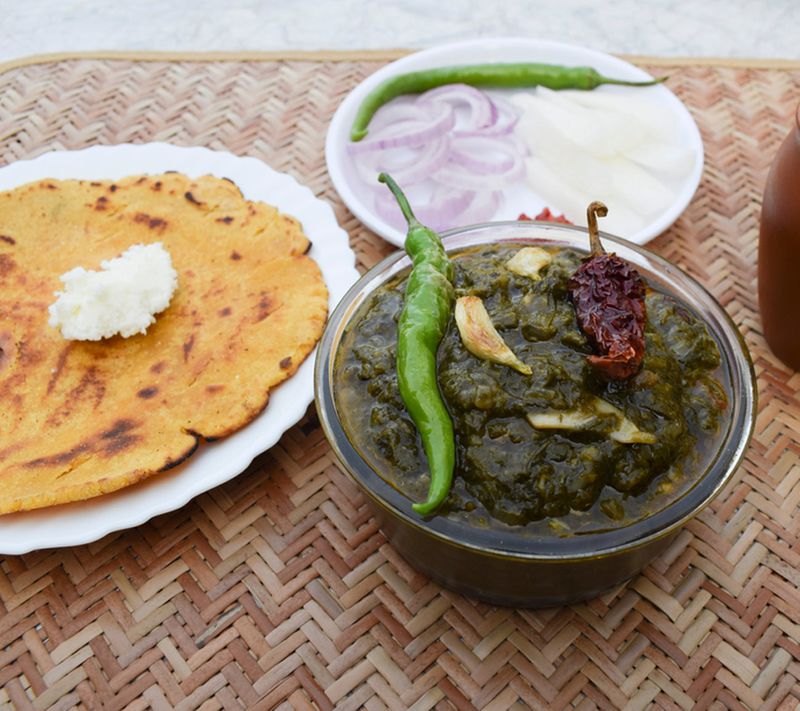 Given the volume of mustard that is grown in Punjab, there is no wonder that the sarson da saag is so widely loved and popular across the country. The wholesome yet subtle flavour of the dish, made with mustard greens, makes winters even more comforting. What is quite possible was a creation of rural Punjab, the sarson da saag is one of those dishes that finds a place on North Indian menus across restaurants and eateries–from roadside dhabas to fine-dining spaces. What is it best eaten with? Makki di roti, but of course.
Best place to try: Bade Bhai ka Brothers Dhaba, Amritsar
25. Ras Malai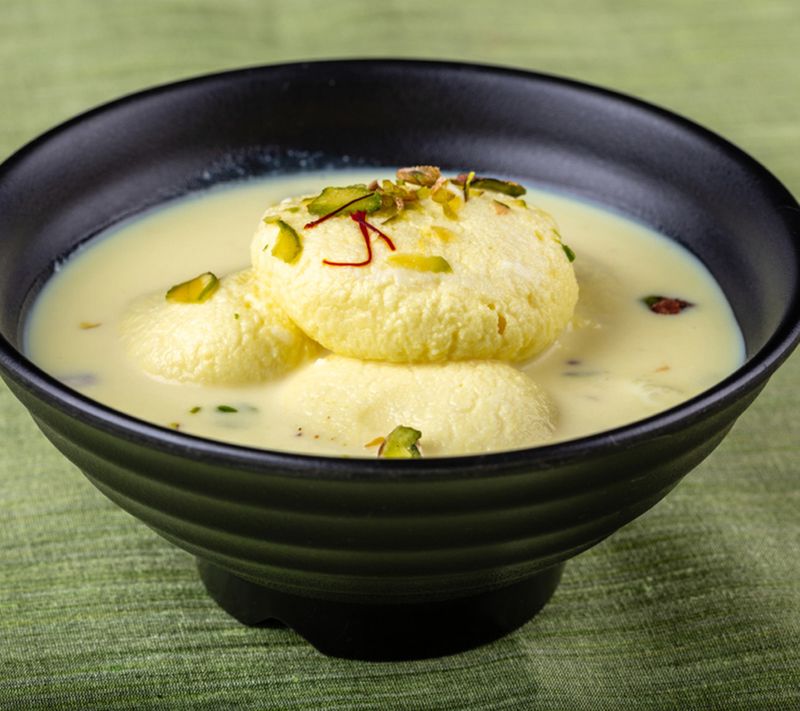 It is no secret that Indians are fond of sweets, but the eastern part of the subcontinent is particularly well known for its sinful sweets. Ras Malai consists of flat cakes of cottage cheese drenched in sweetened milk or clotted cream flavoured with cardamom. The confectionary empire K.C. Das Grandsons claim that their forefather Krishna Chandra Das was the creator of Ras Malai, in the early years of the 20th century. As Rasmalai travelled to other states, it created a sensation there as well.
Best places to try: K.C Das Grandson (Kolkata); Bhimsains Bengali Sweet Shop (Kolkata); Hira Sweets (Delhi); Anil Mishtan Wala (Delhi).
24. Hyderabad Biryani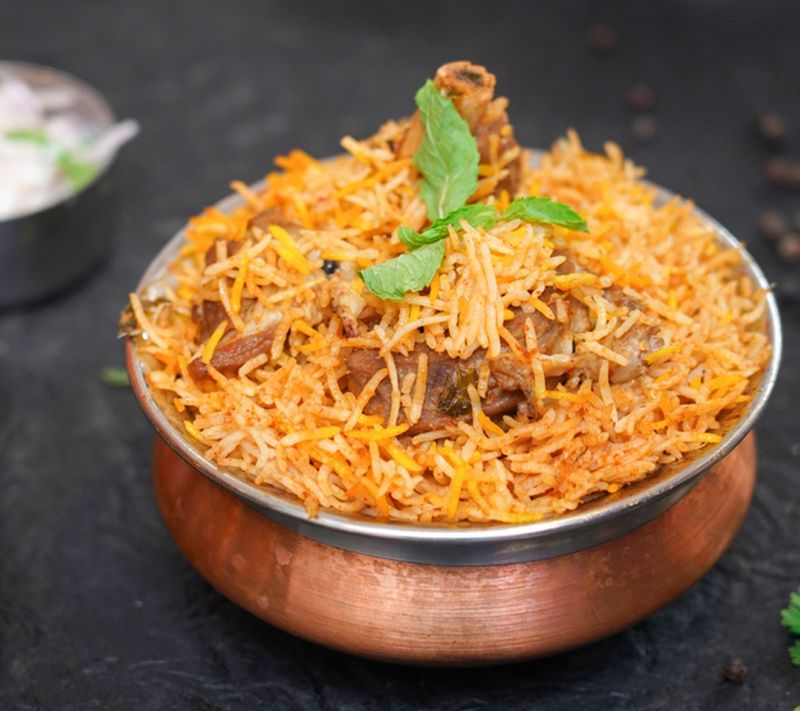 The quintessential Hyderabadi biryani, also a dum biryani or the kacchi biryani, is where meat is marinated, and half cooked, and then layered with basmati rice and cooked together in an earthen pot. It's spiced and yet the flavour is delicate. Ideally, it's served with mirchi ka salan (a thin gravy) on the side, a common accompaniment for most rice-based dishes.
Best place to try: Shadab, Pista House in Hyderabad
23. Bharwa Bhindi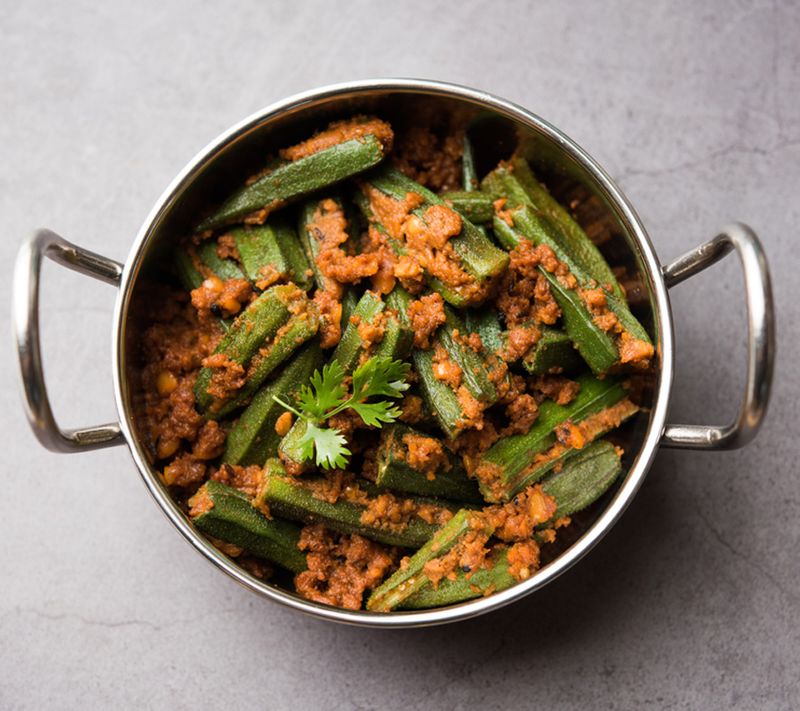 Bharwa bhindi is a delicious North Indian style dish usually made in Punjabi kitchens that goes well with hot chapatis or parathas. To make this dish, the okra is stuffed with a mix of aromatic spices and sauteed. It's simple and tastes amazing. If you love okra, we are sure you will love this dish.
Best place to try: At home.
22. Dal Baati Churma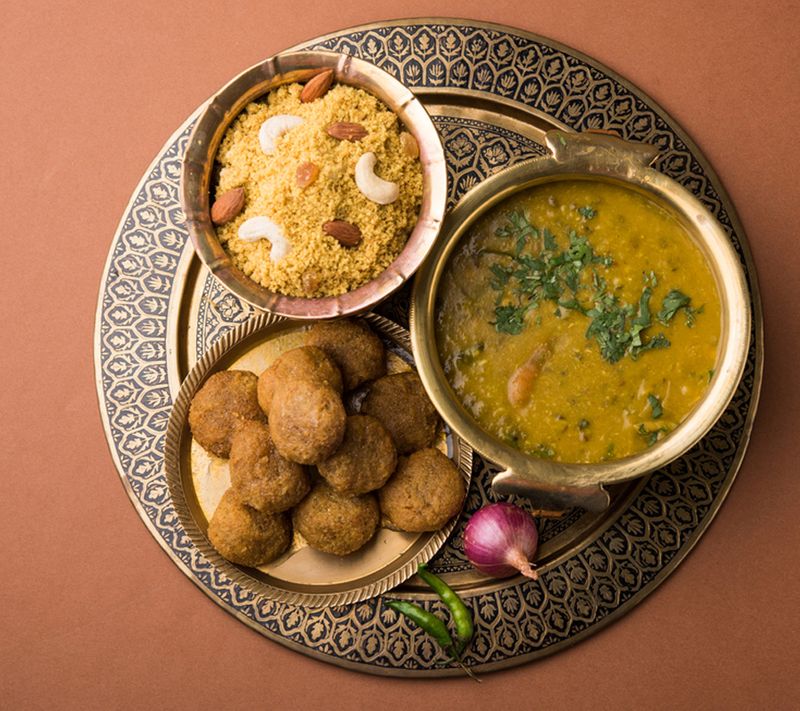 Ghee-laden balls of crunchy savoury dough, drowned in some piping hot, flavourful dal, and paired with sweet whole wheat and semolina mixture—that's dal baati churma for you, one of Rajasthan's delectable contributions to the list of food wonders of India. Baati was once known as a war-time food. The origins of baati can be traced back to the Rawal dynasty—when soldiers would make dough balls, place them under the desert sand, and these would get baked courtesy the scorching heat. The combination of dal baati churma came much later, however, there is little evidence on when it was introduced and became popular.
Best places to try: Rawat Mishthan Bhandar in Jaipur, Krishna Dal Bati Restro in Udaipur, and probably, a traditional Rajasthani home.
21. Kachori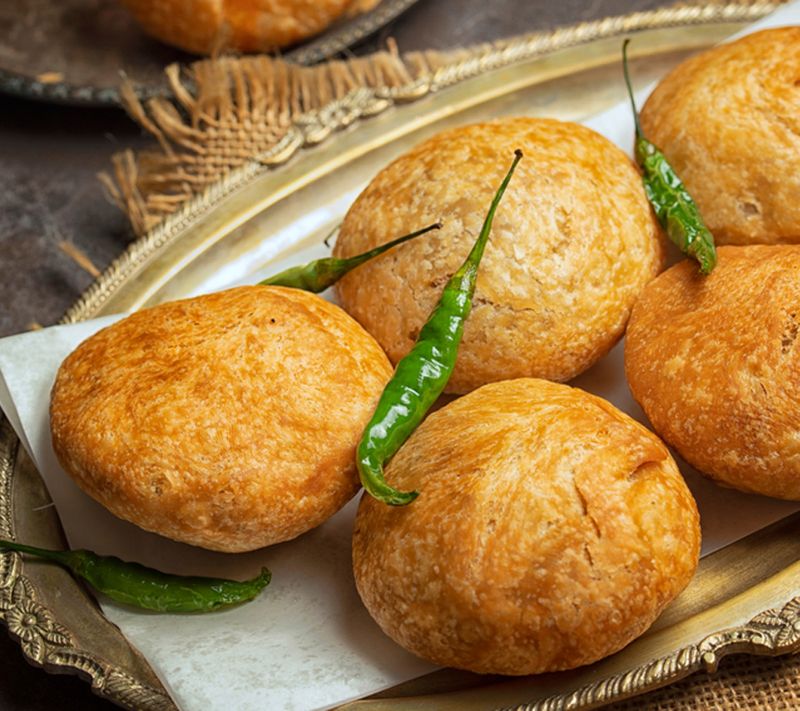 This savoury snack is tricky to make with a puff pastry crust and spiced filling within. The most common filling is made from urad dal but other fillings such as potato and onions are also very popular.
Best places to try: Rawat Mishthan Bhandar, Laxmi Mishthan Bhandar in Jaipur.
20. Gajar Ka Halwa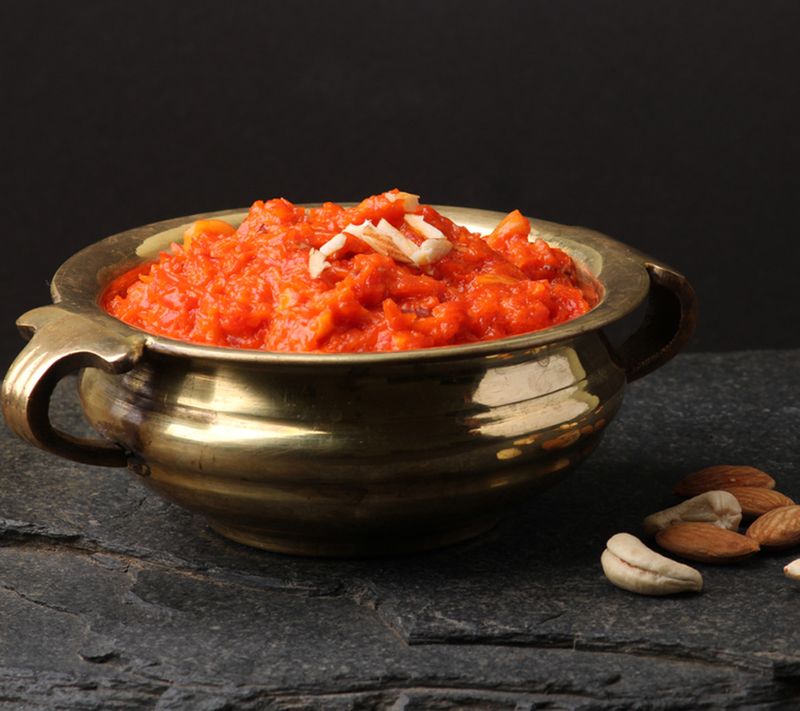 A traditional Indian dessert, made with grated carrots, sugar, mawa and dry fruit, and ghee, the gajar ka halwa like many Indian dishes, it has its own variations across the country. What however is one of the most coveted versions is the kali gajar ka halwa from Lucknow. And it's ideal for winter, given the intrinsic nature of black carrots, rather the absolutely deep purple carrots, supplying the body with heat. Traditionally, this variation requires you to thicken the milk to stay true to its roots and not add khoya.
Best place to try: Motimahal, MG Marg, Hazratganj, Lucknow; The Chowk area in Lucknow too have hole-in-the-wall places that serve delicious kali gajar ka halwa.
19. Baingan Bharta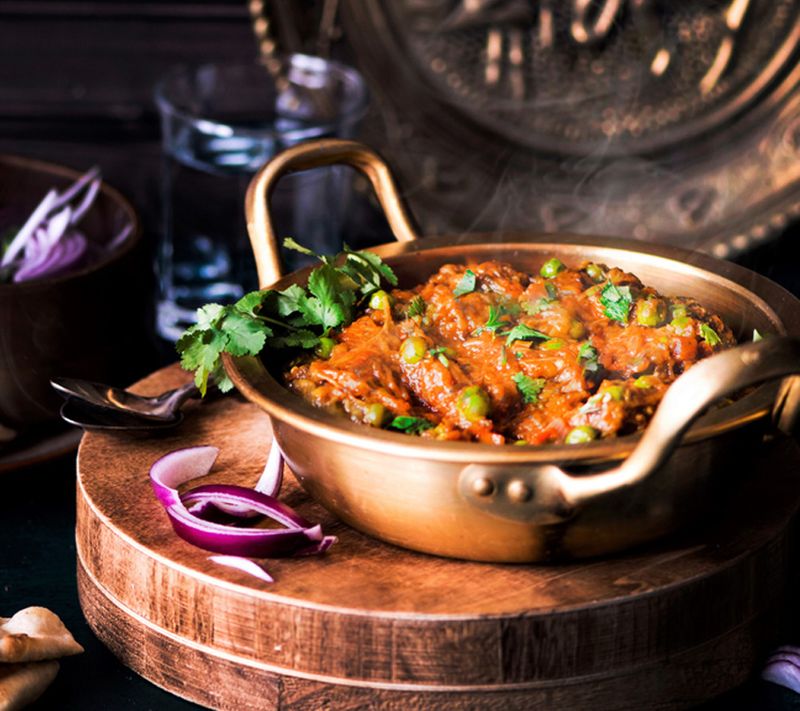 Eggplants evoke extreme emotions of love or hatred, so does baingan bharta. Made of charred eggplant mash and seasoned with turmeric and chillies, baingan bharta is a simple dish. But in its simplicity lies the challenge, making it difficult to perfect it.
Best places to try: At home
18. Tandoori Chicken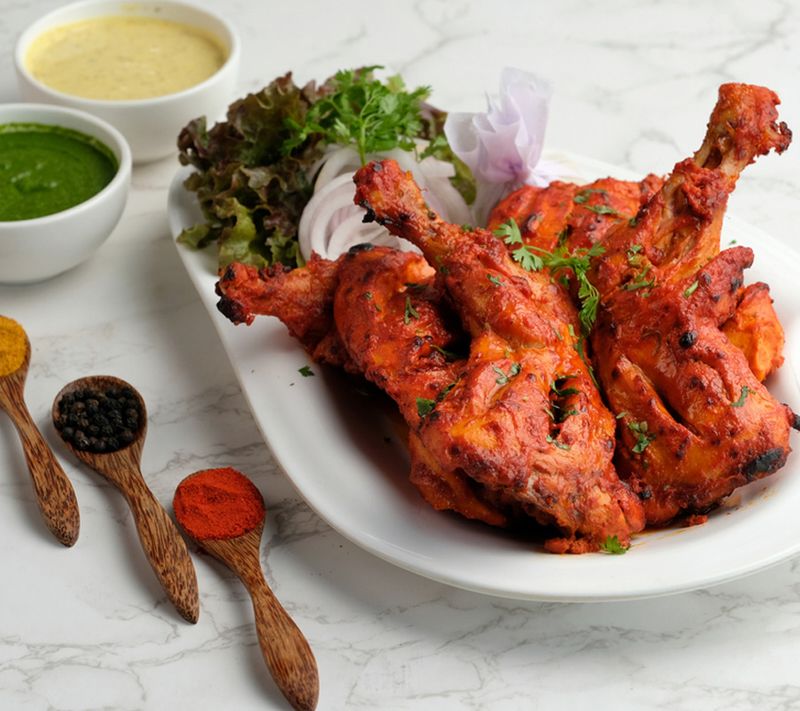 One of the most popular dishes in Indian cuisine, this recipe consists of marinated chicken in yogurt, seasoned with tandoori masala, nutmeg, and cumin, then placed on skewers. The dish finds mentions during the time of the Harappan civilisation also. However, according to one popular theory, it was invented by Kundan Lal Gujral in his restaurant Moti Mahal. The dish was an instant hit with customers, and even Indian Prime Minister Jawaharial Nehru became a regular at official banquets after eating it at the restaurant often.
Best places to try: Bukhara (Delhi); Karim's (Delhi); TundayKebabi (Delhi).
17. Palak Paneer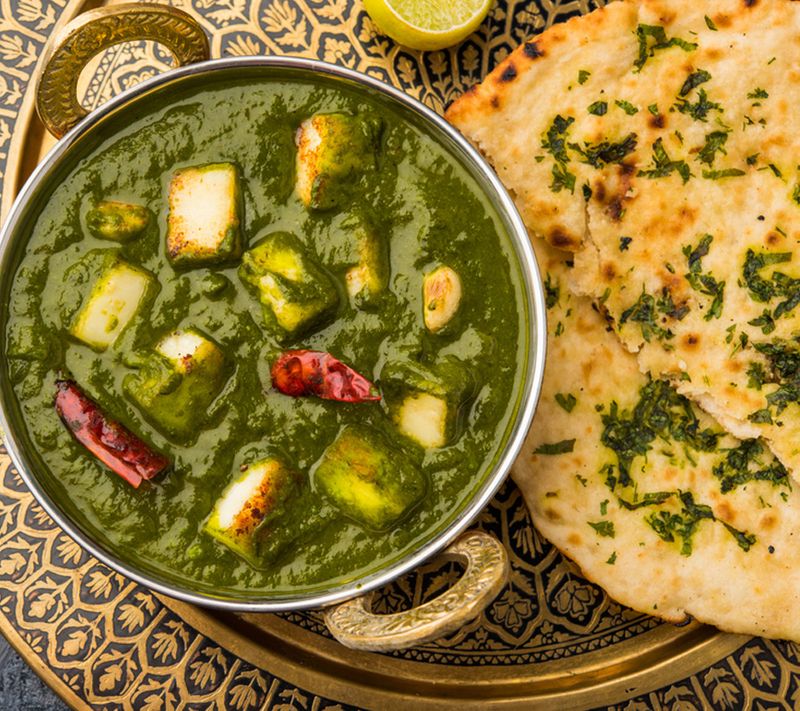 Another favourite from north India, palak paneer is a vegetarian curry that is best paired with some piping hot jeera rice or ghee-laden parathas. The hero ingredients in this dish are spinach and cottage cheese. To make palak paneer, the spinach is first blanched and pureed, and then cooked with a mixture of sauteed ginger, garlic, onion, and tomatoes. It is finished off with cottage cheese (fried, grilled, or non-fried, based on personal preference), garam masala, and some ghee or butter.
Best places to try: Kesar Da Dhaba in Amritsar, Gulati in New Delhi, Pritam Da Dhaba in Mumbai.
16. Kulfi falooda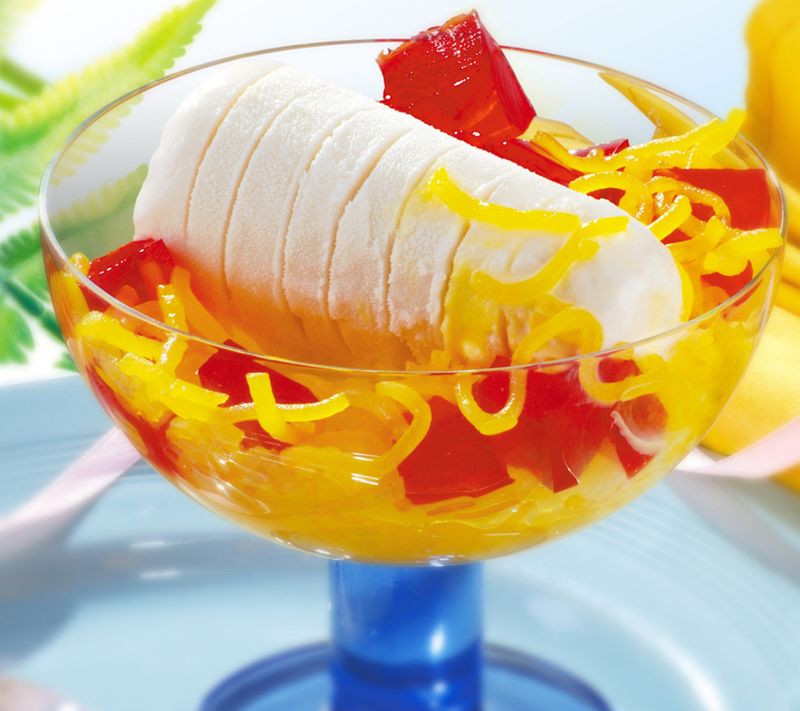 Would it be fair to call kulfi falooda India's version of a sundae? We think so! Kulfi and falooda, technically are separate dishes, but when combined together, they create happiness in a glass. Both the dishes travelled to India from Persia. Kulfi is India's version of ice cream, appropriated and made popular during the Mughal era where it was made with condensed milk and flavours like dry fruits, rose extract, saffron and more.
Falooda came to India with travellers from Central and West Asia and travelled even beyond the Indian subcontinent. The primary constituents of a falooda are vermicelli, sago or basil seeds  and flavoured milk.
If you substitute the chilled milk with a cold kulfi, you have the legendary kulfi falooda!
Best places to try: Krishna di Kulfi, Delhi; Baba Falooda, Mumbai
15. Gulab Jamun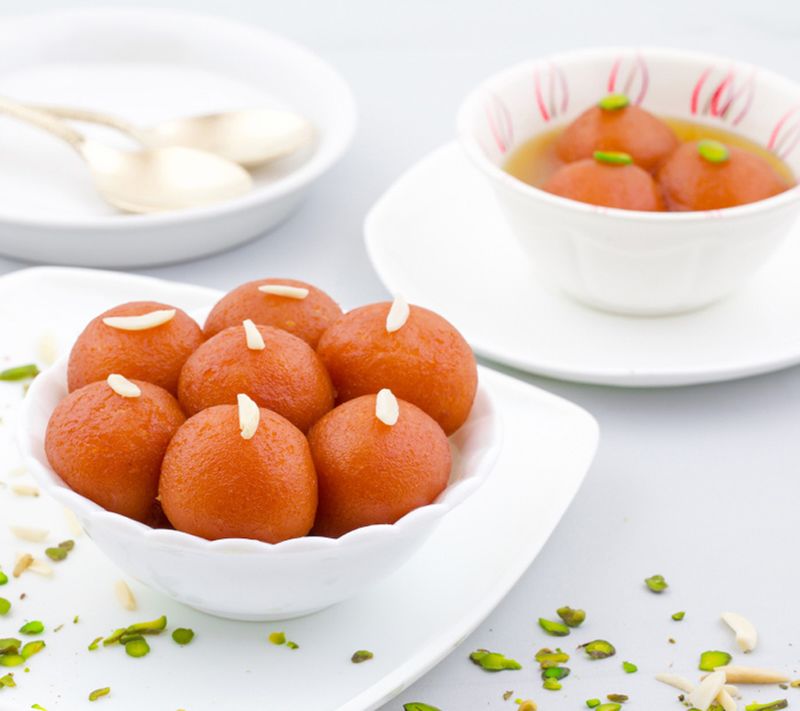 The iconic Indian delicacy gulab jamun is a sinful, fried round that smells of warm milk and caramelised sugar. Historically, there are many different fascinating stories pertaining to the origins of Gulab Jamun. As per one folklore, it was accidentally invented by Shah Jahan's royal chef or 'Khansama' who took inspiration from Persian or Turkish traditions and some local sweet makers. Fascinatingly, the Persian sweet delight 'Bamieh' and the Turkish 'Tulumba' are both quite similar to the Gulab Jamun in terms of flavour, texture and ingredients.
Best places to try: Shree Bhagatram(Delhi); Zaffran (Delhi)
14. Curd Rice aka Thayir Sadam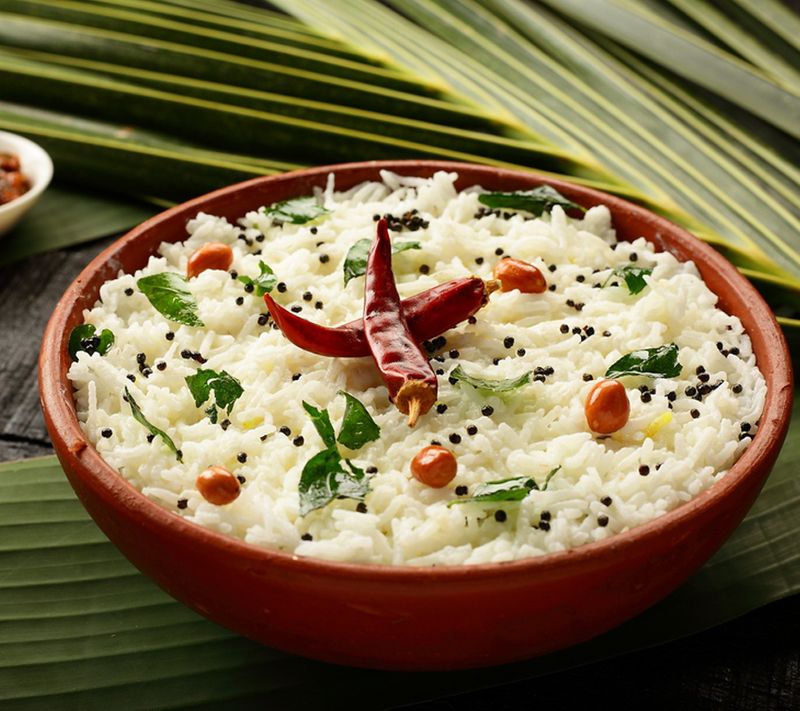 A south Indian delicacy, curd rice is made by mixing pre-cooked rice, yoghurt, and tempered oil, mustard seeds, curry leaves, peanuts, cumin seeds, chana dal, urad dal, whole red chilli, hing, ginger, and green chilli. Many people also add grated vegetables such as carrot and cucumber. Traditionally, curd rice was eaten during summers to protect one's body from seasonal heat and prevent sunstroke. But, today, curd rice is eaten all year long, and is best made with matta rice.  
Best places to try: At home
13. Misal Pav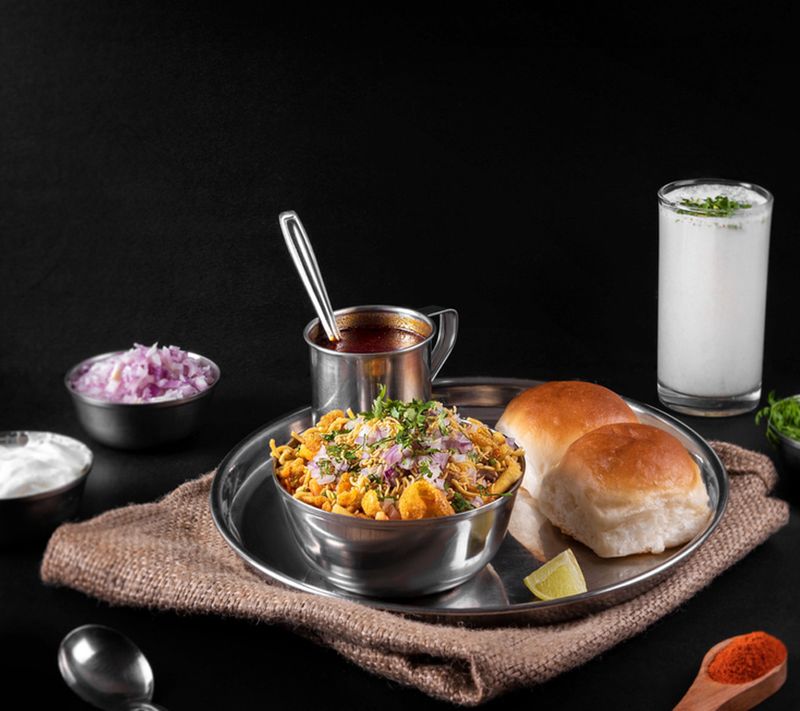 Misal pav is synonymous with different regions of Maharashtra, and different regions of the state have their own version of this dish – Puneri, Kolhapuri, Khandeshi, and so on. It is a spicy curry made using sprouted moong or white chana, topped with dry farsan, sev, onions, and some lemon juice, and eaten with white bread or ladi pav. In today's time, misal pav is a popular breakfast dish across Maharashtra.
Best places to try: Vinay Health Home in Mumbai, Sadhana ChulivarchiMisal in Nashik, and KattakirrMisal in Aurangabad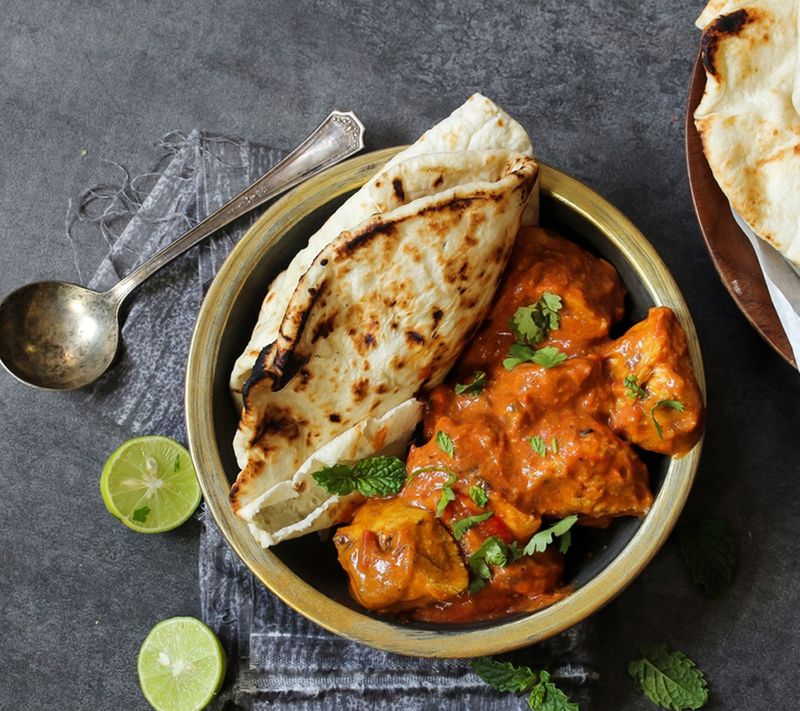 This absolutely decadent form of chicken curry also comes from the house of Moti Mahal and the three restaurateurs - Kundan Lal Jaggi, Kundan Lal Gujral and Thakur Das. The story goes that a Bengali customer asked for a chicken curry, and we're talking about the 50s here, but all the restaurant had was tandoori chicken. The kitchen got busy and put the curry together, using tomatoes, butter, cream and some spices. And leftover tandoori chicken. Who knew huh?
Best place to try: Moti Mahal, Delhi
11. Masala Chai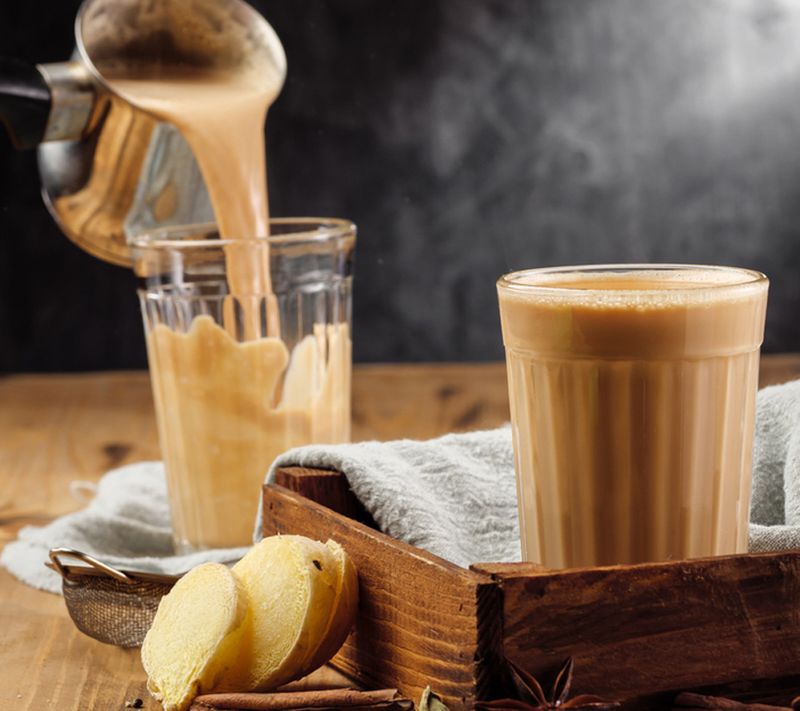 There's nothing that a hot cup of masala chai can't fix. This insanely popular Indian beverage is made by brewing black tea with milk and a mix of aromatic spices such as ginger, black pepper, cardamom, and ginger. The spiced milk tea origin dates back to the British era and can help to improve digestion and heart health, boosts immunity and reduces inflammation.
Best place to try: At home and tea kiosks near you.
10. Keri ka achaar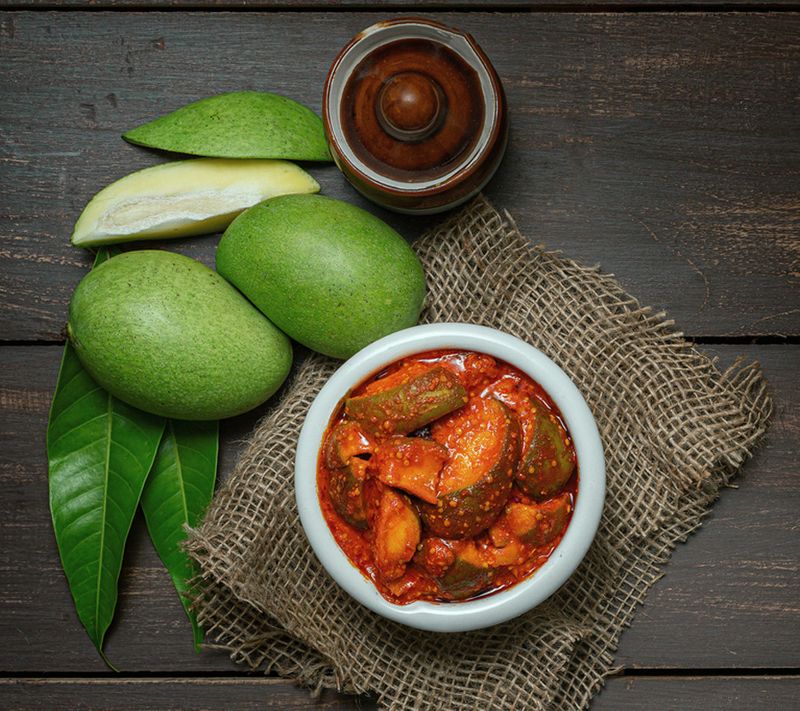 No Indian summer is complete without mangoes. To ensure that memory of a happy summer last through the year, the raw mango pickle is a must-have in every household. Mustard oil, chilli powder, turmeric and salt are mixed with chopped raw mangoes and left to mature in the summer sun in a glass jar. 
Best places to try: At home
9. Chole Bhature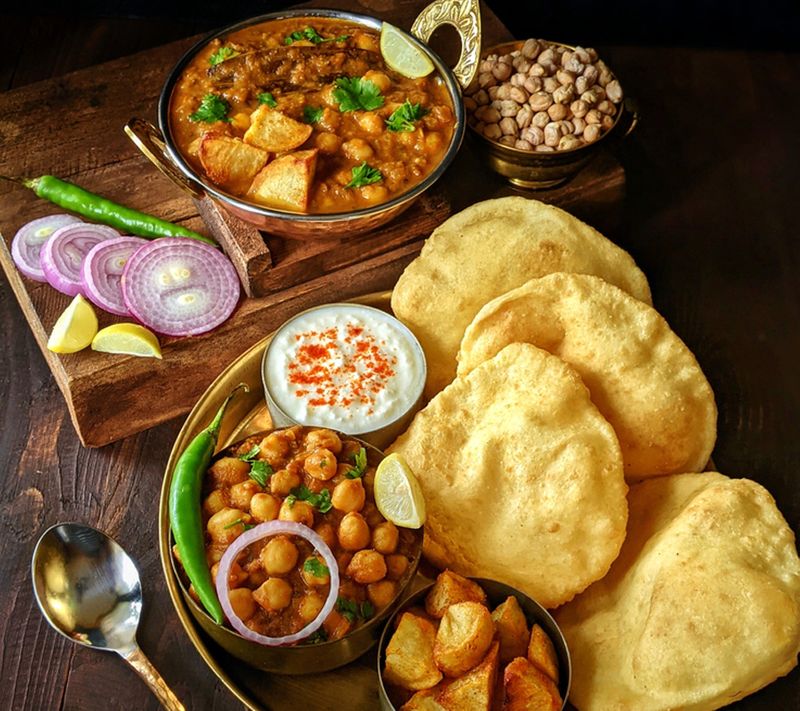 This heavenly combination of white chickpeas masala gravy served with soft and fluffy deep-fried breads, onion and pickle is a universal favourite. Even though it's a Punjabi dish, its origin lies in Delhi and dates back to the 1940s. And it didn't take much time for it to travel across states and become a national favourite.
Best places to try: Sita Ram Diwan Chand in Paharganj, Chache Di Hatti in Kamla Nagar, Nand di Hatti in Sadar Bazaar and Baba Nagpal Corner in Lajpat Nagar.
8. Samosa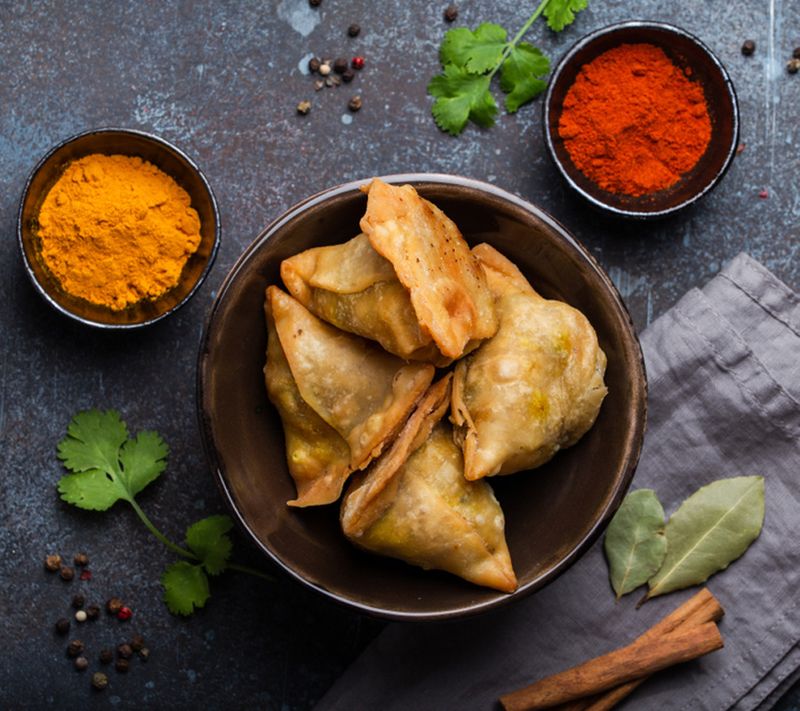 Samosa might be the most preferred street snack in India but to your surprise, it is not of Indian origin. It draws its origin from the Iranian plateau in the Middle East during the 10th century. It's believed that the Middle-Eastern chefs introduced it to India during the Delhi Sultanate rule. It became the staple food for merchants, travellers, and traders who migrated to India back then.
Best place to try: Street stalls near you.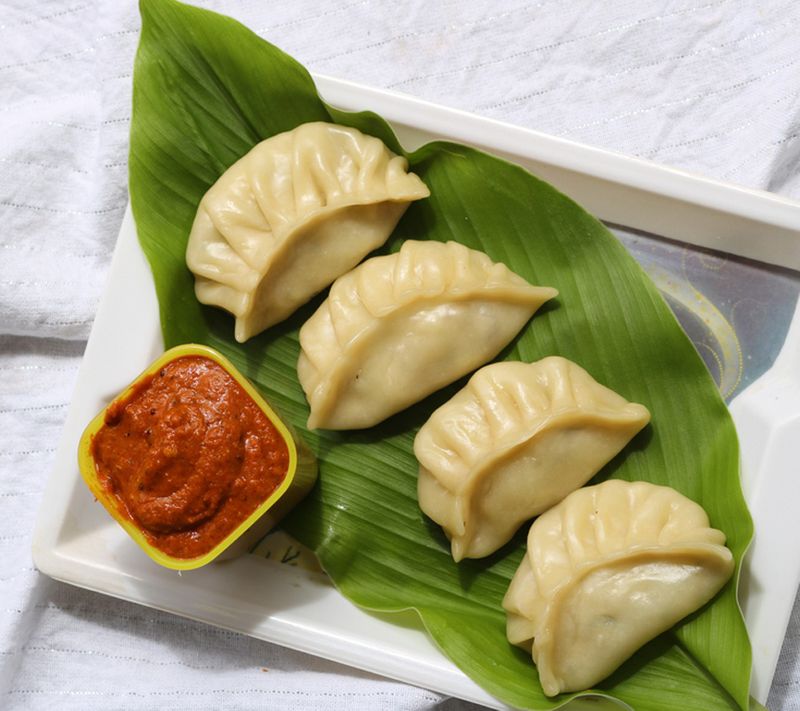 It's hard to imagine that a dish as simple as momos could have any controversy surrounding it. But there is. Does it come from Tibet or Darjeeling? Nepal or China? Nevertheless, we are quite happy to eat all versions. Typically cooked with minced meat that is stuffed inside a dumpling made from flour and then steamed, momo is comfort food. In India, it is a staple across the Northeastern region; and thanks to people from various parts of the country moving around constantly, it's become popular across India. While Darjeeling probably serves the most authentic version, we're pretty sure you'll find a street cart near your home selling yummy momos. 
Best place to try: Streetside vendor in your neighbourhood.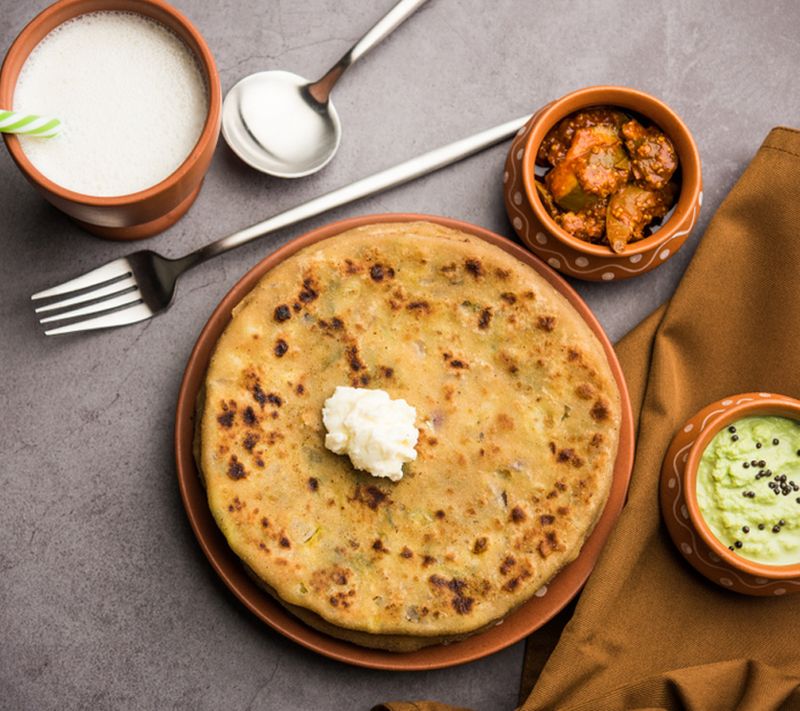 Who doesn't like aloo paratha? It's everyone's favourite and for all the right reasons - so filling and delicious. These Indian flatbreads stuffed with mashed spiced potato mixture are served with dollops of butter and pickle. The dish is believed to originate from the land of Punjab and is the a staple breakfast in most Indian households.
Best places to try: Moolchand metro station, New Delhi and at home.
5. Uttapa/Uttapam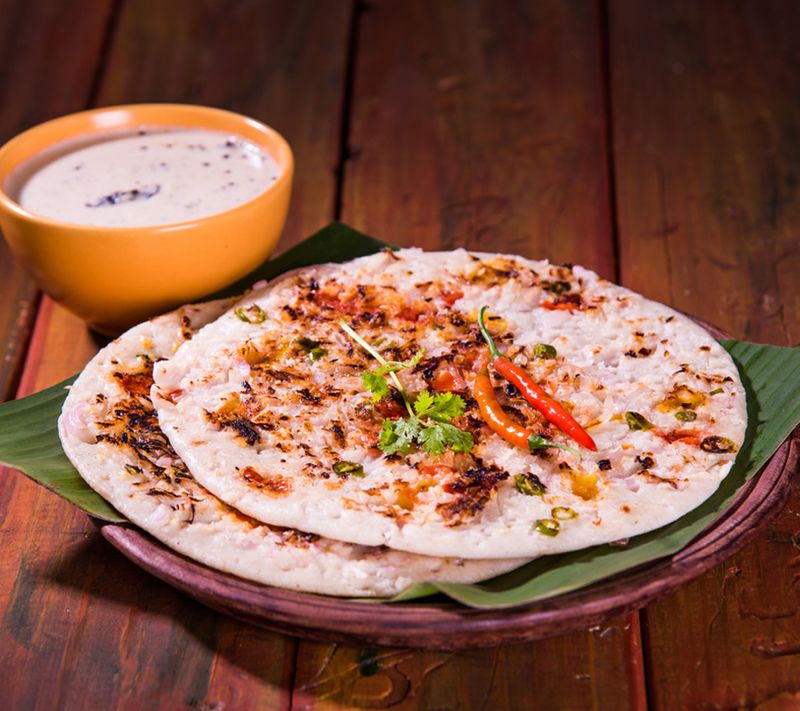 One of the most popular breakfast staples in south India, especially Tamil Nadu, Uttapam is a crispy, porous dosa. It is topped with onions, tomatoes, capsicum, carrots, and green chilli, and served with coconut chutney and sambar on the side. The name 'uttapam' is derived from the Tamil words 'appam' and 'utthia' and it means poured appam. It is made from the usual dosa batter, which has soaked lentils and rice.
Best places to try: Saravana Bhavan in New Delhi, MuruganIdli Shop in Chennai, and Dakshinayan in Mumbai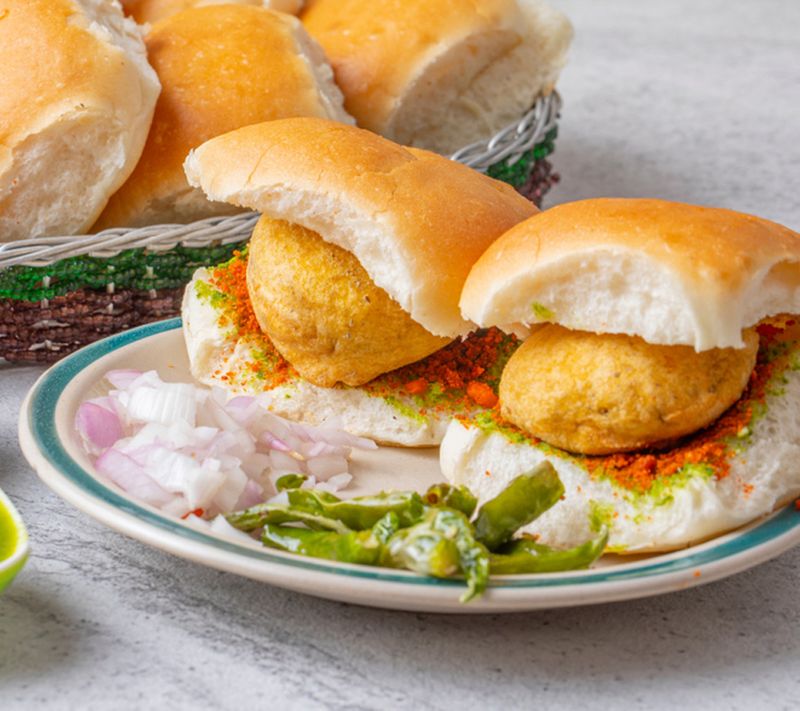 Vada pav is one of the top street foods that Maharashtra swears by. India's version of the humble burger, consists of a vada, which is a spiced potato patty coated in a slurry of gram flour and fried, and soft bun pav to hold the patty. Vada pav is usually eaten with fried chilli and a dry spicy chutney made of dried red chilli and garlic.
Best places to try: Garden Vada Pav Centre in Pune, Aram Vada Pav outlets in Mumbai, and Kirti College Vada Pav Stall in Mumbai
3. Pani Puri, Phuchka, Gup Chup, etc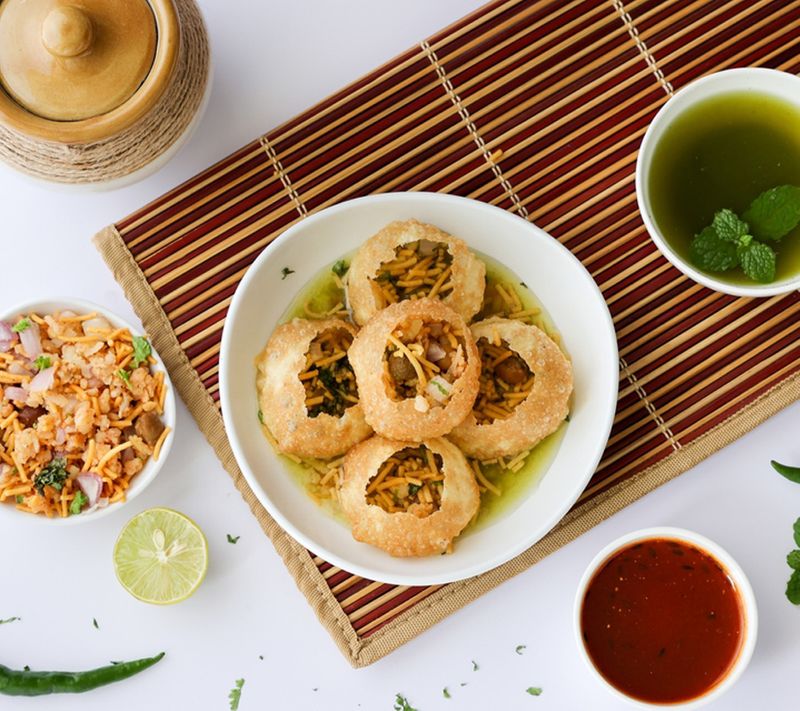 First things first, panipuri and phuchka are not the same as their fillings, chutney and the spicy water differs. While pani puri is stuffed with ragda, phuchka is stuffed with a spicy and tangy mix of chickpeas and potato. However, the undisputed king of Indian street food has a very unclear history attached to it. While some tout the ancient Indian kingdom of Magadha as the origin, others say it was Mahabharat's Draupadi who invented pani puri in response to Kunti's challenge of feeding the Pandavas equally with limited resources of food.
Best places to try: Pani puri stall near you.
2. Masala Dosa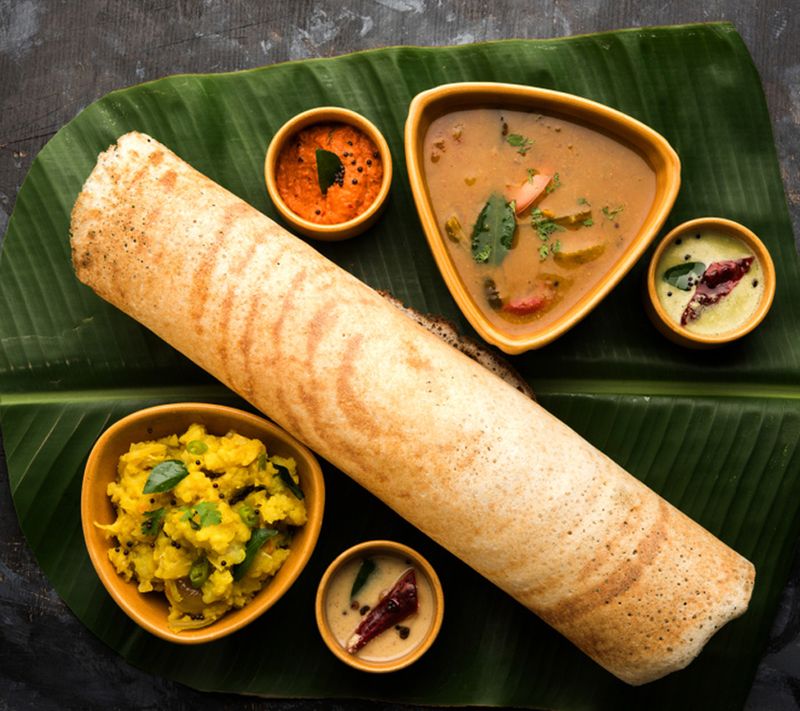 It's believed that the dish was born out of a sin and hence it was named 'dosha'. It's said that it originated in Udupi, when a Brahmin tried to make beer by fermenting rice and it didn't turn out as expected. So he used the same batter to make crepes, and named it 'dosha' as alcohol was considered a sin in their community. That's not all about it. There's another theory which believes that the King of Mysore introduced dosa when he organised a huge buffet and a lot of food was getting wasted. So he asked his cooks to come up with something and that's how these crepes made of fermented rice and urad dal came into being.
Best places to try: Cafe Madras in Mumbai, Ramashray in Mumbai, Dakshin in Chennai.
1. Pav Bhaji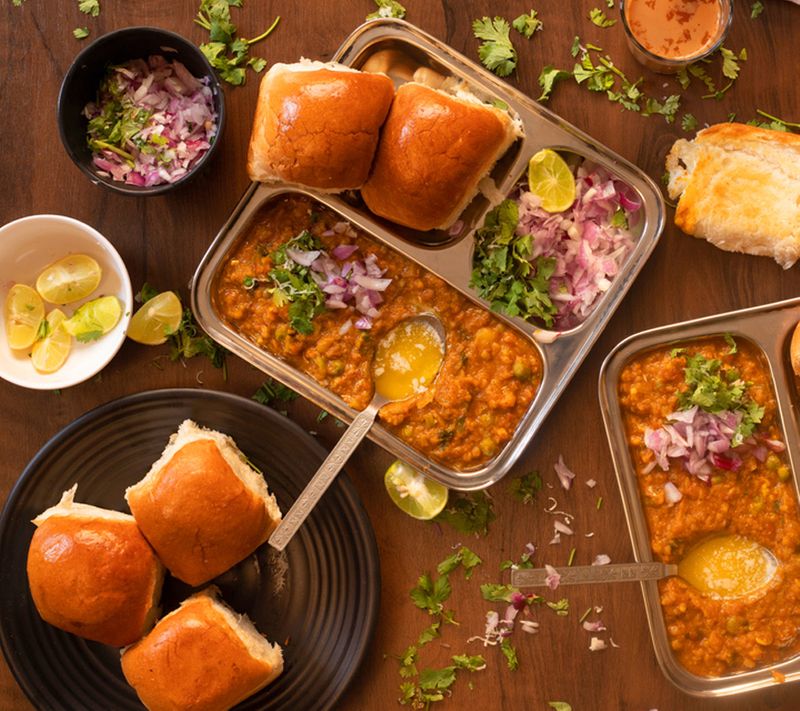 A big cast iron pan on a griddle with stack of pavs on the edges and a glob of vibrant and piquant mash simmering in off-center of the pan. As the orders start flowing in, a typical roadside vendor deftly portions out the mash, and douses it's in butter enough to instantly clog your arteries. He then goes on slather a layer of butter on the pavs and quickly toasts them and served the mash and bread combo with a side of chopped onions and a slice of lime. This is the world-famous pav bhaji.
The dish was concocted to feed hoards of hungry traders who were conducting business at odd hours of the night to cater to the demand created by the American Civil War. The base of the 'bhaji' is potatoes and tomatoes but also includes, carrots, onion, chillies, peas, capsicum and more. It is mashed till it's a pulp and no clear discerning veggie flavour comes through. It is seasoned generously with myriad spices, and every vendor has his own combination. To simplify life and pick up a pack of pav bhaji masala mix from the local grocery. Only a few dare to bake their own pavs, these invariably come from the local bakery.
Best place to try: Sardar Pav Bhaji, Canon Pav Bhaji, Amar Juice Center are considered some of Mumbai's best pav bhaji
With inputs from Anannya Chatterjee, Priyadarshini Nandy, Sayoni Bhaduri, Shraddha Varma and Tejashee Kashyap.
---
Photo: Shutterstock