Pani puri is an experience—standing around the vendor in a circle, waiting for your turn with a bowl in hand, for crisp puri dripping with tangy water. Pani puri epitomizes India's love for chaat—a term derived from the Hindi word lick—the lip-smacking, tonsil-titillating dish where you always wish you could have just one more. It's the quintessential street food found in corners across India.
Pani puri recipe
Ingredients
For Tangy Pani
1 cup mint
½ cup coriander
2 green chillies
1-inch ginger
5 cups cold water
3 Tbsp Pani Puri Masala
1 Tsp black salt
Juice of 1 lemon
Salt to taste
½ cup water
For Tamarind Chutney
1 cup tamarind
2 cups jaggery
1 tsp roasted cumin powder
½ tsp garam masala
½ tsp black salt
¾ tsp red chilli powder
For the filling
1 cup boiled and crushed potatoes
1 cup boiled whole mung beans
½ cup savoury boondi
salt to taste
2 tsp chilli powder
2 tsp chaat masala
20-30 store-bought crispy small puris
Method
In a blender, add the mint and coriander leaves, green chillies and ginger.
Add a little water as required. Blitz till it forms a smooth puree.
In a big bowl, pour 5 cups of cold water. In this add the green puree and the rest of the ingredients and mix well. Keep aside in the refrigerator.
Wash, soak and boil the tamarind for a few minutes in water.
Deseed and strain so you get a slightly diluted tamarind pulp. Keep it aside to cool.
In a saucepan on medium heat, bring the tamarind pulp to a boil.
Add jaggery, roasted cumin powder, garam masala, black salt, and 3 red chilli powder.
Stir and cook on medium flame till the jaggery melts and mixes with the tamarind.
When the chutney thickens with a glossy finish, remove it from the flame. Keep aside to cool.
Mix 1 tsp of chilli powder and chaat masala to the individual bowls of boiled potato and moong dal. Add salt as per taste and mix well. Keep aside.
Keep all your ingredients in separate bowls in front of you, before you start assembling the pani puri.
Gently crack the top of a puri. It should be big enough for you to place the fillings comfortably.
Carefully spoon a few boiled potatoes, moong and boondi into the puri. You can customise the fillings according to your preference.
Spoon in 1 tsp of tamarind chutney.
Fill up the puri with the tangy pani.
Gobble the pani puri down immediately!
Tip: You can use store-bought pani puri masala but it will never taste the same as the one made at home with tons of TLC.
Pani Puri Recipe Ideas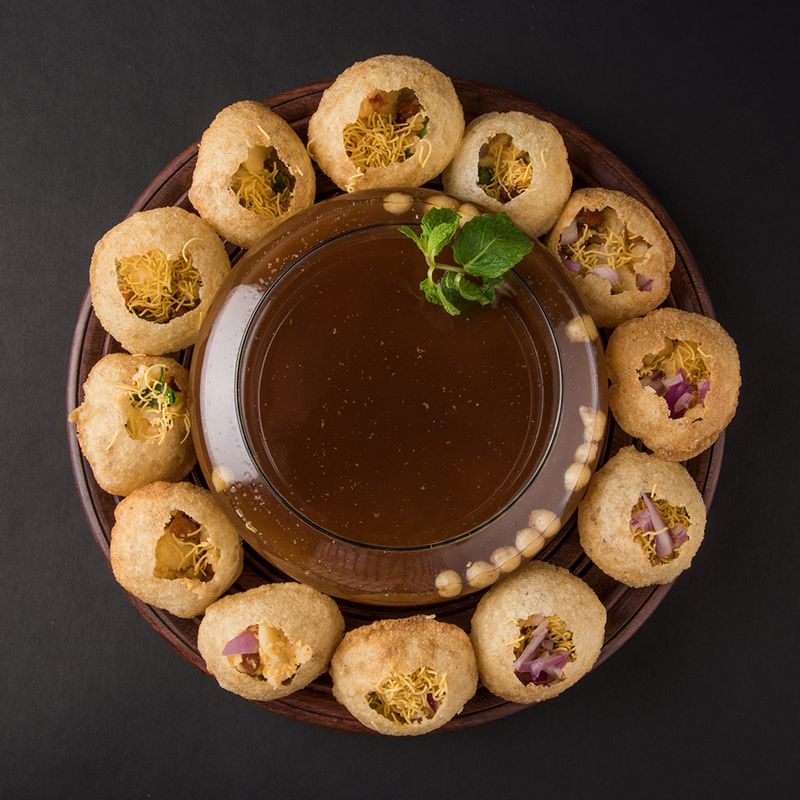 1. Cucumber pani puri
For an additional dose of summery freshness to an already refreshing pani puri recipe, try cucumber pani puri. Simply infuse the tangy pani of pani puri with fresh cucumber juice.
2. Healthy phuchka
Pani puri has various names across the country. For example, in Kolkata and other parts of east India, pani puri is called popularly known as phuchka. You can add watermelon juice to turn it into a healthy phuchka recipe.
3. Moong bean and green apple dahi puri
A quirky combination of green apple and sprouted moong beans makes for an interesting filling for a dahi puri. Dahi puri is just the same puri filled with whipped and flavoured yoghurt instead of the tangy pani.
Whether it is pani puri or dahi puri, puris are an integral part of India's unique chaat and street food culture. The crispy semolina-based puris from the pani puri combination are incredibly versatile and can be incorporated into dishes in many ways.
---
Photo: Shutterstock