Take a walk along any of Mumbai's streets and you're sure to be left salivating at the mere sight of the city's street food offerings. Pav bhaji is one such favourite delicacy from Mumbai's streets that is now made even in home kitchens.
A complete meal in itself, pav bhaji is also easy on your wallet. When you make this street food recipe at home, you can be sure that every bite also packs in health benefits, thanks to all the veggies that come together to make pav bhaji.
A spicy and tangy medley of veggies embedded in a rich and fragrant gravy, Mumbai's pride aka pav bhaji is said to have humble origins. It was first prepared in the 1850s as a quick-fix meal solution for textile mill workers working the night shift in Mumbai.
Leftover vegetables from the day were thrown in together, then mashed to resemble a thick puree. This mix was then spiced up and served with pav – and that's how pav bhaji was born. From a midnight dish, today this street food holds a place of importance on Mumbai's must-try fast food and street food lists.
Decoding the Pav Bhaji Recipe
Roughly chop some veggies, throw them into an open pot or cooker, add in the main ingredient – pav bhaji masala mix - and mix everything together. Quite simple, right? However, one bite into it and you'll realise that it has a complex flavour and stars a variety of veggies.
Don't be overwhelmed yet. While the vegetables used to make the pav bhaji recipe vary from stall to stall and household to household, generally, potatoes, tomatoes, onions, peas and capsicums find their way into this happy marriage of flavours.
Typically, most of the vegetables used in the pav bhaji recipe help add some body to the bhaji, you are therefore free to modify this street food recipe by using veggies of your choice or based on their availability. While nothing can compare to the pav bhaji served at a street-side stall which is made and served with generous amounts of butter, you can make a healthier version of the pav bhaji recipe at home and sneak in veggies of your choice. 
Pav Bhaji Recipe
Ingredients
1 big bowl of mixed vegetables of your choice – potatoes, cauliflower, carrot, peppers
1 large onion, finely chopped 
400 gms tomatoes, diced 
1 bowl peas
7 to 8 garlic cloves, finely chopped
1 inch ginger
½ tsp grounded spice or garam masala
3 tbsp Pav Bhaji Masala
1 tbsp coriander powder
1 tbsp Kashmiri red chilli powder
Salt, to taste
Water, as needed
1 whole lemon
Butter or ghee, as needed
Method
Start by prepping your veggies. Roughly chop the cauliflowers, carrots, peppers and potatoes. Peel and grate the ginger.
In a pressure cooker, throw in the cauliflower, carrots, peppers, peas, potatoes, grated ginger, finely chopped garlic, turmeric and red chilli powder, and some salt to taste.
Cook over a high flame for one whistle. After that, let it cook over a low flame for another 5 minutes.
Remove from heat and let it sit until the pressure has released from the cooker.
When the pressure has released, mash the vegetables using a wooden spoon or a potato masher until well combined. You don't have to blend all the veggies completely. A few pieces of unmashed peas or potatoes are fine.
Use a small tadka pan to prepare the tadka for your pav bhaji. Heat some oil or ghee, and when hot enough, add garlic and fry until it turns golden brown. It's best to cook it over a low flame as you wouldn't want to let the flavour of burnt garlic overpower your pav bhaji.
Next, add the onions along with some salt and cook until golden brown.
Next, throw in the chopped tomatoes and cook for around 8 to 10 minutes or until the tomatoes look done.
Gently mash the tomatoes using a spoon. Add some turmeric powder for colour.
Next, add the other dry spices – garam masala, red chilli powder and pav bhaji masala. Give it a good stir and remove it from the flame.
Pour the tomato mix into the mashed vegetables and give it all a good stir.
Squeeze the juice of a whole lemon into the pav bhaji to add a bit of tanginess.
Garnish the pav bhaji with some freshly chopped coriander leaves.
When ready to serve, top with some butter or ghee.
Cut open the pav slices and toast on a flat pan or tawa over medium heat. If needed, toast with a few dollops of butter or ghee on both sides of the bread. Serve along with the bhaji you just prepared. 
Pav Bhaji Recipe Ideas with a Twist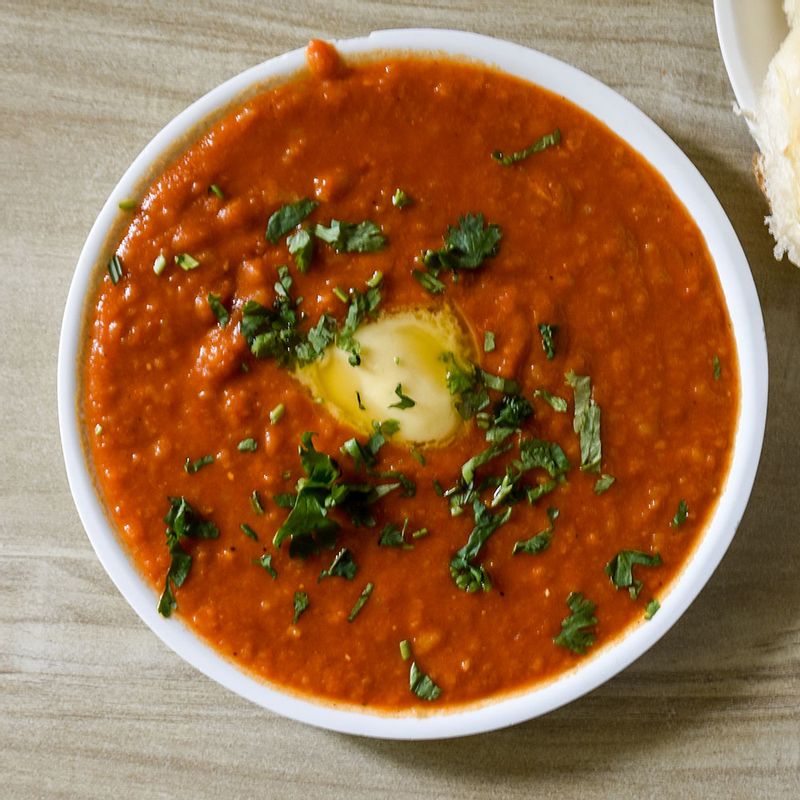 You can give the basic pav bhaji recipe a little upgrade or simply use leftover pav bhaji and turn it into an altogether new dish. Here are some ways you can rustle up new dishes because nobody can ever get enough of this street food recipe! Don't you think?
1. Pav Bhaji Fondue
The traditional pav bhaji dish gets a modern twist to become what we commonly call the Pav Bhaji Fondue. This is a silky-creamy concoction bursting with flavours from the traditional bhaji and the obvious gooey goodness of cheese. It is served hot in a fondue pot over a gentle flame and eaten with small chunks or pieces of toasted bread.
2. Pav Bhaji Pasta
Give the Italian pasta a desi twist by serving it with flavours inspired by Mumbai's popular street food. All you've got to do is heat the pav bhaji on a pan over a low flame till it reduces. Into that, you could sauté some more veggies of your choice.
At this stage, you could also throw in some cooked and shredded pieces of meat of your choice. Give it all a good stir. You'd want to skip on the spices since your pav bhaji is already well seasoned. Finally, into your pan goes your cooked pasta and your pav bhaji pasta is ready!
3. Masala Pav
For an easier and tiffin-friendly way to serve your pav bhaji, you could simply reduce the gravy by cooking it on low heat. Then stuffed it in a pav or two and toast the stuffed pav on a tawa. 
---
Photo: Shutterstock