Any hearty, tummy-filling desi meal is incomplete without some achaar. Not only do they instantly spruce up the simplest meals but also make for the yummiest way to eat more veggies and fruits.
Over the years, Indians have learnt how to pickle just about any ingredient. The North mostly pickles turnips, cauliflowers and carrots, the South pickles prawns and fishes, and even bamboo shoots, while the North Eastern states have further experimented with the pickling process with beef, pork and dried fishes.
When it comes to pickles in India, if it fits into a jar, then it's probably fit for pickling. Be it meetha, teekha, chatpata or a mix of all these flavours – there's a pickle to suit every palate and meal.
The West may regard pickling as an art of preservation or fermentation but for Indians, making pickles is an ancient household tradition loved, followed and passed on by our grandmothers since time immemorial.
Before diving into the world of pickles, here's a small class in history. The word 'pickle' is derived from the Dutch word 'pekel'. However, the process of pickling is believed to have originated in India. During the summer months, when food production remained below average due to the shortage of water, women started experimenting with the pickling process to ensure the longevity of fruits and vegetables. They experimented with different spices and flavours, thus extending the shelf life of fruits and vegetables. Since then, the art of pickling went on to earn a place of importance for itself in almost every kitchen.
How to make pickles at home
Agreed, the high sodium and high oil content in store-bought pickles make the spicy and oily achaars among the first items you would want to get rid of. But when had in moderation or best, when made at home, this accompaniment to your meals has more benefits than harm. Since there is no heat involved in the preparation of pickles, it can preserve the nutrition of vegetables. Moreover, vinegar used in the pickle-making process aids your body's metabolism.
When you make pickles at home, you have control over the amount of oil, salt and spices used. You can also experiment with seasonal vegetables and fruits. When it comes to the basics of pickle making, salt and oil play an important role. Salt helps to bring out all the flavours, absorbs moisture and inhibits bacterial growth. The oil prevents the ingredients from drying up, keeps them moist on the inside and crunchy on the outside. Different oils and spices render different characteristics to the pickles, so you are free to experiment accordingly.
Making pickles requires patience as you need to sun-dry the ingredients first, then soak them in oil and spices, and finally let them age under the sun for a few days, sometimes even months, to develop deep intense flavours.
The most loved pickle
While classics like limes, chillies and carrots steal the culinary limelight during the pickling season, the most popular star ingredient will always be the mango.
Of course, each region and each household has its own version of the mango pickle recipe. In north India, a mango pickle recipe calls for the addition of mustard oil, while in south India, sesame oil is most preferred when it comes to making pickles. In Gujarat, mangoes are treated with sugar to give us what we call chunda, in Uttar Pradesh and Bihar, they are pickled with saunf or aniseed, and in Andhra Pradesh with fiery chillies.
Here's an easy homemade mango pickle recipe enough to last you the whole year. Make sure you've got some big jars handy!
Mango Pickle Recipe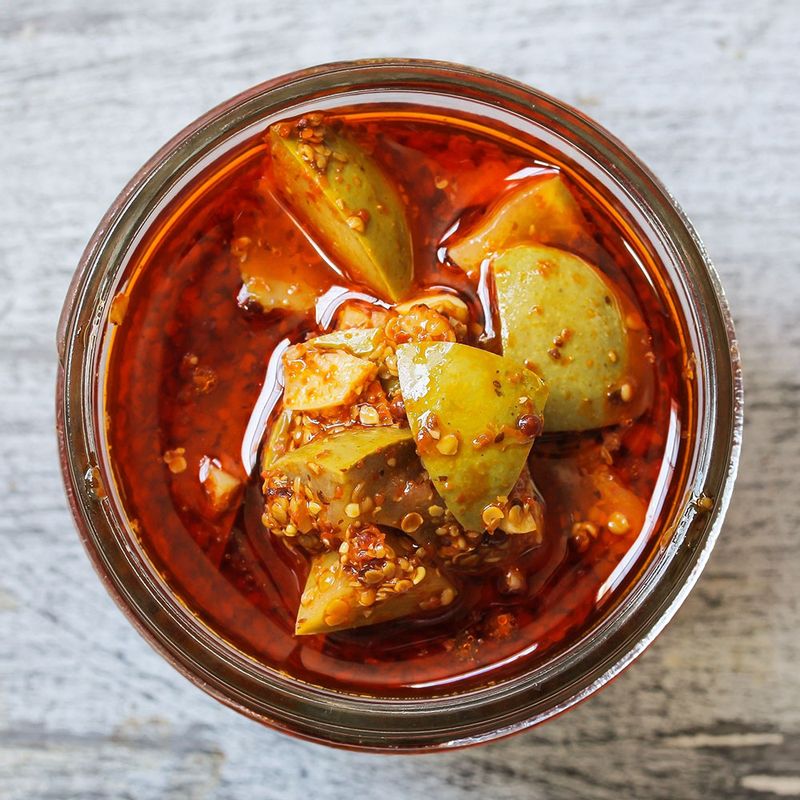 Ingredients
5 kg raw mango, chopped
½ kg mustard seeds, without skin (keep aside 100 gm)
200 gm fenugreek (methi) seeds, roasted
3½ glasses Kashmiri red chilli powder
200 gm cumin seeds (divide into 2 parts and roast)
1 kg salt
250 gm garlic (divide into 2 parts)
50 gm turmeric powder
1½ kg refined oil (sweetened)
For tempering
1-part (100 gm) garlic
1-part (100 gm) cumin seeds
100 gm mustard seeds
1½ kg oil (sweetened)
Method
Start by sun-drying the mustard seeds. Next, grind them into a fine powder and keep them aside for later use.
Next, grind the roasted cumin seeds and fenugreek seeds together into a fine powder and keep them aside.
Remove the skin of the garlic pods and crush them. Divide them into two equal parts.
In a big vessel, add cumin seeds, fenugreek seeds, red chilli powder, salt, mustard seeds, turmeric powder and the prepared cumin and fenugreek powder. Mix this masala well and keep it aside.
Wash and then clean the raw mango pieces with the help of a clean damp towel.
For the tempering, heat the oil in a saucepan and add 100 gm of cumin seeds and 100 gm of mustard seeds. Once the mustard seeds start crackling, add 100 gm of garlic, and give it a nice stir.
After a few seconds, switch off the flame and allow the oil mixture to cool down.
Add the prepared masala to the oil mixture and then carefully add the raw mango pieces into it and mix well.
Transfer the pickle into a sterilised jar.
After 5 days, mix the contents of the jar well.
Make sure that the pickle is completely submerged in oil when you store it.
Mango pickle with a regional twist
If you want to try a more regional variation to the traditional mango pickle, give the mango avakaya a chance! A highlight of a Telugu household, mango avakaya is a glorious mixture of mustard (ava) and mangoes (kaya) with loads of chillies and other spices.
---
Photo: Shutterstock