India's Konkan belt that courses through the coastal regions of Maharashtra, Goa and Karnataka on the west, is known not just for its scenic beaches but also for its delicious spicy seafood.
The Konkan cuisine is predominantly non-vegetarian food flavoured with local spices and coconut, which offers a distinctive flavour and aroma to the food. But apart from the seafood, Konkani vegetarian fare is also equally sumptuous.
Chef Rohit Pushpavanam, executive chef of Alila Diwa Goa says, "Konkani cuisine's delicious repertoire of taste and variety of non-vegetarian and vegetarian selection will keep you coming back for multiple helpings. From sol kadhi and upkari to Recheado and puran poli served with coconut milk, the cuisine has evolved but at the same time has retained its highlights."
Here are some of the popular Konkani delights you should definitely try if you haven't had a chance yet to relish Konkani cuisine.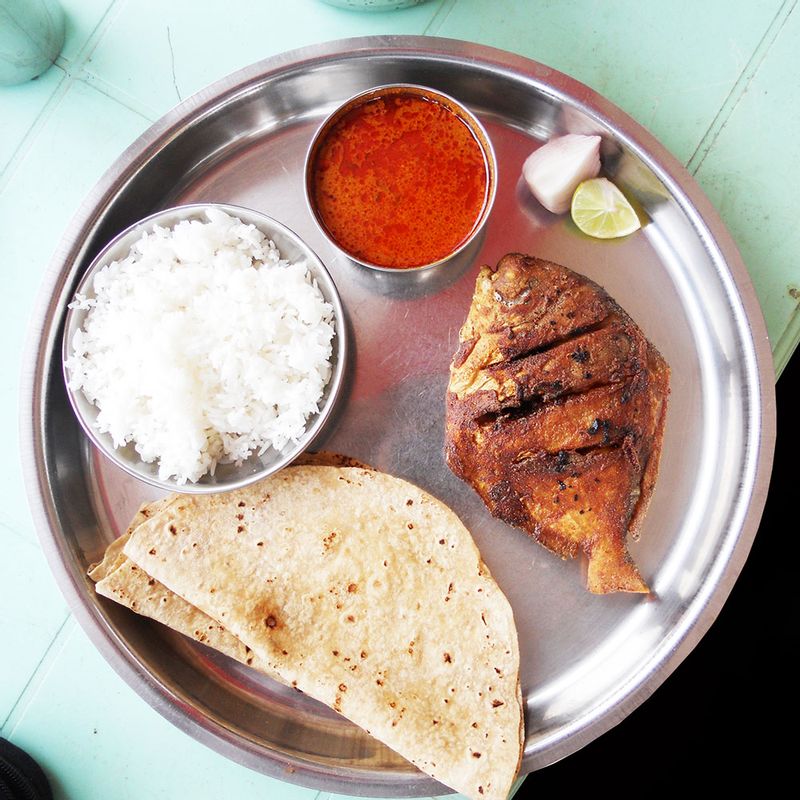 1. Shark Ambotik
The meaning of 'ambot' is sour and 'tik' is spicy in Portuguese, this is a Portuguese-influenced dish from Goa, which is made with fish that has fewer bones. Authentic ambotik fish curry is usually made with shark because of the chunky meat, but it can also be prepared with mackerel, prawns or sardines.
A typical ambotik masala consists of Kashmiri red chillies, cumin seeds, pepper, turmeric, garlic, ginger and tamarind. A mix of onion and tomato (boiled and skinned) is fried in some oil, to which the masala paste is added and cooked, followed by the shark pieces. It is cooked on a low flame till the pieces are tender. Some salt and vinegar can be added to the curry along with sliced green chilly to make it spicier. The shark ambotik is garnished with some coriander leaves before serving.
2. Prawns Recheado Masala
Spicy and tangy recheado masala paste is an indispensable part of any Goan kitchen. This is the masala paste that is used to marinate mackerel fish and prawns. The recheado masala is made by soaking red Kashmiri chillies, chopped ginger, garlic cloves, cumin seeds, turmeric powder, cloves, cardamom and tamarind pulp in vinegar.
A mix of salt and sugar is also added kept aside for about 40 minutes, only to be made into a smooth and thick paste. This masala is used to marinate the prawns. The marinated seafood is kept aside for 30 minutes and then fried in hot oil after coating it with a mix of semolina and rice flour. Once it becomes golden brown on both sides, it can be served with salad, lime wedges, rice and curry.
3. Sanna
Sannas are nothing but steamed rice cakes that are a staple in Goa, Mangalore in Karnataka, usually during religious occasions such as Ganesh Chaturthi, Makar Sankranti and even during church festivals. It is made from a fermented batter of rice, coconut water and coconut milk and some toddy.
Sometimes a sweet version of sanna is also made with jaggery, urad dal and coconut milk. To make sanna, rice is soaked in water overnight, ground into a fine paste and mixed with coconut paste followed by some toddy. The batter is allowed to ferment for about 5 hours and then steamed in ramekin dishes or idli stand. It is served with some hot curry. 
4. Kosambari
According to the book, Incredible Taste of Indian Vegetarian Cuisine by Uma Aggarwal, Kosambari is a popular salad in the state of Karnataka. It is prepared during festivals especially like Ganesha Chaturthi and Ram Navami.
Made using split green mung dal or chana dal with fresh vegetables and freshly grated coconut. It is seasoned with a tempering of mustard seeds, curry leaves and a dash of asafoetida (hing). It is usually served as a snack option, but it is part of the mains in Udupi cuisine. Click here to read more about this fresh raw salad.
5. Fish Gassi
This lightly spiced fish curry with a tangy flavour is a popular dish from Mangalore. It is traditionally called meen gassi in the coastal region of Karnataka. The flavourful fish curry made with coconut and spices such as Byadgi chillies, cumin seeds, coriander, black pepper.
The whole spices are roasted and then made into a masala paste which gives the curry a distinctive taste, it is served alongside rice as part of the main course made using fishes such as pomfret, mackerel and sardine. 
6. Phanasachi Bhaji
Jackfruit (phanas in Marathi and kathal in Hindi) is used extensively in both raw and ripe form in the coastal region. The ripened fruit is used mostly for desserts and the raw variety is used for savoury dishes.
Phanasachi bhaji is a dry side dish made in Maharashtra prepared with shredded jackfruit cooked with coconut, sprouted chickpeas, mung beans or any other type of beans. This lightly spiced side dish has a peculiar taste thanks to the Maharashtrian goda masala.
7. Sol Kadhi
Sol Kadhi is a delicious drink consumed as an appetiser in the coastal regions of Maharashtra and Goa. Made with kokum and coconut flavoured with a little bit of salt and chilli-garlic paste, this antioxidant-rich has a purple-pink colour.
It is known for not just its refreshing flavour but also for its digestive properties, which is why it is often served after meals.
---
Photo: Shutterstock