"Kaanam Vittum Onam Unnanam" is a famous Malayalam idiom highlighting how vital the Onam sadhya is to Malayalis during the Onam festival. It loosely means that one must have the Onam sadhya aka Kerala sadhya even at the cost of selling property or jewellery. We caught up with Manoj Nair, General Manager at the Kochi-based hotel Brunton Boatyard, to quiz him on the elaborate feast, Kerala Sadhya from God's Own Country.
1. A sadhya is a must for the Onam and wedding celebrations. Some families host a sadhya for birthdays and other special occasions as well. Certain temples organise special sadhya during important festivals and auspicious days, while others serve it daily as a community service.
2. On average, there are about 23 to 28 items on a typical Onam sadhya. The number of dishes on the banana leaf reflects the wealth and prosperity of a household. At a Malayalam wedding, most families don't spare any costs, and there could be more than 30 items in a sadhya.
3. The Payasam is particularly fussed over because it is one of the most expensive items in this fare, thanks to its lavish ingredients. The variety of Payasams served is directly proportional to one's social status. Payasams are made of several ingredients such as rice, vermicelli, rice pasta, lentils and fruits. These ingredients are usually cooked in coconut milk, and sugar or jaggery is used as the sweetener.
4. There is Ayurvedic science behind the plating and order of eating a Kerala Sadhya, which is always eaten by hand. All the items have varied textures and flavours. Twelve to 13 items that are mostly dry or semi-dry are served on the banana leaf's top half. The bottom half is reserved for rice and lentils, sambar and curry. As you progress through the meal, you can pick and choose the side dishes from the top according to your palate.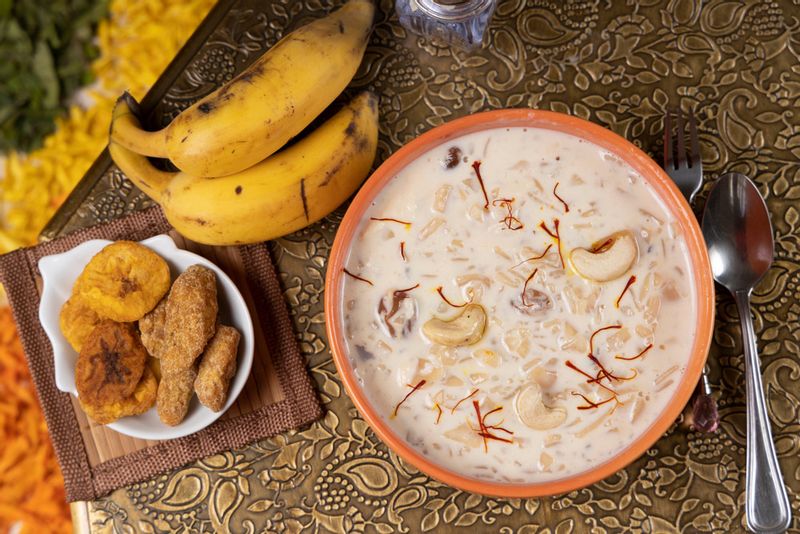 5. Once you are seated, the rice is served with lentils and ghee. This is a mild, non-spicy and mellow start to the Onam sadhya. Then comes the spicy sambar that takes up most of your rice. Unlike other cuisines, the dessert here, which is most commonly the Payasam, is eaten in the middle of the meal to cleanse your palate. Sip on peppery rasam next to replace the sweetness, and then you can go back for more rice. All to be washed down with digestive buttermilk. This completes the dining ritual.
6. An Onam aka Kerala sadhya is always served on a banana leaf. The broader side of the leaf rests on the right. If you are satisfied with the meal, you should fold the leaf away from you. Salt is served first. If you feel any of the curries are under-seasoned, you can add salt according to your taste.
7. On an auspicious occasion, before you and your guests sit down to feast, a banana leaf filled with all the items is first offered to the Gods. This is also why you will never find any non-vegetarian delicacies here. 
8. You won't find any wheat-based dishes in a traditional Onam sadhya. Kerala is a rice and coconut bearing state. Most of the dishes in this spread contain coconut (as a paste or grated or in the form of milk or oil), and the primary fodder in Kerala Sadhya is rice. Items like the now-famous Malabari Paratha or the broken wheat payasam are new additions to Malayali cuisine and aren't part of a traditional Kerala Sadhya.
9. The pickles served in an Onam sadhya are made of seasonal produce, such as mango, lime, gooseberry and ginger. They don't contain vinegar—instead, the spices and oil act as preservatives.
10. The signature spices in most of the Kerala Sadhya dishes are pepper, cardamom, cinnamon, star anise, nutmeg, bay leaf, mustard seeds and curry leaves. All of these are locally produced and sourced.
---
Photo: Shutterstock