A viral Father's Day video featuring actor Vidya Balan's father PR Balan had one beautiful moment in which Balan gives his visiting daughter a bowl of her favourite snack—to which Vidya exclaims "Pazham Nurukku" with childlike excitement, before gobbling up the contents swiftly.
Vidya proves she's a true blue Malayalee—not just in the way she rolls her tongue to say "pazham" (nobody gets it like the Mallus!), but also in the manner in which she bonds with her family over Pazham Nurukku. The pazham or banana in question is the Nendrapazham or Nendran banana. Kerala's most favourite fruit, this banana is much bigger than the other popular varieties and grown primarily in God's own country. Nendran bananas are consumed in several ways. Nurukku is prepared by shallow-frying slices of this banana in pure ghee, served with a sprinkle of sugar.
While mango is the king of fruits for the rest of India, Kerala worships the Nendran banana. It's relished all through the year with a brief interlude when jackfruit makes a big entry in summer.
The Whole Story: From Flower to Fruit
In Kerala, Nendran rules for a reason. It is one of the healthiest fruits thanks to the abundance of B vitamins, phosphorous and amino acids. Every part of the plant—from its stem to the flower and the fruit—can be turned into food in a Kerala kitchen and is often served on—no points for guessing—its leaf! If fruits (both raw and ripe) are prized, the peels of the raw fruits are devoured too, just like its purple, bottle-shaped flowers.
First Food: Too Good to be True
If you are a Malayalee or related to one, this banana will certainly make an appearance at some point in your life. For instance, those banana chips your Mallu friends always bring back after their annual visit home for Onam.
For a Malayalee, the initiation begins even before they turn a year old. The Nendran banana appears as the first solid food—raw bananas dried, powdered and mixed with cow or coconut milk. The child gulps down the gooey contents of this first food. It is the beginning of a story where the Nendran will make frequent appearances at breakfast and dinner tables, festive rituals, birth celebrations and death commemorations, and other important events in his or her life.
Teenage Angst and Banana Fritters
At some point in life (mostly during teenage years, as is observed), the Malayalee begins to loathe the Nendran banana. She will turn her nose at the raw banana sabji at the lunch table and no longer be appeased by the banana payasam, when pretty cakes and pastries have caught her fancy. However, as one grudgingly embraces adulthood and its responsibilities, like everything familiar and homely, one begins to take comfort in this as well.
I, for one, was raised on a regular diet of steamed Nendran bananas, which would appear at breakfast or as an evening snack, or on certain days, as both. This routine was temporarily stalled when my mother befriended more trendy, Catholic women at the Lions' Club who wore crisp organdy sarees and taught her to make rose milk, stir-fried noodles and sandwich rolls with chutneys. Alas! That was brief. Amma went right back to the steamed bananas when she got tired of the extended time in the kitchen those culinary novelties demanded.
The saving grace was that Nendran is a versatile fruit. The ripe fruit can be eaten whole. Raw bananas are often steamed for breakfast. Bored with the steamed version? Try the batter-fried variety. Tired of that too? Whip up some Pazham nurukku. Occasionally, we made a banana stew where the banana is boiled with milk and sugar for a quick evening snack. But what really had us craving for more is the Nendrapazham Payasam, which is indeed a king among desserts!
Try these Nendran recipes at home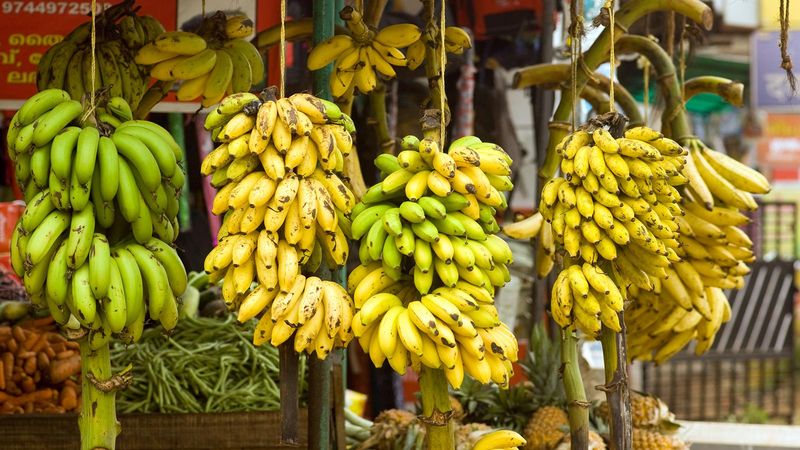 If you've spotted these long sturdy bananas at a Mangalore store or in South Indian stores up North, pick up a bunch and try one of the recipes below. It could be the beginning of a new culinary love affair.
Note: The ripe fruit will have streaks of black on the yellow peel. The raw fruit is green or a healthy yellow.
Steamed Nendran Banana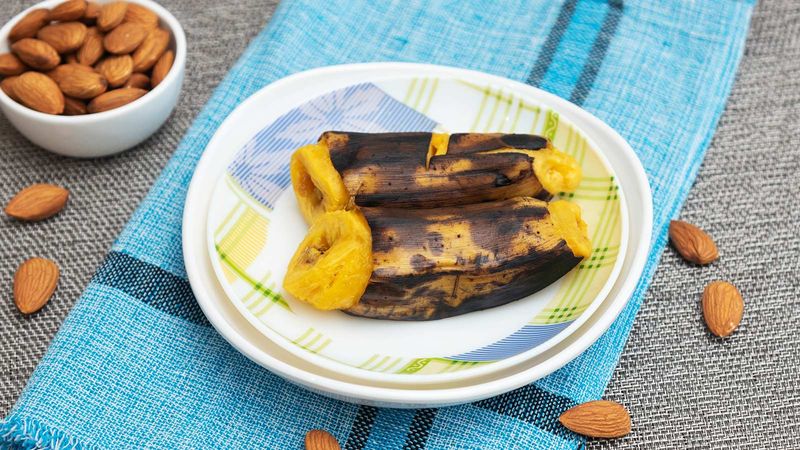 Wash and place the ripe bananas with their peels intact in a small steel container.
Lower the container in a pressure cooker with two or three glasses of water at the bottom.
Close the lid and wait for the first whistle.
Turn off the burner.
If the banana is cooked properly, the peels would've opened to reveal the dark yellow flesh.
The banana is now soft to touch. Goes well with a dollop of butter.
Pazham Nurukku
Slice the ripe banana horizontally or vertically (3" pieces).
Grease a pan with ghee, place the slices on it and close the lid.
Turn them over occasionally until the slices turn brown and release an irresistible aroma.
Remove them into a bowl and sprinkle with sugar.
Pazhampori (Banana Fritters)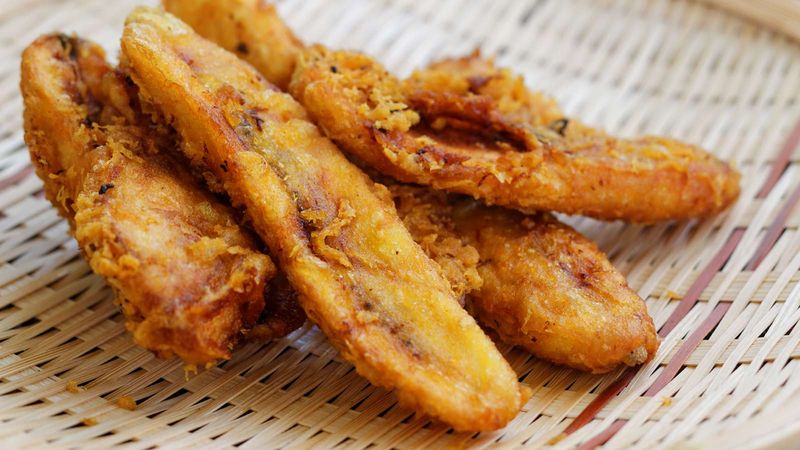 Slice the ripe bananas length-wise (about 3 inches).
In a bowl, mix one cup of wheat flour, one teaspoon of rice flour, a pinch of baking soda, a teaspoon of sugar (optional) and salt to taste. You can add a pinch of turmeric too for some colour.
Whip the contents into a semi-thick batter.
Dip banana slices to coat them with the batter before deep-frying them in oil (preferably coconut).
Wait for the steam to leave the fritters before you bite in!
Inside photos: Shutterstock
---
Photo: Shutterstock