Onam celebrated in Kerala marks the homecoming of Kerala's legendary mythical King Mahabali and falls in the first month of the Malayalam calendar- Chingam. The meal called sadhya is all about celebrating local, farm-fresh food and may contain a multi-course vegetarian feast of over 60 dishes in traditional homes.   
Meal musings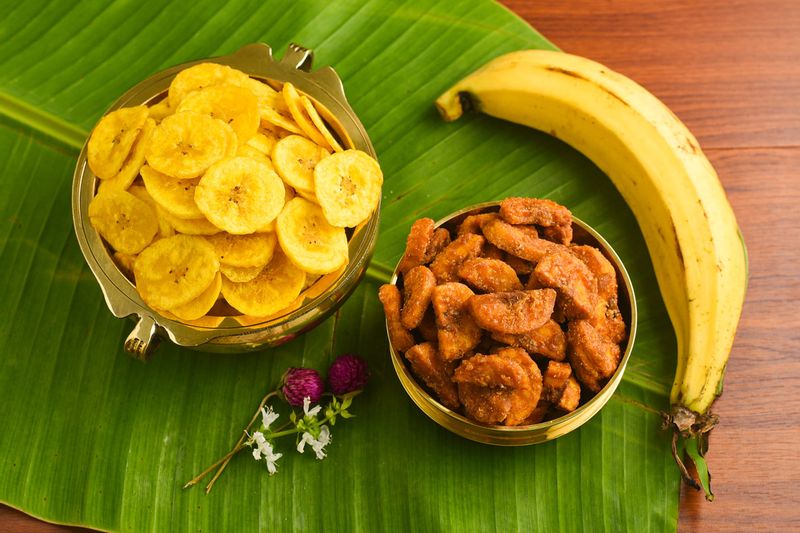 Onam is always marked by a grand feast, also called Onasadhya (meaning feast) that traditionally has 23-28 vegetarian dishes prepared and served to the family and friends, on banana leaves. Onasadhya is usually prepared using local harvest and the grandeur of the sadhya depends on the wealth of the people. It is celebrated across the state for 10 days and entire families come together to mark Onam. 
"The dishes cooked use locally-produced vegetables and other ingredients that make it a true celebration of the harvest season. The entire spread is served in a specific order and placed on the banana leaf, and one is encouraged to savour it by hand. People relish the dishes from left to right and all the dry dishes are arranged on one half of the banana leaf and the other half is for rice, pappadum, banana, a variety of chips and salt. After serving the rice, each curry is served one at a time and eaten in courses. The meal ends with a variety of payasam and banana and occasionally with buttermilk," explains Chef Regi Mathew, culinary director and co-owner, Kappa Chakka Kandhari. 
Happy tidings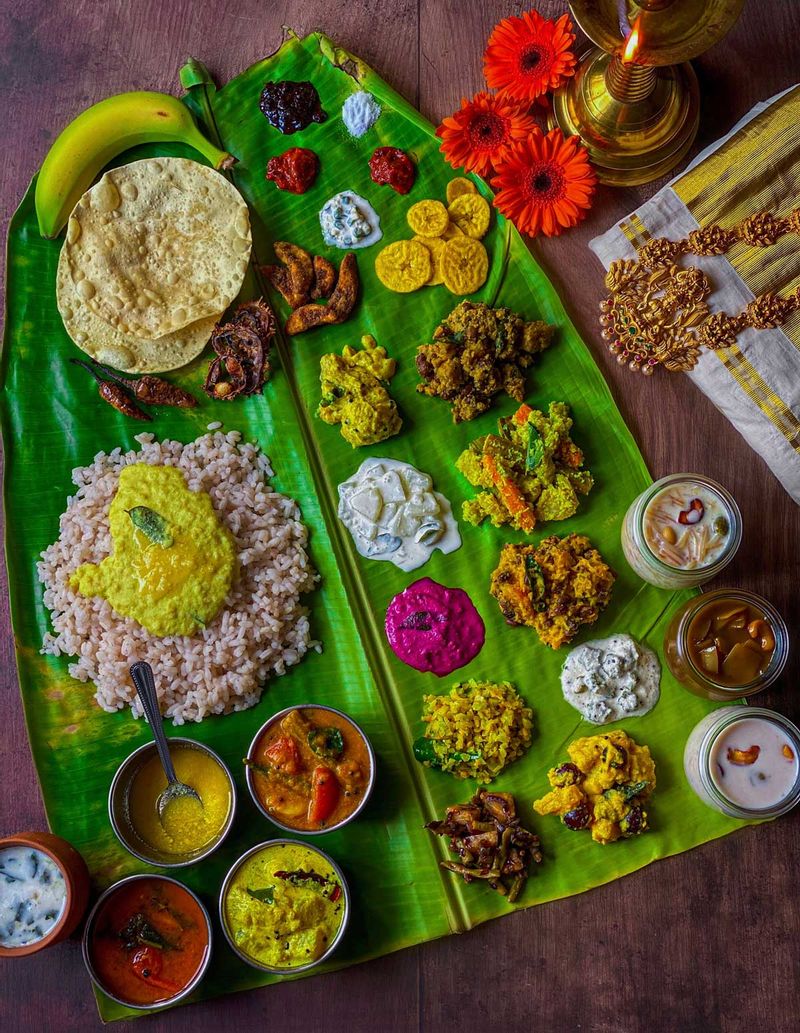 The beauty of a well-presented Onasadhya is the bright green banana leaf that contrasts the colourful bits and bobs of a variety of mouth-watering dishes that truly reflect and celebrate the colour and cheer of the harvest festival. When warm food is served on the leaf, the antioxidant, polyphenols are released and absorbed in the food, which provides great health benefits. Sadhya is always eaten with hands. 
Suresh Pillai from Restaurant Chef Pillai, which is slated to open in Bengaluru on Onam explains, "Kerala has three broad regions, Travancore, Central Kerala and Malabar, and Sadhya is served across Kerala. Historically the Travancore region has a different way of serving the dishes as well as the number of curries (seven, nine or 11). I am introducing the Quilon Sadhya of the region in my new restaurant with 11 curries. This is a tasting menu that has 27 dishes including three payasams and boli (a sweet chappati). The meal has eight courses and what makes it different is that the payasams are served in the third course." Chef Purushottam Naidu, master chef, South Indian cuisine, The Leela Palace Bengaluru adds, "The sadhya is the soul of the Onam celebration at homes. The festival marks the beginning of the New Year for Malayalees and the sadhya is the symbol of their happy living, and hence, the grand feasting. A single course of the sadhya has 24 to 28 dishes and can also go up to 64 dishes at some homes."  
Sweet endings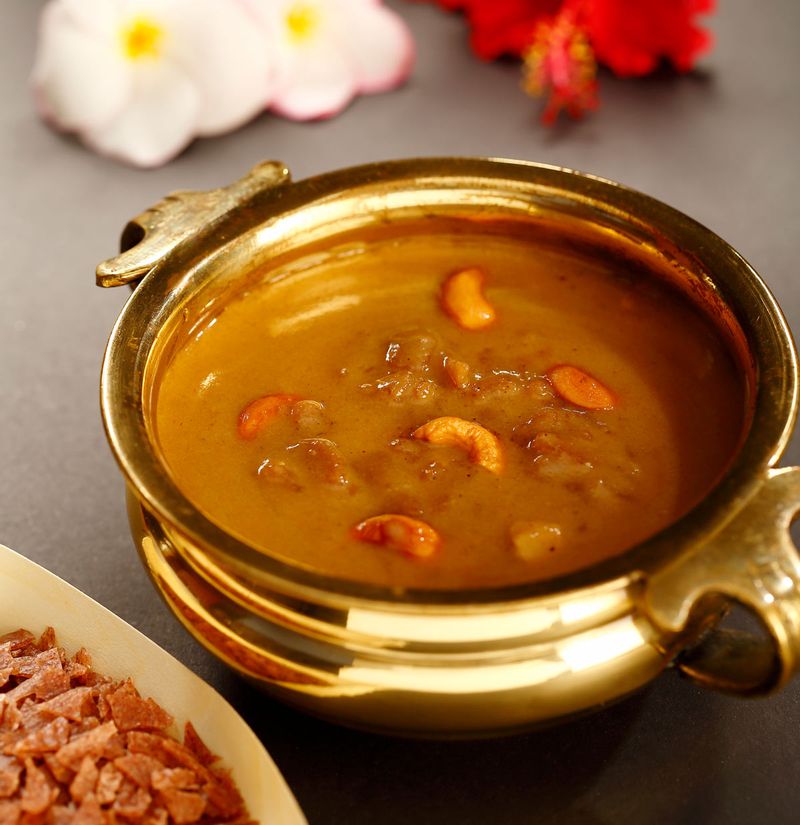 If you just want a taste of classic Kerala payasam, then Onam is the perfect occasion to indulge. Payasam is an important part of the festival as it reflects the sweet taste of harvest. Rice, jaggery, coconut milk, ghee, jackfruit is used in different varieties. "Ada pradhaman made with rice bits (or ada) simmered with jaggery and coconut milk is a must. Pradhaman is the king of payasam and the word means double cooked. The ada for this type of payasam is made by cooking the rice batter in banana leaves and then again cooking it along with the jaggery and coconut milk. The payasam is flavoured with dry ginger and cardamom," says Mathew. Chakka pradhaman, a traditional payasam made with jackfruit pulp, slow cooked in coconut milk and sweetened with jaggery and payaru payasam, with whole green moong and jaggery, cooked in coconut milk, flavoured with cardamom and topped with coconut bits are other variants. Palada (from Thrissur) made with rice flakes or ada, simmered in milk and sugar, generously garnished with cashew is another special payasam. 
Celebration for everyone
Apart from this grand meal, the spirit of reunion is what makes this a family affair as it is usually always celebrated with near and dear ones who prepare and serve the feast. Although the festival of Onam draws from the Hindu mythology, people from all communities in Kerala, irrespective of their religion, come together to celebrate this bountiful festival of harvest with great joy and happiness.
 "Spread across 10 days every year, a diverse range of celebrations and activities ranging from boat races, sports competitions, dance events, floral rangoli - pookalam, prayers and food for charity are part of the rituals and cultural practice. The beauty of this festival is that both Hindus and non-Hindus celebrate the festival equally, emphasising on the unity of family and kinship. Onam represents a communal harmony and brotherhood during the festival, where people wear traditional dresses and enjoy the grand feast called Onasadhya on Thiruonam," says Chef Srinivas Venkatesan, Executive Chef, ITC Windsor. The meal is usually followed by traditional games and other festivities. PR professional Saina Jayapal, sums up the concept succinctly, "The best sadhya memory I had was 2014 when I called my friends over for a sadhya at my home. I had Malayalee friends from all religions bringing sadhya dishes and that is what Onam represents for me which is unity." 
Components of the Sadhya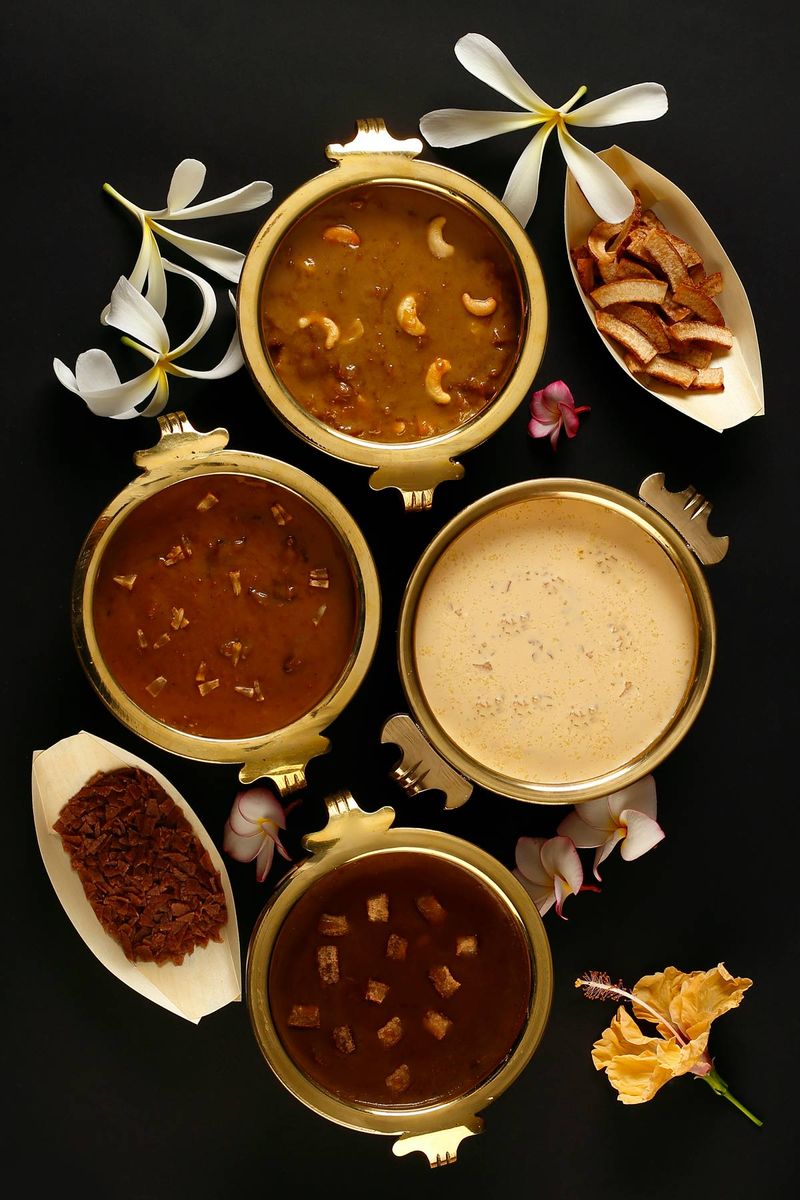 Upperi, a variety of chips including banana chips [generally fried in coconut oil]

A range of pickles Manga Achar, Naranga Achar, Nellika Achar 

Inji Puli: a traditional pickle made with ginger, tamarind and jaggery.

Olan, a palate cleanser made with ash gourd black-eyed peas, coconut milk and ginger and is seasoned with coconut oil.

Kalan, curried curd with raw Nendram bananas

Koothu Curry or Erussery [garden fresh vegetables cooked with roasted coconut masala]

Thoran, tempered vegetables with coconut

Aviyal, mélange of vegetables cooked with coconut paste 

Pachadi, usually made with grated beetroot, coconut paste, yogurt and tamarind. 

Kichadi, a curd-based dish made with cucumber and other vegetables

Parippu curry with ghee, made with moong dal or lentils cooked with grated coconut, seasoned with spices and topped with ghee

Sambar, a lentil and vegetable based dish 

Rasam, a clear and spicy broth considered to be a digestive is made with tomato, tamarind and curry leaves

Sambharam, spiced buttermilk

Pappadum, a traditional papad made of rice flour

A small ripe yellow banana

Payasam with Ada pradhaman [rice flake payasam cooked with jaggery is a must], usually two are made

Uppu or salt
Order Onam Sadhya in Bengaluru
Kappa Chakka Kandhari (Chennai & Bengaluru) has a traditional Onasadhya - Feast in a Box. This specially curated take-away experience is available for lunch only on August 20 and 21, 2021. Order on

www.kckonam.com

 

Jamvar at Leela Palace 080 3757 1348 and 080 3757 1344

Restaurant Chef Pillai's Quilon Sadhya by

Chefpillai

8943150000, 8943250000

Karavalli at Taj Gateway, Residency Road call 080666 04545

No.10 Fort Cochin on St Marks Road, 077778 76000

Vembanad at the Paul, 080 4047 7777

Achayyan's Restaurant, 096202 84809

Anamika of

@themindfulwhisker

(15 meals only)

Anju of

@anjuscafe

(limited meals)

Priya Nambiar

@Godsowncafe

is doing limited orders, call 9535726870

ITC Dakshin. Available from August 20-22, 2021 to order via Swiggy / Zomato or direct takeaway.


 
---
Photo: Kappa Chakka Kandhari