It all began with an enterprising son saw an opportunity to showcase his community's unique culinary heritage. With his mother happily manning the kitchen, the young man hosted curious gourmands to the grand delights of a Bohra Thaal in their family home in Mumbai. This was in 2014 when son Munaf and mother Nafisa Kapadia started The Bohri Kitchen (TBK). 
"It is always exciting to narrate the TBK story and I love how people react," he says when asked as to why he decided to pen down a memoir of his entrepreneurial journey. His book, How I Quit Google To Sell Samosas – Adventures With The Bohri Kitchen, starts off with the fateful conversation with Kapadia's boss that led him astray from the stable, cushy corporate job onto the tumultuous food business. 
The mystery of the samosa
What is the story of the samosa? It was a fluke, Kapadia says. In one of the earliest TBK home dining meals, his mother made the family's favourite smoked mutton samosas. This was so because, his father, who he calls Kapadia household's supply chain manager, found fresh produce in the market that day. The guests were in such awe that they hugged Nafisa exclaiming she has magic in her hands—the book has a whole chapter dedicated to these initial days. Today these samosas are TBK's biggest selling product. "It works because it is an entire experience, you have to bite into the crust add mint and lime and then chomp down!, "he explains.
Munaf Kapadia came from a professional background that was always in search of the next big thing; in the startup world, such enterprises are referred to as unicorns. But the path of F&B business is a treacherous one as Kapadia found out. He is unabashed about the ups and downs—from hosting people at home to going bankrupt. It also talks about him then raising funds and very recently (during the pandemic), consolidating the business. The savvy marketeer knows how to keep his readers engaged but at the same time doesn't mince his words. 
Entrepreneurial lessons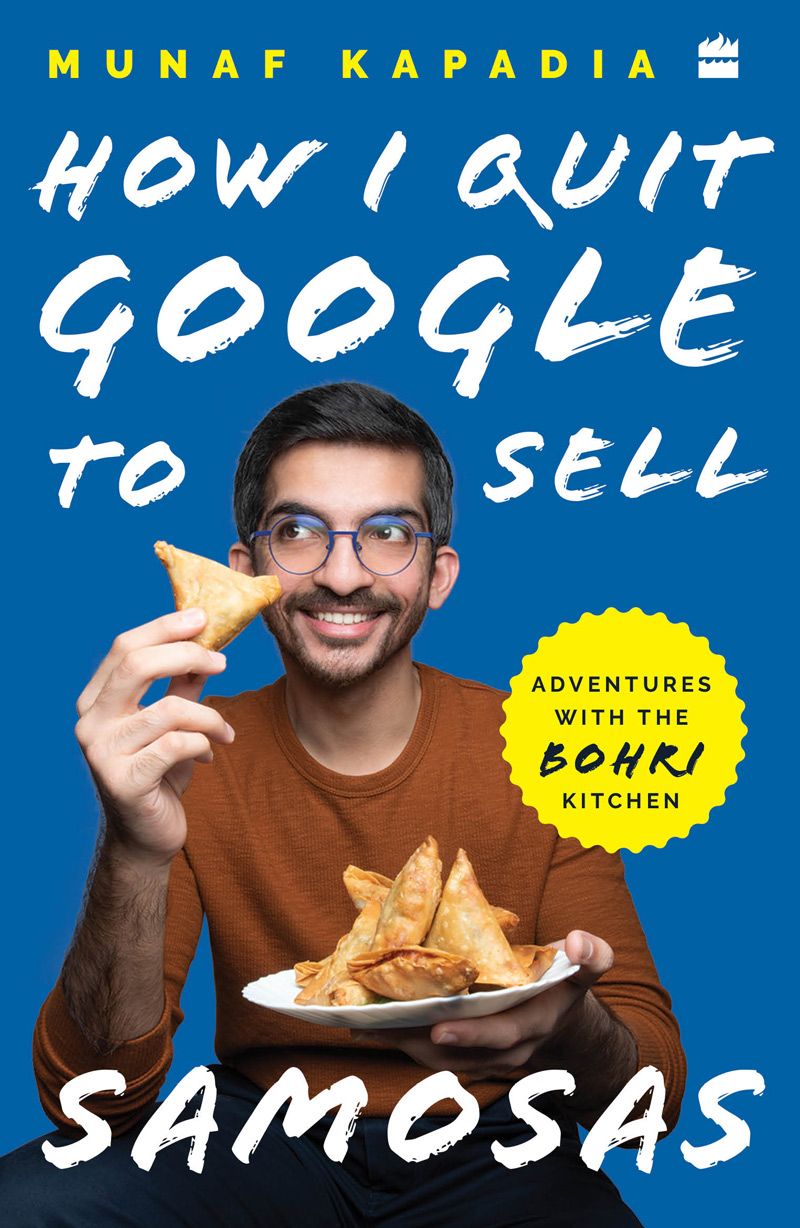 An important lesson that Kapadia has learnt the hard way is that you can't plan for just six months ahead, "You need to look 60 months ahead." From home dining the jump to setting up a delivery kitchen has been a steep learning curve. Marketing came easy to him, but it was the other aspects of the food business that kept him up at night. In a chapter, The Highs Are High, The Lows Are Low, Kapadia shares the low points of TBK and his life. He was almost bankrupt and the TBK food he was dishing out "wasn't great." The situation spiralled out of control leading "to panic attacks and serious stress." He had to give himself a break; his wife (then girlfriend), Zahabia, also the co-author of the book, was his biggest support in this difficult phase. Kapadia believes it is important to talk about the stress and strain the entrepreneurial journey causes because it can have a crucial role in making or breaking the company.
When it goes downhill
On the flip side, he went on to raise funds for TBC worth Rs 1.5 crore followed by a scaling-up spree. "I was benchmarking TBK against the giants in the delivery model such as Rebel Foods and Dominos," he says.  The cloud kitchen business may be a golden goose, but consistency is the name of the game in this category. For Kapadia, converting family recipes that only his mother was privy to, was a challenge. "For my mother cooking was all about love and passion, and she needed to enjoy it. She didn't enjoy converting her instinctive cooking into precision measurements." One of the ways he dealt with it was to learn the recipes for Kacchi and Pakki biryani from his mother and then figuring out the scalability himself. 
By 2019, Kapadia had five delivery units across Mumbai and had plans to grow in Pune.  And then the COVID-19 brought the world to a standstill. "The pandemic hit us hard," Kapadia says; he had to shut down five to six of his kitchens. A second round of funding fell through during this time. He believes 2020 forced him to consolidate his business and even though the cost of TBK meals have gone up exponentially and they only take pre-orders, the focus was back on the food—the essence of TBK. Trust Kapadia to always find a silver lining! 
---
Photo: Instagram/ Munaf Kapadia