Diwali festival is a widely celebrated occasion in India's cultural milieu. Diwali or Deepavali is a significant Hindu festival that is celebrated on Amavasya, a no-moon night, across the length and breadth of the nation. Fondly known as the festival of lights, the history of Diwali is deeply rooted in India's ancient culture. While some believe it to be a marriage celebration between Goddess Laxmi, the Hindu god of wealth, and Lord Vishnu, the creator of the universe; others celebrate Diwali as a momentous occasion marking the return of Lord Ram after his 14-year-long exile from Ayodhya. Diwali, irrespective of its history, heralds the beginning of the New Year as per the Hindu calendar. Celebrated with immense pomp and show, Deepavali festival is an auspicious occasion to welcome wealth and prosperity into our homes and lives.
What is Diwali?
Diwali, a festival of lights, is a five-day celebratory affair where friends and family get together to honour the spirit of togetherness in a large culturally rooted society. Homes are decorated with gleaming fairy lights, earthen diyas, and colourful rangolis. Tables are lined with scrumptious delicacies and sweet treats as you welcome friends and relatives to be a part of the celebrations. At night, crackers are burnt to symbolise the victory of light over darkness, good over evil, and hope over despair.
The Indian festival Diwali will fall on October 24, 2022.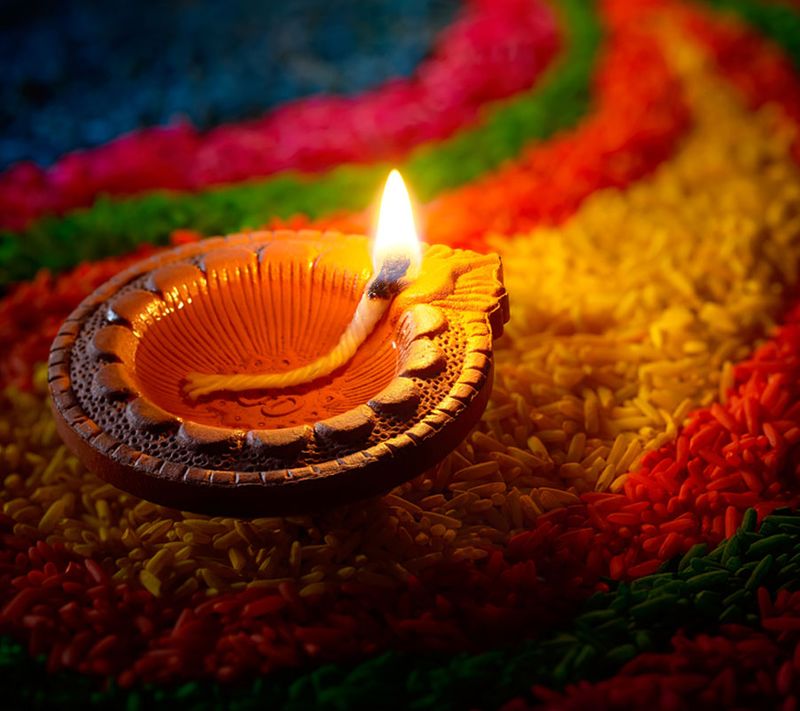 Diwali celebrations in India
Wondering how is Diwali celebrated in India? Diwali or Deepavali celebration across the country is a testament to unity in diversity. Every home in the city, town, and village is lit with lights and diyas to signify the victory of light over darkness.
Deep cleaning homes
Diwali celebration in India is incomplete without thorough deep cleaning of the home. It is done to make the house aesthetically pleasing for Goddess Laxmi to reside in and bless the family and guests who come to be a part of the celebration.
If you are stressed about the workload deep-cleaning entails, Don't Let Diwali Deep Cleaning Drive You Up The Wall.
Diwali decorations
With the house deep cleaned, powdered colours are used to make intricate rangoli designs. Diyas are lit both inside and outside the house to set the tone for a joyful occasion. Goddess Laxmi's feet are made at the entrance as a sign of welcoming her into the home. Fresh flowers are used to decorate the home and temple area for the Diwali puja.
Looking for festive decor inspiration? Here's How To Make Your Home Diwali-Ready With Floral Decor.
Diwali festival must-have foods
Any Hindu festival must include a variety of delicious treats that include both sweet and savoury dishes. Diwali is a festival of lights and fragrances, where the aroma of scrumptious food will fill your senses and satiate your taste buds. The real fun of festivals in India lies in eating tasty food with friends and family. Here are some festive-worthy dishes to make: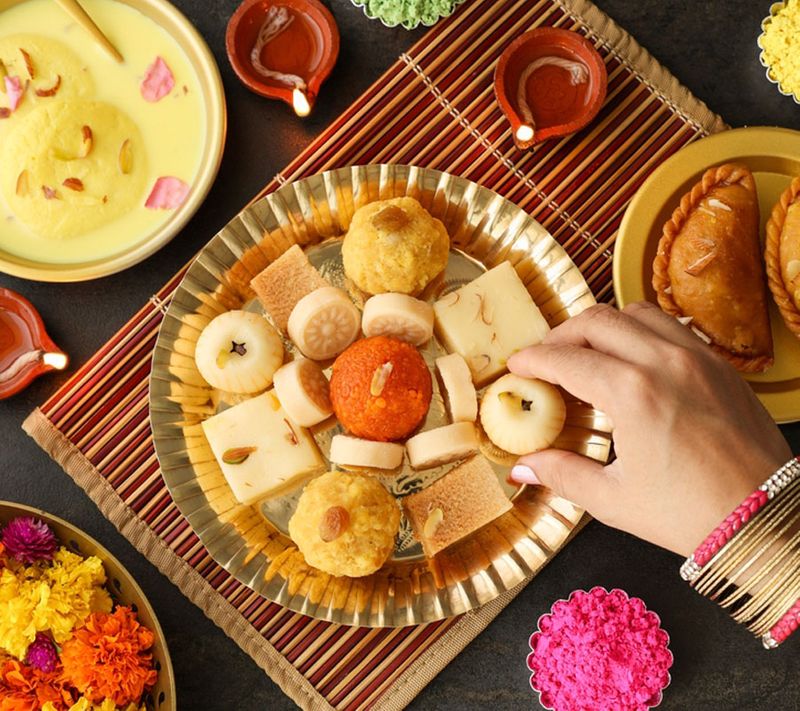 1. Samosa chaat
Lip-smacking Indian street food with spicy and tangy chutneys, samosa chaat is the perfect savoury snack for Diwali. Deliciously deep-fried, you can make your samosas, chutneys, and matar ki ghugni beforehand. Assemble, garnish with coriander, sev and serve to your guests. Get the recipe here.
2. Dahi bhalla papdi chaat
Another yummy Indian snack, dahi bhalla and papdi are an unbeatable combination of two crowd favourite dishes. The soft dahi bhallas topped with crunchy papdi, tangy tamarind chutney, spicy mint coriander chutney, and sweet yoghurt is a soul-satisfying dish for Diwali. Get the recipe here.
3. Badam ki kheer
Diwali India-wali is no fun without delicious desserts. Badam ki Kheer, a milk-based decadent sweet dish is made using thick milk, almonds, khoya, and ghee. A creamy, glossy kheer that is garnished with slivers of dry fruits, rose petals, and strands of saffron are befitting the occasion of Diwali. Get the recipe here.
If you want something unconventional for your celebrations this year, try these 12 Festive Recipes Beyond Mithai And Namkeen For Diwali.
Deepavali celebrations are incomplete without gifts
Diwali celebration in India is synonymous with love and togetherness. An age-old ritual during the Diwali festival is the tradition of gift-giving. The exchange of gifts signifies an expression of appreciation and prosperity between family and friends. Some of the most common gifts that are given on the auspicious occasion of Diwali represent an unwavering bond of Indian culture. From dry fruit boxes to curated hampers with delicious edibles, silver idols of Lord Ganesh and Goddess Laxmi, boxes of sweets and cakes, candles, and auspicious wall hangings–the list can go on and on
The joy of gift-giving on Diwali spreads positivity and happiness. Whether it is given to an employee, a relative, or your domestic help–-the festive season calls for gestures that reflect warmth and compassion.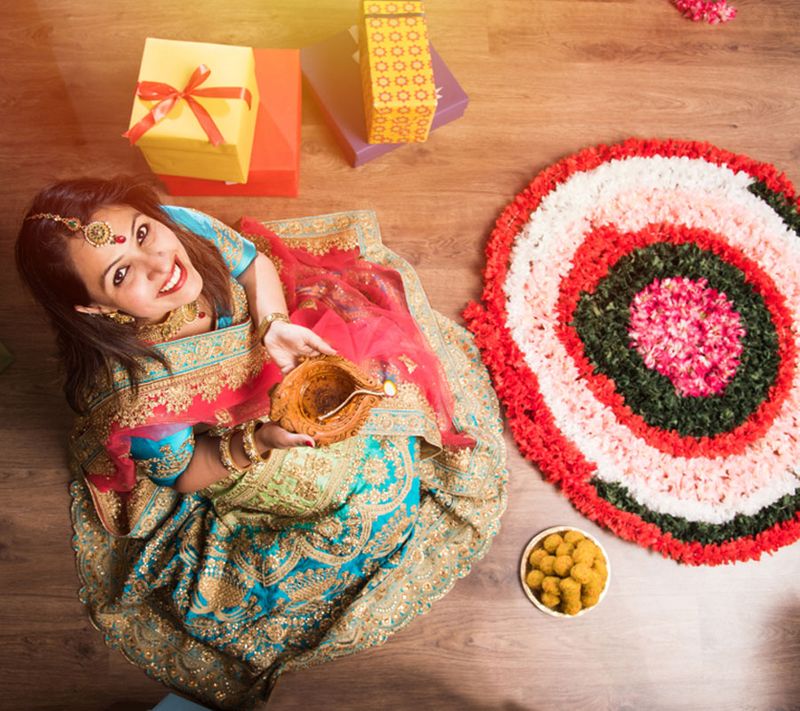 The significance of Diwali in Indian culture is a celebration of love, unity, and prosperity. This festival of lights brings home peace, success, and good health as you celebrate the joyous occasion with your loved ones. 
---
Photo: Shutterstock