Diwali, the Indian festival of lights, positivity and the victory of good over evil signifies a lot of things in Indian culture. Many people buy new clothes, new cars or start new ventures. It is considered an auspicious time of the year. An important part of Diwali is food and many families get together and prepare Diwali specific snacks and sweets to eat at home and distribute amongst friends. Another popular activity which families do together with kids, when schools are closed for the Diwali holidays is cleaning, organising and decorating their houses. Here are some easy Diwali decorations ideas that can be made at home as well.
1. Wall decor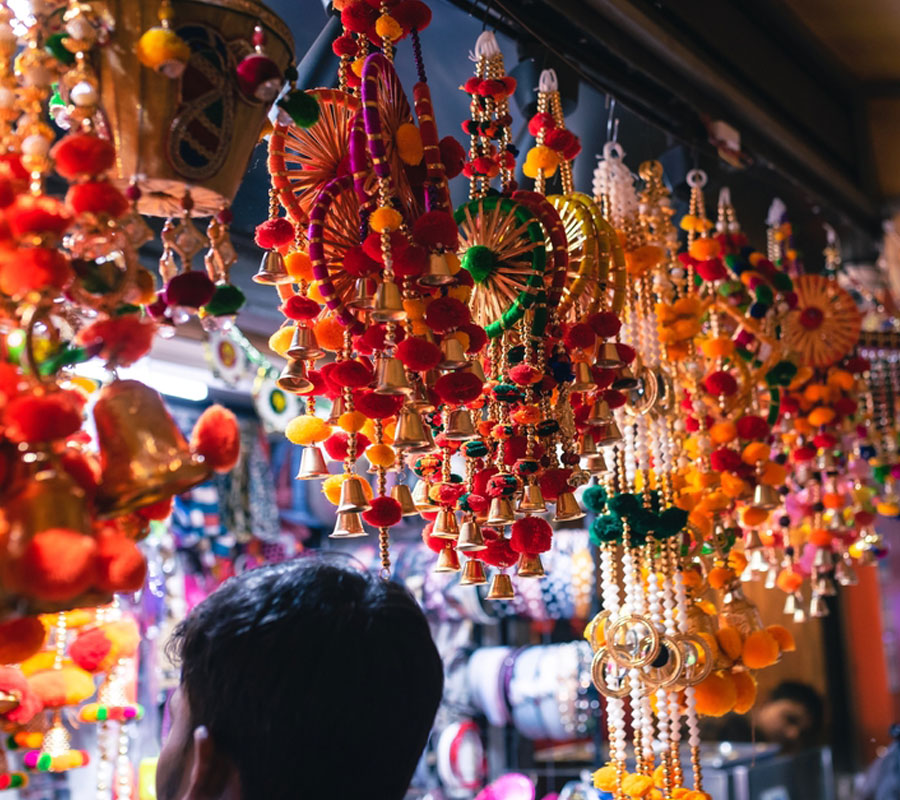 A simple way to spruce up your walls is to create hanging torans from paper. Begin by printing out a pattern such as a peacock, bird, flowers, stars etc on a paper and use that as a stencil to cut more from coloured paper. You can use a mount board or chart paper as well. Tie these cuttings together with a string via a hole punched in each of them. If you want you can stick small mirrors on them for more effect. You can also make the patterns in a paper quilling method. It is more time consuming but the effect is worth the effort. 
2. Rangoli and flowers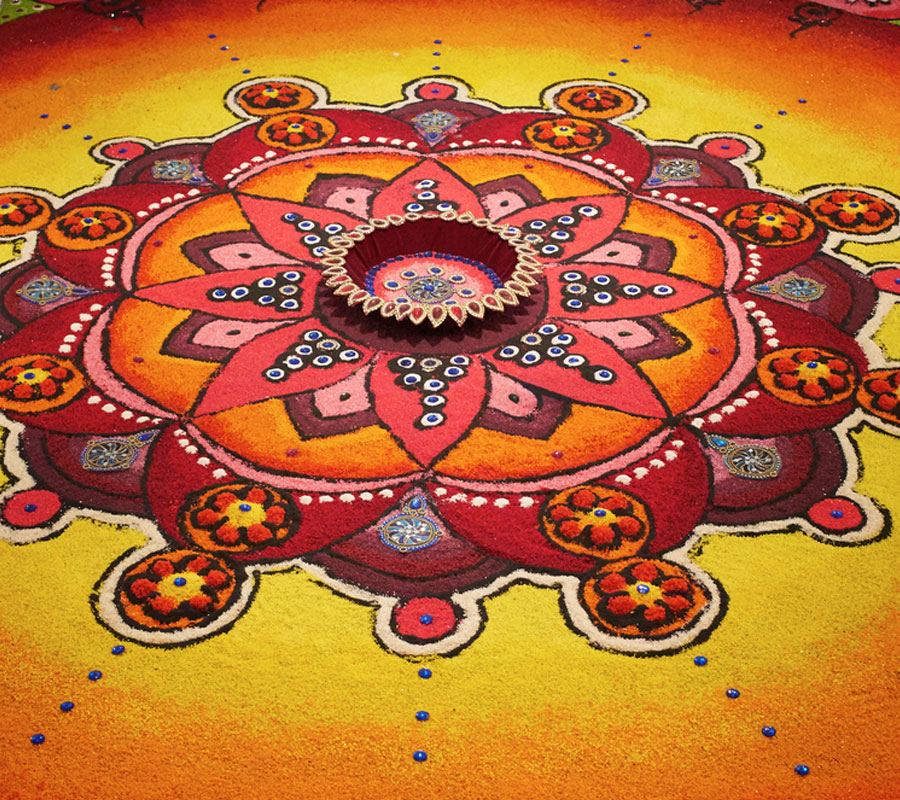 Skip traditional rangolis this year and mix up flower decorations and rangolis. You can use different coloured flowers such as marigold, roses and jasmine. You can also put a brass vessel or urli in the centre of the rangoli and fill it up with water and flower petals with a tea light in the centre. 
3. Using fabrics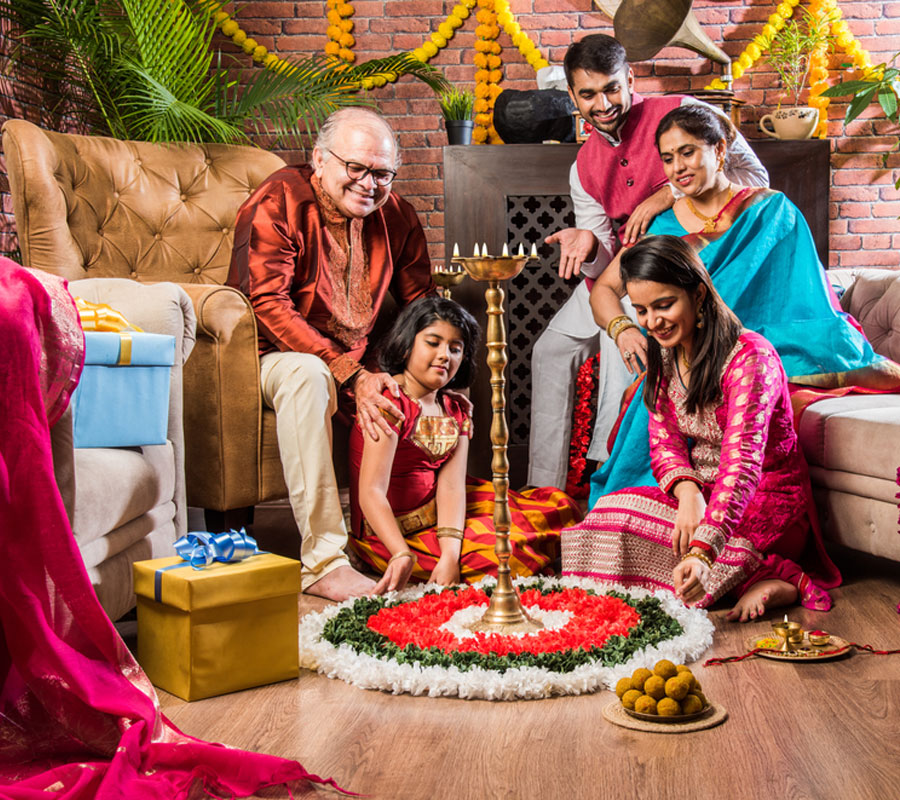 Decorate your house during this diwali using creative ideas such as reusing fabrics to make curtains, pillow covers and even quilts or simply throws. Use old colourful sarees and make cushion covers out of them. One more DIY idea that you can do is to use fabrics as picture frames. You can buy small pieces of fabric from a fabric shop and frame it using a regular photo frame. This will add some colour and brighten up your home in Diwali. The best thing about this is that it can be used next year, and if you're bored of it, the fabric can be changed easily as well.
4. Ornaments and artefacts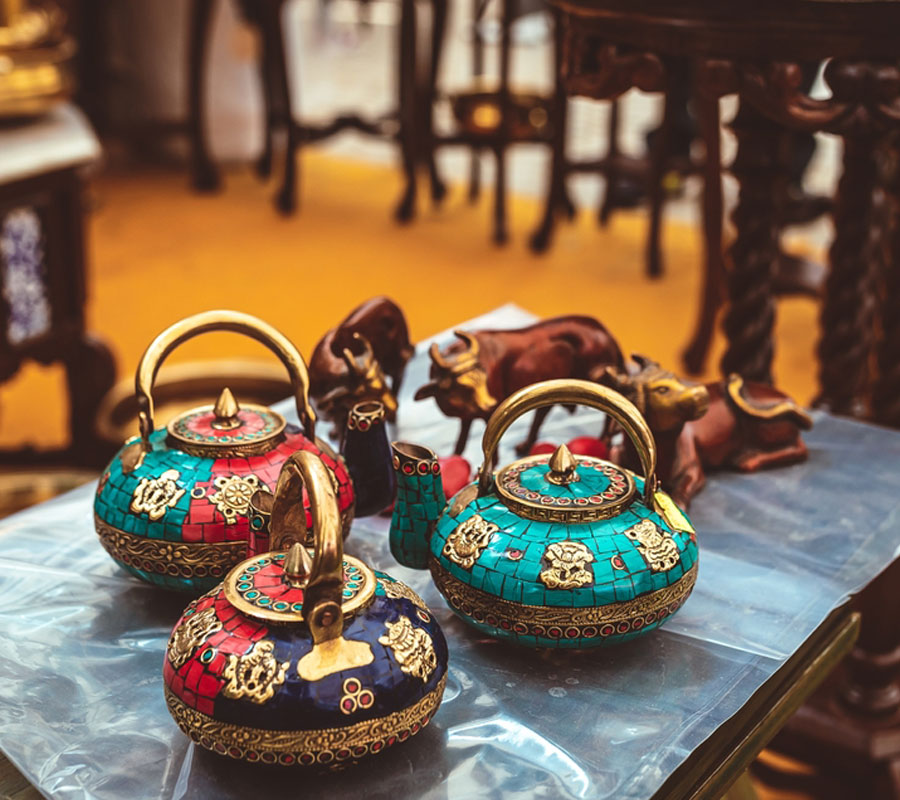 Right from your entrance door to the kitchen and even window sills, ornaments such as kundan diyas, rangolis, and kundan mats, coasters can be used to create a decor for diwali. This is a very easy and fast trick to jazz up your home. This can be paired along with any brass or copper artefacts that you might have at home. You can arrange them on any table, or even on the floor. Kundan artefacts can be placed decoratively on wooden or brass trays along with a tealight at the centre. 
A combination of the above decor ideas will surely make your home look not only beautiful but also radiate from positive vibes and happiness. Make sure to use colours such as yellow, red and orange in fabrics and flowers. These pair easily with brass utensils and artefacts. Decorating your home for Diwali can be a fun filled and family activity, so make sure to use these ideas this year!
Photo: Shutterstock