Indian festive season has reached its crescendo with the arrival of Diwali. It is a time when we gather around friends and family for merriment. This year, we pray to the universe that we can meet and hug our kins, unlike last year. 
No Diwali gathering is complete without snacks and munchies. But if you're tired of the traditional faraal and mithai-namkeen spread, give these recipes a try.
Check out 12 fun recipes to try out this Diwali:
1. Vegetable chop recipe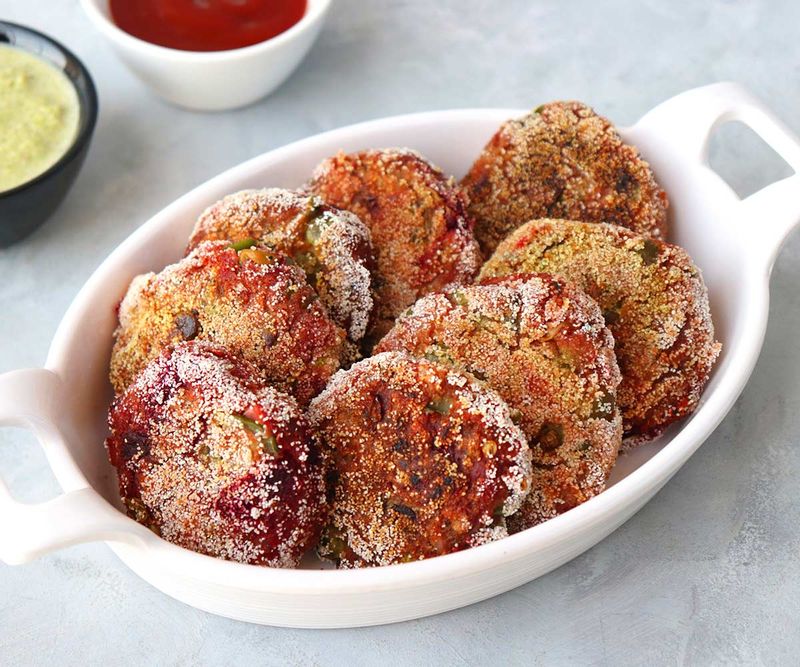 Ingredients
100 gm Beetroot
150 gm Potato
120 gm Carrots 
100 gm Beans 
5 gm Green chilli    
10 gm Ginger
3 gm Chilli powder
Salt to taste
5 gm Panchphoron
5 gm Cumin powder
250 gm Panko breadcrumbs
20 gm Roasted peanuts
20 gm Coriander leaves
Oil for frying
For masala (Roast and powder)    
5 gm Coriander seeds
5 gm Cumin seeds
5 Whole red chillis
Method
Rinse the veggies and pressure cook them for 6 to 7 whistles on a medium flame, with ¼ teaspoon salt and just enough water to cover the veggies.

Drain the veggies very well and keep them aside.

Now peel and grate the veggies in a mixing bowl.

Put little oil and panchphoron, once the spices splutter add all the ginger-green chilli and remaining spice powders, roasted peanuts. Now add grated veggies and cook for three minutes.

Set aside to cool. Once cold, roll the mashed veggies in a cylindrical shape.

In a small bowl mix 3 tablespoons of maida and 6 tablespoons water into a smooth batter. Coat the veggie chop with the batter and breadcrumbs.

In a pan, heat oil and fry the chops until golden brown.

Take it out and place them on tissue paper to drain extra oil.

Sprinkle some chaat masala or rock salt and serve with some onion and cucumber julienne and Kasundi or ketchup.
Recipe courtesy Executive Chef Sougata Halder, Aloft Bengaluru Cessna Business Park
2. Nut Island recipe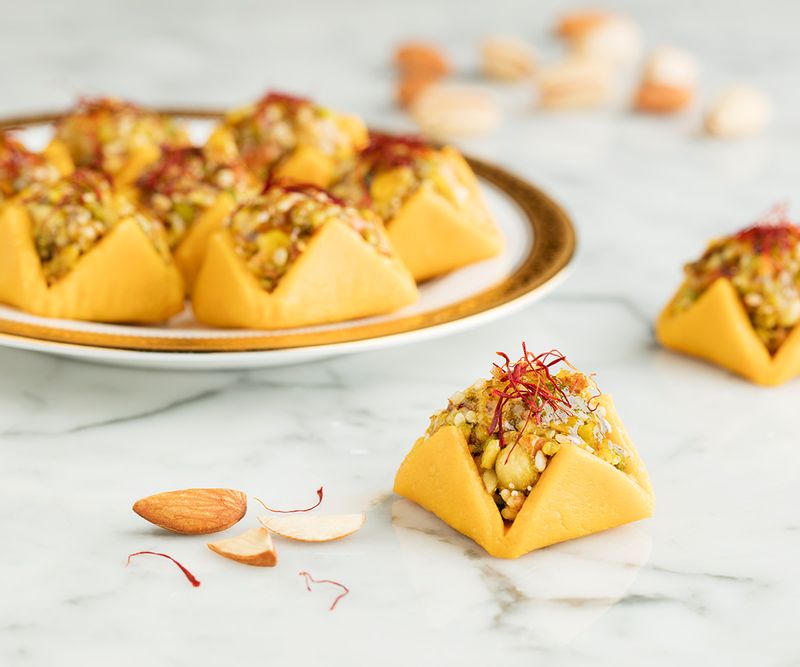 Ingredients
600 gm Almond powder
350 gm Sugar
5 gm Cardamom powder
60 ml Water
0.2 gm Saffron
For Stuffing:
250 gm Almond
250 gm Cashew
100 gm Pistachio
200 gm Honey
100 gm White sesame
For Garnish: 
1 gm Saffron
Method
For almond saffron sheet
In a heavy-bottomed 15-inch cast-iron kadai combine together sugar and water. Melt them together without discolouring. 

When the syrup reaches 112°C add almond powder and saffron to the water and stir continuously. 

Cook the mixture on a low flame till all combined into a dough-like consistency and add cardamom powder.

Immediately remove onto a clean work surface, allow it to cool.

Once cooled, handle lightly and knead to get a smooth texture.
For stuffing mixture 
In a heavy-bottomed kadai, individually roast each nut that has been roughly chopped prior to roasting. 

Roast sesame seeds, and add all the nuts to it stirring continuously.

Add honey, cardamom powder and saffron to the mixture and combine well. 

Cool the mixture and store it aside for the final product.
Shaping the final product
With the use of a rolling pin, flatten the almond saffron sheet to about 3 mm thickness. Roll it in between two greaseproof papers to get a smooth finish.

With the help of an expandable dough cutter measure 2 Inches and cut the almond saffron sheet vertically and horizontally to attain perfect 2-inch squares. 

Take the 2-inch square sheets and place them flat on your work surface. With the help of a palette knife make diagonal insertions.

Place filling in the centre of the square and fold each diagonal flap to make it look like a lotus. Use the back of your palette knife to give shape to each sweet.

Garnish top with saffron strands.
Recipe courtesy Chef Paul Kinny, Director of Culinary, The St. Regis Mumbai
3. Baby corn fritters with barbecue glaze recipe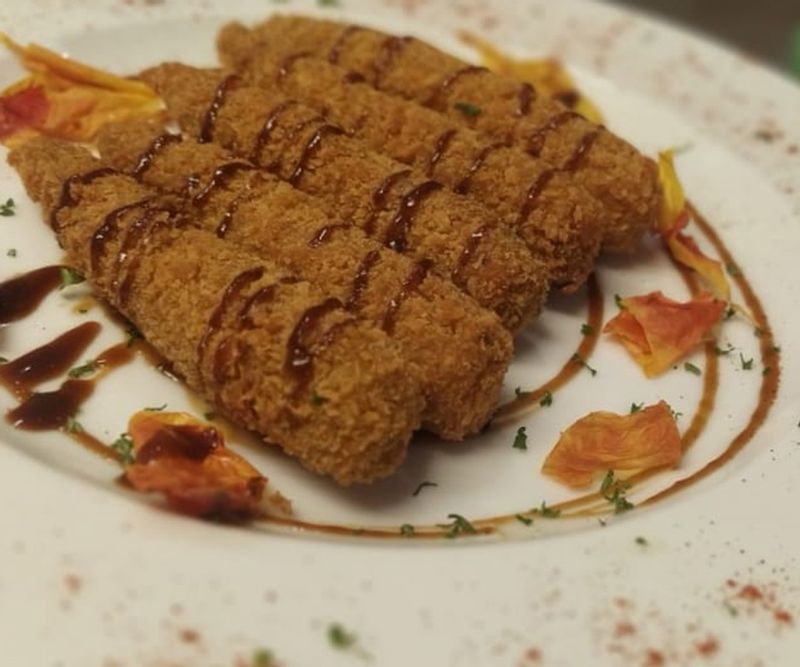 Ingredients 
6 pcs Baby corns 
1 tsp Dried chilli flakes
½ tsp Dried Oregano
2 Pinches crushed black pepper
75 gm Breadcrumbs
80 gm Corn flakes
2 tbsp Mixed pickle
3 tbsp Cornflour
½ tsp Red chilli powder
½ tsp Cumin powder
500 ml Oil 
5 tbsp Store-bought barbecue sauce
2 tbsp Sriracha sauce
1½ tbsp Honey
Salt to taste
Method
Wash the baby corns gently to remove any residual dirt. 

In a small bowl, add the cornflour and cold water and beat with your hands until it forms a semi-thick paste/ batter and lumps are no longer visible; approximately for a minute or two.

Season the cornflour batter with the mixed pickle, salt, and black pepper.

Crush the corn flakes with your hands into a chunky consistency. Incorporate the crushed corn flakes into the breadcrumbs. Season with red chilli powder/paprika, chilli flakes, oregano and cumin powder. 

In a saucepan or a kadai, heat refined oil on a medium-high flame until small amounts of smoke rise from the same. Once the oil is well heated, reduce the flame to the minimum low. 

While the oil comes to temperature, you can prepare your Baby Corn Fritters and the Barbecue Glaze.

Keep both your hands clean and free. With one hand, take each baby corn, one at a time and dip it in the seasoned cornflour batter. Coat it well on all sides. Let the excess drip from the sides and then gently place the corn on the seasoned breadcrumb and corn flakes mixture. With your other clean hand, roll around the baby corn in the breadcrumbs and corn flakes mixture until little - no amount of batter is visible and the corn feels dry to the touch.

When the oil has reached its frying temperature, gently slide each baby corn into the saucepan/kadai and fry until golden brown in colour. This should take about 4-5 minutes in total. 

Line a plate with a sheet of kitchen towel and remove the baby corn fritters onto this once thoroughly fried. 

For the Barbecue glaze, take a non-stick pan and heat the barbecue sauce on a medium flame, until it just begins to simmer on the sides. Add the red chilli sauce and honey and stir until it is incorporated completely into the mixture. Remove from the flame and pour into a sauce pot or a jug.

Baby Corn Fritters with a Sticky Barbecue Glaze are ready to dive into!
Recipe courtesy Chef Sanjukta Sikdar, The Circle Dream
4. Walnut katli recipe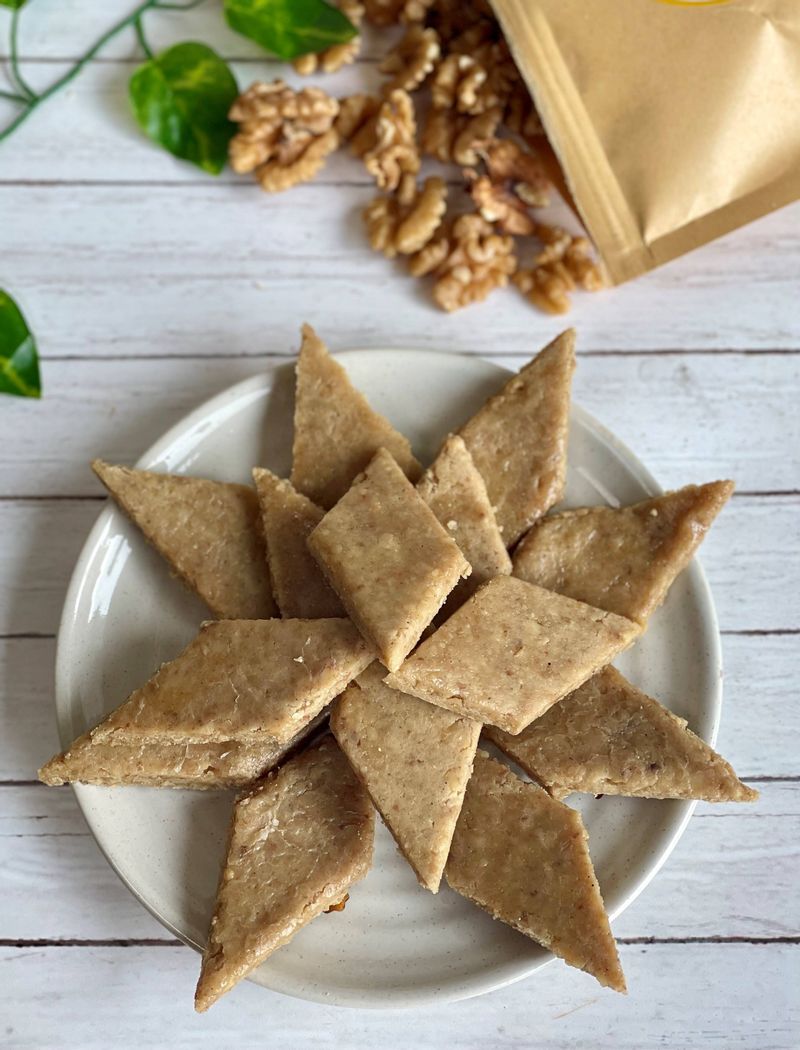 Ingredients
1 cup Walnut powder
½ cup Sugar
4 tbsp Water
¼ tsp Cardamom powder
2 tbsp Milk
Method
Grind walnut into powder.

Take sugar and water in a nonstick pan. Cook till it comes to one string consistency.

Add in cardamom powder and mix well.

Add walnut powder & milk & cook it on low heat stirring continuously.

Keep mixing till it thickens and leaves the side of the pan.

Spoon this onto the parchment sheet and roll it thin.

Cool it down and slice it into pieces.
Recipe courtesy Chef Guntas Sethi Bhasin
5. Sprout and potato chaat cone recipe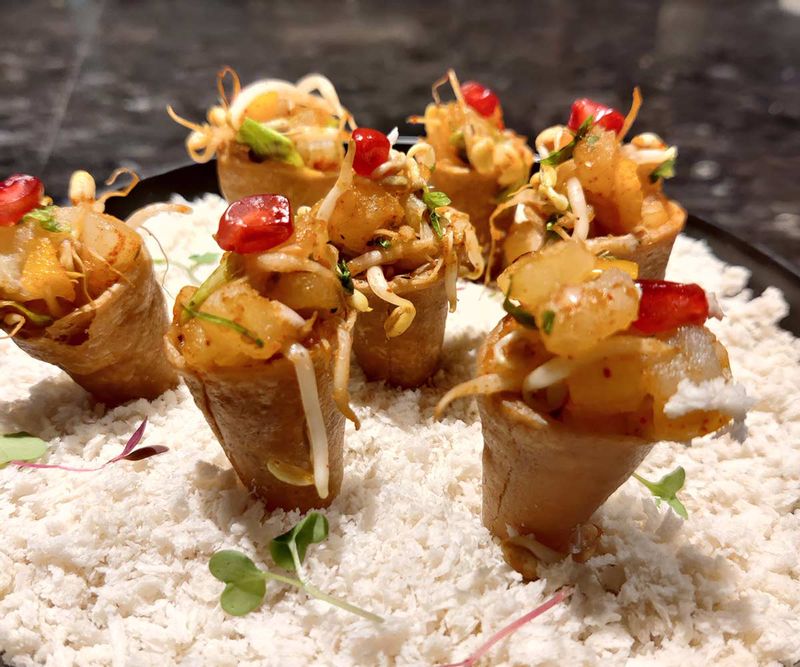 Ingredients
100 gm Boiled Potato
50 gm Sprouts
10 gm Tomato
10 gm Onion
2 gm Salt
1 gm Chilli powder
2 gm Chaat masala
1 Spring coriander leaves
5 gm Mint chutney
5 gm Tamarind chutney
1 Lemon
Few pomegranate seeds
6 Small waffle cones
Method
Boil the potatoes, cut them into small cubes, and deep fry.

Toss potatoes with chopped onion, tomato, tamarind chutney, mint chutney, chaat masala, salt and chili powder.

Mix the sprouts in it with a squeeze of lemon.

Stuff it in the waffle cones and serve at room temperature garnished with a seed of pomegranate.
Recipe courtesy Chef Shrikant Jogdankar, Sous Chef, JW Marriott Mumbai Sahar.
6. Sitafal rabdi recipe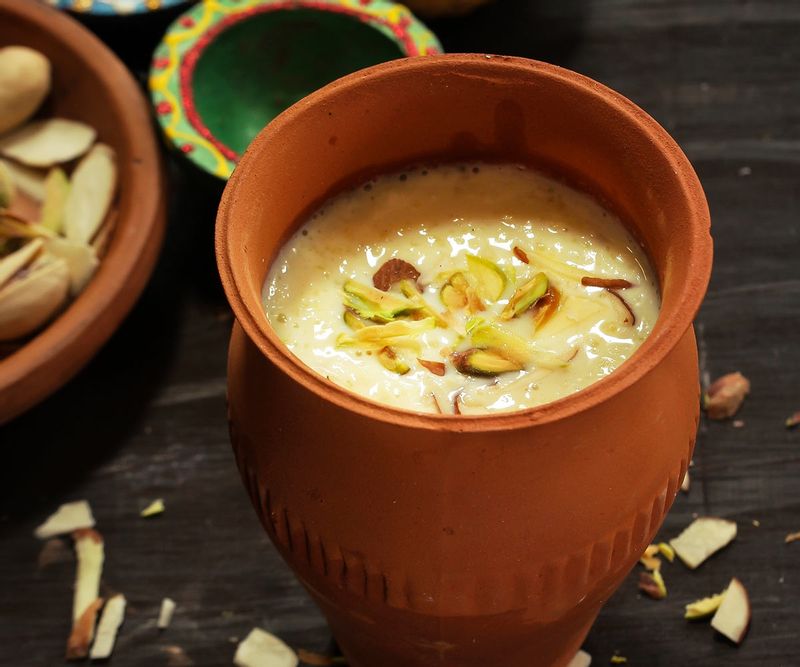 Ingredients 
1 cup Milk 
1 cup Condensed milk 
1 Custard-apple ( de-seeded and pulp collected)  
1 tsp Cardamom powder
Method 
In a pan take some milk and condensed milk. Cook it till it is thickened. 

Then add custard apple pulp. Make sure the milk doesn't get curdled and you add the custard pulp only when it is well thickened. Cook it for 2-3 minutes. 

Add cardamom powder and the dish is ready. Garnish with dry fruits and serve. 
Recipe courtesy Chef Shipra Khanna
7. Creamy mango popsicle recipe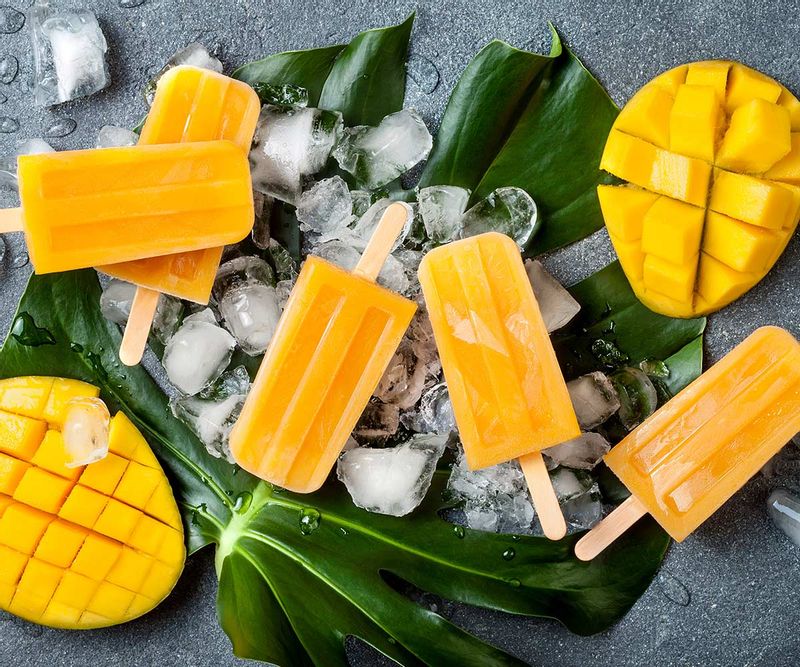 Ingredients
½ ltr Full fat milk made into homemade curd
2 Small Alphonso or any sweet mangoes
Jaggery/sugar if required
Muslin cloth/cheesecloth
12 tbsp of condensed milk (optional) or milk powder
Method
When you make the curd, make sure you put it in the fridge as soon as it sets. You don't want it to get sour. Place the muslin cloth and curd on a sieve and put it in a big bowl and place in the fridge to get a thick hung curd that is very creamy, a lot like cream cheese. 

Add the hung curd and 2 sweet, chopped mangoes to a mixer grinder and blend well.

Taste the mixture, if it is not sweet enough add some sugar and blend till you reach the sweetness you want. 

Blend again on high speed for as long as you can before your mixie gets warm. This incorporates air into the mixture. 

Pour into your moulds, add a stick or fork and leave overnight.
Recipe courtesy Simrun Chopra, a certified Deep Health Coach and the Founder of Nourish with Sim
8. Chandni Chowk ki moong dal kachori recipe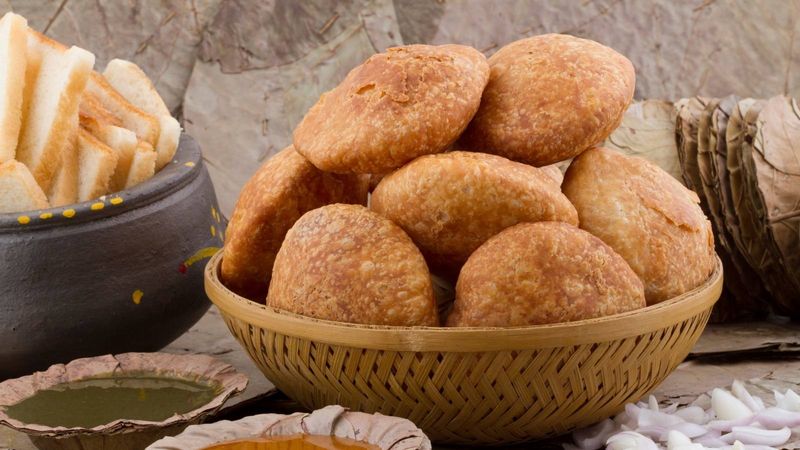 Ingredients
For kachori
30 grams Whole wheat flour
30 grams Jowar atta
Salt as per taste
¼ teaspoon Baking soda
1½ teaspoon Oleev's Olive Pomace oil
For filling
30 grams Yellow moong dal
1-inch Ginger 
1 green Chilli 
Pinch of asafoetida
1 teaspoon Coriander powder
½ teaspoon Cumin powder
½ teaspoon Red chilli powder
¼ teaspoon Fennel seeds
1 teaspoon Lime juice
Salt as per taste
Method
For the dough
Sieve whole wheat flour, jowar atta, salt, baking soda and add 1.5 teaspoons of Oleev's Olive Pomace Oil.
Knead into a soft dough using water as desired and keep it aside covered with a muslin cloth.
For the filling
Soak the moong dal for about an hour. Drain and coarsely grind along with ginger and green chilli.
Heat some oil in a pan and add coarse dal, ginger, chilli, asafetida, coriander powder, cumin seeds, red chilli powder and fennel seeds.
Cook until the moisture has dried up, add lemon juice and mix well.
Roll out small puris of dough and stuff moong dal filling and flatten slightly using palms.
Bake/air fry the prepared kachoris and serve hot with mint chutney.
Recipe courtesy Nmami Agarwal, celebrity nutritionist, Oleev's
9. Qubani ka meetha recipe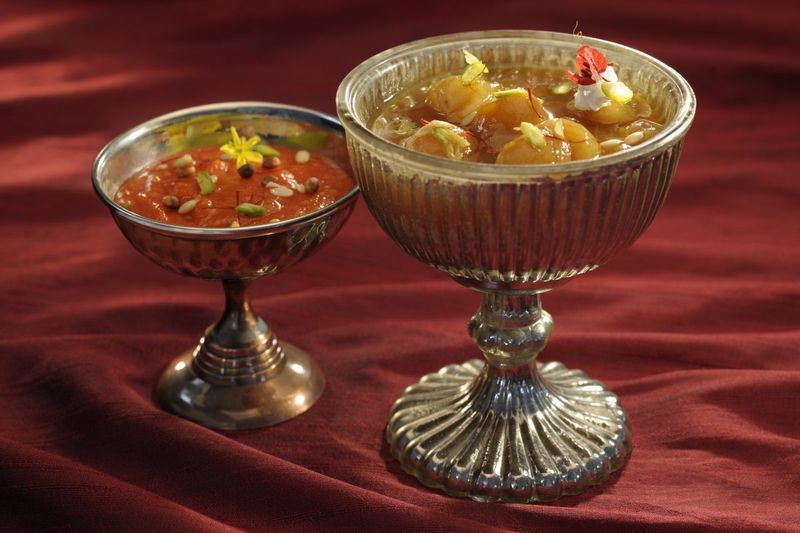 Ingredients
250 gm Dry apricots
100 gm Sugar
Dry fruits for garnish
Method
Soak the apricot overnight and remove the seeds, chop.
Cook the apricot along with soaked water in slow flame along with sugar till sugar dissolves and the mixture become pulpy.
Garnish with dry fruits.
Recipe courtesy Evolve Back Resorts
10. Avocado and aloo chaat recipe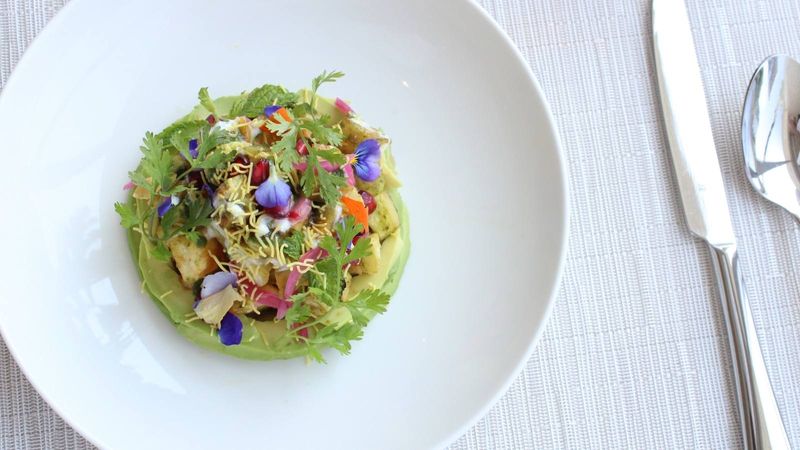 Ingredients
150 gm Avocado
200 gm Boiled potato
40 gm Chopped onion
20 gm Chopped tomato
30 gm Nylon sev
Pomegranate seeds for garnish
10 ml Sweet chutney
6 ml Mint chutney
20 ml Sweet curd
6 gm Chaat masala
4 gm Chopped coriander
Pickled onion for garnish
Method
Cut avocado into thin slices.
Cut the boiled potato into dice and then fry until golden brown.
Take a mixing bowl, add fried potato, mint chutney, sweet chutney, sweet curd, chopped onion, tomato, chopped coriander, salt and mix well.
Arrange the avocado slices into a circle and make sure there is enough space in the centre to put potato mixture.
Put the potato chat at the centre and garnish with pomegranate seeds, sev and fresh coriander sprig.
Recipe courtesy JP Singh, Executive Chef, The Leela Bhartiya City Bengaluru
11. Oat coconut cookie recipe
Ingredients
1 cup Oats
¾ cup Desiccated coconut
½ cup Maida
¼ tsp Baking soda
½ tsp Cinnamon powder
½ cup (80 gm) Softened butter
¼ cup Caster sugar
2 tbsp Brown sugar
3 tbsp Milk
1 tsp Vanilla essence
2 tbsp Black raisins
Sugar sprinkles for topping
Method
Whisk butter and both the sugars together.
Add milk and essence. Mix well.
Mix oats, coconut, maida, soda and cinnamon powder.
Fold in the maida mixture. Add raisins. Mix lightly to form dough.
Form balls. Flatten slightly and place on a greased baking tray. Sprinkle coloured balls and press lightly.
Bake at 180°C for 15 min. Cool on a wire rack.
Recipe courtesy Chef Nita Mehta, Tata Sky Cooking Expert
12. Soya sattu kebab recipe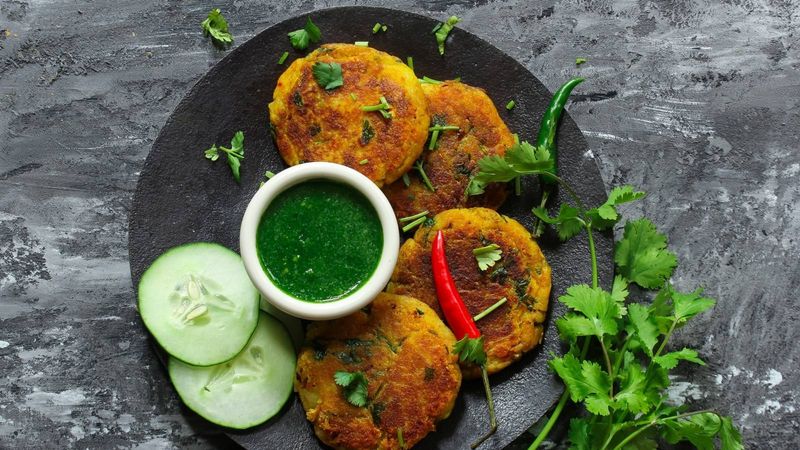 Ingredients
1 cup Soya chunks (dried)
2 tbsp Sattu
2 tbsp Chopped onion
2 tbsp Boiled and mashed potato
Handful chopped mint
Handful chopped coriander
1 Chopped green chilli
2 tsp Cumin
2 tsp Coriander seeds
½ tsp Turmeric
1 tsp Chilli powder
½ tsp Garam masala
2 tbsp Saffola Gold cooking oil
2 tsp Chopped ginger
2 tsp Chaat masala
Salt as per taste
Method
Soak soya chunks in hot water for half an hour. Now squeeze the water out and place it in a blender.
Add channa/sattu, chopped onions, mashed potato, mint, coriander, green chilli, cumin, coriander seeds, turmeric, chilli powder, garam masala, cooking oil, ginger chopped, chaat masala and salt. Mix it well and divide this into small portions in the size of golf balls. Shape it to your liking.
Heat a pan and drizzle some Saffola Gold cooking oil and cook the kebabs till it is brown on both sides. Serve hot.
Recipe courtesy Chef Kunal Kapur for Saffola
---
Photo: Shutterstock