Between zhanzanit misals and refreshing panhas, Maharashtra has a plethora of sweet treats from different parts of the state that will leave you yearning for more.
While puranpoli, shrikhand, and modak are relatively popular, Maharashtra also has unique offerings, such as the rich doodhi karanji from the Pathare Prabhu kitchen, Konkani shirwale and patoli, which is characteristic to the Chitrapur Saraswat Brahmin community. Maharashtra's diasporic communities and diverse cultures come together to give you a range of desserts and mithai, each with a special story.
Experience the sweetness of Maharashtra with us through this list of top desserts from the state: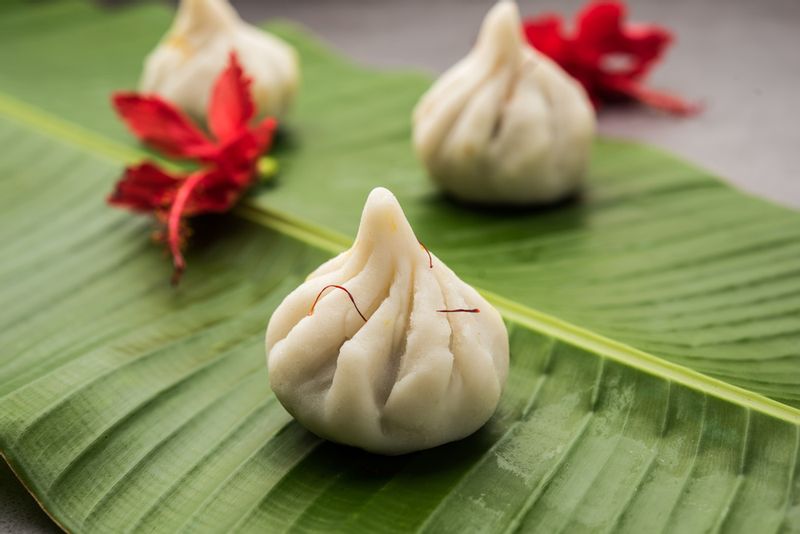 Traditionally made during religious occasions, like Ganeshotsav, this quintessentially Maharashtrian classic is a steamed rice-flour dumpling stuffed with desiccated coconut, chopped dried fruits and jaggery and laced with nutmeg or cardamom. It is slathered with hot ghee before serving. 
2. Pathavniche Ghavne
Pathavniche (farewell) ghavne is a Konkani Muslim recipe that features a multilayered pancake made using ground rice, jaggery, coconut milk and egg. Traditionally, it is served for breakfast to the groom when he visits his bride's house for a short stay right after the wedding.
On her blog, The Bombay Glutton, Saher Khanzada, a Konkani Muslim home chef, informs that while the bride's family can't ask the groom to leave for his house with his partner directly, they prepare this delicacy as an indication.
3. Guravali
Indian sweets made use of flowers much before they became trendy. Guravali is a great example of this, where, a coconut-stuffed puff pastry is fried and then perforated and filled with jasmine buds. They are typically prepared five to six hours prior, so that when you finally break the sweet open, a blossomed jasmine flower emerges, lending a distinct aroma and flavour to it. 
4. Shirwale
Rice dough is steamed and transformed into thin noodles dunked in coconut milk flavoured with jaggery, salt and cumin for this Konkani delicacy. Shirwale is also known as ras shevaya and is a breakfast staple in rural Konkani homes. It bears resemblance to idiyappam, a popular dish in Kerala, Tamil Nadu and Sri Lanka. 
5. Pathare Prabhu Doodhi Karanji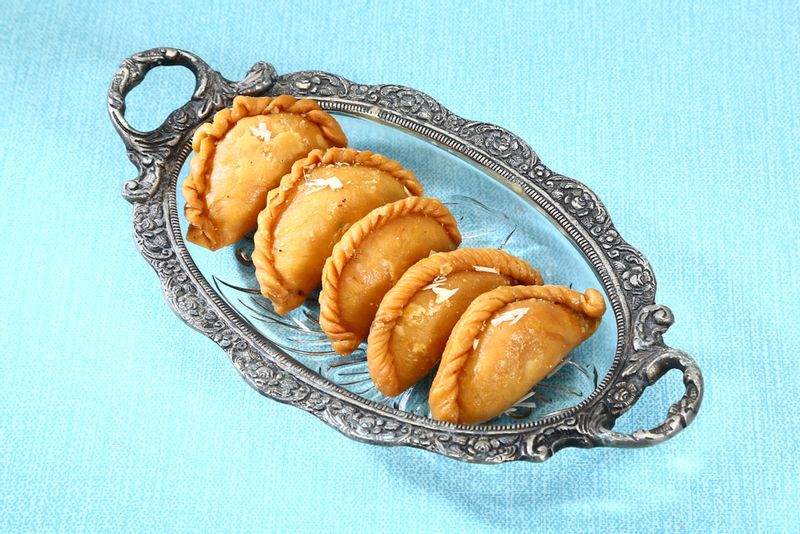 Doodhi karanji aka dudhi halwa shingdya are important fixtures in a traditional Pathare Prabhu Diwali spread. Unlike the usual karanji, which is deep-fried in oil or ghee, these crescent-shaped sweets are baked. Stuffed with a rich mixture of ghee, milk, khoya, bottle gourd, sugar, nutmeg and cardamom, they are to die for.
6. Patoli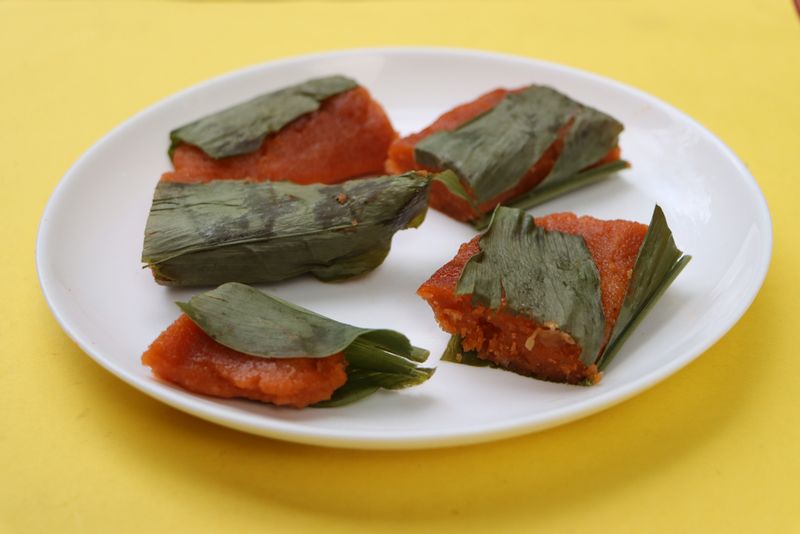 Another Saraswat and Konkani delicacy, patholi (plural: patoleo) is a rice pancake with a jaggery, coconut and cardamom filling. On our quest to discover Ganeshotsav offerings beyond modak, Janaki Bhat, a Gour Saraswat Brahmin residing in Dahisar, Mumbai, introduced us to this sweet treat that is steamed wrapped in turmeric leaves to make it more aromatic and flavourful.
Apart from Ganeshotsav, patholi is part of the Nag Panchami celebrations of several communities on the Konkan belt. Several versions of the patholi can be found in parts of Goa and Karnataka. 
7. Anarsa
This five-ingredient rice-flour and-jaggery fritter is lightly coated with sesame seeds and finished off with a generous sprinkling of powdered sugar. Intrinsic to the Diwali faral (snacks) platter prevalent in parts of the state, Anarsa is usually enjoyed on the morning of the festival after the pahili anghol (first bath of the Hindu New Year) ritual. For it, you need to soak rice in water for up to three days, dry it and then, ground it into a fine powder. There is also a Bihari version of this dessert-cum-snack, which has ripe bananas and poppy seeds. 
8. Shrikhand Vadi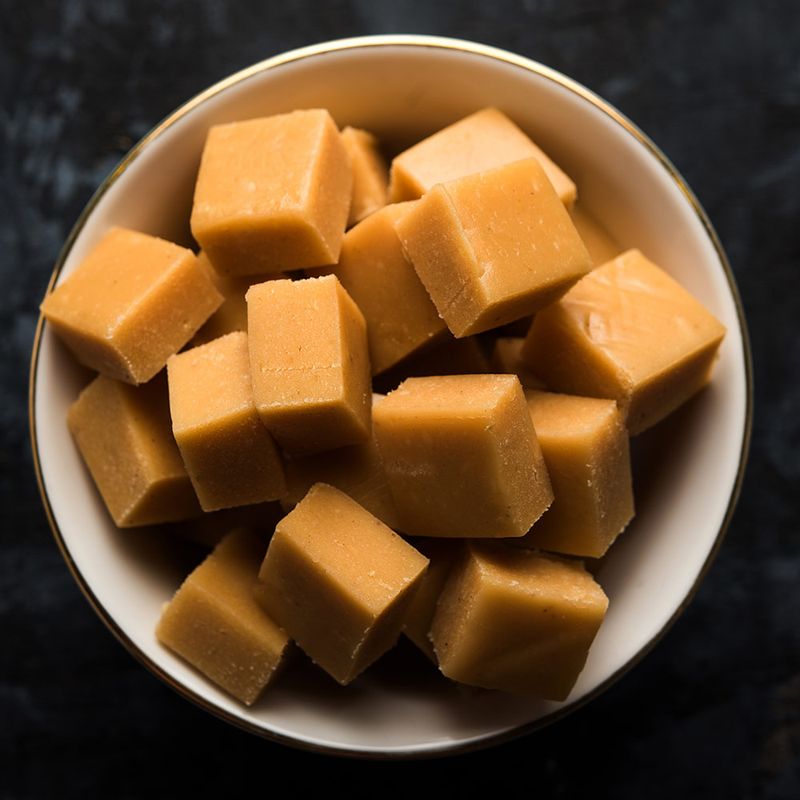 Craving a desi mithai, but don't have the patience to spend hours in the kitchen? Pick this shrikhand vadi aka shrikhand ki katli. Ready in less than 30 minutes, shrikhand vadi is made by cooking hung yoghurt, sugar, finely chopped almonds and shrikhand (optional) together on low heat. Once cooked, it is set on a plate. Before serving, it is decorated with chopped pistachios and rose petals and cut into small pieces.
9. Bhonge Laddu
Maharashtra's very own pretzel, bhonge laddu is a deep-fried sweet treat comprising wheat bran, ghee, salt and water. This comes from the Buldhana district of the state where the fried goodie is soaked in sugar syrup for a couple of hours and coated with sesame seeds before being served. Chef Brar likes his garnished with mint leaves, rose petals and powdered sugar.
---
Photo: Shutterstock