Ragi or finger millet is one of the most nutritious cereals. It is now being hailed as the desi superfood owing to its high amounts of fibre that keep your stomach full and stops you from having unnecessary cravings. This in turn aids in weight loss. Ragi is also rich in iron and hence recommended for pregnant and lactating mothers.
Ragi is a superfood that is recommended for controlling diabetes. Since it is gluten-free, it is used by a lot of people who are allergic to gluten and want to reduce weight. Besides these, the consumption of ragi also helps strengthen the hair and maintains its health.
If you're wondering how to eat ragi, it is best to consume it in the morning. It is therefore highly recommended to include some ragi dishes during breakfast or lunch.
Tips to store ragi
Ragi flour is commonly available in most grocery stores. Make sure that the flour is clean and grey in colour, with light shades of brown. Store the flour and millet in an airtight container, in a cool and dry place at home. If required, it can also be stored in the refrigerator. This increases the shelf life of the flour. 
If you are wondering how to eat ragi, we have some recipes that are easily the best  ragi recipes that qualify for food. Let us now look at some ragi snack recipes, ragi atta recipes, and ragi recipes for your meal time. You can try these recipes at home and include them in your meal plans.
Different types of healthy ragi recipes to try at home
1. Ragi ambali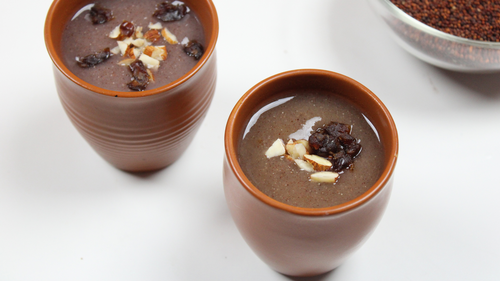 This famous south Indian beverage also known as ragi ganji is highly nutritious. Made of finger millet flour and buttermilk, ragi ambali is loaded with iron, calcium, potassium, amino acids, and dietary fibre. It helps to improve digestion, reduces body heat, is a great refresher and helps in controlling mouth ulcers. If you are looking to make this nutritious beverage at home, click here to see its recipe.
2. Ragi sandige
A savoury dish from Karnataka, ragi sandige is a popular fryum-style recipe and is one the most popular traditional South Indian fried snack. It makes for that perfect crispy and tasty snack option. Sandige boasts of an intrinsic quality that can go along with any meal like rasam rice or curd rice. This is one of the popular ragi food items. The inclusion of ragi makes this snack super healthy, nutritious and tasty!
If you are looking to make this nutritious snack at home, click here to see its recipe.
3. Ragi mudde and bassaru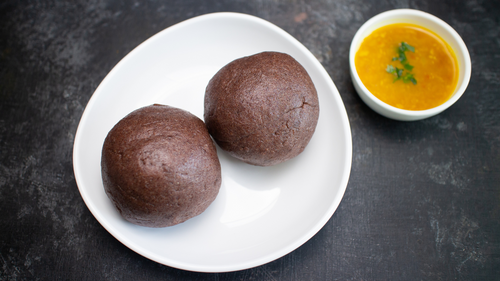 Ragi Mudde are traditional ragi millet balls. Ragi Bassaru is a yummy broth from the southern region of India, Karnataka. Ragi mudde is served best with ragi bassaru. For those of you who are wondering what bassaru is, it is nothing but the Karnataka-style sambhar or rasam. Ragi mudde and bassaru make for the perfect wholesome meal. If you are looking to make this popular combo at home, click here to see its recipe.
4. Paneer ragi dosa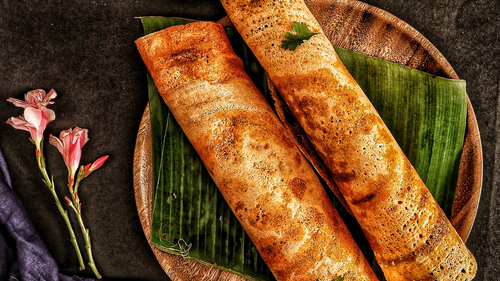 There are plain dosas, there are rava dosas, and then there is paneer ragi dosa. If you love South-Indian food, then this ragi recipe for dinner will soon become your favourite. These dosas are iron, protein and fibre-rich. Just like your regular dosa, you can savour the paneer ragi dosa with the traditional sambhar and coconut chutney. If you are looking to make this nutritious dosa with a twist at home, click here to see its recipe.
---
Photo: Shutterstock