Oats is a type of breakfast cereal prepared from oatmeal and a liquid such as milk or cream. For years, this whole-grain wonder, packed with substantial nutrients has been consumed as a healthy breakfast option. It's one of the few comfort foods that's both healthy and delicious. The capacity of oatmeal to decrease unhealthy (LDL) cholesterol is its claim to fame. That can be attributed to a form of dietary fibre known as beta-glucan. Oatmeal has been shown to lower blood sugar and stimulate the growth of good bacteria in the stomach. It aids in weight management by making you feel full and alleviating constipation. Below, we have listed down oatmeal recipes and dishes that are nutritious, tasty and super easy to make.
1. Oatmeal chocolate chip cookies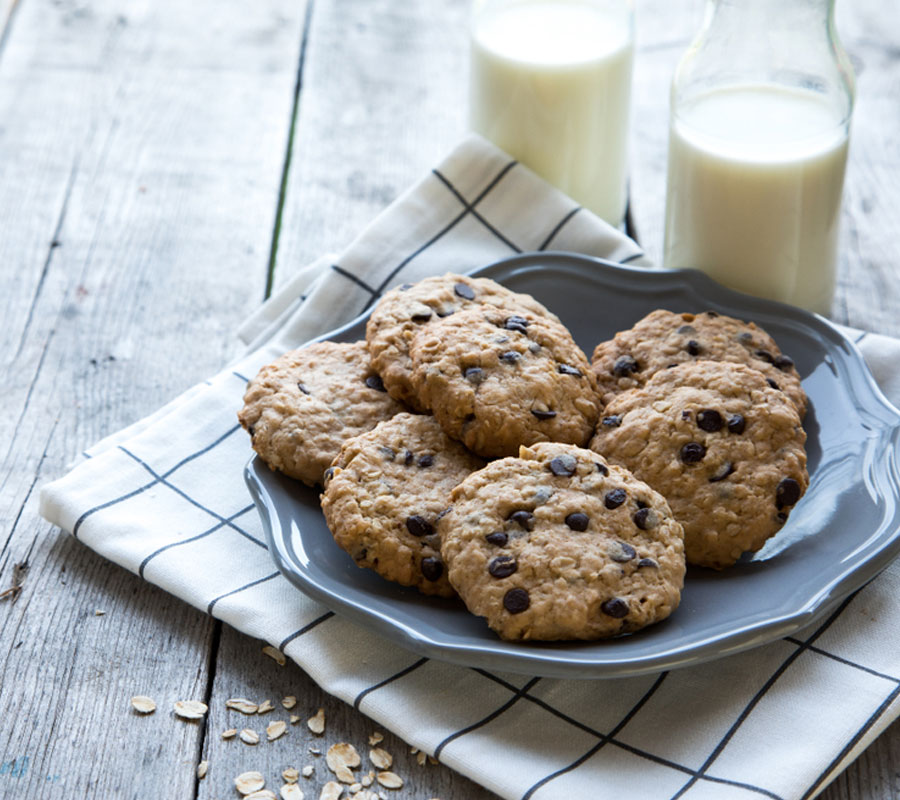 The delectable oats chocolate chip cookies have the perfect balance of crisp on the top, gooey inside too, with large flavors of chocolate, buttered, and a hint of spice.
Ingredients
1 ½ cups all-purpose flour 

1 tsp cinnamon powder

1 tsp bicarbonate of soda

1 cup unsalted butter

1 cup light or dark brown sugar

½ cup granulated sugar

2 big eggs

1 tablespoon molasses 

2 tsp vanilla extract 

3 cups old-fashioned whole rolled oats 

1¾ cup semi-sweet chocolate chips
Method
In a mixing bowl, combine the flour, cinnamon, baking soda, and salt. Keep aside.

Beat the butter in a large mixing basin with a mixer until smooth. 

Add the brown sugar and granulated sugar into the butter until well combined.

Now add the eggs, molasses, and vanilla and mix till well incorporated. Scrape along the sides and up the bottom of the bowl as needed to ensure complete mixing.

Mix the dry components with the wet ingredients on low speed until everything is incorporated. 

Mix in the oats and both types of chocolate chips on low speed with the mixer. It will be a thick, sticky dough. 

Refrigerate the dough for at least 45 minutes after covering it. 

Preheat the oven to 350 degrees Fahrenheit (177 degrees Celsius). 

On a parchment paper or silicone baking mats, scoop the cookie dough with a big cookie scoop, about 3 tablespoons each cookie, and arrange 4 inches apart on baking sheets.

Bake for 13-14 minutes, or until the edges are gently browned. The centre will have an extremely delicate appearance.

Remove the cookies from the oven and rest for 5 minutes on the baking sheet before transferring to a wire rack to cool fully.

Cookies may be stored at room temperature for up to a week if kept covered. This can be a good oats recipe for kids too. 
2. Pumpkin oats cake recipe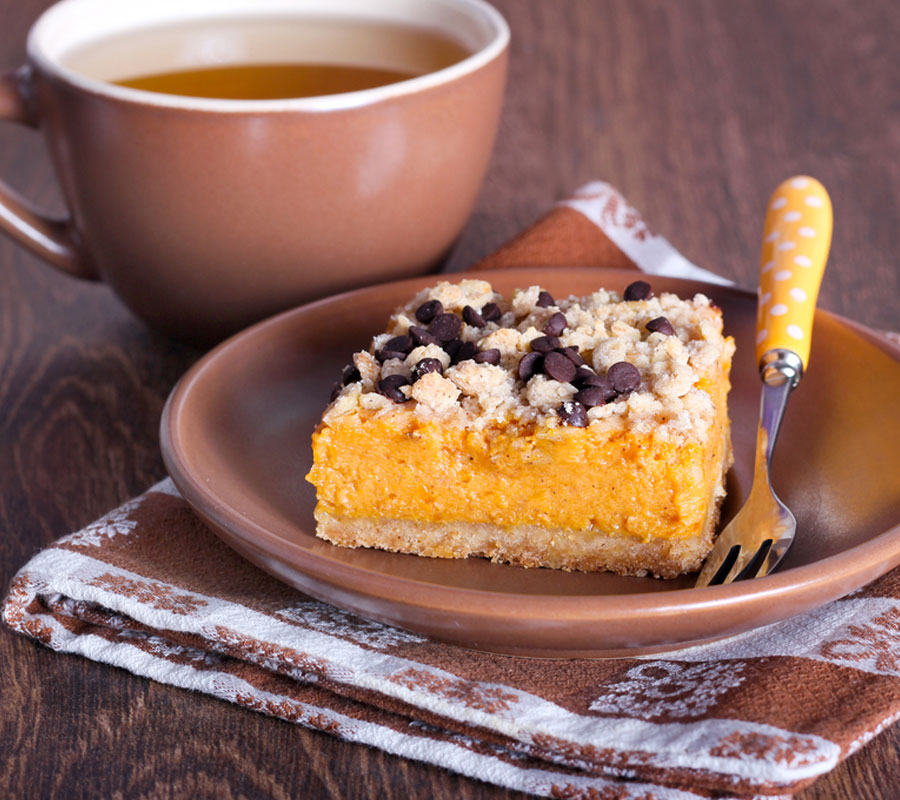 The idea of a healthy oats recipe creates a nutritious cake using pumpkin and oats that are high in vitamins, fibre, and iron. It is both delicious and healthful.The winner of the guilt-free challenge creates a nutritious cake using pumpkin and oats that is high in A vitamin, fibre, and iron. It is both delicious and healthful.
Ingredients
1 cup sliced and grated pumpkin (approximately 250 gm)

¼ cup jaggery

¼ cup jaggery,

half cup of wheat flour

2 tbsp semolina fine

2 tbsp oats (quick roll)

1 tablespoon of milk

1 tablespoon of milk

¼ teaspoon nutmeg

1 teaspoon of salt

a half teaspoon of baking powder

2 tsp bicarbonate of soda

4 tbsp ghee

1 tbsp almond flakes

Cherries
Method
Peel and grate the pumpkin in a bowl. Mix two tablespoons ghee and microwave it for three minutes. 

Combine with the jaggery and heat for another 20 seconds. 

Stir in the wheat flour, semolina, oatmeal, milk, nutmeg, salt, soda, and baking powder to the pumpkin mix. Allow this mixture to rest for 10 minutes. 

Preheat the oven. 

Pour this mixture into a microwave-safe bowl that has been greased with a little ghee. Smear some ghee on top. Bake for 20 minutes at 200 degrees Celsius. 

Place this cake upside down in a microwave-safe dish and top with a little ghee and almond flakes. 

Bake for another 20 minutes at 200 degrees Celsius. Serve garnished with a cherry.
3. Ragi oats ladoo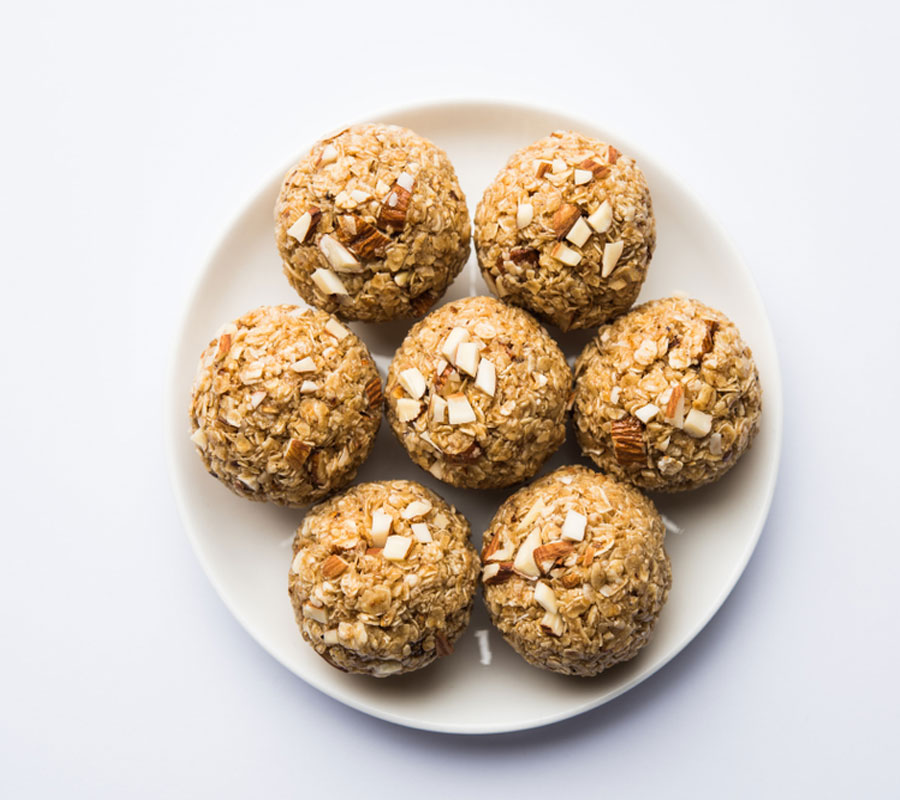 Seeking healthy but delectable dessert choices... Ragi oats laddu is packed with the health of ragi, oats, dates, and honey and may be enjoyed guilt-free at any time of day.
Ingredients
1½ cup ragi flour

1 cup oats flour

20 dates (ripe)

¼ cup milk

½ cup honey

3 tbsp ghee

1 tsp green cardamom powder

¼ cup white sesame seeds

¼  cup coconut powder

12 cashew nuts
Method
Grind the oats in a blender after briefly roasting them. 

Remove the seeds from 15 dates and puree them in a blender with a little milk. Roughly chop the leftover dates. 

Dry roast white sesame seeds and cashew nuts. 

Take 1 tbsp ghee in a skillet, toast the oats flour for a few minutes on low heat. 

In a separate pan, heat the remaining ghee and roast the ragi flour over low heat until the rawness is eliminated. 

Combine the oats flour and ragi flour and stir thoroughly over low heat. Now, add the date paste into it and mix well. 

Stir in half of the honey and cardamom powder, mix well. 

Keep on a low flame for a few minutes before turning off the stove.

Remove the mixture from the heat and set it aside to cool. 

Now, add the chopped dates. Add the remaining honey until fully combined. 

Take the dough in your palm and roll it into the shape of a ladoo. Combine the sesame seeds and coconut powder. Roll and coat the ladoo with this mixture. Repeat with the remaining dough and serve.
Ragi is high in calcium, and oats are abundant in fibre, making it an excellent choice for individuals with a sweet craving. 
4. Oats kheer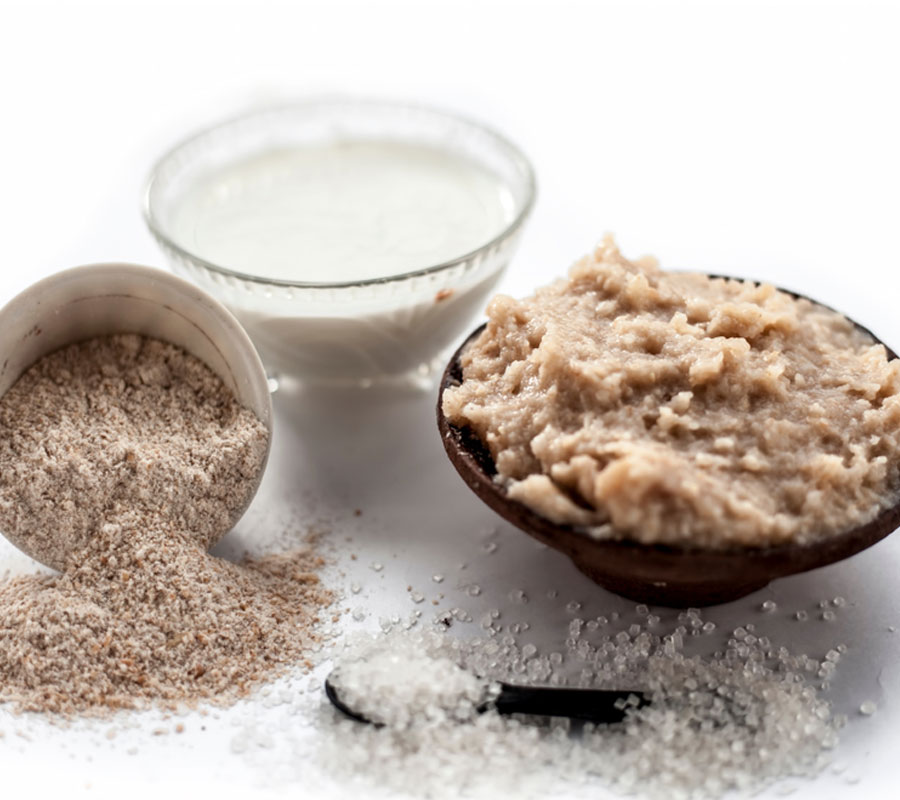 Quick-cooked oats, milk, ghee, and dried fruits combine to make a delicious kheer. I decided to share this delicious dish because I receive a lot of requests for oats recipes. In much less than twenty minutes, you can make oats kheer. So, if you're in a hurry, you can whip up this treat in no time. The majority of the components for this dish are easily accessible in the kitchen.
Ingredients
1 tablespoon Ghee

half cup quick-cooking oats

3 cups milk

⅓one third cup sugar or add as per taste

¼ teaspoon cardamom powder

1 pinch saffron strands - optional

3 to 4 almonds - chopped

3 to 4 pistachios - chopped

6 to 7 cashews - chopped

1 tablespoon golden raisins - chopped
Method
In a heavy-bottomed pan, melt 1 tablespoon of ghee and add the oats. Stir thoroughly and cook for 2 to 3 minutes on low heat.

Pour in the milk and mix the sugar. Combine thoroughly.

Simmer this kheer for 2–3 minutes on low heat, or until the grains soften.

Mix in the chopped dried fruits, raisins, saffron threads, and cardamom powder.

Simmer for another 2 minutes before turning off the heat.

Serve hot or cooled as breakfast or treat.
Oats kheer can indeed be consumed either warm or cold. It is optional to incorporate dried fruits and saffron. This oats kheer may be served warm or cold.
Oatmeal is one of those wonder foods that are best suited for maintaining a healthy lifestyle as well as keeping your energy levels up. They are feather-light on the stomach, rich in fibre and key minerals, and low in fat. These are enough reasons why one should have a little serving of oatmeal as frequently as possible. So go ahead and give these healthy oatmeal recipes a try!
Photo: Shutterstock