Food walks in Mumbai's Bhendi Bazaar during Ramzan are no longer going to be the same, and by that, we don't mean the food, but your experience in whole. That's because Bohri Mohalla has undergone a complete makeover where the usually chaotic lanes now allow pedestrians to navigate freely and enjoy the food without having to jostle crowds.
The credit goes to the Saifee Burhani Upliftment Project (SBUT), a not-for-profit initiative with a mission to transform the 150-year-old crumbling infrastructure of Bhendi Bazaar into a modern and sustainable urban environment. Murtaza Sadriwala, official of SBUT, explains, "Spread over 16.5 acres, the project is redeveloping 250 old and dilapidated buildings to house 3,200 families and 1,250 businesses. One of the key aspects of the project's design is to maintain the socio-cultural vitality of the area through a street-shopping experience, wide tree-lined footpaths, open spaces, and the provision of amenities and community spaces as part of the new development."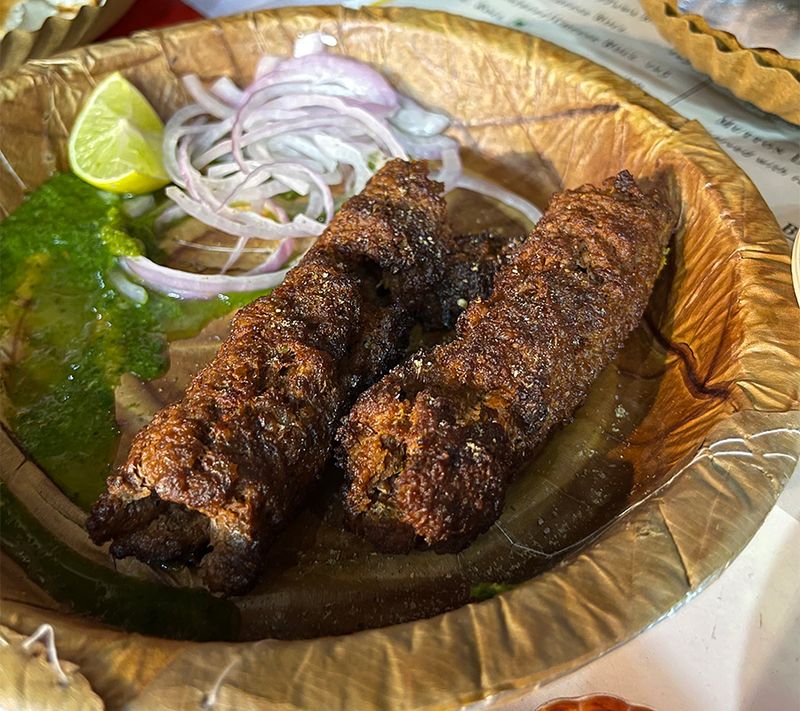 So, after we were done admiring the area's transformation, it was time to sample the mouth-watering delicacies. The lanes of Bohri Mohalla come alive at sundown, as they become filled with the aroma of kebabs, haleem, malpua, and all things delicious. We started with melt-in-the-mouth mutton seekh kebabs from Shabbir's Tawakkal Sweets, which were freshly minced, juicy and seasoned to perfection (hands down, some of the best kebabs we have savoured in Mumbai). Apart from mutton, you can find chicken kebabs, naan sandwiches and chicken baida rotis here as well.
Here are some must-try treats and where you will find them:
1. Khichda and haleem at Shabbir's Tawakkal Sweets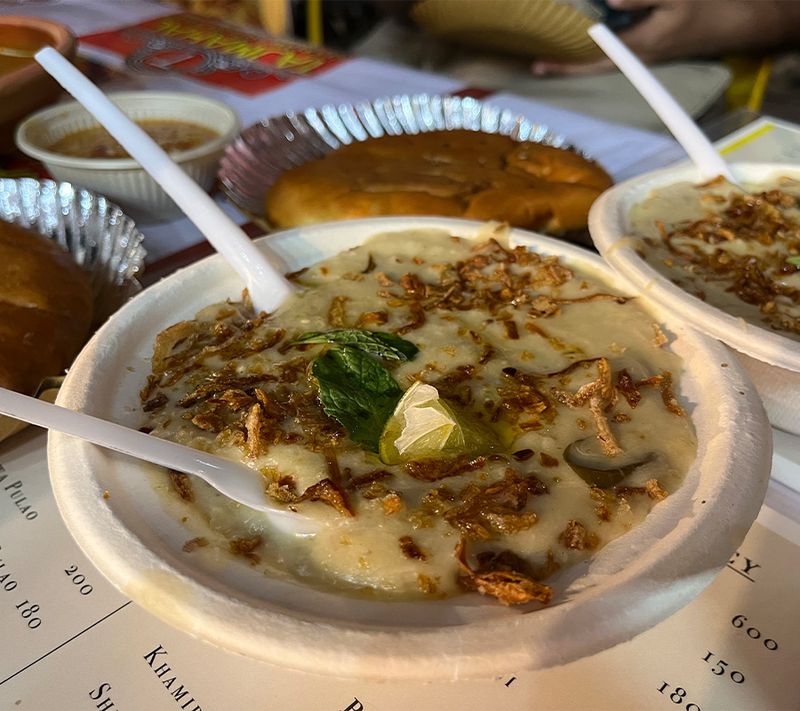 The typical Dawoodi Bohra delicacy, khichda is a basic and comforting meal with minimal seasoning. With meat, wheat and regular spices being the main ingredients, it's a meal in itself and quite filling too. However, you may choose to pair it with sheermal, as we did. Moayyad Mithaiwala of Shabbir's Tawakkal Sweets, explains that khichda is prepared using a slow cooking method that takes 8 to 12 hours and is finished overnight. He says, "The cooked grains and meat are mashed together, and milk is added to get the desired texture. We serve it hot, garnished with mint leaves, pistachio and sliced ginger."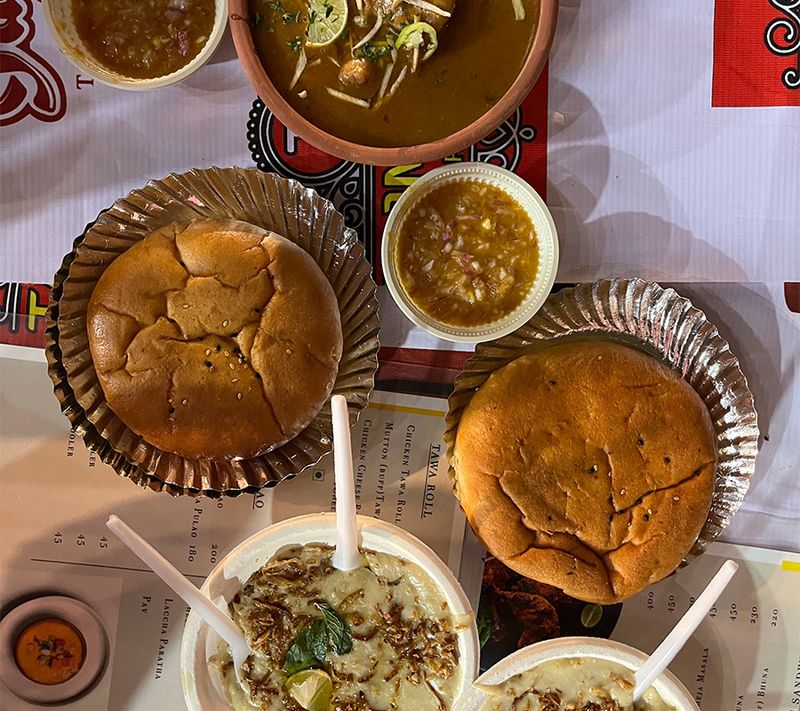 Next up, was the quintessential haleem. While you may be on the lookout to unearth hidden food treasures during Ramzan, no iftar meal is complete without the iconic haleem. The wholesome Ramzan staple — made with mutton, wheat, lentils and spices — is the heart of every iftar meal. But then, what sets the haleem at Shabbir's Tawakkal Sweets apart from the rest, we ask. Moayyad recalls, "My grandfather had opened this business on a smaller scale, only serving a couple of products. His principle was 'Sell less quantity but sell good quality', which can be a bit more expensive than the market. He simply opened the shop for two hours in the morning and the evening, and my father soon followed. My dad taught us and all the food and mithai that we make, mostly with mithai, is prepared in small batches." Although they are a reasonably big enterprise now, their focus remains on making quality food, preparing their items every day, and selling them the same day as opposed to making things in bulk and selling them over a few days. "The malai khajas are made 2-3 times a day. If it gets over, we prepare it one more time," he adds. A lot of importance is also given to the ingredients, and they source them from vendors that they have been dealing with for the last 30-40 years.
2. Patra biryani at Fakhri Farsan Mart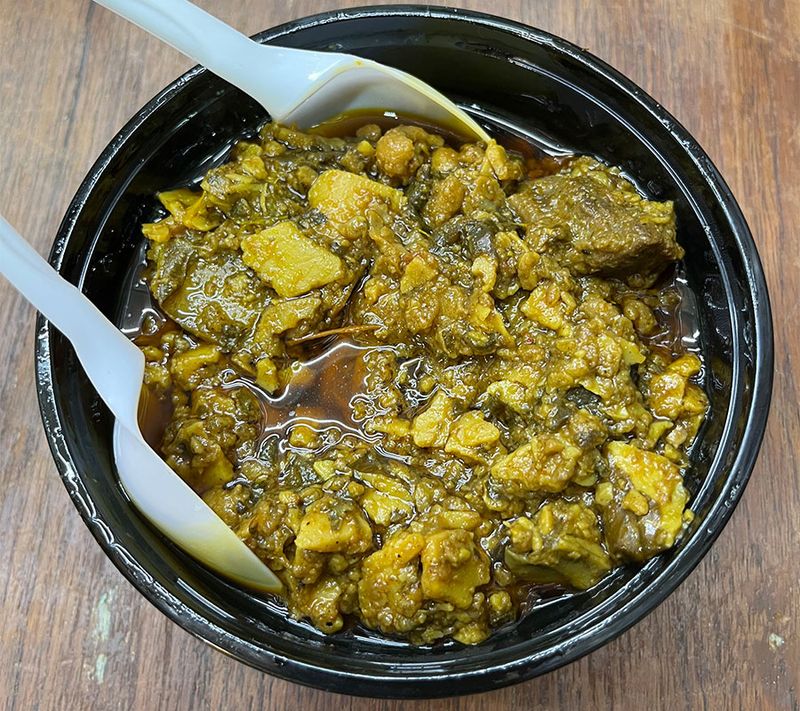 Patra biryani, also known as Patroli and Aloo Wadi, is exclusive to only three shops in the culinary hotspot of Bohri Mohalla. It's about a 40-year-old recipe and the preparation differs from a typical biryani as it contains no rice, but the gravy has the essence of biryani.
Fakhruddin Mithaiwala from Fakhri Farsan Mart, the third generation to offer this authentic dish, shares, "I'm not sure when this delicacy first appeared in Bhendi Bazaar. We use namkeen patra instead of the sweet one that Gujaratis use as their delicacies. It's created from boiled arvi leaves that have been rubbed with besan. They are then chopped and cooked in a delectable sauce of onions, tomatoes, and spices. In terms of meat, there are several variants to this recipe; we add lamb or chicken meat to it." Meat is the major ingredient that gives the patra biryani its distinct flavour. 
3. Surti Bara Handi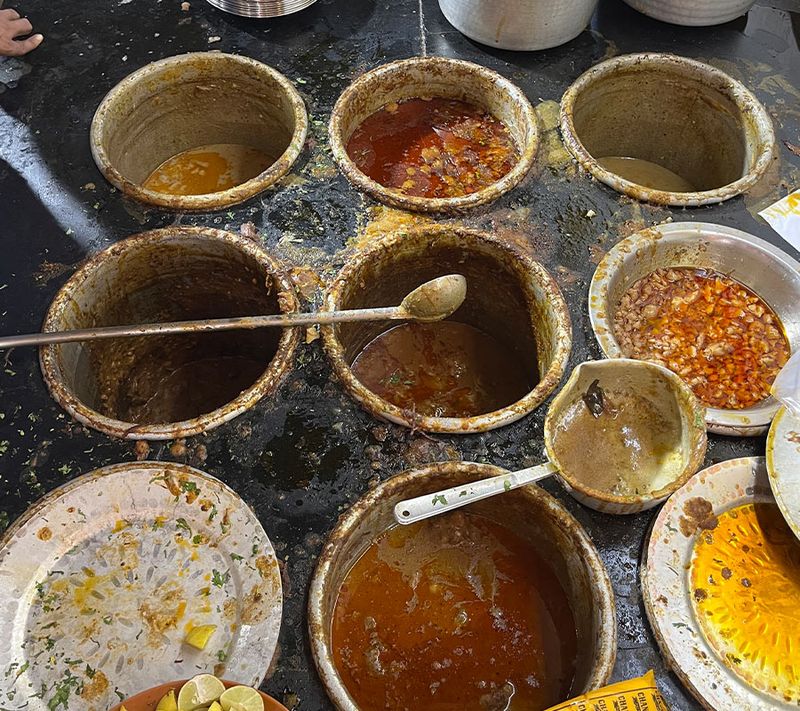 Next we headed to the legendary Surti Bara Handi, an eatery serving patrons since 1940. As the name suggests, different cuts of meat, wheat and lentils are slow cooked for several hours in 12 handis over a coal furnace. Here, we sampled their most popular blend of curry which includes suketa gravy, paya soup, nihari gravy, and a secret recipe for mutton nihari, which is added to the bara handis. It tastes great, but it's not meant for faint tummies. It's heavy, greasy, spicy and it will put your tummy through the wringer.
4. Taj Ice Cream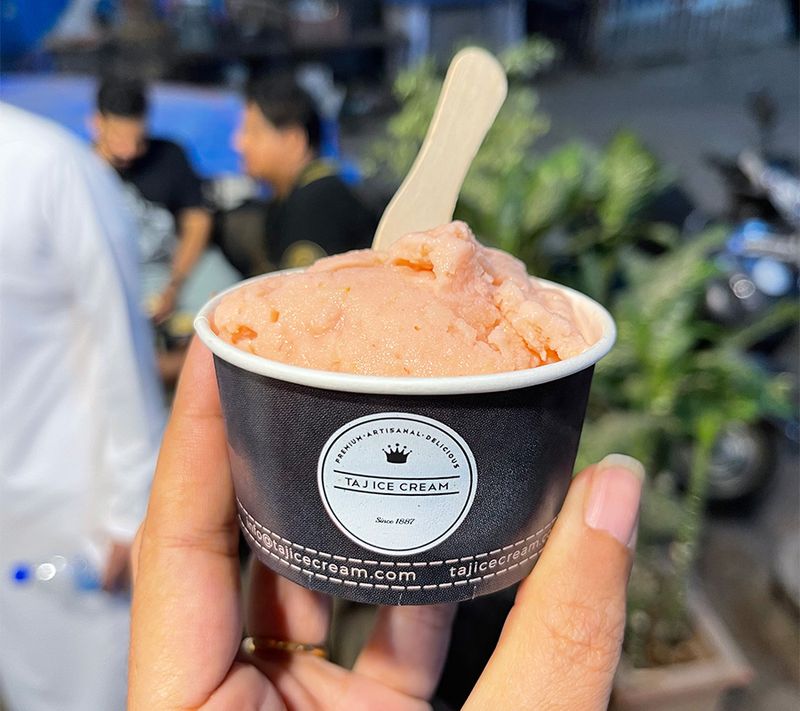 After an overdose of all things hot and spicy with a generous amount of ghee, it was time to treat our sweet tooth. Our first pit stop for desserts was at the iconic Taj Ice Cream, serving scoops of ecstasy since 1887. Known for their hand-churned ice cream, they have an entire range of fresh fruit ice creams such as sitaphal sharifa, alphonso mango, strawberry, lychee, muskmelon, chikoo, and pineapple. However, their first creation was mix fruit flavour which is a refreshing mix of chikoo and citrusy pineapple and is still on their menu. This unconventional blend of flavours is cooked into jelly and hand-churned with pure milk and sugar. We recommend their guava flavour which comes topped with their signature spiced chilli and white salt powder. One scoop is not enough!
5. Kunafa at Kunafa Bytes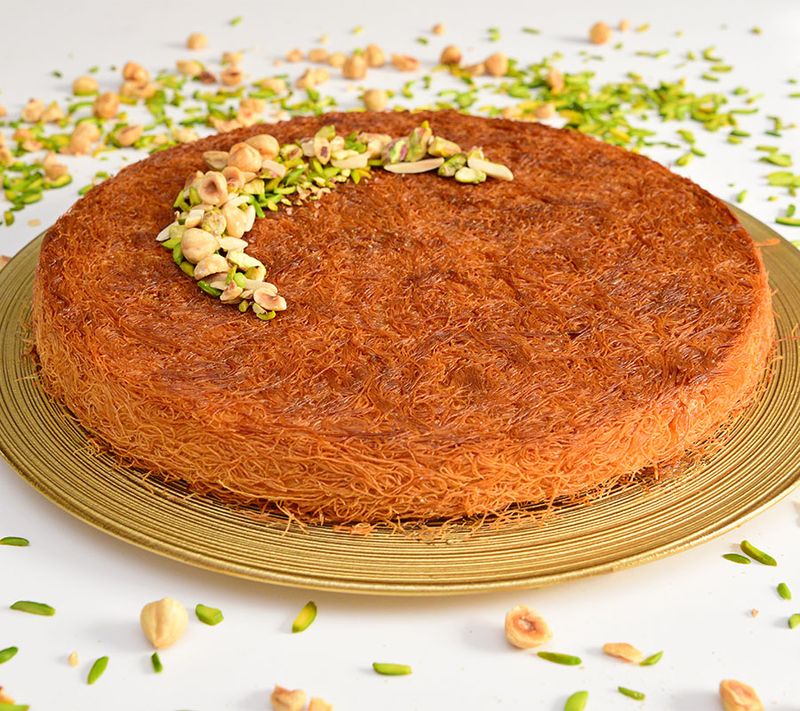 From pistachio to Nutella, mango to Lotus Biscoff and banana with salted caramel, you're spoilt for choice at this year-old kunafa joint. However, we stuck to the classic kunafa —- golden brown, with the perfect crunch-filled delicious cream and topped with sweet saffron sugar syrup. Made with spun pastry called kataifi (which is actually shredded pastry and not vermicelli), it simply tasted otherworldly and the perfect sweet ending to our meal.
6. Watermelon milk sharbat at Imam Sharbatwala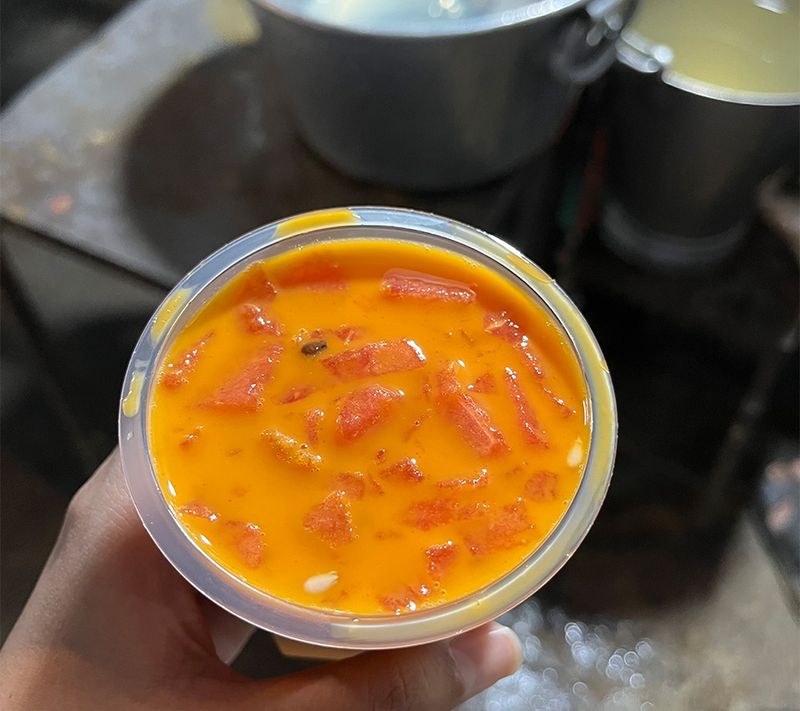 After all the heavy meaty intake in abundance, we needed to cool ourselves down. And what better than Imam's famed sharbat (since 1925) made with syrup, milk, crushed ice and topped with fresh watermelon toppings? It's distinct and refreshing.  
7. Malpua rabdi and phirni at Shabbir's Tawakkal Sweets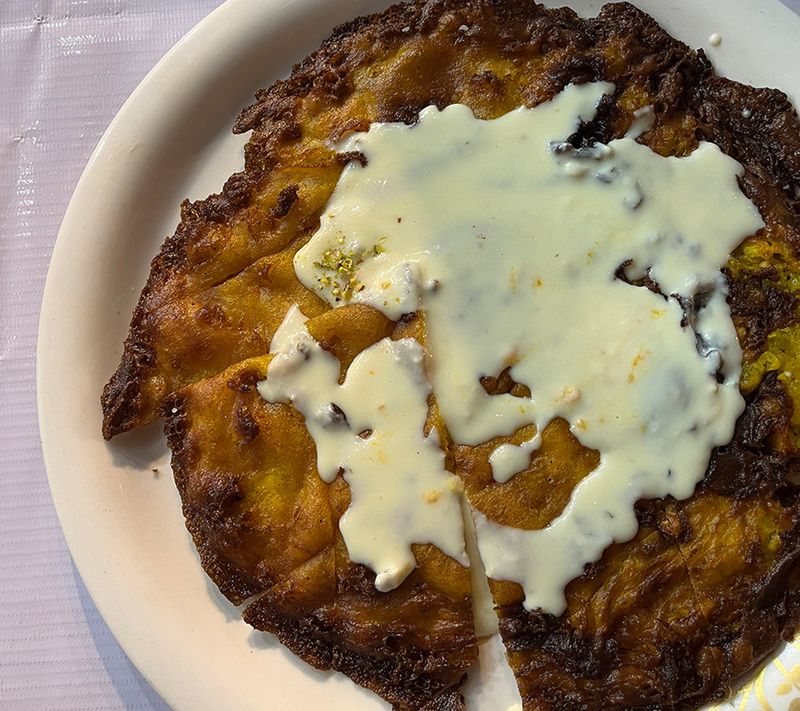 With our satisfied and stuffed tummies, we headed towards the exit, but then the aroma of fried malpuas took over our senses. The crispy edges and fluffy interiors soaked in delicious sugar syrup looked invitingly at us and the rich, creamy layer of rabdi pulled us right back in.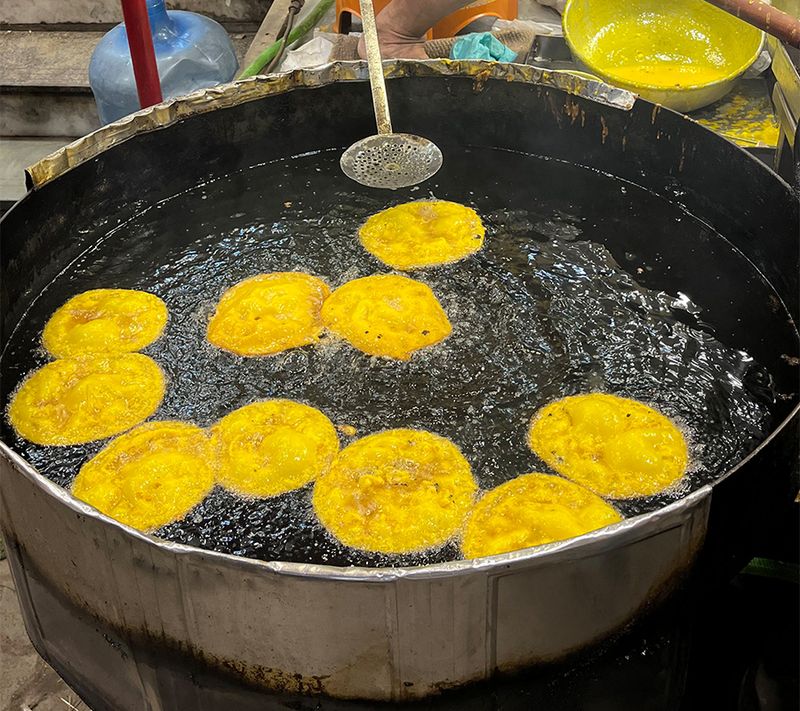 From the classic rabdi malpua to their special Lotus Biscoff malpua or the Nutella malpua for the chocolate lovers, there's something for everyone at Shabbir's Tawakkal Sweets.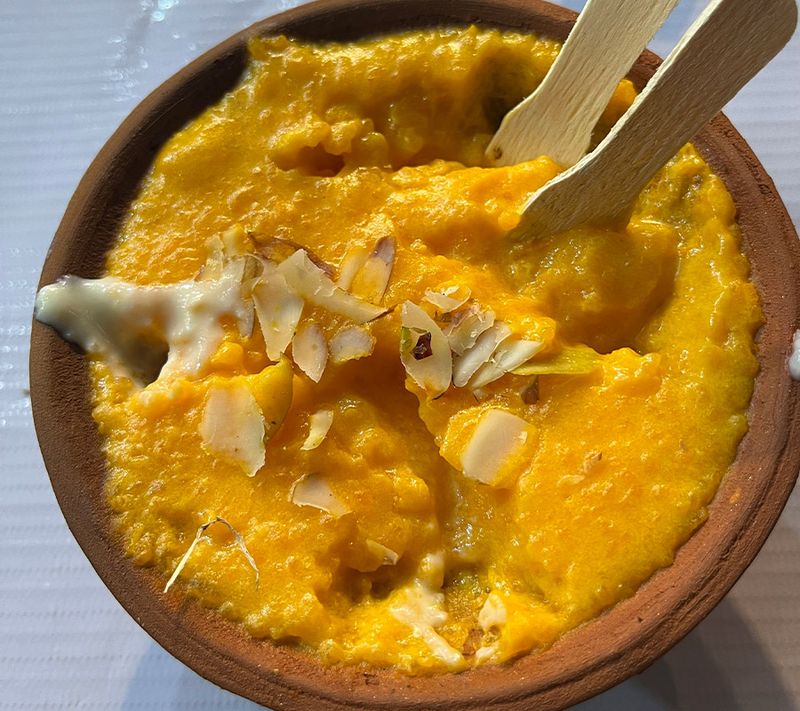 Also, Ramzan is incomplete without a fair share of phirnis, right? We loved their classic flavours like rose, mango, kesar and malai as much as the newest additions of chocolate almond and butterscotch phirnis. A perfectly balanced phirni was the perfect end to our iftar trail.
---
Photo: Shutterstock; Team Zest