It's that time of the year, Ramzan, when Hyderabad becomes synonymous with Haleem and biryani takes a step back for a change. For one whole month, the old city, or the areas in and around the historic Charminar, remain open all night till Sehri (meal before sunrise when Muslims begin their fast), turning into a food lovers paradise.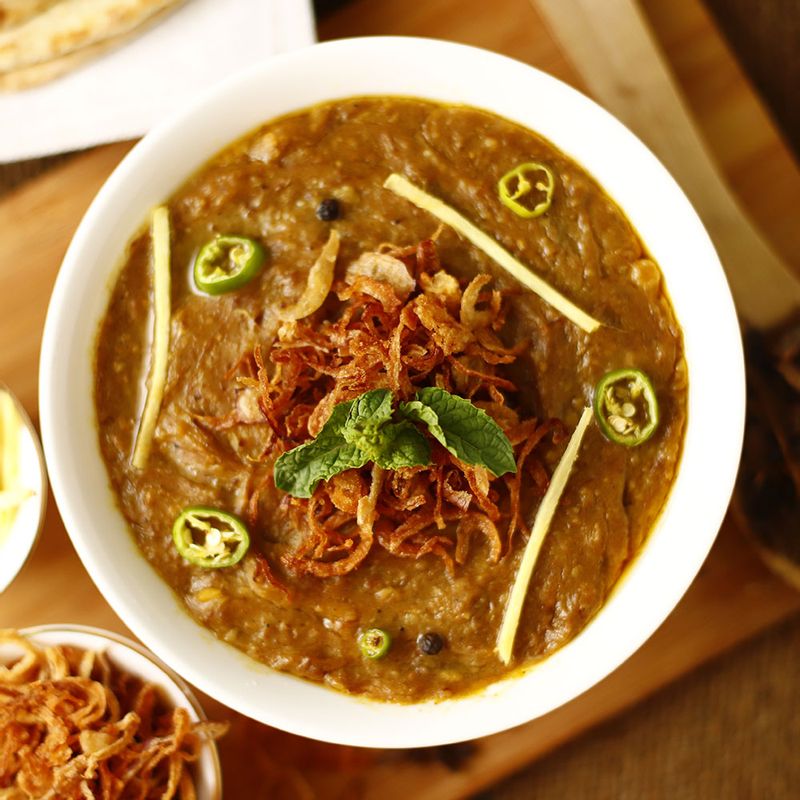 While Haleem and the standard biryani (or kebabs) are staples in the food joints or restaurants like Shadab, Nayab or Shahran, a whole bunch of stalls that come up during Ramzan sell items like 'Pathar Ka Gosht' (meat cooked on a platform using coal), 'Malai Paya' and 'Marag' (creamy mutton broth) and 'Boti Kebab', have now added to the experience. These stalls disappear after the holy month and so do the dishes, some of which are not available in most restaurants otherwise.
While the famous Hyderabadi 'Pathar Ka Gosht' is definitely available in restaurants, there is a world of difference in the taste and flavour in what is cooked at these Ramzan special food stalls. Moreover, a beef option of the same is also available, which is definitely worth a try for food connoisseurs, who are looking to explore Hyderabad's Old City.
So where does one go if they don't want to end up at the same old places serving the same old food? Here's a quick guide for you, with a suggested food trail of different routes and places one can visit in Hyderabad during Ramzan.
Mutton haleem at Shadab Hotel
One could endlessly argue about which place is the best, and we are not doing that here. Instead, it is highly suggested that food lovers start their trail from Shadab Hotel, which is close to the Madina Signal (from where one goes straight to the 428-year-old Charminar). The dish is good, definitely one of the best in the city. If you feel the restaurant is too crowded, there are servers outside who will bring you a plate so you can stand and eat outside as well (this saves time if you plan to go around). Of course, other places nearby are Nayab and Madina Hotel. The dish costs around Rs 150.
Now coming to the trail itself, there are three or four more places one can go to, and take different routes. Please keep in mind that the crowd after the 10th day of Ramzan keeps increasing, to the point where commuting by a vehicle will turn into a nightmare. Walking is suggested, as it will also help burn some calories if you are intent on eating a lot in one night (pun intended).
More mutton treats at Sonu Kebabs
From Shadab Hotel, walk straight down that road (which is the High Court road) till the end. Take a left for Moosa Bowli, and one will find Sonu Kebabs (full name is Al-Barooj Sonu Kebabs), and a couple of stalls beside it and opposite it. Among all the Ramzan special food, the 'Pathar Ka Gosht' (mutton, but there is also a chicken option) at Sonu Kebabs is to die for, and their 'Marag' and 'Malai Paya' (both mutton) are equally sumptuous. They also sell rumali roti and parathas to with the Kebabs.
Of course, Sonu Kebabs has a whole list of items, including chicken dishes, but the three aforementioned dishes are their best-selling. For those who want to, they can also try the 'Pathar ka Gosht' made with beef at a stall (nameless) beside it. The other items worth trying are the famous Hyderabadi 'Tala Hua Gosth' (a meat preparation with spicy flavourings) and chicken kebabs. Please note that there will be a lot of traffic on the road so one cannot escape the noise too. But with such amazing food around, most people don't really care.
"In fact, our customers increase after 11 pm. Many Muslims offer their Taraweeh namaz (evening prayer in Ramzan) and also come to eat late in the night. The entire area is choc-a-bloc with people and traffic for the whole month. Our 'Pathar Ka Gosth' is one the best sellers," says Mohammed Shoaib, one of the brothers who runs Sonu Kebabs.
Beef delicacies near Dewan Hotel
Navigating after Sonu Kebabs might be a little tricky for some, especially if you are not familiar with the area. Here's where Google maps come in handy. If you know the way, all you need to do is walk straight towards Hussaini Alam, take a left and just keep going straight towards the Laad Bazar area (which will take you to the Charminar, but we don't have to go there). On your way will come Dewan Hotel, opposite which there is a stall selling chicken kebabs and 'Pathar Ka Gosht' made of beef. In all honesty, it is almost as good as mutton and costs nearly half.
Kebab stalls near Pista House
Your next stop will be the famous Pista House (you can take an auto, or even reach the Charminar and just walk straight towards it. Google Maps or anyone there can point you towards it. If you see that there is less traffic, an auto will take you there in a few minutes). No, eating Haleem there is not recommended (it is up to you of course), but there are two kebab stalls just beside it, both selling more or less the same items.
The seekh kebab (mutton) at both the stalls are great, and also the chicken malai kebab (they also serve 'Pathar Ka Gosht'). In fact, even the Boti Kebab (mutton) there turned out to be good. But 'Boti Kebab' can finish early at times, so remember that. Apart from all the dishes, we have mentioned, food lovers are of course encouraged to try as many items as possible, because this is, in fact, the best time to explore the best that Hyderabad has to offer. Try avoiding the usual joints, because those will always be there, selling the same things they always do.
Ramzan-special stalls
The Ramzan special stalls are also what many Hyderabadis look forward to, especially because one has to wait for a whole year after Ramzan. "I have been coming here from the last three years, and the options have been increasing. These dishes and places are actually a good respite from biryani and places like Shadab and Nayab, where we can go all year round. Plus, the food here also tastes amazing. So far whoever has accompanied me for my late night Ramzan trips has loved the food," said A Rajesh, a consultant working in Hyderabad.
Desserts to end your feast
And maybe also try avoiding biryani this once? You know, for a different culinary experience. Now that the food part is done, there are in fact a few dessert options. Pista House surprisingly has an array of items. One can ask for a sample and try out their sweet dishes. However, there is a lesser-known place called Nazeer fruit juice, near the Charminar (at Panch Mohalla, in the lane that comes after the Mecca Masjid. Anyone around the masjid will point you towards it).
It basically serves cream bowls, with different fruits like mango, mulberry, lichi, dry fruits etc, apart from fresh fruit juices. It's a small place. Then, of course, there is the famous Nimrah café for the famous Irani/Hyderabadi chai and (Osmania and other) biscuits, to end the trail. All in all, one will have to spend at least two hours eating food in the old city, but it will be worth it.
---
Photo: Shutterstock