All the food wars and my-city-has-better-street-food-than-your-city jibes, stop at Delhi. Lucknowites may nod in polite disagreement and Kolkatans might gasp wildly at the idea, but Dillwalon ki Dilli is leagues ahead. A cultural mash-up like the flavours in its chaat; as succulent and sublime as its kebabs; mysterious and ever-changing as its winter shakarkandi and summer Bael ka ras.
Ramzan is a special time in the capital, especially Dilli 6, when the old city of Shahajahanabad unravels its gastronomical secrets. Once a city of beautiful promenades lined with cooling fountains, Old Delhi is today a modern mess of congested streets and overhanging electric cables. What brings it to life is its street food—old heirloom recipes come to life in dekchis and bhagonas simmering with flavours while Mughal-era sherbets offer respite from the heat.
Touring Old Delhi during Ramzan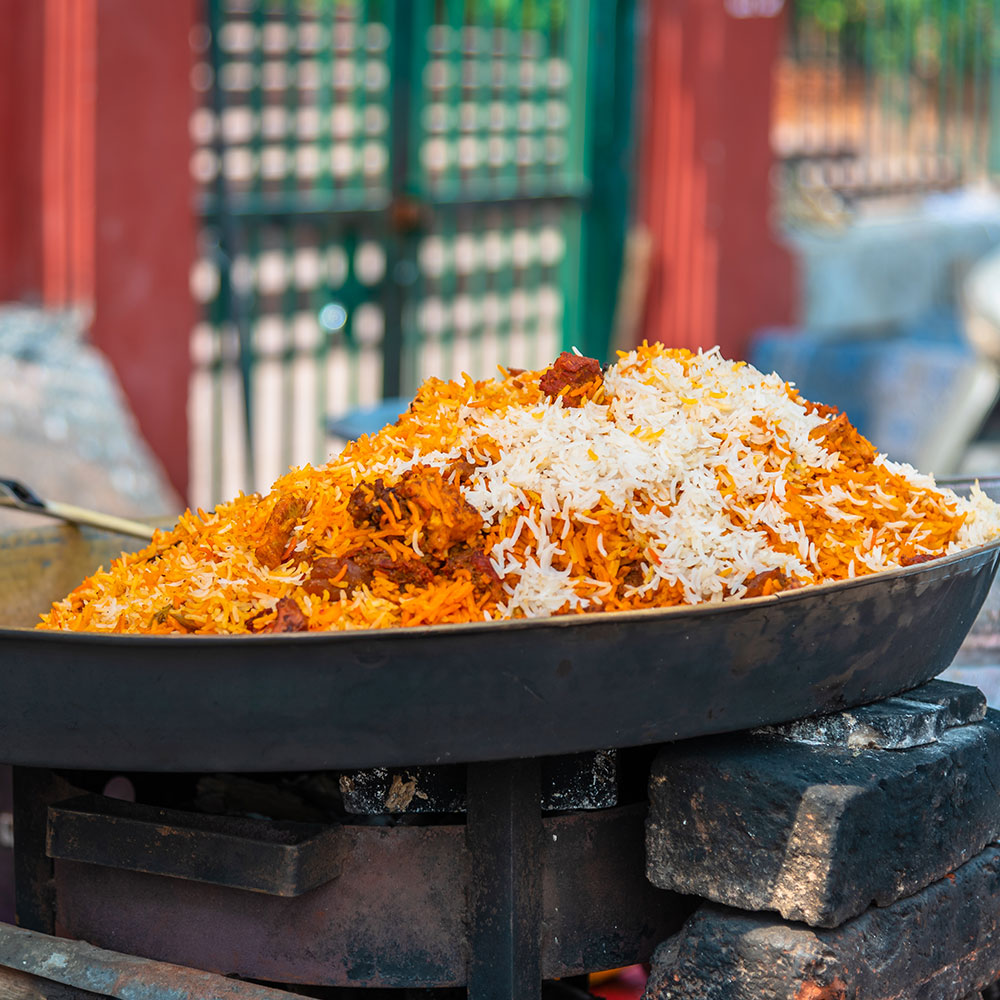 If you're planning to visit the Iftar markets of Old Delhi, head to Bazaar Matia Mahal, Chitli Qabar, Chandni Mahal, Gali Chooriwallan and Ballimaran—whose most famous resident was the 18th-century poet Mirza Ghalib.
The streets criss-cross Jama Masjid, the imposing mosque and centre of cultural activity in the old city, so start your walk from the main gate of the mosque. Make sure you've worked up a great appetite because there's a variety of food you can choose from—from samosas to shahi tukda, kebabs to kheer and mind-blowing biryanis.
We started our food trail with kebabs—like a true Dilliwala. Ustad Moinuddin Qureshi's Kebabs off Lal Kuan Bazar Rd, opposite old Hamdard Dawakhana, offers an assortment of delectable buffalo meat kebabs. These melt-in-mouth kebabs owe their delicateness to hours of pounding by hand and the right kind of marinades.
You may also want to try the sutli kebabs at the 70-year-old Babu Bhai Ke Sutli Kebabs near Masjid Sayed Rafa at Bazar Chitli Qabar. They're so tender that a string is needed to hold it around a seekh. When the meat begins to fall off the skewer as the strings are burnt in the fire, you know the kebabs are cooked and ready to be popped into your mouth.
2. Dahi pakodey
Next, head to Manzoor Hotel at Gali Qasimjan for dahi-pakodey. The tangy Dahi-Pakodey are a hybrid of Dahi-Bhalla and Kadhi-Pakoda.
The egg curry at the modest-looking Manzoor Hotel is another must-have. Polish off the lightly fried eggs swimming in a potato and tomato gravy with soft khamiri rotis.
Now that the starters are done right, it's time for a warm pot of biryani. Pehelwaan Biryaniwale sets up his huge pot of buff-meat Biryani Mirch Masala, each evening on Bazar Chitli Qabar Road, just at the mouth of the alley Haveli Azam Khan.
Despite the name, this buff-meat biryani doesn't test your spice threshold and instead has a spicy, tangy zing coming from the pickled green chillies added during the marination of the meat. And that meat! It is so tender and when mixed with perfectly moist rice cooked separately and packed in a huge Degh (Pot) Dum Biryani-style is a speciality of this place
Much like its maker Haji Mohd. Anwar aka Mota Biryani Wala, the biryani is warm and homely. Pehelwaan biryani has only one competitor—the Dil Pasand Biryani of Mohd Tauffik up ahead in the alley Haveli Azam Khan. Again a buff meat biryani, it has chunks of juicy meat with rice and with a good sprinkle of saffron, this fragrant biryani will transport you straight to Jannat.
For non-buffalo meat-eaters, there is Al Jawahar Restaurant and Karim's that serve noteworthy goat-meat and chicken biryanis.
5. Chicken and mutton Curries
Talking about buffalo meat, we reckon that it's not everybody's thing. If it's not yours, you needn't fret as there is plenty in mutton and chicken to choose from, too.
The Mutton Qorma and Chicken Kashmiri Curry at Al-Rehmani at Gali Churiwallan, are quite innovative options. The qorma has tender meat perfectly blended into qorma masalas which is a balance of various spice flavours. The yoghurt curry chicken is mild and is served with white cream drizzled over it and resembles Kashmiri Wazwan's Goshtaba curry in both texture and taste.
6. Nihari
Another good option in mutton is Changezi's Mutton Nihari in the same street. Nihari is meat shanks cooked with nearly 30 different spices and herbs overnight on a slow fire.
Originally created by Hakeems or traditional Unani doctors, the dish is made to be consumed in the morning and is considered the perfect antidote to many ailments like flu, cold, cough, even asthma. 
Another highlight at Changhezi is the Shahi Paneer for vegetarians, which is as good as any meat dish available here.
7. Chicken roast and fried fish
For the chicken and fish lovers, buttery chicken roast at Anmol Chicken Corner on Urdu Bazar Rd, opposite Jama Masjid Gate #1 and batter-fried fish at Haji Mohd. Hussain's on Bazar Matia Mahal Rd are not-to-be-missed!
Now that we have had enough savoury treats, it's time to cool the gut down. The desserts and ice creams at Cool Point on Bazar Matia Mahal Road will do the trick. Established more than 30 years ago by Mohd. Zahid, there are classic Indian desserts like Phirni, Rabdi, Shahi Tukda, amongst others to choose from. But the icing, literally, is the seasonal serving of one dollop each of hand-churned mango and vanilla ice cream. Do. Not. Miss.
9. Hand-churned Mango ice cream
The kulfis and ice creams at Ahmed's Roller Fruit Kulfis just beyond Chitli Qabar Chowk is another option. But here's the catch. Roller kulfis are always on a roll; it is only during festival time and Iftar that you will catch Ahmed pushing a cart that serves these yummy kulfis and he doesn't seem to stick to one place. But if you manage to catch him, a true treat of tastebuds is guaranteed.
The century-old Bade Miyaan Ki Kheer at Bazar Sirkiwalan on Lalkuan Bazar Rd, opposite Badal Beg Mosque is a 130-yr-old shop run by Jamaluddin Siddique or Jamal Bhai. What is so good about this kheer? It's not overly sweet and leaves a faint smoky aftertaste, a testimony that it is the result of hours of cooking the milk and broken rice on a slow wood-fired stove.
11. Watermelon-Rooh Afza milk sherbet
The best way to end the food trail is by gulping down a glass of chilled sherbet, a staple during Ramzan. Purani Dilli has several unique sherbets, some with unique legacies that go back a few generations.
Head straight for Nawab Bhai's sherbets available on a cart just before Aslam chicken, opposite Gali Matia Mahal. Nawab serves a Watermelon-Roohafza Milk Sherbet made with milk, Roohafza, diced chunks of watermelon and iced water.
Another must-try is Mohd. Jamal's Apple-Vanilla Powder-Milk Sherbet, available on the cart that goes up and down Bazar Matia Mahal Rd and beyond Chitli Qabar Chowk. You need to taste it to believe that such goodness even exists!
12. Sehri treats
Some other items available in this season in Old Delhi that you should try on your Iftar walk (these are also popular as Sehri foods, eaten before beginning the Roza) are the dry-fruit coated, Sheermals (slightly sweetened thick breads), liberally dipped in ghee at Asim Bhai's Meerut Sheermal Walley, Paneer Jalebis at Kallan Sweets opposite Jama Masjid Gate #1.
Khoya Samosas, Khajlas and Dry Jalebi at Al-Ameer Sweets near Haveli Azam Khan and assorted rusks and bread at Golden Bakery on Bazar Matia Mahal Rd. Oh and don't forget to pack some for your friends and family!
Ramit Mitra is co-founder of Delhi By Foot and organises heritage walking tours, and curates cultural events on food, music, and poetry
Photo: Shutterstock