Have a fussy eater at home? No, we don't always mean the little ones. Sometimes it's the parents who need an exotic spread to satiate their taste buds. If you're tired of eating the same vegetarian lunch week after week, it's time to amp up your cooking game. Here's a curated mix of party-worthy vegetarian lunch recipes to simple everyday food. So, spice up your lunch game with these quick and easy lunch recipes.
Ready in under 30 minutes, these vegetarian lunch recipes will become household staples in no time.
A flavourful and fragrant vegetarian lunch item, Kathal or Jackfruit biryani is a very popular dish in Indian homes. Biryani is made traditionally with rice and meat while Indian aromatics emanate a scintillating aroma. For homes where non-vegetarian food is not made or on days you want to eat veg items for lunch, Kathal Ki Biryani is a delicious alternative.
The method of making Kathal Biryani is the same as regular biryani. Packed with traditional spices, herbs and long-grain basmati rice, Kathal Ki Biryani is a complete meal in itself. You can serve the dish with a portion of cucumber raita and salad.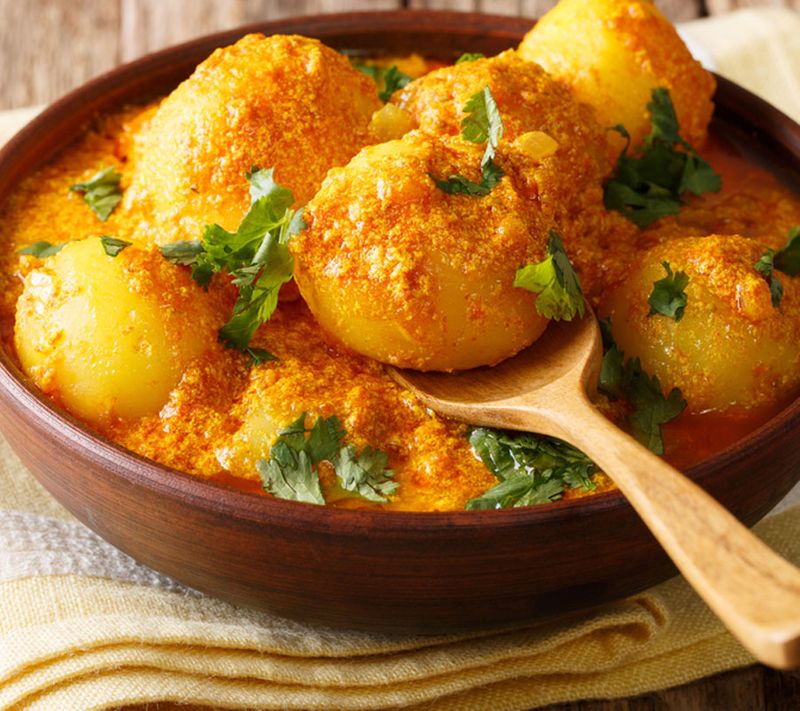 In our list of veg items for lunch, Kashmiri Dum Aloo is a crowd-pleasing dish. A traditional sweet and spicy potato curry, Aloo Dum is one of the few vegetarian dishes that are as famous as any non-veg item. Baby potatoes are cooked in a thick spiced gravy of red chillies, garlic, ginger, cardamom and fennel. If you are making this the traditional way, use an earthenware handi to give your curry a 'Dum'. It enhances the flavour of the dish making it lip-smackingly delicious.
Serve your Kashmiri dum aloo with hot parathas and jeera pulao.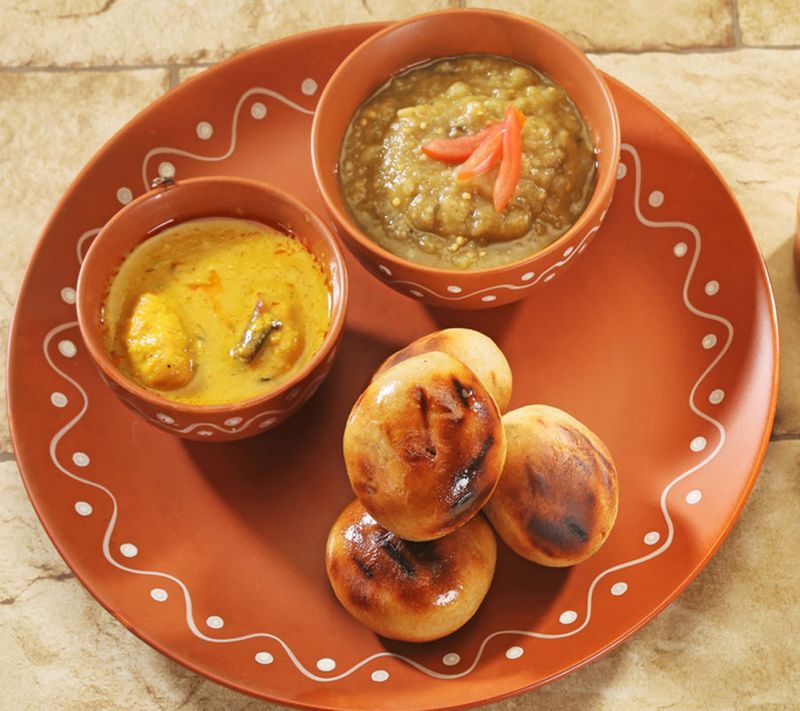 Originating from the state of Bihar, Litti Chokha is one of the best vegetarian lunch ideas when hosting guests. A rustic dish packed with Indian flavours, it's not only easy to make but very healthy to eat too. Litti, medium balls of whole wheat dough, is stuffed with a spiced gram flour filling. Complementing the Litti is a spicy Chokha that is made from roasting baingan (eggplant), tomatoes, boiled potatoes, green chilly and garlic. Litti can be baked, roasted or fried before serving with piping hot ghee.
A wholesome meal, Litti Chokha can be served with a portion of lentils and coriander chutney. Every mouthful will transport you to the rustic villages of Bihar, where the dish is still made on cow dung cakes and earthen pots for a 'saundha' flavour.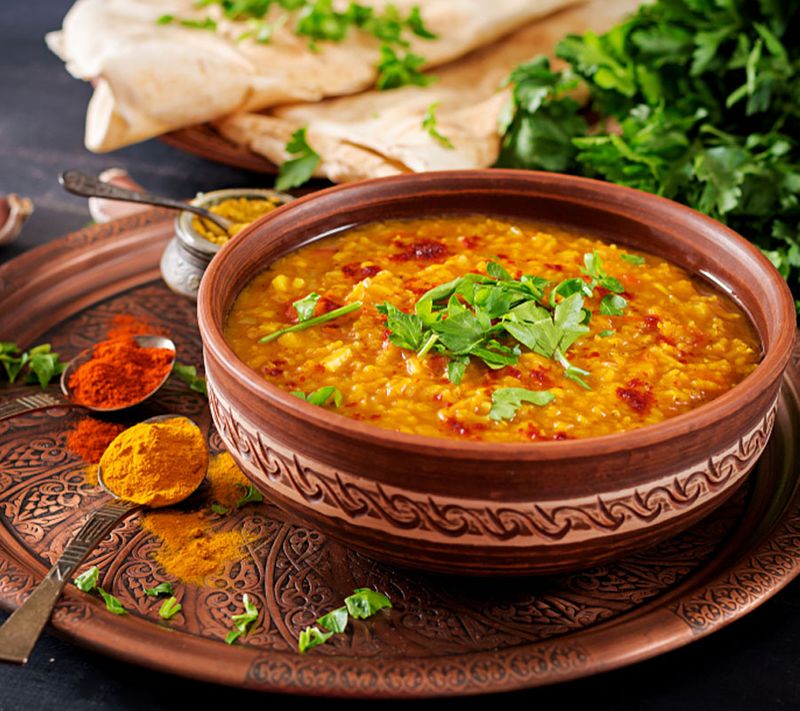 Vegetarian lunch recipes are incomplete without a portion of dal. We Indians love our lentils, but what we love more is a delicious spicy tempering that adds character to the dish. Thikri Ki Dal is a unique veg item for lunch that uses a different kind of tempering to a slow-cooked pot of red lentils known as masoor dal. In the first round, dal is tempered with onions, garlic and whole spices. The second round uses red chillies, curry leaves and deghi mirch (red chilli powder) to give a luscious red colour to the dal. Lastly, Thikri, a small earthen diya, is heated and placed on the dal to infuse it with a smoky aroma.
Serve the decadently creamy thirki ki dal with crispy tandoori roti and salad.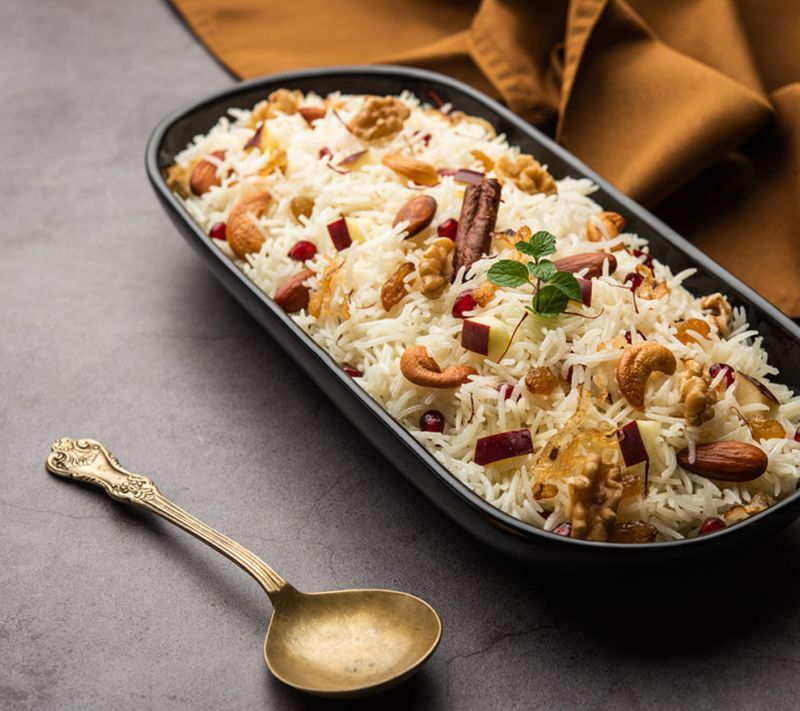 Love quick and easy vegetarian lunch recipes? Try Kabuli, a wholesome one-pot rice dish originating from the indulgent state of Rajasthan. The Jodhpuri Kabuli is made using carrots, potatoes, peas, cauliflower and dry fruits. Like the popular Afghani Kabuli Pulao, this vegetarian lunch item is layered with rice and vegetables and cooked to perfection.
What sets the Kabuli apart from other rice dishes is the addition of deep-fried pieces of bread in between layers. Garnish your pulao with golden fried onions and coriander leaves, and serve hot.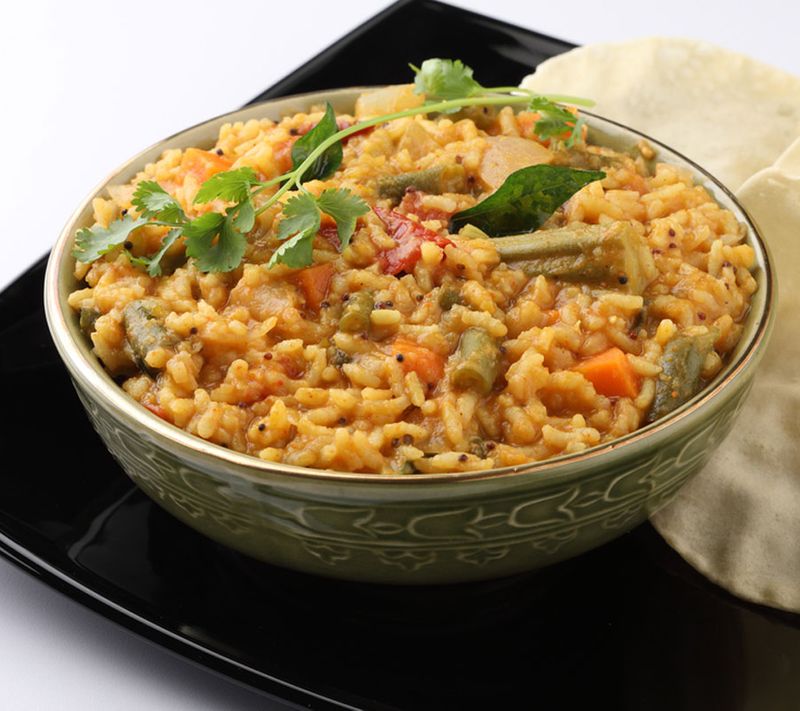 If you are looking for vegetarian lunch ideas that represent food as a medium to connect with other cultures, try Bisi Bele Bath. A popular vegetarian lunch dish from Karnataka, Bisi Bele Bath is a spicy one-pot lentil and rice dish that originated in the kitchen of Mysore Palace. Made using a mix of lentils, vegetables, rice, tamarind and jaggery, Bisi Bele Bath is finger-licking delicious. The tanginess from the tamarind and sweetness from the jaggery make every bite flavoursome. Add a tempering of ghee and curry leaves to the dish before you serve it with fried papadums to take your meal experience up a notch.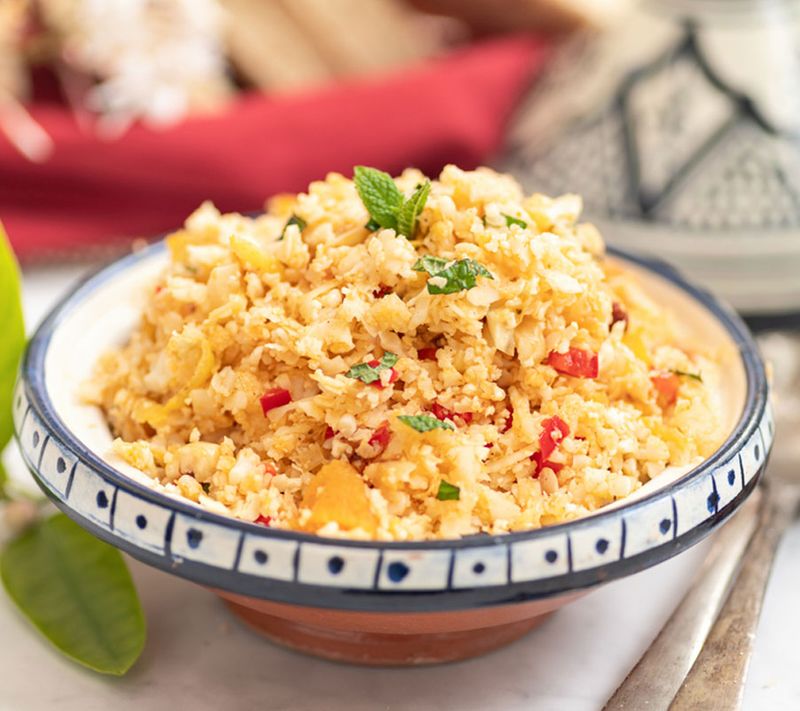 One of the more off-beat vegetarian dishes for lunch is the Cauliflower Rice Biryani. It is perfect for those trying to cut down their intake of carbs or are following a Keto diet. These veg easy lunch recipes that are healthy and delicious make hearty meals without the unhealthy calories. Unlike traditional biryani, this dish is not made with rice but with grated cauliflower instead. Fine grains of cauliflower give a rice-like texture when mixed with vegetables like potato, beans, carrots and green peas, and served with curd.
Cauliflower is easy to digest because it is loaded with vitamins and water. Once cooked, garnish the biryani with strands of saffron, chopped nuts and a drizzle of ghee.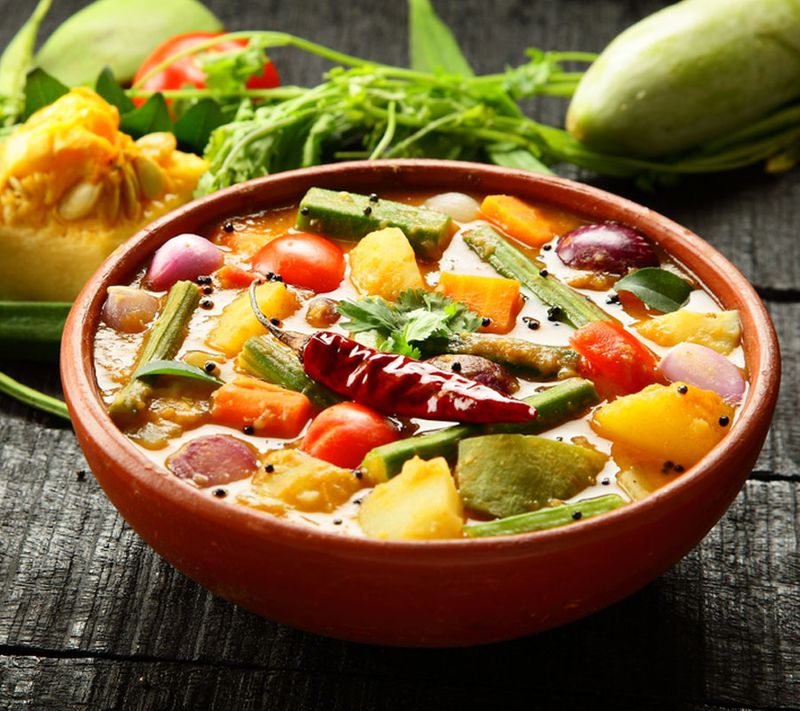 If you're looking for vegetarian lunch ideas that are a mix of delicious flavours and nutrition, try the Mixed Root Vegetable Curry. Ideal for your little ones who despise all things green, this super tasty curry is a great way to incorporate veggies into their diet. Made using carrots, taro, radish and potatoes, the curry is a powerhouse of vitamins and minerals. Radish is a great source of vitamins A, C, E, magnesium and potassium. It boosts immunity which is much needed during seasonal changes. Taro is an excellent source of dietary fibre and helps the body flush out toxins while radish balances gut health.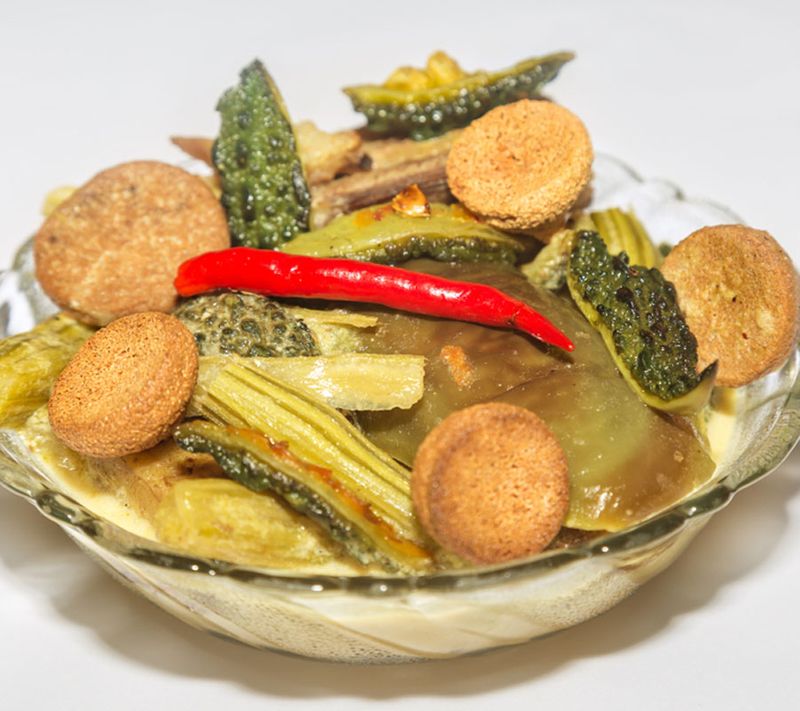 One of the lesser-tried vegetarian lunch recipes, Shukto is an authentic Bengali dish. Made using a variety of vegetables, its main ingredient is bitter gourd, also known as karela. This renders a bitter-sweet flavour to the dish making it an acquired taste to enjoy. Apart from bitter gourd, Shukto has other nutritious vegetables like eggplant, radish and sweet potato that lend the dish a distinct flavour. Cooked in smoked cold-pressed mustard oil, Shukto is one of the easy veg items for lunch on busy days.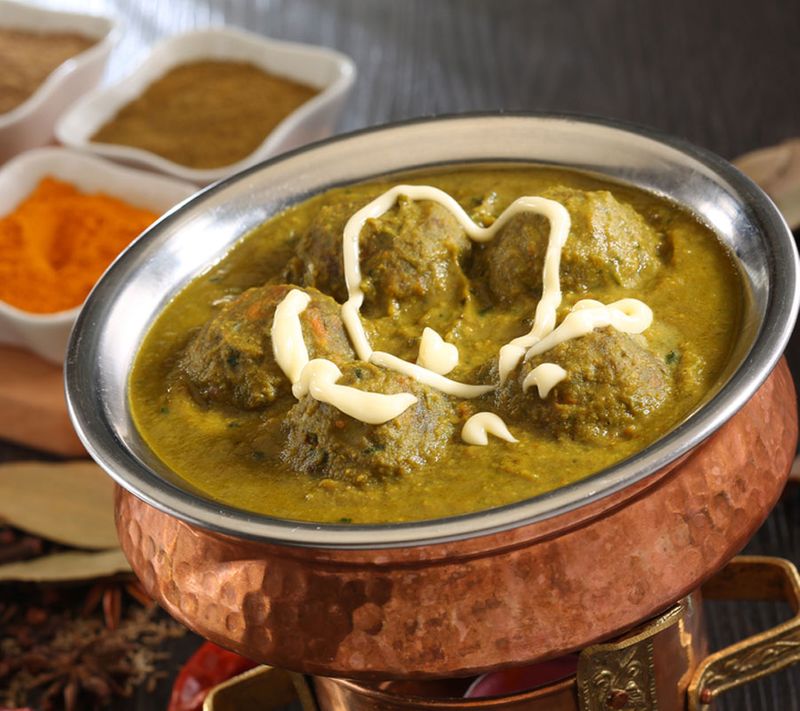 A scrumptious creamy curry, Paneer Kofte Saagwale originates from the lanes of Mathura, where milk and its products are available in bounty. One of the easy vegetarian lunch recipes to make on special occasions, this appetising curry is best eaten with hot laccha parathas and pineapple raita. Paneer, also known as cottage cheese, is grated and made in soft medium-sized balls. These koftas are then doused and cooked in spicy-tangy palak gravy.
Garnish the dish with fresh cream and ginger juliennes before serving it hot. 
Love a good vegetarian spread but running out of meal ideas? Try these easy and super delicious vegetarian lunch recipes that will leave your loved ones licking their fingers.
---
Photo: Shutterstock