Sikkim was declared the first organic state in India in 2016. In 2018, the state became the first organic state in the world and was the recipient of the UN Future Policy Gold Award 2018, defeating 51 other nominees. Brazil, Denmark and Quito shared second place at the awards touted as Oscar for best policies.
Sikkim's reasons to go all-organic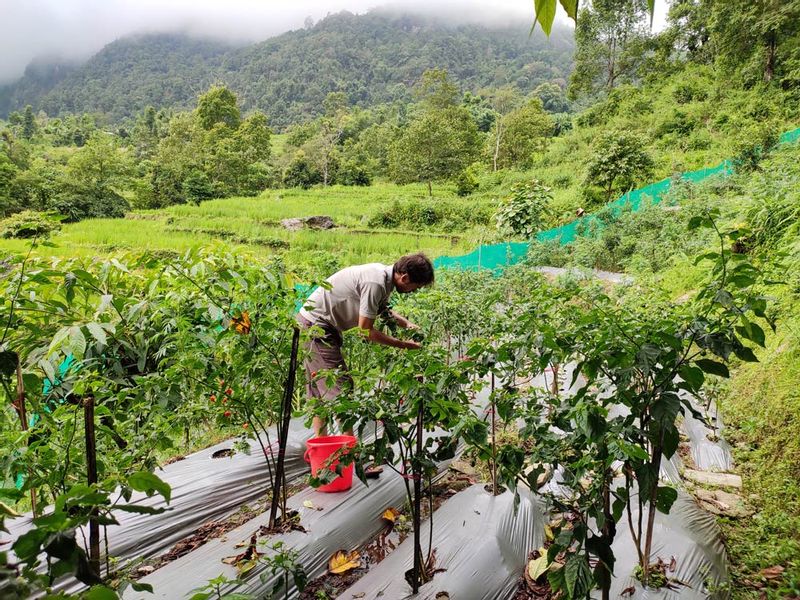 With the aim to protect the environment and support local farmers, Sikkim started its all-organic mission in 2003. Since then, the use of chemical-based agricultural products has been completely stopped, farmers have been educated about the need for organic farming.
Due to the hill state's topography, innovative farming methods have been adopted instead of complicated machinery that has helped farmers save money and invest better. And plastic bags have been banned in the state with clearly marked and segregated dustbins to discard biodegradable and non-biodegradable waste.
As a result, today Sikkim no longer needs to import vegetables, fruits, and crops from neighbouring states. Sikkim also holds the accolade for the cleanest state in India by the National Sample Survey Office (NSSO) for 2015.
Overcoming challenges
However, this has not been an easy journey. The initial years witnessed production stagnation. The soil had to be revived and farmers had to understand the negative side-effects of chemicals. Today there is more than ample fresh produce.
If you, as a tourist, make the mistake of asking for plastic bags, you will be told off in no uncertain words by the local shopkeepers who are proud of what the state has achieved.
Local markets are overflowing with all types of greens. And every part of the plant is edible. From root to shoot, you will find complete and efficient use of ingredients in a Sikkimese recipe. So if headed to the hilly state, don't miss these vegetarian dishes.
1. Kalo Dal
Literally meaning kali dal or black dal, this is a combination of moong and black urad. Some places may skip the moong beans, the taste is delightful nonetheless. This simple dal can become your soul food. 
What makes it magical? A local ingredient called jimbu. Jimbu is a dried herb from the onion family. Harvested by the locals, jimbu is dried and stored for later use and is a common ingredient to flavour vegetarian and non-vegetarian dishes.
2. Chayote squash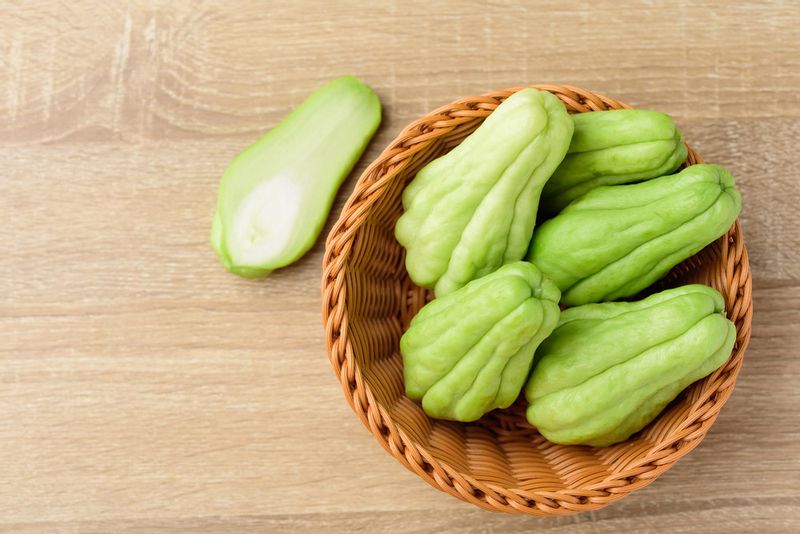 Many varieties of squash are available across India, this one however is typical to the hilly regions of eastern India. The shape resembles an avocado but tastes closer to a bottle gourd. Chayote squash is as common in a Sikkimese home as a potato is in a Bengali kitchen. A tasteless vegetable on its own, squash when cooked with spices, makes for a delectable treat and a healthy alternative. Get a little more adventurous and try squash root that is considered the most delicious part of the plant.
3. Kwati
The name literally means hot soup and is made of nine types of beans. A local Sikkimese will use black gram, green gram, chickpea, field bean, field pea, garden pea, cowpea, soybean, and rice bean in kwati. But feel free to add or subtract as per your taste.
Kwati is a common dish during special rituals and occasions where non-vegetarian food is not allowed. One bowl of kwati can keep you feeling full for hours.
4. Kodo Ko Roti
Yes, it is roti but made from finger millet (kodo) flour. Similar to kuttu (buckwheat) roti in texture, this one is wrapped in banana leaves and baked over a hot pan and then directly on the fire. Locals eat it with tomato pickle but you can eat it with anything that catches your fancy.
5. Til Ko Aloo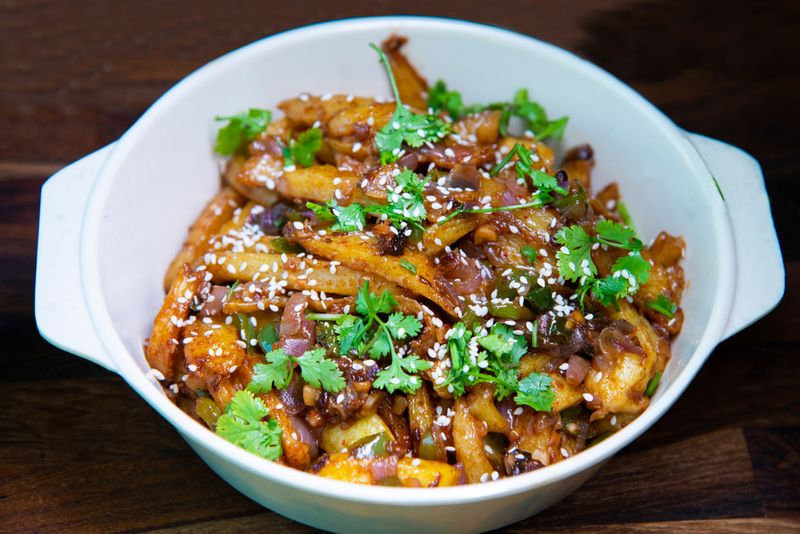 A simple dish of potatoes made with sesame seeds, this one is a staple in Sikkim homes. It is a comfort dish that no one can say no to, irrespective of your age or occasion. If you love potatoes, then til ko aloo is a must-try.
6. Rukh Labera
These are local tomatoes that are extensively used in pickles and chutneys. What makes them different from your regular tomato is that in their raw form they look like small aubergines, and when ripe, they resemble shiny, red eggs. A bit tart to taste, these local tomatoes have a longer shelf life and grow on trees.
7. Sisnu Soup
Sisnu is stinging nettle. There, we said it. You may avoid it out of fear of itch but locals love to turn the leaves, shoots, flowers, and young stalk into a delightful soup. Believed to have a number of medicinal properties, sisnu is served with timur ko achar (Szechuan pepper sauce).
8. Kinema Curry
Kinema is nothing but dried soybean. The name literally means fermented flavour. Cooked with spices, this is a favoured accompaniment with both rice and roti. Rich in protein, this is also a good substitute for meat.
9. Bamboo Shoot Curry
Found in abundance across the northeast, bamboo is an obvious food choice. Bamboo shoots are eaten both fresh (tusha curry) and fermented (tama curry). The addition of spices such as fenugreek and chillies, help remove the bitterness of the shoots and provides a much-needed richness.
10. Sael Roti
This can easily be dubbed the Indian doughnut. A sweet, ring-shaped rice bread, sael roti is a must on every festive occasion and special ceremony. Ladies of the house will make them in batches and store them for days. Try it with a local pickle or on its own. But definitely, do not miss it.
---
Photo: Shutterstock