A few of years ago when news reached home that the neighbourhood sweetshop was selling nadu—a traditional Bengali spherical confection–for Janmashtami, my septuagenarian uncle declared, in a huff, "store-bought nadu is a travesty," before breaking into lachrymose recollections of his Phool Pishima's (uncle's paternal aunt named Phool) til'er (sesame) nadu – its crunchy crust and melt-in-the-mouth core. Many would agree with him.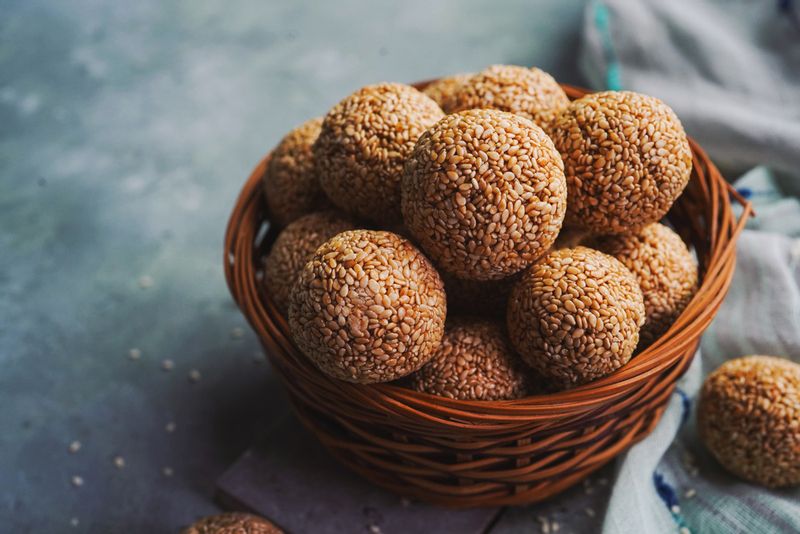 As a matter of fact, traditionally Bengali sweets can be divided into two categories – sweets made by professional confectioners or the Moira and those made best at home, with easily available ingredients like rice, coconut, molasses, sesame, and lots of imagination, typically by the women of the household. These sweets, quintessentially bucolic, would be offered to the Gods. These saccharine treats came in handy in welcoming unannounced visitors, enlivened humble puffed or popped rice meals and satisfied those postprandial sugar cravings Bengalis are known to suffer. Nadu or Laadu (from Ladduka or laddu) is one such sweet treat – an icon of domesticity, familial affection and simple joys. 
Types of nadu
In our household, festivals are inconceivable without my aunt's narkel nadu. Watching her scoop out the hot, sticky coconut and jaggery mixture, shape them into smooth, glossy balls in deft manoeuvres of her greased palms and arrange them, in concentric circles, on white marble salvers was almost as gratifying as biting into one of those warm, fudgy nadus. Blogger and culinary consultant, Sayantani Mahapatra recalls yet another kind of nadu she grew up on. "My mother made her own ghee at home every week and she would make delightful nadus out of the residual milk solids cooked with coconut and jaggery. Sometimes, she added sesame seeds to the mix," she says.
Ghee Chadar Nadu recipe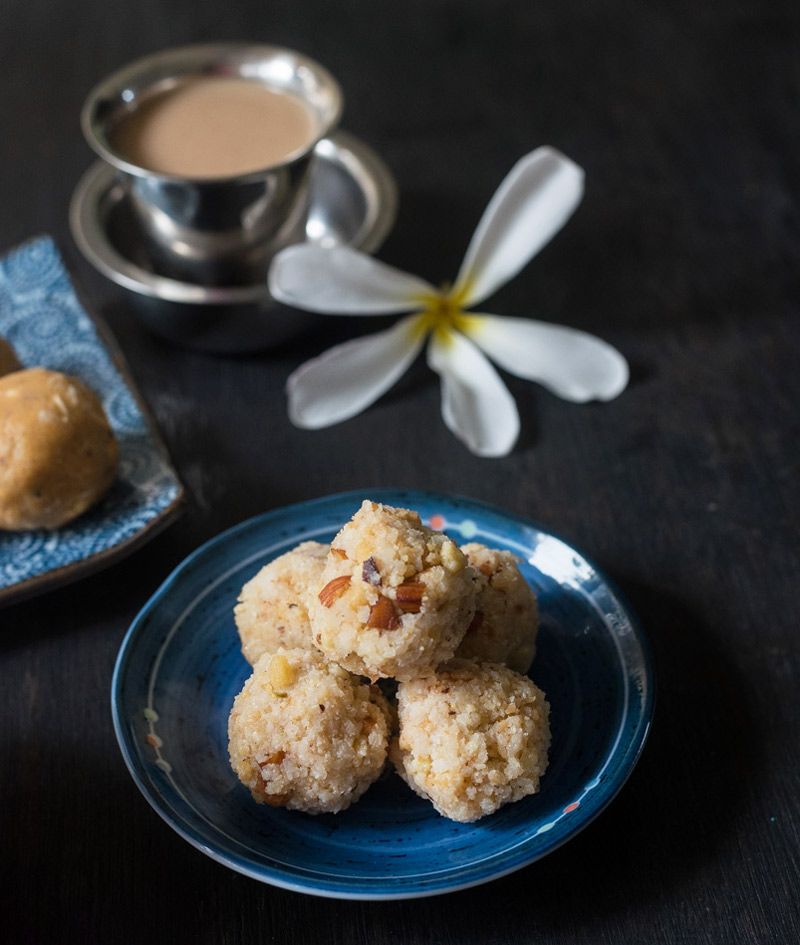 Ingredients:
½ cup Ghee chada or milk solid residue from ghee making
1 cup freshly scraped coconut
⅓ cup sugar
A handful of nuts of your choice
2 green cardamom
Method
While making ghee, remember to remove the residual milk solids before they caramelise with a slotted ladle. Mash the milk solids well and keep them aside.
In a bowl mix the coconut with sugar and keep it aside, covered, for 30 minutes.
Use the same kadhai, in which you have made the ghee to make the nadus.
First roast the chopped nuts on low flame till golden. Take out and reserve.
Tip in the coconut mixture into the Kadhai and cook for 5 minutes or until the sugar has melted properly,  and the mixture is nearly dry.
Add the mashed milk solids. Mix well.
Cook on a low flame for 7-8 minutes, or until everything comes together.
Toss in the nuts and give it a mix.
Finish with the cardamom powder.
Make small nadus out of the mixture while it's still hot.
Nadu finds a mention in historic texts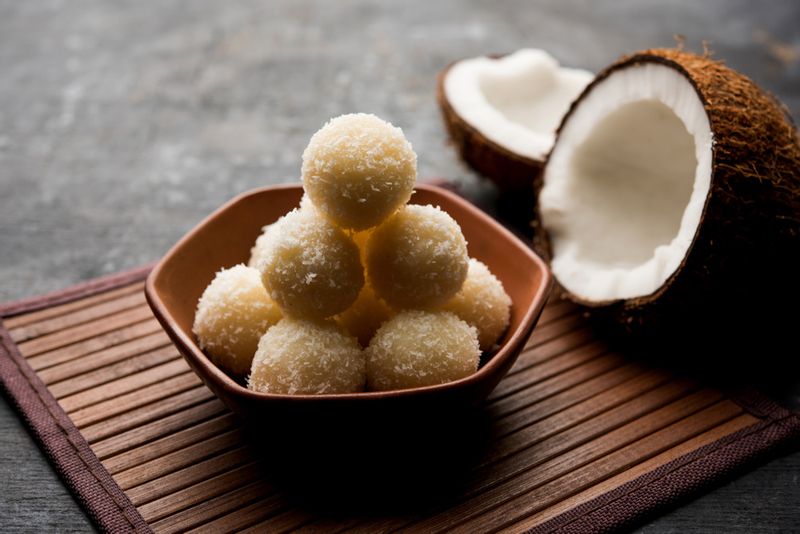 While narkel nadu, and the seasonal til'er nadu, are the most popular, those aren't the only ones known to Bengali kitchens over centuries. Krishnadasa Kaviraja's Chaitanya Charitamrita, an epical biography of Sri Chaitanya Mahaprabhu composed in the 16thcentury, mentions a variety of nadus. Among these were nadu made with futkorai (sugar-crusted chickpeas), ones made with a mix of pounded rice, coriander and fennel seeds, Shali rice nadu flavoured with a mix of aromatic spices like pepper, cardamom, cloves, tailed pepper and camphor and the shunthikhanda nadu made with dried ginger and sugar, perhaps a digestive. 
A particularly special item of the time was the pristine white, melt-in-the-mouth Gangajal nadu, purportedly Sri Chaitanya's favourite. An intricate sweet painstakingly prepared with finely ground coconut and sugar, cooked together and ground into a crunchy, delicate, sweetened powder, the Gangajali is a fast-disappearing culinary heirloom. 
Simpler nadus made with lentils like moog, boot or chana and kolai, khoi'er chhatu (roasted and ground popped rice), rice, semolina and more. Then there is the rustic jhaal nadu–sweet and savoury with a fiery kick. Rice is first roasted, ground and folded into jaggery infused with chilli, cumin, coriander and other aromatic spices and rolled into balls. 
Bipradas Mukhopadhyay's Mishtanna Pak, a compendium of sweet and savoury confections, published in last quarter of the 19thcentury, also features a few intricate, lesser-known Nadus. Take for instance the Manohar Nadu made with syrup-soaked rice flour and yoghurt boondi or ones made with freshly made kheer (reduced milk), godhumer palo (wheat extract) and almond paste, kneaded in a soft dough, shaped into balls and fried in ghee before being dunked into syrup. It's called Kheershapati. 
Kheer is, in fact, a fantastic addition to regular narkel nadu. It only gets better when rich, luscious kheer-infused narkel nadu comes studded with golden pearls of deep-fried dough of flour and kheer. This nadu, more popular across the border in Bangladesh (erstwhile East Bengal), is affectionately called Tatkeshwar, or Tatka Nadu. 
However, the most unique member of the Nadu family, not only by virtue of taste, but also cultural significance, is one named Joy - Ananda. Ananda nadu is made on joyous occasions - weddings, Annaprasana or other religious festivals – in households where it is stipulated by tradition, especially in the Rarh region of Bengal. But it isn't simply a delicious, celebratory sweet – it is also a token of prosperity circumscribed by rituals. Typically, married women of the household begin the nadu-making rituals at the crack of dawn by ceremonially washing the rice to the propitious sound of conch shell and ululation. The rice is then pounded and mixed with crushed sesame seeds, grated coconut and jaggery, shaped into spheres and deep-fried in mustard oil. In her book Thod Bori Khara, Kalyani Dutta shares a quirky folk rhyme that the women would sometimes recite while making Ananda Nadu. 
Aaj omuker tomuker anondo go
Oi henshe khushe nadu paka shey anondo go
(Today is so-and-so's day of celebration, Laugh and roll nadu on this joyous occasion )
But again, the thing about Nadu, be it of any kind, is that it could bring joy even to the most mundane of days.
---
Photo: Shutterstock