"You are a Bengali, you can't live without your maach (fish) and chingri (prawns) right?" 
This is one question that I've encountered multiple times. I find most people visibly perplexed when I tell them that the comfort food of my choice is Alu Sheddo Ghee Bhaat (boiled, mashed potatoes mixed with rice and topped with a dollop of ghee). While I can't deny that I do love my meat and fish, I find it rather surprising that niramish (vegetarian) Bengali fare isn't talked about as much as the celebrated mishti doi (sweet curd) and the kosha mangsho (a mutton delicacy). I had to find out if other Bengalis agreed with me, so for the Bengali New Year also known as Poila Boishakh, this April, I asked some fellow foodies, home chefs and experts about their favourite vegetarian Bengali dishes and ended up with some delicious stories and recipes to sweeten your Poila Boishakh celebrations at home.
The vegetarian platter
Mumbai-based Dolly Singh, who started offering Bengali fare with pop-up kitchens with Authenticook a few years ago, is Bihari but born and brought up in Kalimpong, West Bengal. "I genuinely believe that I haven't seen more exciting vegetable markets than the ones in Bengal and probably Assam. The sheer variety of seasonal saags, roots, vegetables is incredible," she tells me. She is also completely convinced that Bengal has one of the most elaborate cuisines she has come across. "It's as detailed as French food which is celebrated all over the world. The emphasis on the style of cutting the vegetables, variety of masalas and pairings is unbelievable. I would often tell my sister that it's crazy for a non-Bengali person to cook in a Bengali kitchen. There are 10 kinds of phorons (tadkas) for 10 dals." 
Root to shoot cooking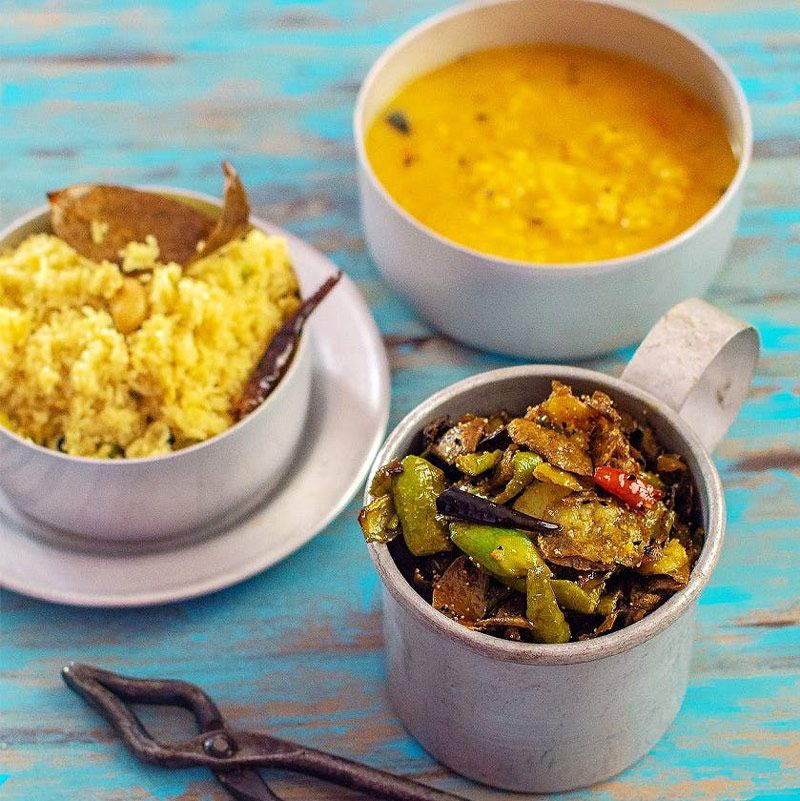 Speaking about the traditional practice of zero-waste cooking in Bengali kitchens much before it became hep in the culinary world, artist and home-chef Ananya Banejee says, "We use leaves, stalks, peels judiciously to prepare unique delicacies. Lauer Khosha (fried peels of bottle gourd), Aloor Khosha (fried peels of potato) Kanch Kolar Khosha (fried peels of raw bananas) that are normally thrown away, get used here. Chechkis are made using these peels. They are flavourful dishes and have an interesting texture." In fact, while growing up, Ananya confesses to having preferred vegetarian fare. "At my maternal uncle's house, they had a 400-year-old Durga Pujo and a month-long Narayan pujo, during which no meat or fish would enter the house, and an array of vegetables would be cooked to offer to God. That food would beat any non-vegetarian spread. One of my most favourite dishes was the Chapor Ghonto (mixed vegetables with lentils patties) which is a thin, mustard gravy. The boda (dumpling) would be made of motor dal (split peas) and soaked in this mustard gravy," she reminisces.
---
A lost technique
Pia Promina DasGupta Barve is an expert at cooking some traditional vegetarian Bengali fare, which much of the younger generation refrains from cooking regularly because of how time-consuming and difficult it is. This includes dishes like mocha (banana flower), thor (banana stem) and enchor (raw jackfruit). 
She graciously lets us in on some secret tips: 
Enchor is the toughest to cut. Boil it whole in water till the water becomes milky. The gum comes off and then you can cut it like any other vegetable.
For the mocha, (the most important part is to remove the stamen), soak it overnight, drain it and cook it. I find it's more succulent that way as compared to my mother and grandmother's technique of boiling it in turmeric water.
---
It's a bitter-sweet meal
A typical Bengali meal starts with the teto (bitters) and ends with the quintessential chutney which is sweet and sour. "Bengalis believe everything bitter is good for you. Whether it's shukto or neem begun (crunchy neem leaves with eggplant) there's not much spice in it. It's to line your stomach. A Bengali meal goes from least spicy to most spicy. The idea is to avoid shocking the digestive system," says Pia Promina DasGupta Barve, a chef, food researcher and owner of the iconic Kolkata restaurant, Kewpie's.  
One of the most popular tetos (bitters) is the shukto. "I come from a typical joint family and one that has been in Kolkata since the last 175 years. My father says, a Bengali cook is skilled properly when he/she manages to cook perfect shukto." says Kolkata-based food blogger and home chef, Debjani Chatterjee. The shukto made in East Bengal and West Bengal is quite different and probably warrant a different story. Bori is an important ingredient of shukto preparation. "Can you imagine shukto without bori? A simple bori bhate (bori rice) or borir jhal is enough to make a meal a happy meal," says Debjani.
In Bengali households, vegetables are usually chosen as per the season. While vegetables like cauliflower and carrots are cooked in winter, the summer has its own specials. "Posto is a favourite in our house. Poppyseed paste cooked with potatoes (aloo posto) or ridge gourd (jhinge posto) or made into a fritter with onion, green chillies, is typically eaten with kalai er dal (white split urad dal) on a hot Sunday afternoon. We would also have tok dal (dal soured with raw mango) or kancha aamer chatni (raw mango chutney flavoured with our favourite panch phoron or Bengali five spice mix) every summer," says Delhi-based home chef Sunetra Sil Vijaykar.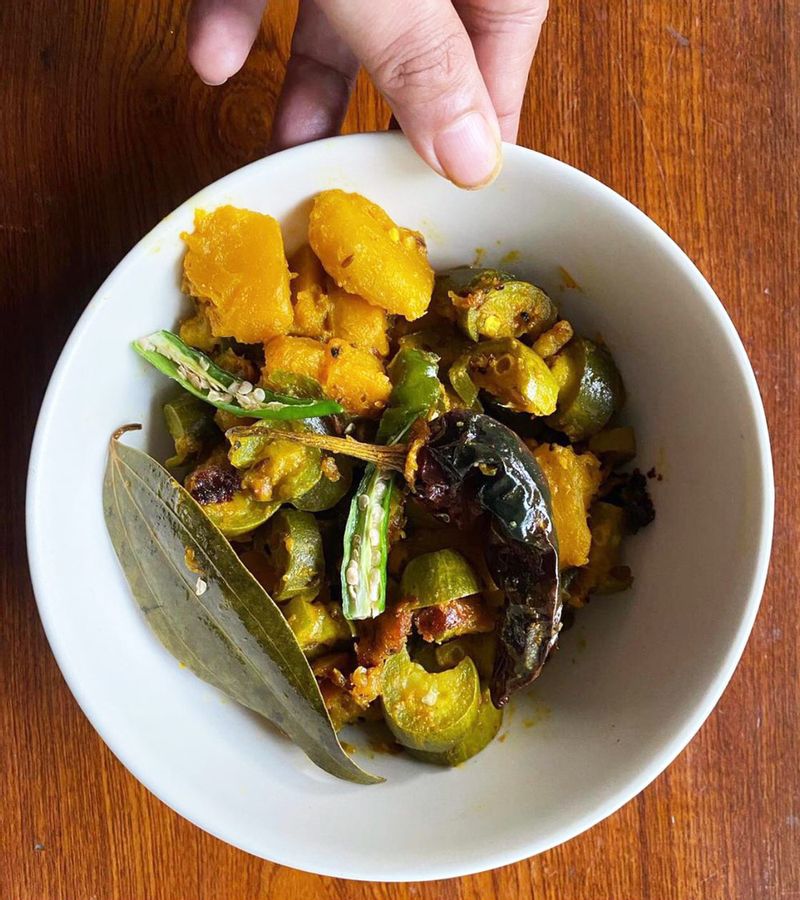 If you are looking for an easy vegetable fix, the labra (a Bengali mixed-vegetable dish cooked without onion and garlic) or the chorchori (char flavoured mixed vegetable dish) is your safest bet. Food writer and author Kalyan Karmakar tells me that the chorchori has been his go-to dish particularly in the recent lockdown period. "We use whatever vegetables are seasonal and in the house; could be potatoes, string beans, pumpkin, greens like spinach and methi, potol (pointed gourd) or carrot. You slow cook it with mustard oil and panch phoron and some basic spices. We had no house help and a vegetable cart guy would come to our building and we'd buy whatever was available, throw it in and make some rice to go with it. In fact, it's a dish I never appreciated as a child, but I started loving it," he admits. 
Next time you're ordering a Bengali meal, maybe the macher jhol won't be the only item on the menu tempting you?
---
A glossary to cooking techniques for Bengali vegetables
Bhate
When your rice is being cooked, you make little parcels of dal, or vegetables, mash it up with mustard oil, salt and green chillies.
Bata
This involves grinding ingredients together. For example, there is posto (poppyseed) bata, kochu bata (ground taro root stem ground with mustard oil, coconut, salt and little sugar) and many others.
Bhajas
The fries - aloo (potatoes), potol (pointed gourd), kumro (pumpkin) and the list goes on endlessly.
Poda
Roasted or charred technique usually used to make begun (brinjal), tomatoes or other vegetables.
Bodas
Bodas are freshly prepared croquettes made of dals that are ground into a paste.
Bori
Boris, also made of lentils are sun-dried and used for later consumption. You must try the Goena Bodis from Medinipur. It's an art form; they are intricately designed and resemble a piece of jewellery. The ones to be fried and the ones used in curries are also different.
Bhapa
The technique of steaming. This is used to make paturis, where vegetables or meat are covered in banana leaves, lau pata (bottle guard leaves) or kumro pata. (pumpkin leaves) and then steamed. There is also Bhapa Doi - a traditional Bengali dessert recipe where sweetened yogurt is steamed.
---
Chapor Ghonto recipe
Ingredients
1 cup Potatoes peeled and cubed
1 cup Pumpkin cubed
½ cup Eggplant
1 cup Ridged gourd cubed
½ cup seem broad beans
1 cup Matar dal or split yellow peas: soaked for 3 hrs
1 tbs Ginger grated
2 tbs Black mustard paste
2 tbs Poppy seed paste
½ cup grated Coconut to garnish
2 Bay leaves
2-3 Dry red chilies
1 tsp Paanch foron or bengali five spice mix
2-3 Green chilies
1 tsp Turmeric powder
½ cup Mustard Oil
¼ cup coriander leaves finely chopped
Salt & Sugar to taste
Method
Prepare lentil paste with a little turmeric powder, green chilies, ginger, and salt.
Heat 2-3 tablespoons of mustard oil, and fry tablespoons of lentil paste and shallow fry. These are the 'Chapor'. Keep aside
Heat mustard oil in a pan. Add paanch phoron , dry red chillies, bay leaves. As the spices release, nice aroma add the vegetables, with a little salt and turmeric powder, cover and cook. After 10 min adds other vegetables and rest of the grated ginger cover and cook it till the vegetables are done.
Add mustard-poppy seed paste mix well. Break the chapor or the lentil patties and green chillies.
Garnish with grated coconut and serve hot with steamed rice.
Recipe by Ananya Banerjee
Maan Kochu Bata recipe (steamed taro root paste)
Ingredients 
Maan Kochu or taro root
Mustard paste
Grated coconut
Mustard oil
Salt
Sugar
Green Chillies
Method
Peel the maan kochu, cut it into small pieces and then grind it. Now take out the paste in a heat-proof container.
Add mustard paste, grated coconut, slit green chillies, mustard oil, salt and sugar. Mix well.
Top with a generous amount of mustard oil for a nice whiff.
Now put that container in a pressure cooker with water and steam it.
Enjoy it with hot steam rice.
Recipe by Dolly Singh
 
---
Photo: Shutterstock