"If there is one thing we never run out of, it is food." As the statuesque Bhuvan Kumari, our host and owner of The Cottage at Jeolikot near Nainital ushers us into the cosy open-air dining area in her neat little homestay, we instinctively know it's going to be a good meal. A cool breeze carries the delicious aroma of fresh food from the kitchen.
A train from Delhi to Kathgodam, and then a 45-minute drive up the hills brought us to The Cottage, located in this tiny village. As we gather around the table where our Pahadi meal has been laid out, we're overcome by curiosity to peep into the simple, home-style kitchen at The Cottage where the action is unfolding. Millet flour is being kneaded, bright-coloured vegetables are being chopped, green and red curries are being stirred and smooth grey seeds are being pounded with green chillies. At the helm of the Kumaoni kitchen is Kamla, a seasoned local, draped in a bright red sari and an easy toothy smile.
The uniqueness of Kumaoni cuisine
Kumaoni food is as rustic as it can get. No frills and fancy ingredients, simple preparation methods, and food that is redolent with flavours. Here you witness the true meaning of farm-to-plate, fresh and juicy vegetables sourced from village markets, locally-grown lentils and millets and hemp seeds. Even Bichchu booti or stinging nettles that grow wild along the hillslopes are steamed and cooked in the winter months. The Kumaoni kitchen relies largely on local produce. Most homes have a vegetable patch, and people forage their surroundings for berries and greens, especially in the harsh winter months of yore.
A basket of tender nettles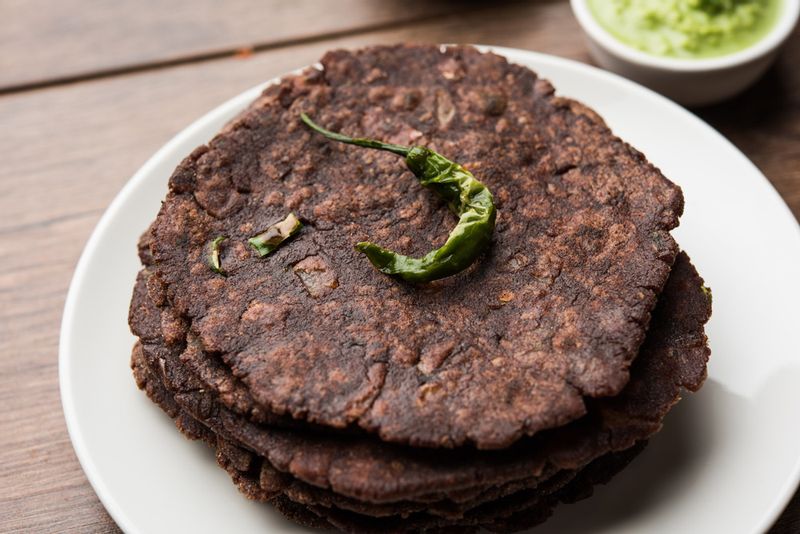 Naturally curious, we dip into the dark green Bichchu booti ka saag. It appears much like palak paneer without the cottage cheese cubes. "Eat it with Madue ki roti, that's the traditional pairing," Bhuvan Kumari tells us. Madua is a variety of Himalayan millet that closely resembles ragi. Thick, coarse rotis fresh off the griddle are served with a generous dab of ghee. We watch as Kamla's fingers deftly flatten a ball of dough into a neat roti. It is as fascinating as the story she's telling us of the millet that once grew in abundance but is now losing favour with farmers.
The saag has a sharp bitter aftertaste balanced perfectly by the nuttiness of the millet roti. Tender leaves of the bushy nettle are picked with a pair of tongs, and immersed in boiling water to remove the sting. The cooked leaves are then ground, mixed with besan paste and seasoned with cumin, mustard and red chillies to make this simple, vitamin C-rich saag.
As we dip our fingers into each item, a curious interplay of flavours unfolds. Bhatt ki daal, a locally-grown black lentil is roasted with wheat flour and cooked with mild spices. The raitas sing in your mouth. Sana Nimbu Mooli has hand-crushed pulp of a local lemon that resembles a pomelo, tossed with grated radish, beaten yoghurt, honey and spice powders. Along with juicy mountain cucumber raita, these provide a refreshing break between courses. The star dish, however, is the Bhaang ki chutney made by hand-grinding hemp seeds.
Did you know hemp is also used to make bags?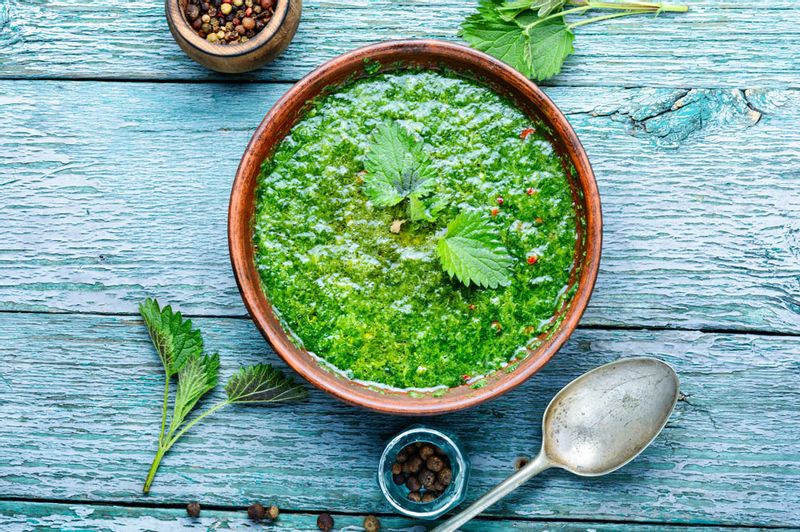 Hemp or Cannabis seeds are a popular food in the foothills of the Himalayas. These seeds have negligible traces of the psychoactive substance found in the plant's leaves and resin but are very high in protein and good fats, making them a local superfood.
We watch Kamla as she grinds the seeds into a fine paste on a flat grinding stone, with some green chillies and coriander leaves. Chef Kunal Kapur, who is learning the recipe from her, takes great delight in giving this chutney a good squeeze of a pahadi lemon.
Much after polishing off the saag, millet rotis, dal and raita from our plate, we continue to sit around the table with Kamla, the kitchen staff, and the matriarch Bhuvan Kumari, listening to stories of how she built her cottage, brick by brick. Somewhere around that time, we've licked clean the bowl of Bhang ki chutney.
---
Photo: Shutterstock