The train chugs out of Howrah junction into the heartland of Bengal. Sitting by the rickety window, the sequence of the landscape plays out like a distant memory. The canvas transitions from a soothing green to a rusty red. I am on my way to Shantiniketan, the university town in Bolpur set up by the illustrious Tagore family around 160 kms from Kolkata. I have lost count of the number of times I have visited Shantiniketan. As a child on my father's lap taking in the sights and sounds of the culturally rich environment inspired by Rabindranath Tagore. Much has changed since then, but the urge to explore this touristy destination seems constant.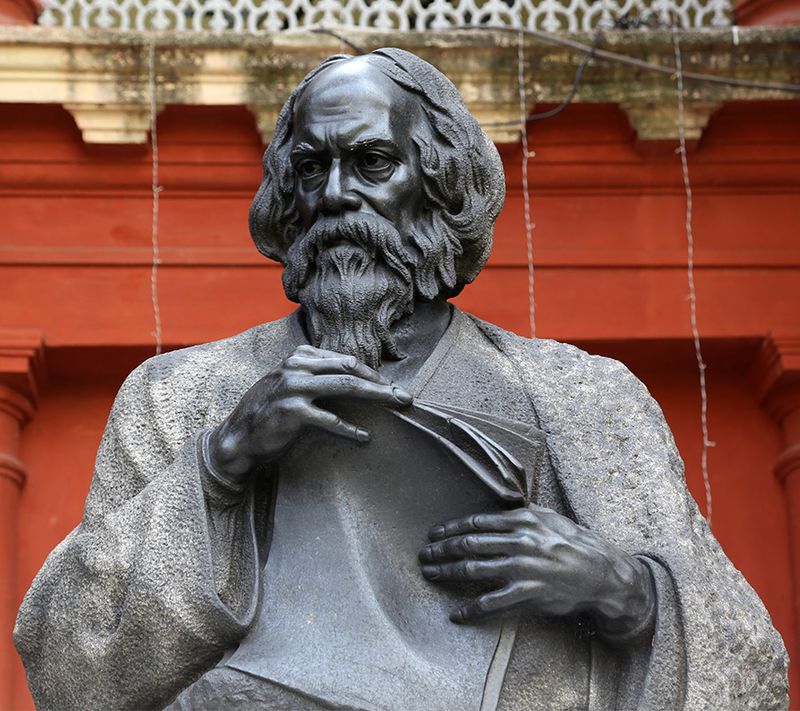 In 1883, Tagore's father Debendranath Tagore arrived here to build a gurukul to fuel his spiritual journey. The Nobel laureate visited the place young and later went to pen literary classics during his ime here. This is where he dreamed of a university for alternative education, one that was free from the shackles of rigid classrooms, and in harmony with nature. Every year, Shantiniketan comes alive on Basantotsav or Holi. Also known as dol purnima, the festival attracts tourists from around the world, and turns the otherwise sleepy town into a carnival zone. The air is redolent of baul music and tribal dance, folk theatre, poetry recitals and art fairs, inspired by the colours of spring.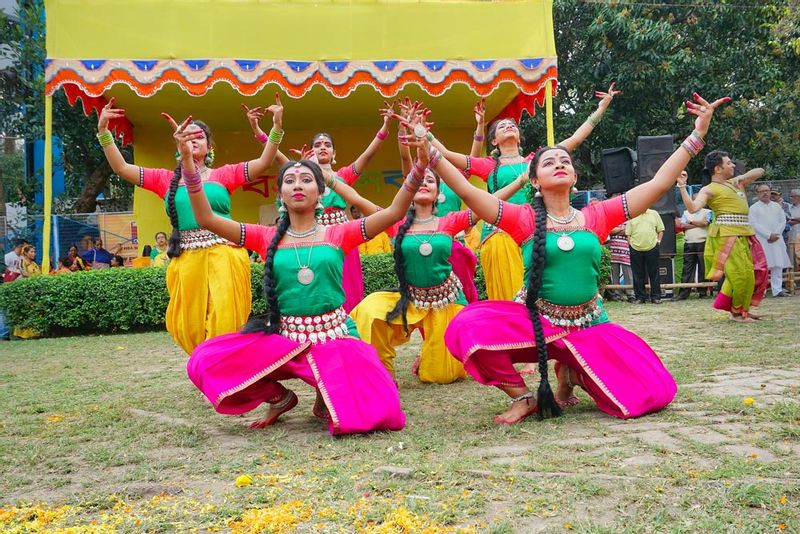 Basantotsav has been shelved this year owing to the pandemic. But, you don't need an excuse to visit Shantiniketan. Shop, eat and soak in the charm of this laidback town any time of the year. 
Life on the campus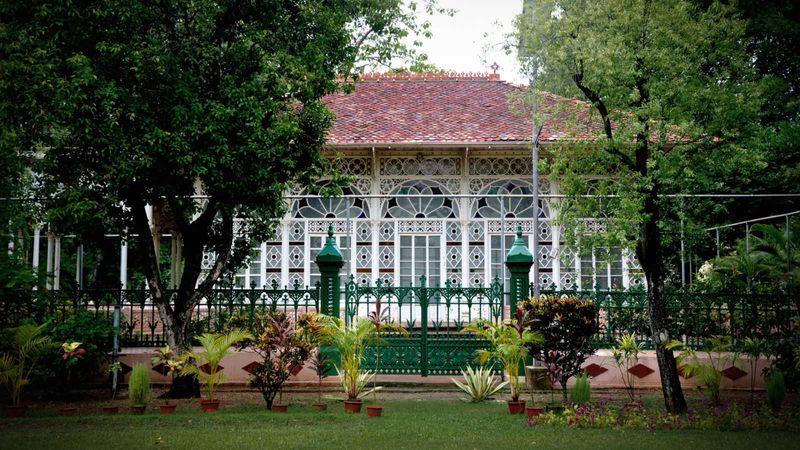 A campus tour around the Visva Bharati University is a must for anyone who comes to Shantiniketan. At Rabindra Bhavan Museum, you will find Tagore's personal memorabilia such as his manuscripts, letters to great men, souvenirs, paintings, shoes, clothing and musical instruments. Across the road is Chatimtala or the gurukul where Debendranath Tagore meditated, and later the poet taught his students sitting under the trees. Take a walk around Uttarayan Complex, a collection of mud and brick houses inspired by local architecture, replete with tree-lined avenues and sculpture gardens. 
Don't miss the stunning Upasana Griha or kanch mandir, a prayer hall made of colourful Belgian glass. If campus life in Shantiniketan intrigues you, take a breezy walk around Kala Bhavan and Sangeet Bhavan to catch the students mold clay sculptures and practice a tune or two. 
Art collector's paradise 
Art lovers must visit Boner Pukur Danga, a tribal village, on the fringes of the Sonajhuri forest. The spotless walkways and mud houses with hand-painted walls depicting the tranquil life and times of the indigenous santhal community attest that art can be found anywhere. Not far from here is Studio Boner Pukur Danga, a charming pottery studio specialising in hand-crafted ceramics. You can volunteer to learn the craft here by informing the owner and artist Lipi Biswas in advance. 
A short drive away is shonibarer haat or Khowai haat, a busy weekend fair where you can shop for exquisite sarees with kantha embroidery, jute bags, tribal jewellery and decor artefacts made by local craftsmen. In the evening, shop for handloom sarees and kurtas, handmade jewellery and knick-knacks at a boutique called Alcha. If you want more, head to Tanzil for local dokra and terracotta art, and rare collectibles from across India.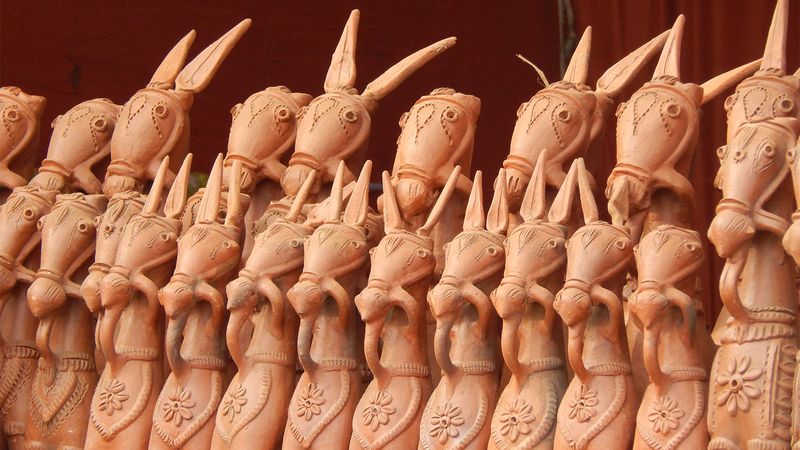 Eat local 
Shantiniketan may not be a gourmand's paradise, but the town offers something for everyone. The top pick among tourists is Banalakshmi that serves homely Bengali thalis with daal-bhaat, seasonal vegetables, freshwater fish, chicken or mutton curry and sweets. You can also pick up homemade pickles and ghee from their store. Kharimaati offers modest meals, both vegetarian and non-vegetarian, and has good portions. If you want Indian-Chinese food, head to Kasahara, a lively joint named after the Japanese artisan Kimtaro Kasahara, who worked and lived in Shantiniketan in the early 20th century. Once the sun goes down, head to Tanzil, a boutique-cum-cafe to sample Bengali snacks like chicken chop and mutton ghughni made of curried white peas. At The Chhayaghar cafe, which has a rooftop section, you can spend hours chatting with local students about art, literature and politics with live music for company. 
Relax and unwind 
From boutique homestays to heritage properties, Shantiniketan offers unique stay options for the discerning traveller. Mitali homestay is an old-style family bungalow where you can soak in the charm of an environment inspired by Tagore. If you enjoy living the farm life and eating fresh organic produce, Rare Earth, Farms and Homestay is an excellent choice. Deholi homestay is a budget two-room bungalow with clean rooms, red oxide verandahs and a big garden. For a luxurious escapade, The Garden Bungalow offers an exquisite 19th century Bengali 'rajbaari' experience.  
---
Insider tips: 
1. Due to the influx of tourists, Shantiniketan has parking restrictions inside the campus. The best option is to park your car at allotted zones and hire an electric rickshaw for the entire day. 
2. The best way to see the town is on foot. Bike are available on rent for those who enjoy pedaling around. 
3. The Visva Bharati University can be covered in half a day. It is recommended you spend a minimum of one night to see the rest of the town. 
4. Timings and entry to certain sections of the university may be restricted due to the pandemic. 
---
---
Photo: Rituparna Roy, Sayoni Bhaduri and Shutterstock