What's Holi without feasting on some quintessential sweet treats and chugging down a refreshing glass of thandai drink? With a ban on public celebrations this year, ensure you stay indoors and celebrate a clean Holi with your near and dear ones. To make your house party a hit, go ahead and order some gujiyas, phirnis, ladoos and jalebis, but whip up some creamy thandai at home with the help from some of the well-known chefs across Delhi and the National Capital Region. Fret not, if you prep in advance, these two decadent Holi thandai recipes, and plenty of expert tips, will win hearts faster than your Holi dancing will.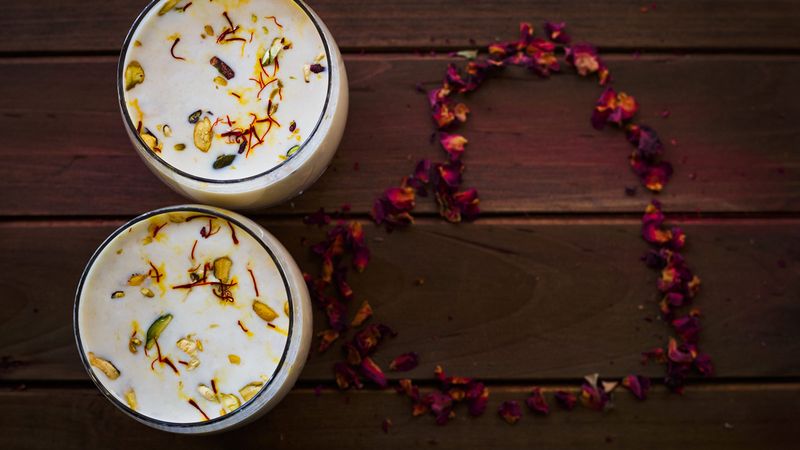 Classic Holi thandai recipe 
Ingredients
1½ litres of milk
30 grams almonds
15 grams charmagaz
15 grams Poppy seeds
15 grams Pistachio
15 grams Fennel seeds
10 grams of green cardamom and rose petals
2 grams of black pepper
1 cinnamon stick
50 grams of honey or sugar
½ gram of saffron
3 grams of gond katira (Gum Tragacanth,

used in foods for its cooling properties and other health benefits

)
Method  
Soak all nuts in water overnight and make a coarse paste. Take half a litre of milk and make a smooth paste of the mixture.
Blend all the spices in a mixer to make a powder.
Soak rose petals overnight separately and wash thoroughly to boil with sugar till soft and then add honey if you want.
Soak gond in milk and add in the above paste.
Boil the milk and add all the above ingredients but keep some saffron aside for garnishing as well.
Refrigerate the preparation and let it cool.
Mix thoroughly and garnish the drink with sliced almonds, saffron and pistachio; before serving.
Points To Remember
It's very important to soak dry nuts, rose petals and gond separately overnight.
Poppy seeds and rose petals are key ingredients.
If you want, you can skip black pepper as it only makes it a little spicy.
Recipe by Chef Ritesh Negi, Radisson Blu MBD, Noida 
Vegan thandai drink recipe
Ingredients
Almonds
Walnuts
Flax seeds
Cinnamon
Black cardamom
Green cardamom
Coconut
Jaggery
Saffron
Rose water
Almond milk
Chia seeds
Rose petals
Method 
Soak almonds, walnuts, and flax seeds in water. You can also add any other nuts and dry seeds that you want.
Add cinnamon, black and green cardamom, three pieces of clove and some poppy seeds and for sweetener add coconut jaggery. You can also add regular jaggery or sugar.
Soak for 45 minutes and then blend it into a paste. You can easily store it in your fridge for good two weeks, or freezer, and nothing will happen, and you can mix it with regular, almond or soy milk.
Take one full ladle of the paste in a bowl, add some strands of saffron, some rose water and chilled almond milk, and then mix it. You can add more paste if you like a stronger flavour.
Mix well and serve, but before that don't forget to top it with some soaked chia seeds, rose petals and saffron to give a nice aroma.
Recipe by Chef Vanshika Bhatia, Together at 12th, Gurugram
Chef Vanshika personally loves celebrity chef and MasterChef India Judge Ranveer Brar's mango thandai drink, and recommends green cardamom and rose water as must-have ingredients in order to make it taste good.
Similarly, Chef Nishant Choubey from Connaught Club House, New Delhi, prefers to use coconut cream for the best thandai drink. "I infuse condensed milk, saffron and prefer to serve it in a coconut shell. One should always make sure to keep the Holi thandai fresh and healthy. The most important part of this dessert is the dairy product one uses. I would like to request not to buy pre-mix and prepare at home instead. To make the mix, use full-fat cream and add condensed milk to get the consistency. Don't forget to top it up with malai while serving. While making Holi thandai at home please ensure that the milk is boiled and stored in a terracotta pot to get an earthy flavour. You can make the syrup at home and use the suggested garnishing of watermelon or rose or jaggery or mango to serve." 
Meanwhile for MasterChef Abinas Nayak, nuts are the most important ingredients in a thandai. "Include a lot of nuts such as almond, cashew, poppy seeds, because they add richness to the thandai. Spices are also important as they balance and different flavour notes. For example, black pepper gives a spicy hit, fennel gives the sweetness, same goes with cardamom, and saffron gives the vibrant yellow colour and the beautiful aroma. Don't forget the rose petals for both coolness as well as aroma."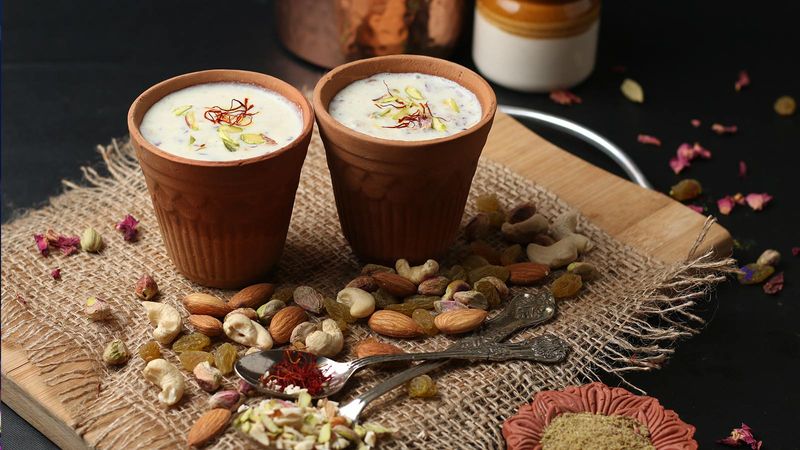 While his favourite is the classic thandai drink with all nuts, spices and rose petals, but when it comes to infusion, gin-infused thandai and gulkand infused thandai are the best he has ever had. 
He further suggests two ways to prepare Holi thandai at home. "One is you can soak all your cashews and nuts, grind it, cook it with milk and have it directly. Make sure all the nuts are soaked properly, the skin is peeled, and the spices are roasted properly before you grind and put it in the milk. However, if want to store the thandai powder then make sure the nuts are properly roasted not over or under burned, same with the spices. You then need to blend it in batches separately and then mix as per the recipe in order to get the perfect note."
---
Photo: Shutterstock