When in your 20s and 30s and a friend talks about throwing a house party for Holi, bringing a box of nutty gujiyas to their place is most likely not part of your conventional plan. But when you put the good ol' gujiya through a millennial makeover, the story changes. This is just the first chapter of what new-gen brands are attempting to do with old-school snack-time favourites in India—then be it shakarkandi chaat or quintessential samosas.
The case in point: brands such as The Bombay Sweet Shop, Bhawan, and Samosa Party are adding a zing to the traditional snacks and sweets. These ventures are innovating with out-of-the-box recipes in a growing market trend that is looking inward into our society, rather than venturing out to create something that's unfamiliar for older age groups. What's born in the process are dishes and items that everyone in a family can relate to.
Reinventing the mithai and snack culture
Take, for instance, the thandai choco bark by The Bombay Sweet Shop in Mumbai—a curated sweet crafted for the upcoming Holi season. Cashing in on the tradition of thandai and its integral role in India's festival of colours, Hunger Inc., the promoters of this new-age halwai, has converted the old-school favourite by giving it an haute couture makeover. In their own words, the thandai choco barks feature "layers of dark chocolate sandwiching nutty butterscotch with roasted cashews, pistachios, and melon seeds," wrapped in "garnishes of blue cornflower, dried marigold, and edible glitter."
Bhawan, a street-food delivery kitchen by Kainaz Contractor and Rahul Dua that's soon set to open its first physical outlet in Gurgaon, is also bringing old-school favourites such as shakarkandi chaats and aamras to their new-age menu. These innovations are steadily growing, and the millennial customer does not mind the premium that the eateries are asking for. The cost is justified too, believes Rahul, co-founder and owner of Bhawan. "We make a lot of effort in strengthening our supply chain to ensure authentic produce from its place of origin is delivered to us. From Ratnagiri Alphonso mangoes, strawberries from Mahabaleshwar, and chilli chukh from Himachal Pradesh to dabeli masala from Ahmedabad, no effort is spared," he says.
Dua and his partner, Kainaz, call themselves "street food super-fans." It is this that spurned them into bringing to life a food venture that serves the old-school snack fare in a non-homogenised style—bending away from the sweet shops of the yore. They're appealing to a younger generation, and leveraging social media to sell their fare. It's working, too—Dua claims that successful online marketing of the old-school chaats has helped the young brand build a community of customers already.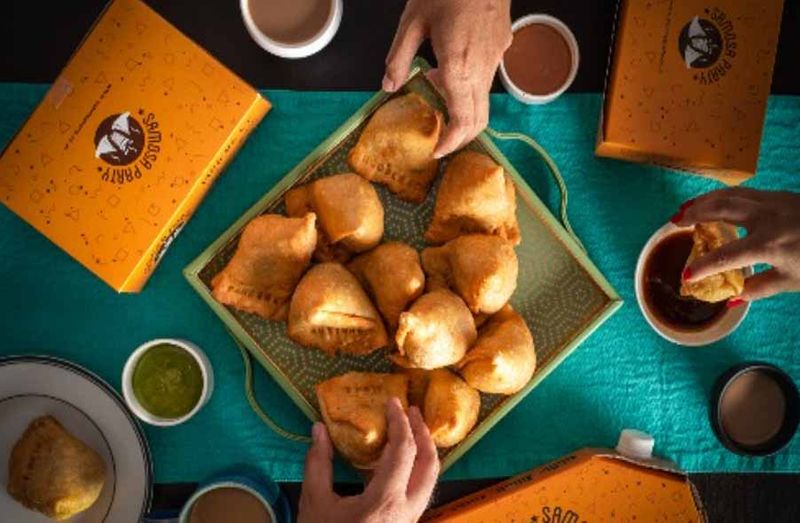 Quick-service snack retailer Samosa Party is in this fray as well. An anecdote from its founders, Diksha Pande and Amit Nanwani, suggests that over 6 crore samosas are eaten in India every day. It is this that inspired the duo to set up a samosa-centric eatery that squarely targets those between 25 and 35 years of age. Today, Samosa Party serves 15 varieties of preservative-free samosas, and stays open till 3 am in the morning. They're also delivering samosa buckets, and serving chai to go with it in heat-sealed flasks.
For a generation that often shies away from the kitchen, such eateries have a clear scope at hand. The millennial customer doesn't mind the premium of paying for deliveries—an act that has long been normalised by Swiggy and Zomato. What matters, therefore, is the uniformity of the experience, and widespread availability.
To offer this, The Bombay Sweet Shop is offering its thandai barks for delivery pan-India—through Amazon. The rest of its fare can be availed across Mumbai. In the National Capital Region, Bhawan and Samosa Party are both offering cross-city deliveries, using their own websites as the preferred delivery portals. The partner-based delivery experience is worth the investment for these ventures, as it allows them to reach a wider customer base—well beyond the local samosa store catering to a localised community only.
But not everybody is on board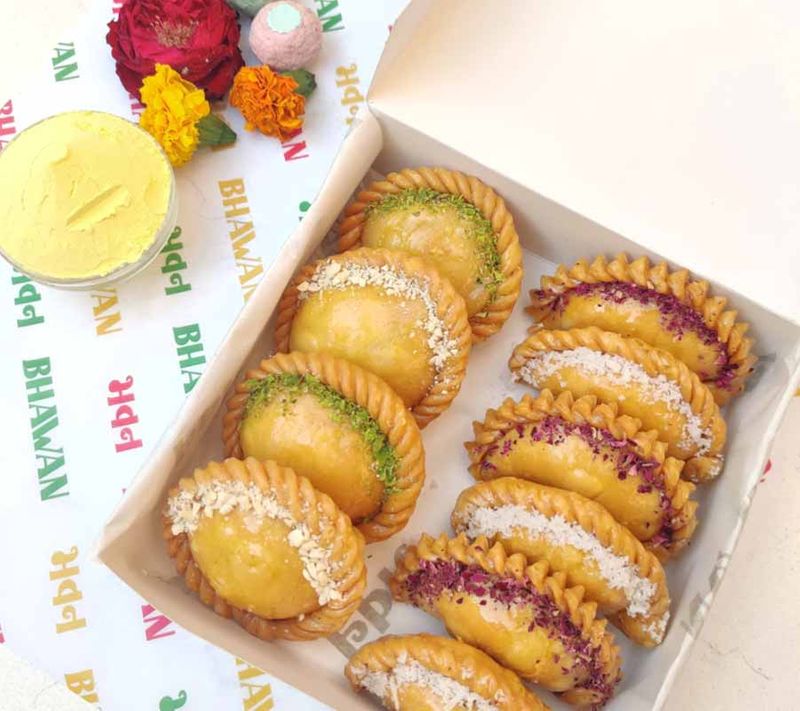 There are points of contention, of course. Fifty-seven-year-old Ashima Jain, a Noida resident, says that she finds the idea of having mithai delivered to her through Amazon to be a bit incredulous. "The uniform, never-changing taste of our local halwai is what I always crave for. It's never too difficult to walk down to our local market and get it ourselves—why would I want to place an order for such things on Amazon?" she says.
It is this thought process that these new-age brands have set out to change—and the forever smartphone-facing millennial crowd has turned into a de facto target group for them. The young guns have been tasked with bringing the new-age samosa and mithai to this year's Holi party for the entire family, and making them cool again.
Based on the early industry trends, the practice may just catch on for good.
---
Photo: Bombay Sweet Shop; respective brands