"Be quiet – there's a cheetah somewhere around," says our game ranger Peace Dumisani. Immediately, a pindrop silence ensues and all we can hear is the rustle of leaves and the familiar sounds of the jungle—the birds are calling loudly to warn each other that a cheetah is hovering around. My eyes dart around in anticipation as I keep my fingers crossed. Suddenly, I spot this magnificent wild cat roaming around in the tall wild grass, majestic in every sense. I gaze in awe and for just a moment I think we make eye contact.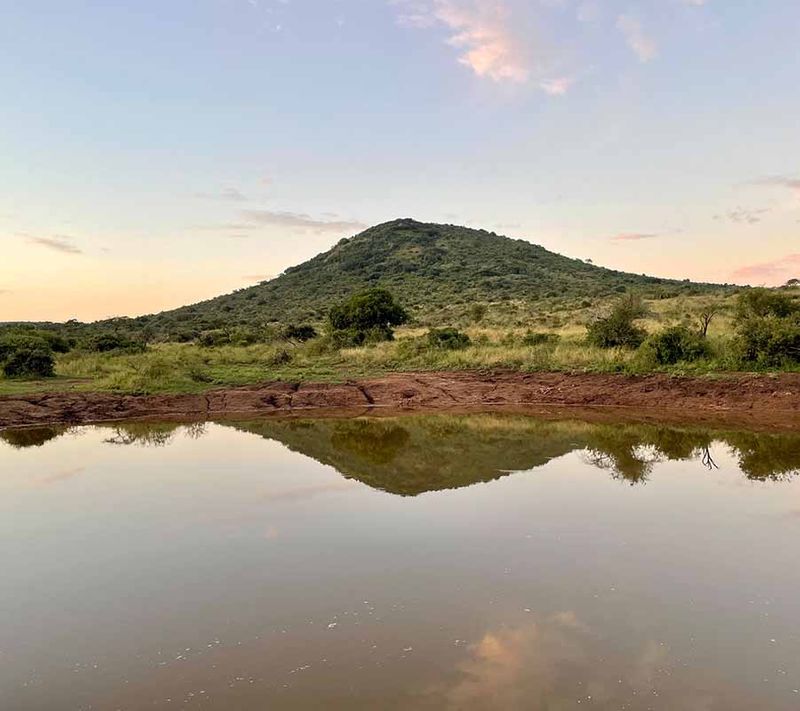 I have spotted the cheetah within just 20 minutes of our first game drive at Thanda Safari in South Africa's KwaZulu-Natal province.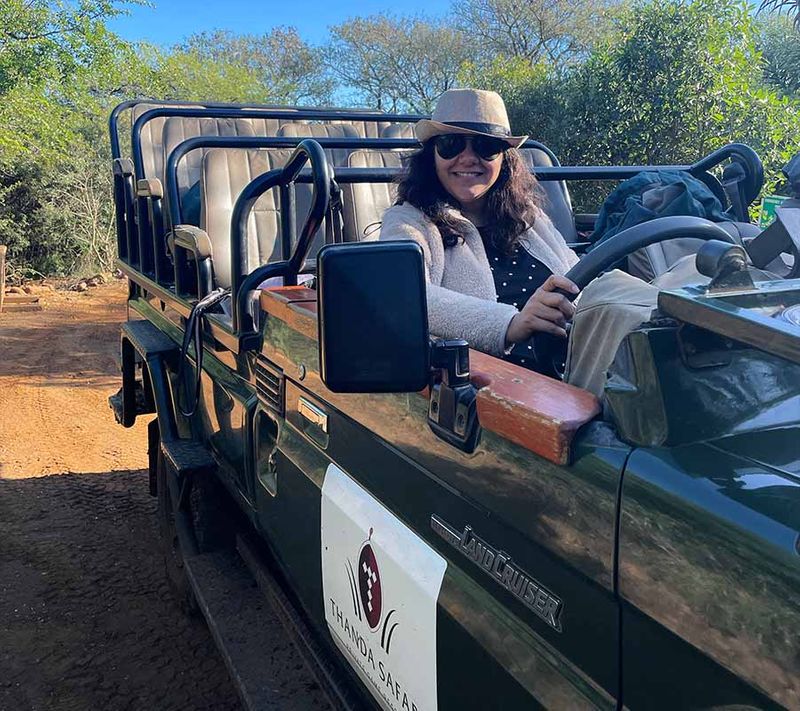 I cannot believe my luck because till now every wildlife safari of my life has ended in complete disappointment. That jinx is finally broken, and I pinch myself to make sure I am not dreaming. But I know that in this glorious savanna landscape with grasslands and rolling hills, the experience will only get better. And it does. 
Luxury tented camps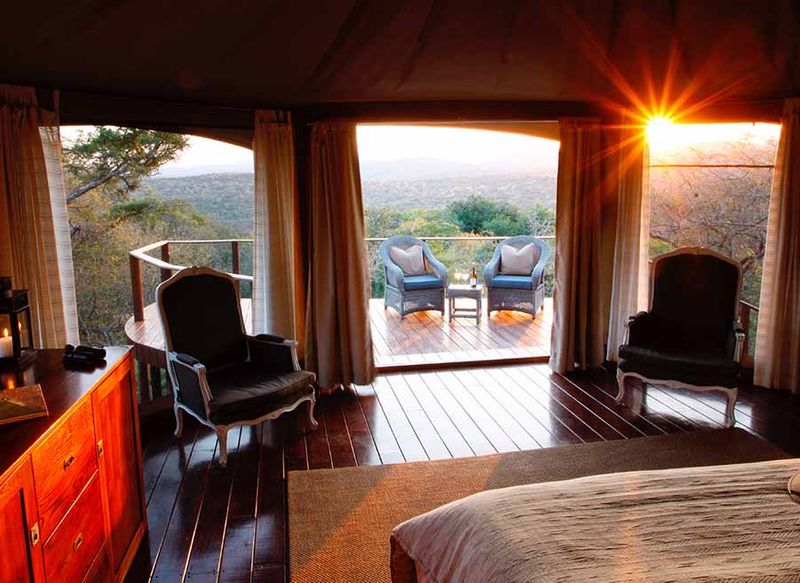 Thanda Safari Private Game Reserve—about 280 kms from Durban—has made my African safari dream come true. A 10-minute drive through the sprawling 14,000-hectare reserve takes our group of six to the luxury tents that become our home for two nights. I love the camp because it keeps me closer to nature and wildlife compared to the other accommodation options—the villa and the lodge. The 15 tents are all far apart from each other, meals are in the common dining room, and there's a lovely pool and a lounge where we gather for drinks.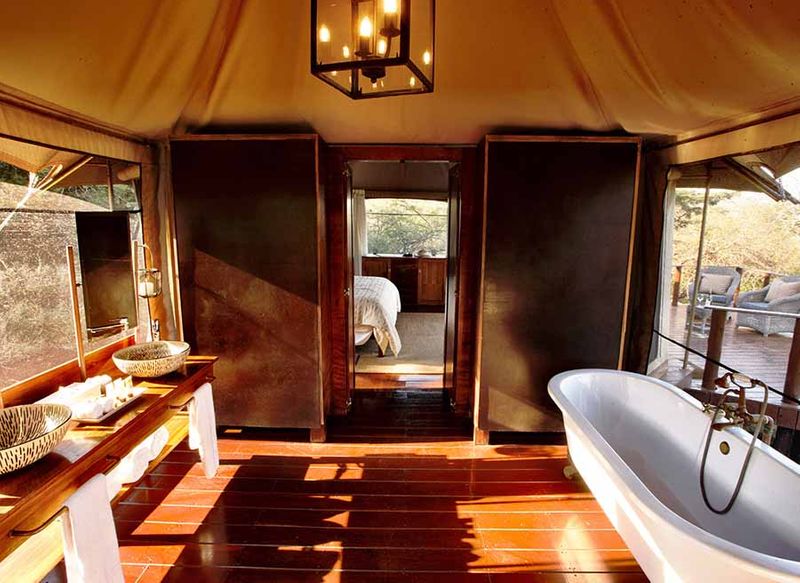 "Don't go to your tent alone at night. Someone from here will accompany you. There's no Wi-Fi in the tents and no phone, only a walkie-talkie," says Skhonzile, giving clear instructions on how one lives in the wild. While others are disappointed that there is no network, I am happy because I do not want to connect to anything but nature during the four-game safaris on our agenda.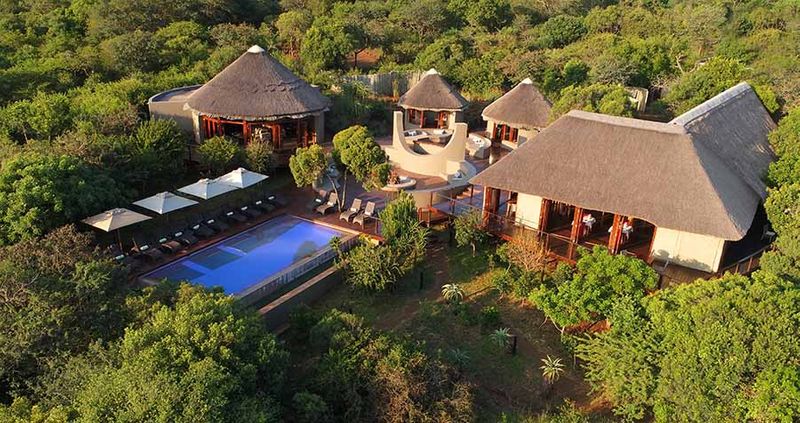 And as I clamber onto the Land Rover for the afternoon one, I am excited about encountering the famed big five of African safaris: lion, leopard, rhino, elephant, and African buffalo.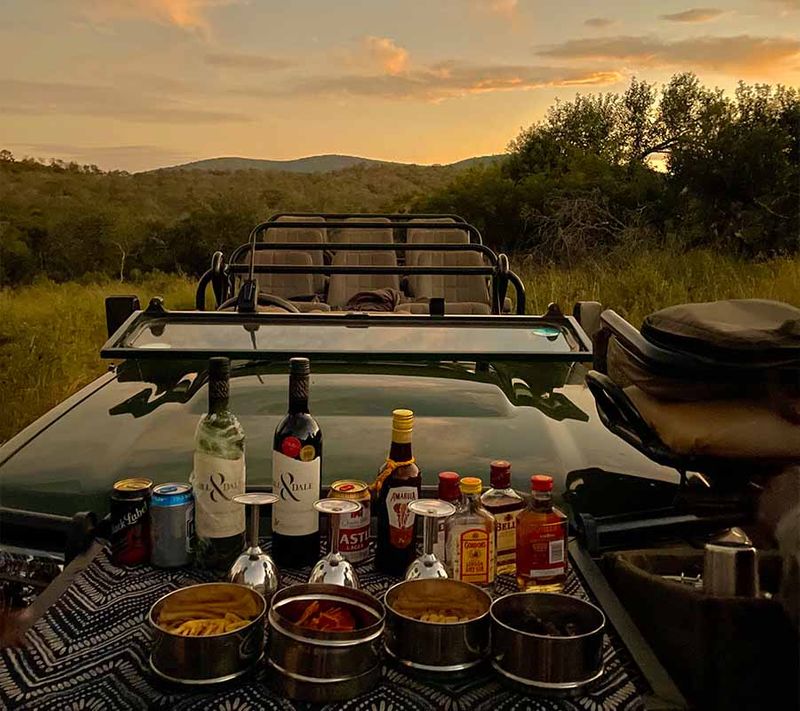 The first of the big five: Elephant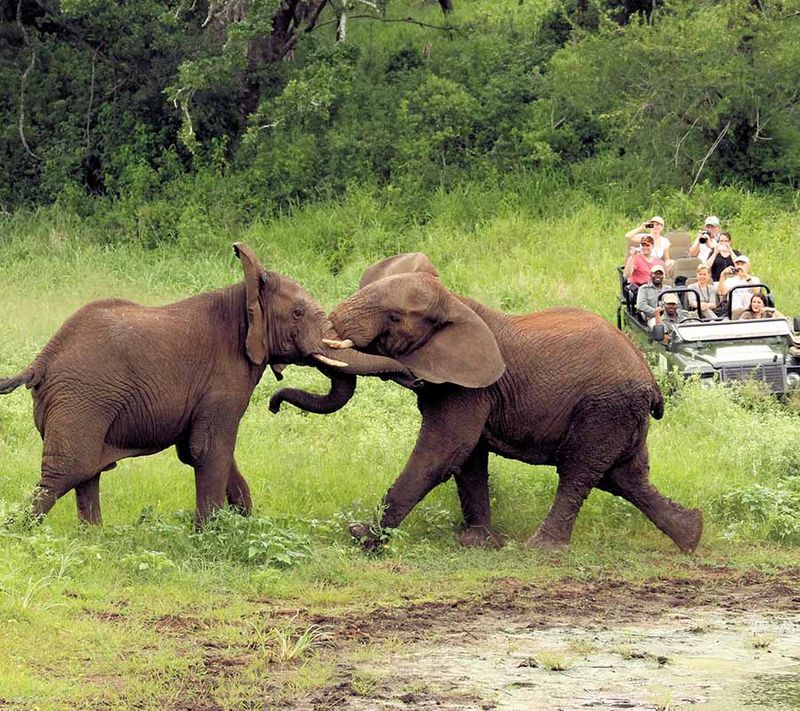 After the cheetah, we chance upon a Southern giraffe standing tall and slender as it feasts on leaves from a tree—probably his snack, we thought. "This is a male giraffe. It is much bigger than the female and as it gets old it changes colour and becomes darker," Peace tells us. "Don't underestimate it, a giraffe like this can kill a lion just by kicking it." That is some strength! Native to South Africa, the Southern giraffe has two horns.  
The sun is about to set, the reserve is bathed in a lovely orange hue, and it is time for the animals, and us, to head back to our hideaways. Luckily, just a few minutes ahead we encounter the first of the big five—two elephants having a playful moment with each other before they join a herd ahead. I spot a baby elephant clinging to his mother. We learn that the African Elephant is bigger than the Indian one, has larger ears, and both the male and females have tusks. 
We stop for sundowners at a perfect spot in the spectacular landscape of rolling hills and as I sip South African wine; it all seems surreal.It is pitch dark soon, but the original inhabitants of the wilderness never disappoint—we spot a jackal on our way back. 
The second of the big five: Rhino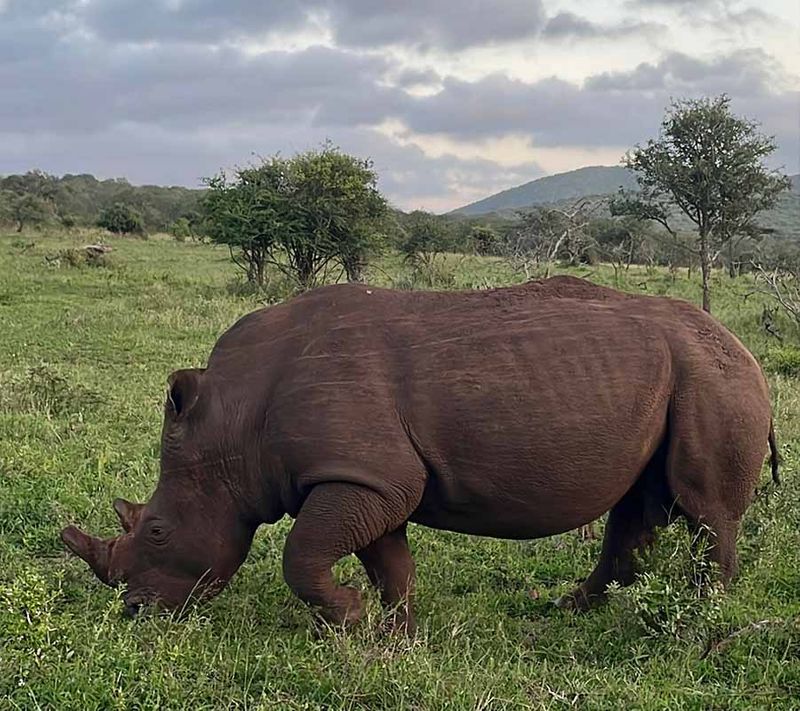 The bite in the morning wind is soothing as we leave at 6 am the next morning after a cup of hot coffee—it is the onset of winter in South Africa and the weather is perfect.I even spot a kudu (an antelope) roaming around close to my tent. 
As we drive, a rhino happily munching on grass, makes us tick off the second animal on the big five lists. Peace tells us that they have poor eyesight and that they dehorn the rhinos to make sure they do not get poached. Saving this endangered species is part of the conservation work done at the Thanda Safari.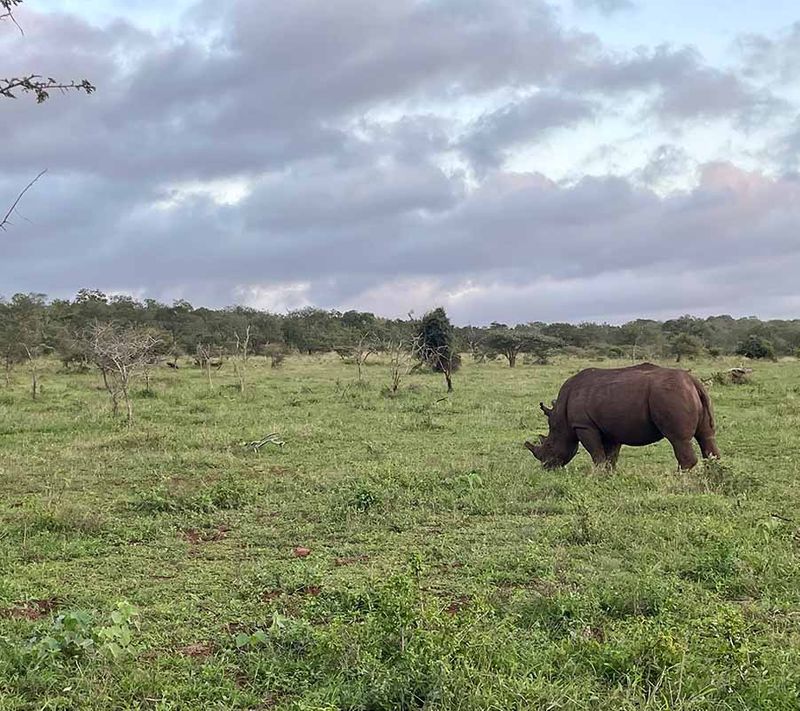 Peace gets an alert on his walkie talkie telling him there are three cheetahs lurking around. Just 10 minutes on, we find them sitting on top of a hill—a well-chosen vantage point from where they command their territory. The raw wildlife moment seems as if I am watching a scene from the film The Lion King. As Peace manoeuvres the vehicle very tactfully to take us closer to them, he tells us that the main difference between a cheetah and leopard is that the former has black teardrops running from their eyes to the jaws, which leopards don't have.
Although the clouds are playing hide and seek, we are fortunate to watch a glorious sunrise. Each safari is three hours long and Peace finds a spot in the wilderness for a break with coffee and hot chocolate with a dash of Amarula liqueur.  
The third of the big five: Lion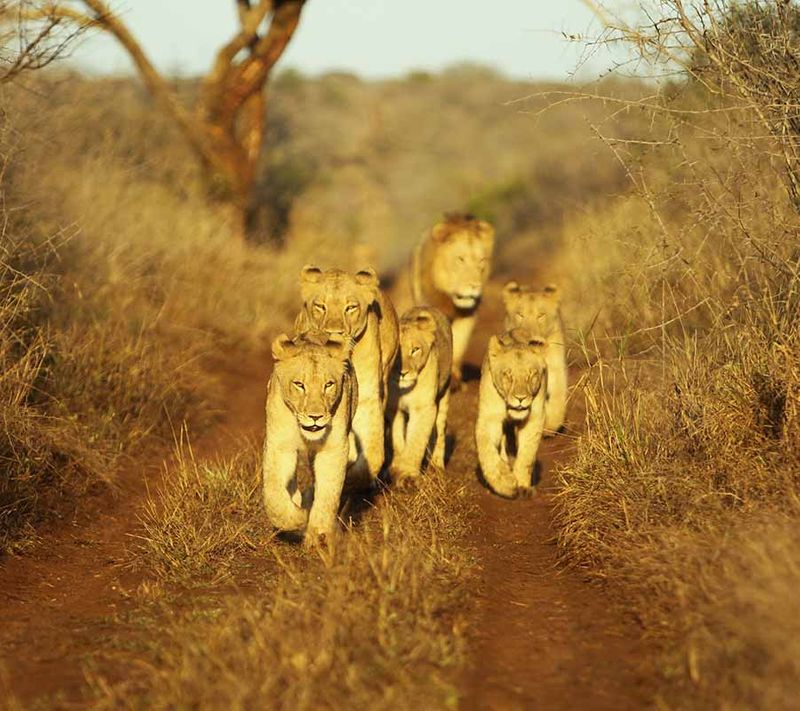 It is on the second day's afternoon game drive that we encounter the king of the jungle: two male lions who are lounging lazily since they have just had a meal. This is the first time I am seeing one so close, and even in their languid state, they look so majestic. "As soon as they eat, they go to sleep," Peace tells us and explains that usually in a pride, the female lions hunt while the male comes and eats and leaves the rest for the mother and cubs. Isn't that patriarchal, I think. But these two are exceptions because they go hunt for themselves. A lion eats only once a week if they have got a big catch such as a buffalo, zebra, or giraffe.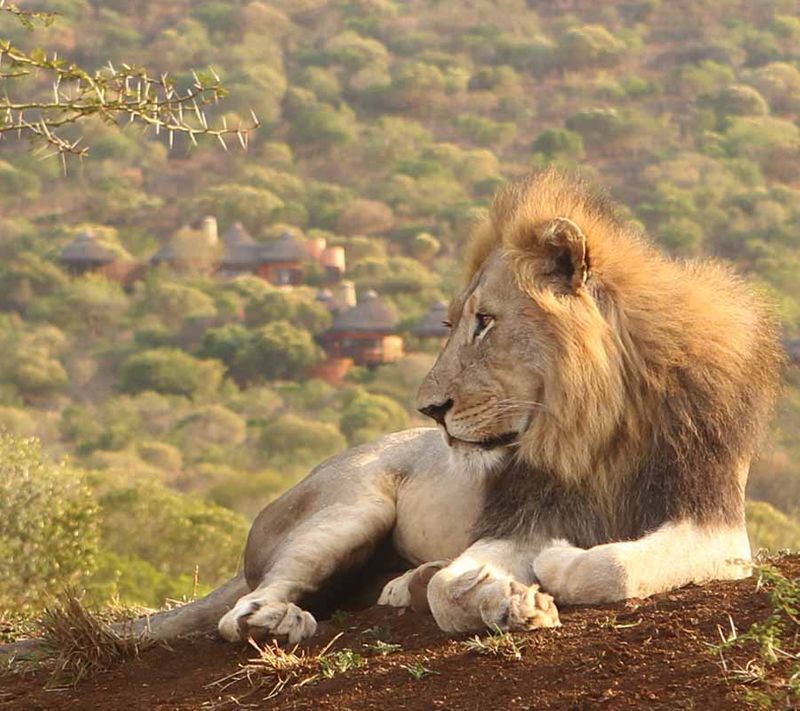 The fourth of the big five: Buffalo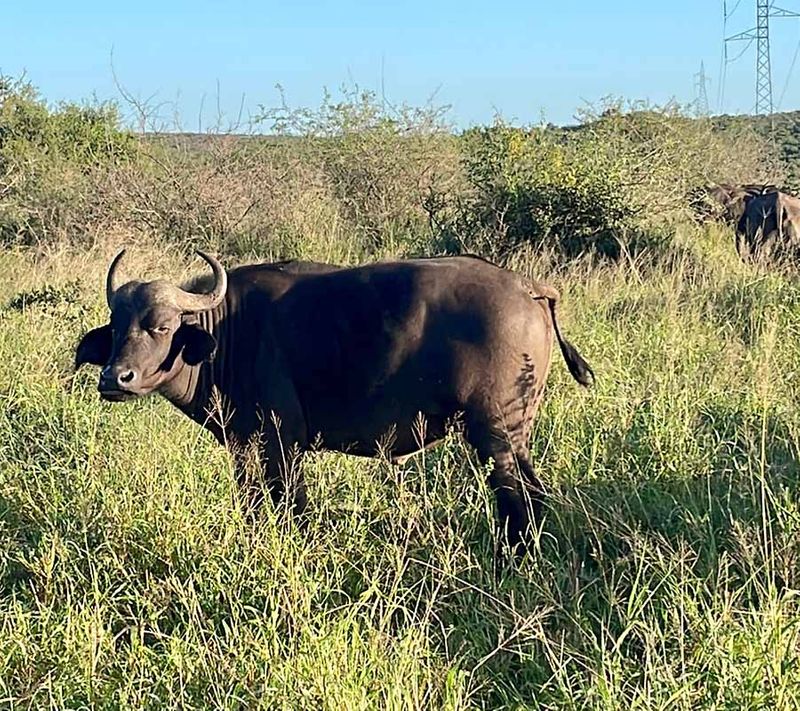 During our last game drive our first sighting is a three-year old baby rhino with its mother and a herd of elephants with little ones too—a testament to how these reserves are protecting wildlife. Driving just a little further, we come across many buffaloes and happily tick off the fourth animal from the list of Africa's iconic Big Five.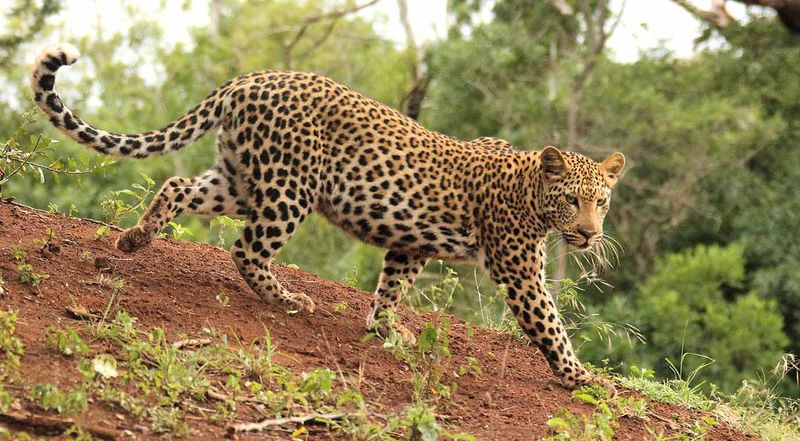 The only one we miss is the leopard—but then they are extremely elusive. Never mind, I tell myself, there will be another time and another encounter. A sense of contentment washes over me as I return to my tent and prepare to leave Thanda;it has lived up to everything I had associated with an African safari.
Website: www.thandasafari.co.za
Phone: +27 32 586 0149
Closest airport: Richards Bay Airport –95 km away
Distance from Durban: 280 km
---
Photo: Thanda Safari