It is raining afternoon when my husband and I land in Colombo, the capital city of Sri Lanka. What lies ahead of us is a six-hour drive to Yala National Park—a leopard-dense game reserve nestled in the south-eastern corner of the undiscovered country. Roads as smooth as butter, lush paddy fields, coconut trees swaying in the cool breeze, cloudy yet dramatic skies, and our good-natured driver who sets the mood with romantic Bollywood numbers surely make our road journey pleasurable.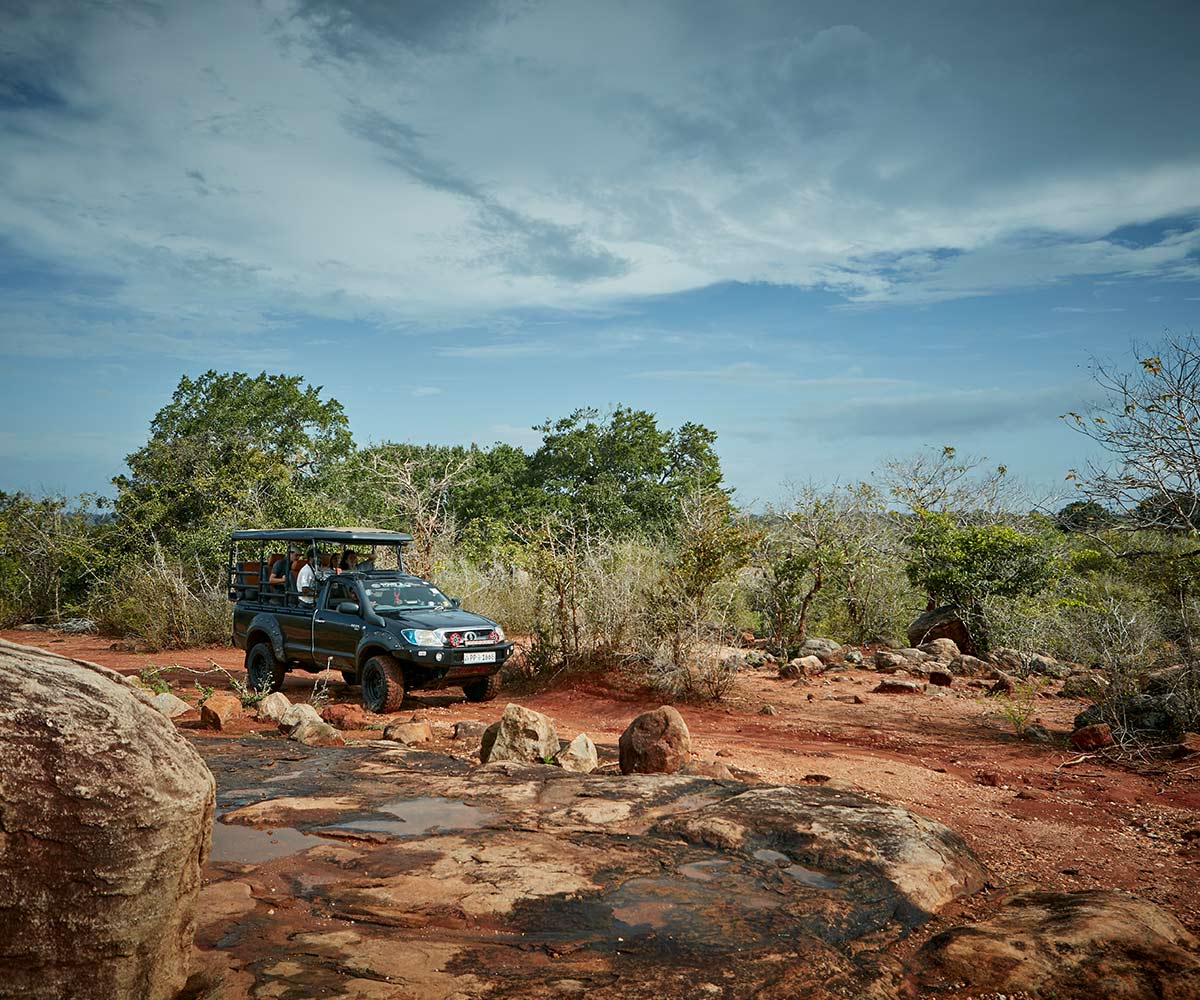 Understated luxury in the heart of the wild
The sun has set by the time we arrive at Wild Coast Tented Lodge, a chic safari hideaway on the cusp of Yala National Park and our abode for the next few days. This luxury tented camp sits on a patch of shoreline where the scrubby bushland meets a pristine, isolated beach, overlooking the deep blue waters of the Indian Ocean. We are greeted with refreshing mango-basil sorbet popsicles and chamomile iced tea that comes with apple juice and honey. The weariness that often comes from travelling for long hours already seems to be vanishing in the crisp forest air. 
While guiding us to our vintage-themed 'Cocoon' room, our escort Ishan suggests we refrain from walking alone around the lodge premises after dark. The lodge is in the middle of rugged wilderness and not fenced off which means there's a chance of elephants and wild boars making surprise appearances through the bushes. In fact, elephants have often been spotted dipping their trunks into cocoon swimming pools while gregarious grey langurs gracefully swing between trees. Seems like our Jungle Book adventure has already begun!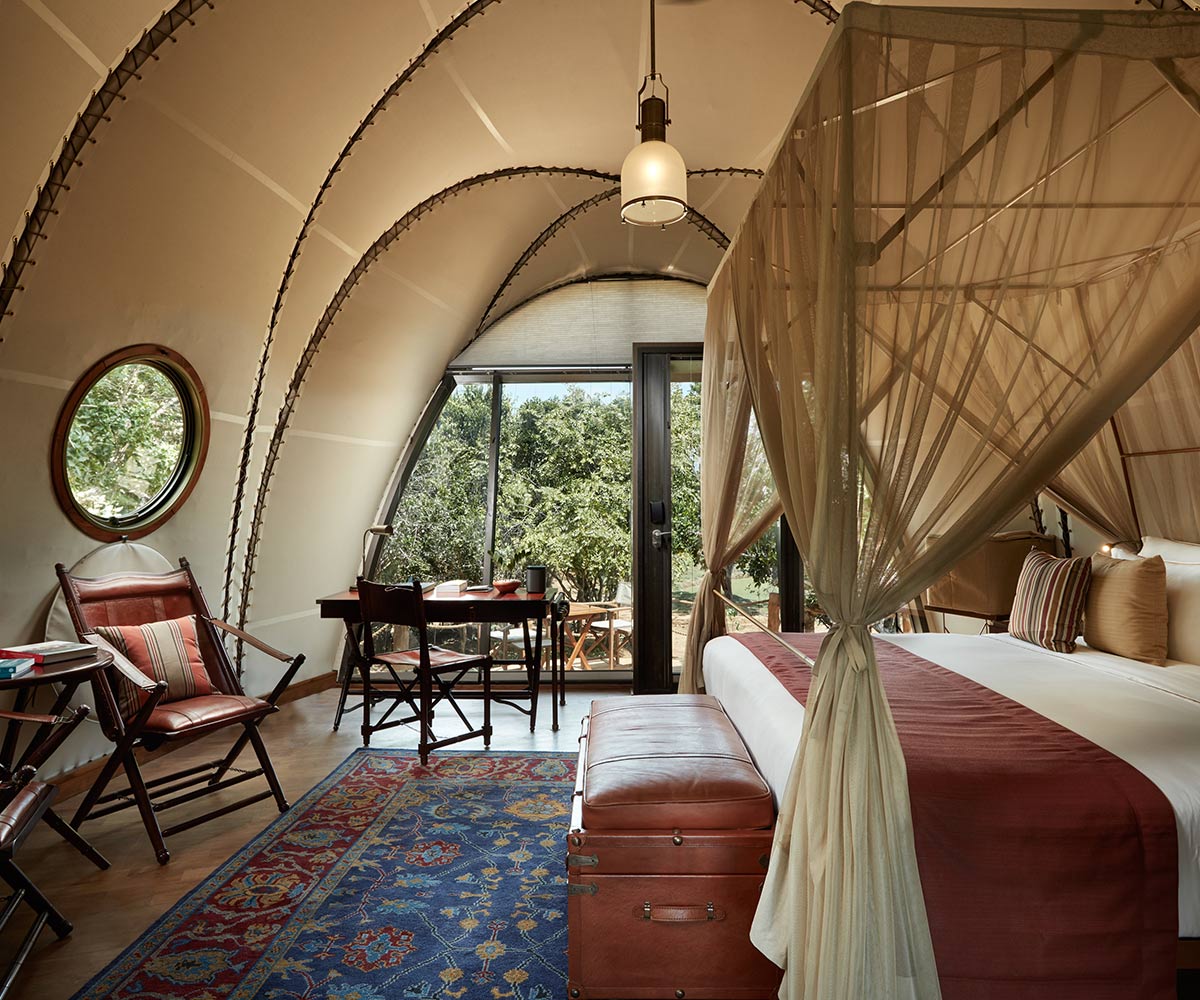 After a quick dinner of Sri Lankan Kottu (torn roti tossed with spiced chicken) and Pittu (coarsely ground rice and coconut steamed cakes served with meat curry and sambol) at the open-air bamboo-clad dining pavilion, we are ready to get to bed early. And why not? It's an opportunity to enjoy the creature comforts of the room—plush four-poster bed, freestanding handmade copper bathtub, organic bath products, repurposed metallic hardware, dark leather accents, and more. The decor is colonial expedition chic meets contemporary design. Oh, so eclectic! 
Time for a game drive in Yala National Park
Game drives (each spanning between four to five hours) are the highlight of our stay at Wild Coast Tented Lodge, and we have a safari scheduled for the next morning. Having gone on several wildlife safaris in the lush jungles of India, we are both eager and enthusiastic about experiencing one in Sri Lanka's Yala National Park—especially since it is known for its high concentration of leopards, perhaps the highest in the world. Although luck hasn't always been on our side when it comes to big cat sightings, we are keeping our fingers crossed. If we happen to catch sight of Sri Lanka's elusive patterned feline, it is going to be an occasion for a toast. 
Dressed in a pair of neutrals, we are set to hop on the jeep at 5.30 am. It is dark and misty. We are led by our talented and optimistic ranger Keith, who is known for his prowess to track animals, narrate interesting tales of the jungle, and point out everything from the smallest critters, flowers, and birds to larger creatures like sloth bears.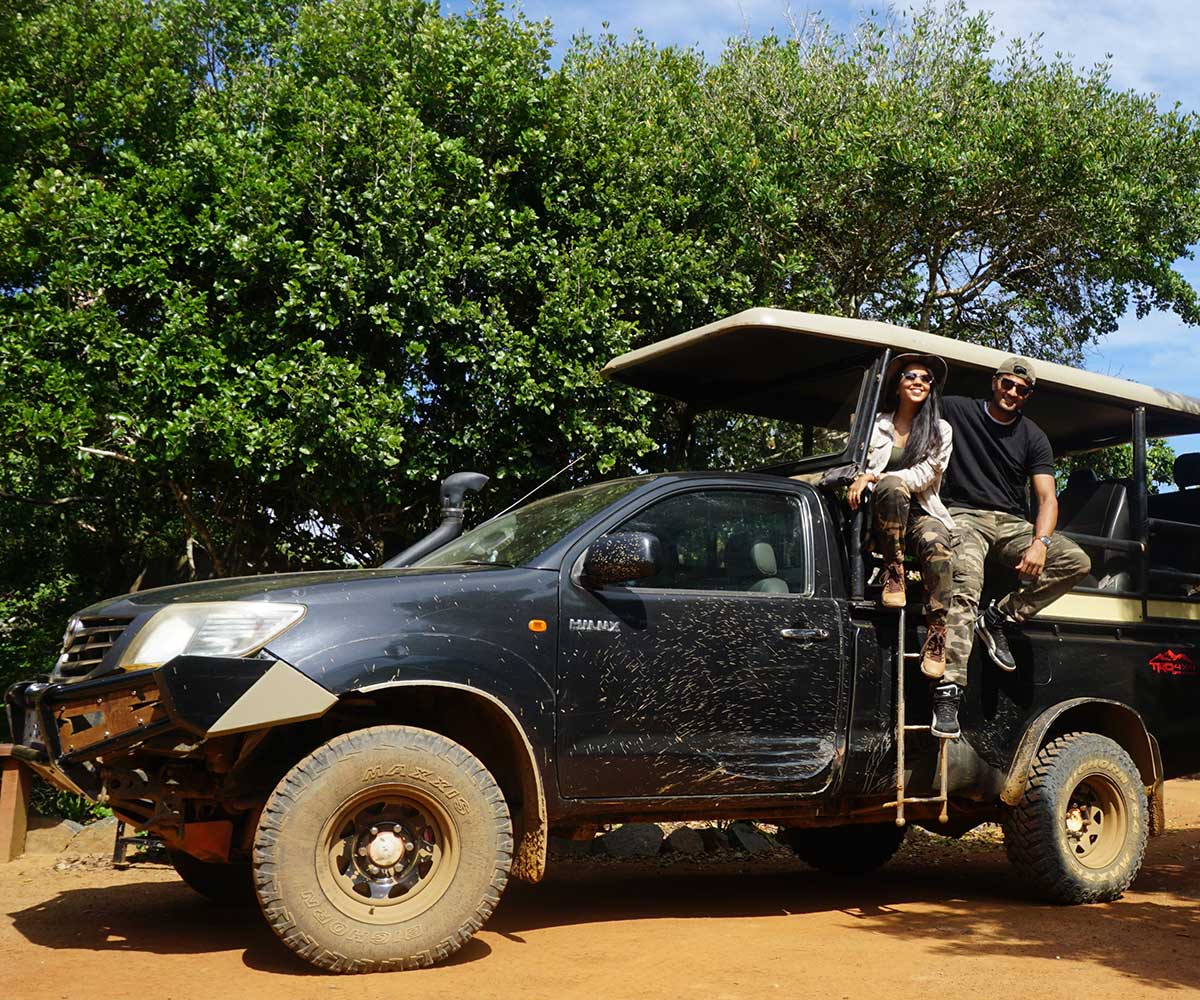 Forming a total area of 960 sq km, Yala National Park is the second-largest national park in Sri Lanka—comprising five blocks, each with its own vegetation and characteristics. The area was declared a national park in 1939, says Keith. Although the park's 44 mammal species and 215 birds are all protected today, it was originally a hunting ground for the elite British during colonial times.
As the sun begins to shine, we enter the gates of Yala National Park - Block 1, which is not more than 10 minutes from our resort, for our first safari. Our eyes are wide awake and cameras, as well as binoculars, are at the ready.
Scenic views, sightings, and stimulation
The first sighting of the day is a gang of wild water buffalos (with their curved horns) taking a soak in a pond. Wallowing, particularly in the hot season, is a buffalo behaviour expressed for thermoregulation and getting rid of ectoparasites, explains Keith. Natural waterholes are ideal habitats for many crocodiles and water birds too. As we move on and peer into the bushes on our left, we spot a herd of elephants led by the matriarch. In fact, a calf is tearing up bamboo shoots for his morning breakfast. With Keith at our side, we also discover other fauna like herds of spotted deer, sambar deer, monitor lizards, pretty peacocks, and nibble-witted grey langurs who boldly stare into our eyes as we photograph them.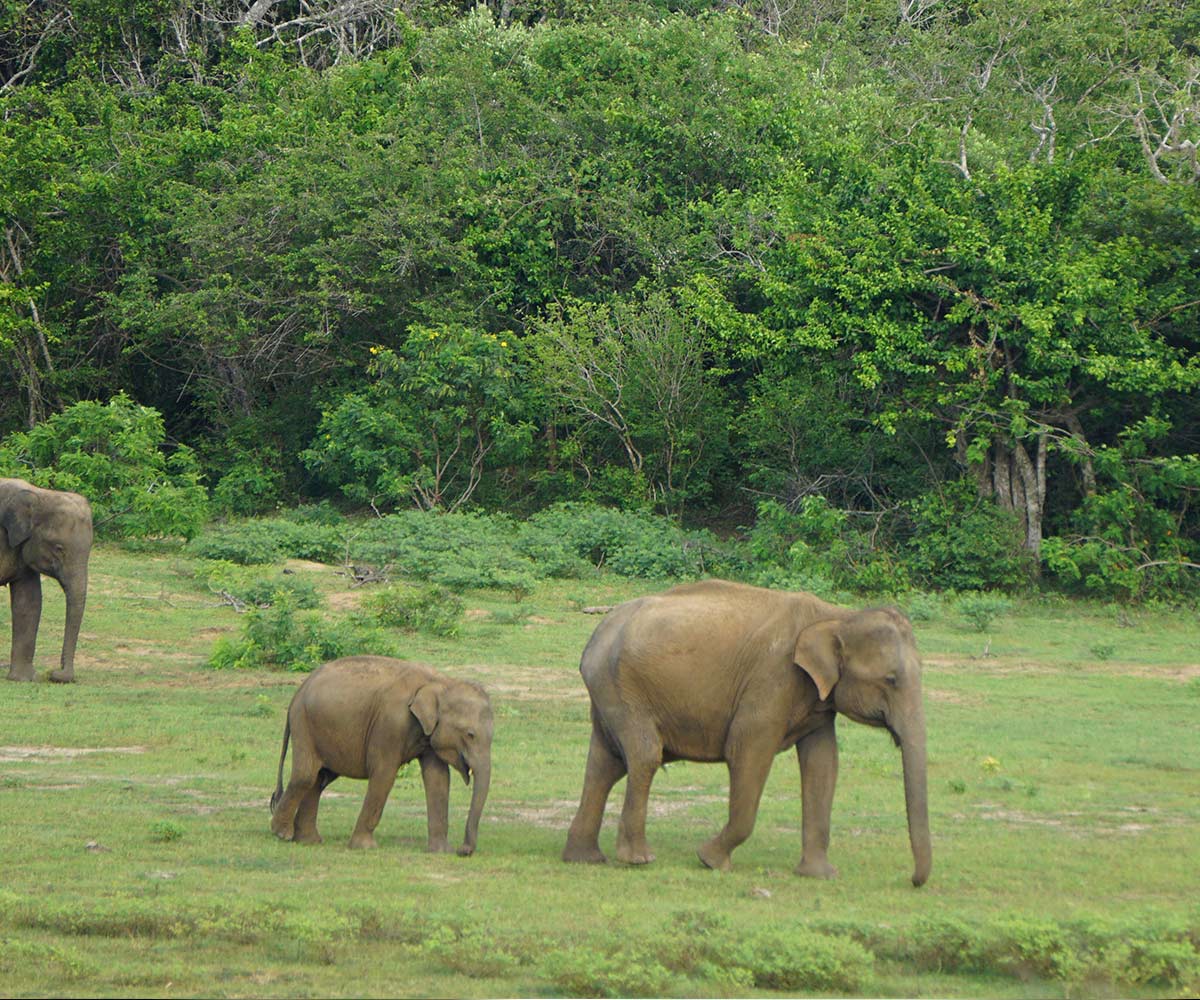 As we are watching the langurs in fascination, our driver gets a call on his old-fashioned mobile phone and we suddenly advance at breakneck speed, almost like we are in a race. Those few minutes of off-roading are quite thrilling. Soon, we find ourselves in a long queue of jeeps, around 25 to 30. The tourists from these jeeps, some even with their giant camera lenses, are trying every possible posture, craning their necks and torsos—only for a glimpse of a leopard nicknamed Jessica. We see other local guides and drivers pointing towards a large boulder in a distance but Jessica is so far away that one cannot spot her with the naked eye unless one knows exactly where to look. According to our driver, every jeep gets a few seconds to look and take photographs before leaving the spot and letting the next vehicle take its place. However, the jeeps in front of us are taking their own sweet time, not wanting to move an inch.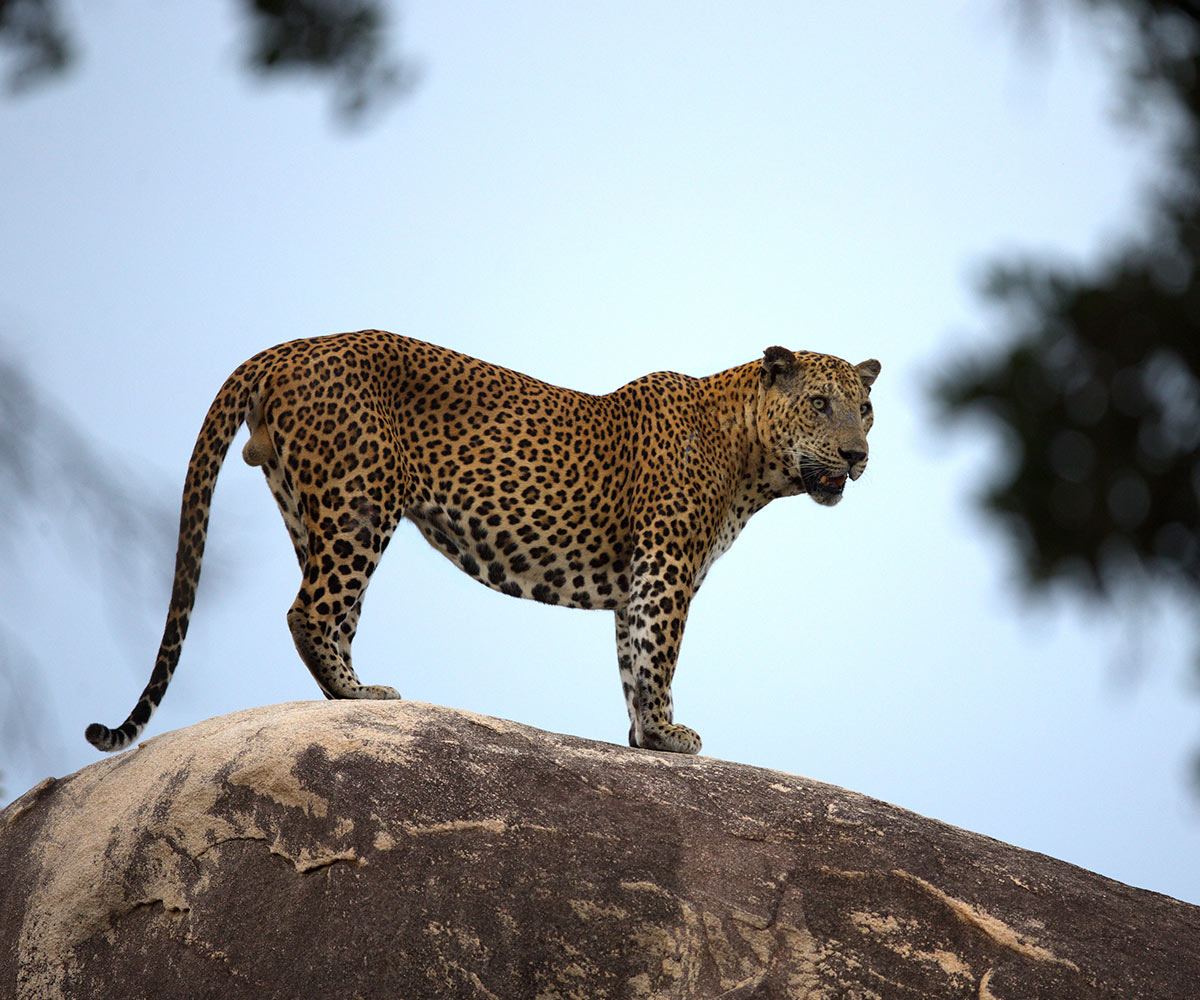 There is an air of mystery that is causing our pulse to quicken. At the same time, we are wondering why would a leopard, considering its reserved nature, wish to step out and greet such a huge crowd. Leopards here are used to human movement, says Keith reassuringly. Jessica doesn't shy away from tourists. In fact, she often makes sure all the cameras are pointing at her, he adds. However, all we have is one question: "But, where is Jessica?". By the time it is our turn, the leopard is out of sight. All we see are trees and rocks of all possible sizes and shapes. My husband and I exchange disappointed looks with each other as well as tourists in other jeeps and move on. 
Yala National Park is best known for its high population of endemic giant leopards Panthera pardus kotiya—although this does not necessarily correlate with more frequent sightings. Given that they are at the top of the food chain, Sri Lankan leopards are the king of the jungle which means they roam about the forest freely. There are good odds for seeing one in its natural habitat, napping on a boulder or a tree branch. While there are no definite census records, estimates of leopard numbers in just Block 1 range from 45 to 60.  
The park is also home to over 300 species of birds during the period of migration and around 176 during the rest of the year, seven of which are endemic to Sri Lanka. Hence, there is no dearth of bird sightings. We spot painted storks, crested hawk eagles, dozens of blue-tailed bee-eaters, Sri Lankan grey hornbills, Malabar pied hornbills, black-winged stilts, greater flamingos, Asian paradise flycatchers, orange-breasted green pigeons, glorious black-hooded orioles, and Sri Lankan jungle fowl among others.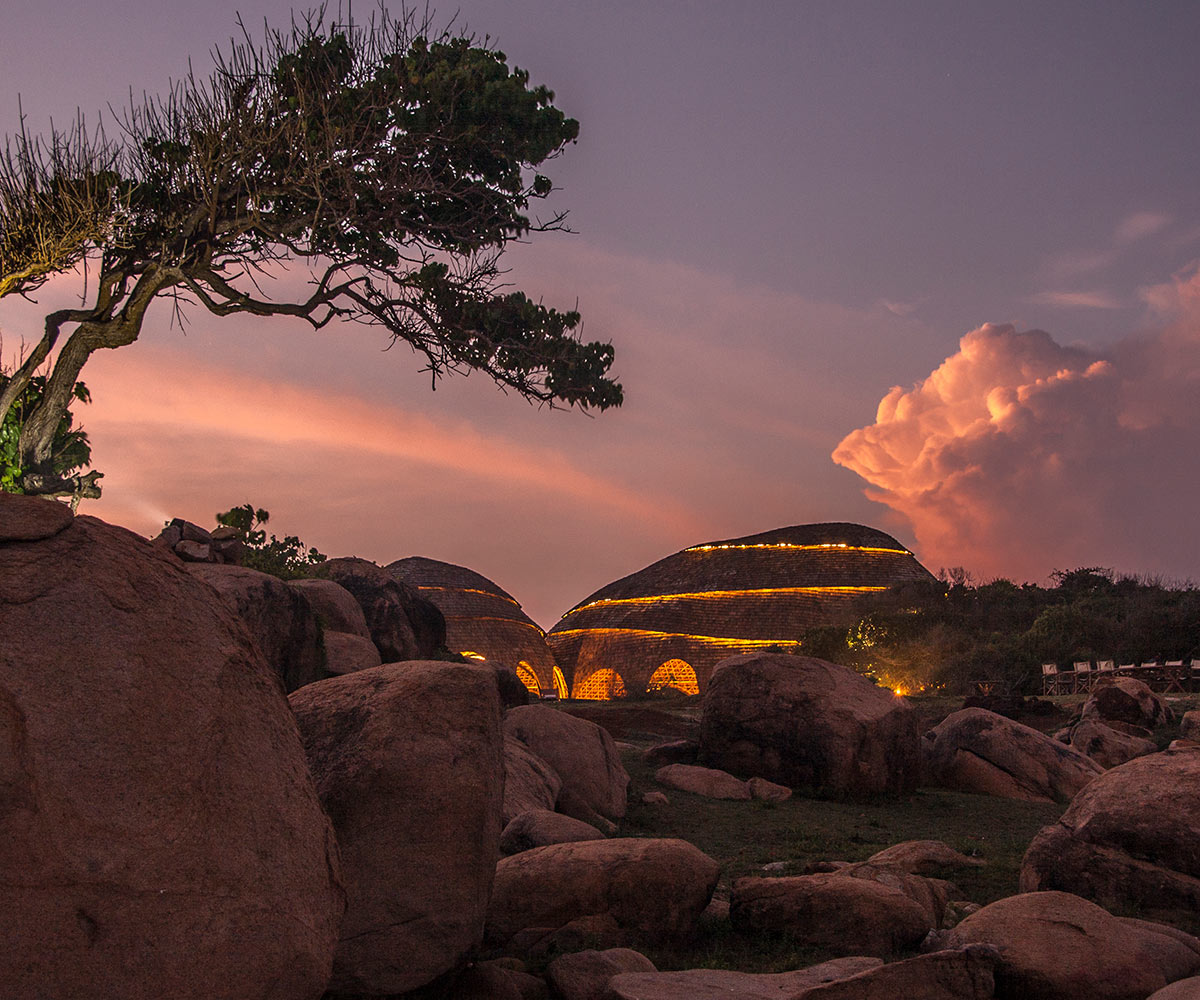 Since we started quite early, we are starving by now. We pick a scenic spot to pull up the jeep and relish a quick snack. While feasting on the cookies and sandwiches from our lodge, we look around and silently take in the beauty of the forest. Yala National Park surely has an attractive mix of landscapes—from light deciduous forest and grassy plains to freshwater ponds, brackish lagoons, and everything in between. In some parts, it even touches the Indian Ocean. We remind ourselves that the real charm of a game drive lies in being present in every moment and observing the little details of jungle life. If we solely focus on chasing the big beasts, we are likely to miss out on the simple rewards of the wild.
Embracing nature in its entirety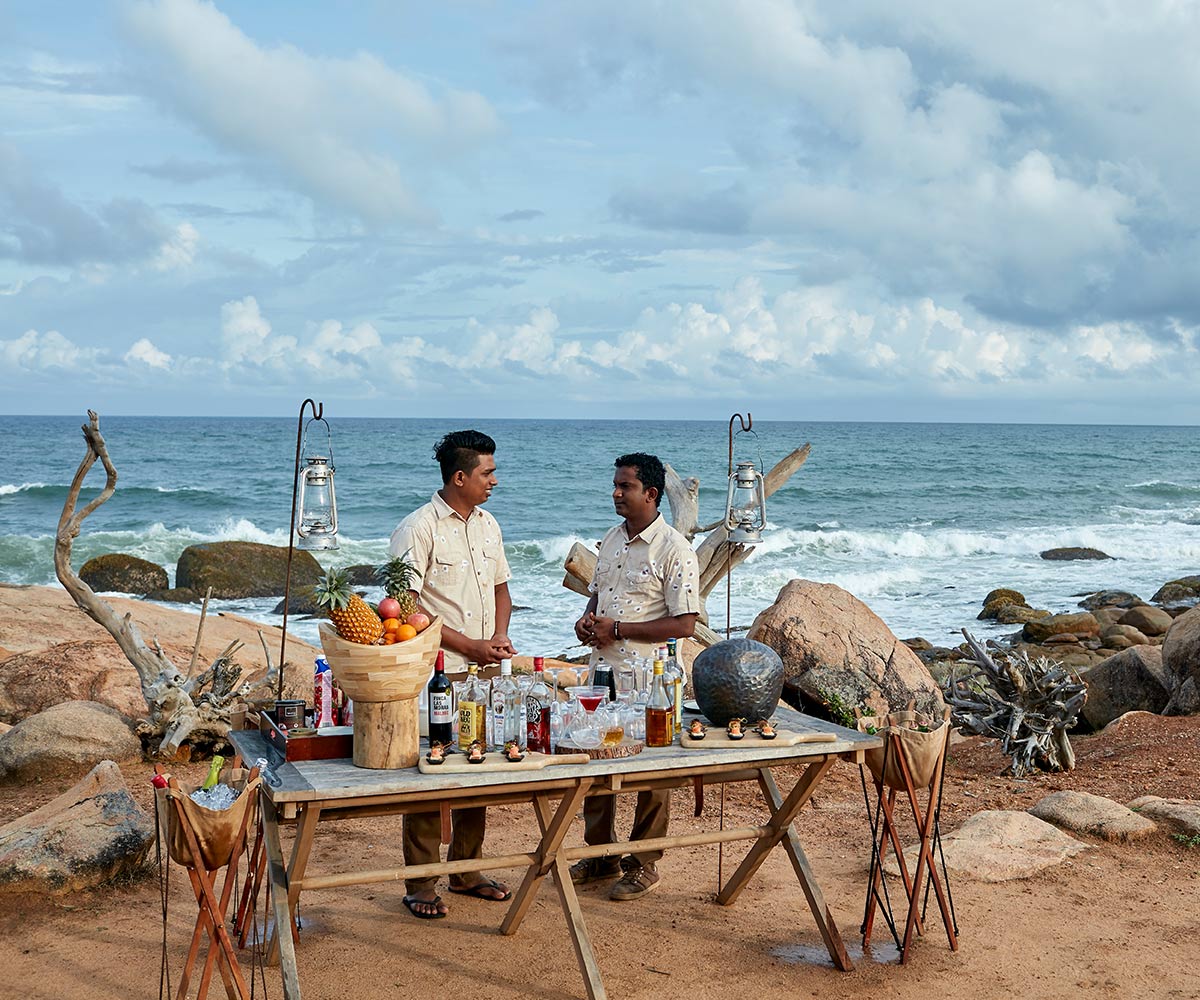 Back to the Wild Coast Tented Lodge, it's time for a hearty breakfast followed by a few hours of relaxation before we prepare for our afternoon safari, which is also our last safari in Yala National Park. While we still wish to see a leopard in its full glory, this time around, we focus on exploring the quietest corners of the forest. They say, no two days in the jungle are ever the same. Our evening game drive turns out to be quite a different experience compared to our morning safari. The soft glow of the fading evening light definitely enhances the beauty of the forest, giving it an ethereal touch. As the sun gradually sets, the sky is painted in pale pink and orange hues, creating a photographer's dream. 
We keep our eyes and ears open and pay attention to bird and animal calls as well as leopard pugmarks down on the soil. Yet again, we don't see the big cat, but this time around, there is no regret. This is because we had embraced the unpredictability of nature well before we entered the gates of the park. After all, a safari experience is all about keeping your hope and faith alive and expectations low. It is more about learning about the riches of the wild with the curiosity of a child. 
We return to our lodge just in time for a sundowner by the beach. While sipping on a lemony mocktail, we think back to our action-packed day in the woods and how spending time in raw nature as opposed to a tamed, managed version of its reality can bring a sense of peace and fulfillment. In this very moment Albert Einstein's words seem so relatable:"Look deep into nature and then you will understand everything better."
Sri Lanka's Big Five
Sri Lankan leopard

Sri Lankan sloth bear

Sri Lankan elephant

Sperm Whale

Blue Whale
History and culture in Yala 
Yala not only offers a glorious spectacle of wildlife but also showcases the tell-tale signs of a lost civilization. Visit Sithulpawwa, an ancient Buddhist monastery believed to date back to second century BC. This pilgrim site is said to have housed 12,000 inhabitants seeking solace, some two thousand years ago. 
Another must-visit is Kataragama, a temple complex dedicated to Buddhist guardian deity "Kataragama deviyo" and Hindu war god Kathirkamam. It is one of the few religious sites in Sri Lanka that is venerated by Buddhists, Hindus, Muslims, and the indigenous Vedda people. 
Did you know? 
The monstrous tsunami of 2004 struck Yala National Park on the fateful day of December 26, forever changing the land features of Yala's coastal belt. However, there was hardly any damage caused to the wildlife here. Locals say that the sixth sense of animals prompted them to hide in a safe place well before the tsunami hit.
FACT FILE 
Getting there
Fly into Colombo from any of the major Indian cities and hire a taxi to Yala. You cover 300 km in about six hours. 
Visa
Visa is on arrival for Indians in Sri Lanka. However, best to apply for a visa online. The process is quick and easy. 
When to visit
Yala National Park is open throughout the year except for six weeks during the peak rainy season—between early September and mid-October. The best time for leopard sightings is in the hot summer months from April to July. 
Where to stay
Consider Wild Coast Tented Lodge, Yala which is a spectacular luxury tented camp situated on a rugged, empty beach, overlooking the Indian Ocean. Adjacent to Yala National Park, it brings together wilderness and understated luxury. Glamping at its best!
See yalasrilanka.lk for more information.
Photo: Shikha D; Wild Coast Tented Lodge Yala