What's the best kind of vacation you look forward to?
One that takes you on an exploratory trail full of adventure or one that's a leisure trip that comforts your senses. If you are seeking the latter, let me assure you that the first thing that strikes you about Sri Lanka is how easy it is on the eyes, but heavy on the senses.   
Sri Lanka is the perfect home away from home. One that is best explored with a leisurely road trip that allows you to stop, soak and submerge in the multitude of flavours that come at you at every turn. From the gorgeous greens of Kandy to the beautiful blues of Galle and beyond, travelling by road is easily the best option to discover Sri Lanka's hidden gems—think picturesque tea estates, stunning beaches, mind-blowing food, rich Sinhalese culture and warm hospitality. Most tourists travel south and west from Colombo to hit the coastline or go north and east towards the centre to Nuwara Eliya and Kandy.
If you are imagining rusty, sweaty and a bumpy road ride that will burn a hole in your pocket, let me assure you that hiring a good car for six nights with an experienced driver will cost you nothing over INR 20,000 (tolls excluded)! So why wait? Here's a detailed itinerary for a week-long holiday with personal recommendations that will more than impress you! After all, its all about the journey!
Getting into Sri Lanka
If you are flying into Sri Lanka, the Bandaranaike International Airport/Colombo International airport is well connected to most countries. Don't get underwhelmed by the size of the airport, while it is small, it is well-organised, and offers just what is necessary.
Colombo and Galle are connected by a swift expressway, and can cover the distance in less than two hours. Make sure you pre-book a seasoned driver-cum-guide or book one as soon as you land in the country from one of the airport car rental counters to make your road trip smooth and peaceful.  
Colombo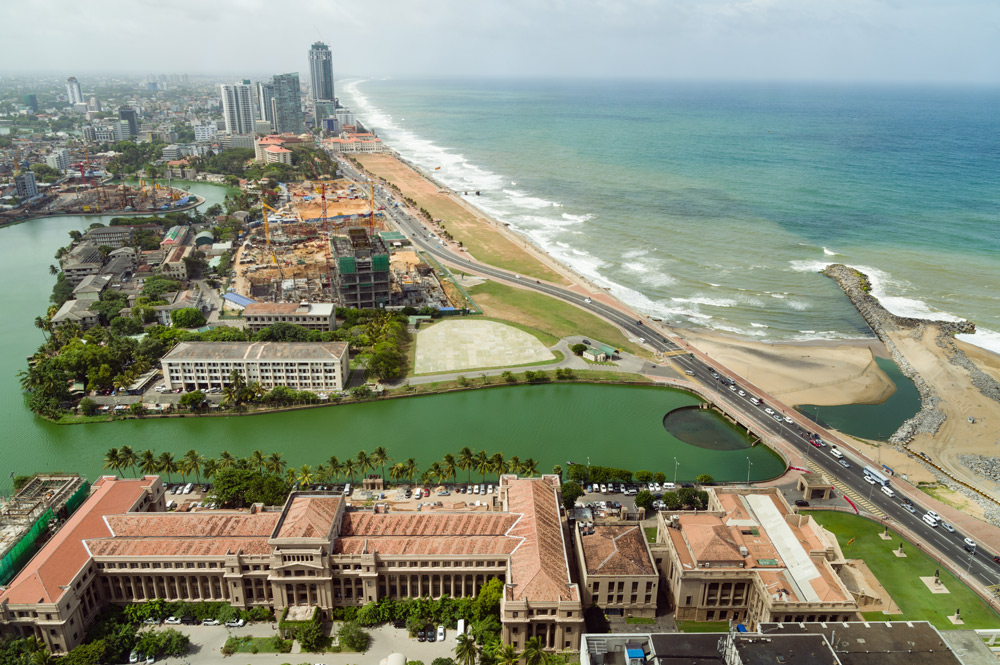 A rich colonial heritage and a modern present—lush gardens, old mansions, fine dining options, shopping malls packed with designer brands, street markets—all blend seamlessly within the busy city of Colombo.
If you are a history buff, spend the day exploring the many temples and churches, the National Museum, the historical streets of Pettah, the gorgeous Jami-Ul-Alfar Mosque and the Geoffrey Bawa House, where the renowned architect Bawa lived briefly and features his love for traditional local forms and his stark white architectural palette. 
Make a quick pitstop at the Dutch Quarters—a buzzing area with hip and happening bars and restaurants and live music to unwind the day. If you have six nights to spend in this beautiful country and are spending at least a night in Colombo, stay at the beautiful Taj Samudra Colombo for a truly luxurious and immersive experience. The majestic sea-facing rooms and scrumptious food at the hotel's marquee restaurant Golden Dragon deserve a mention for its authentic culinary offerings and the best of Sri Lankan crab delicacies.
Kandy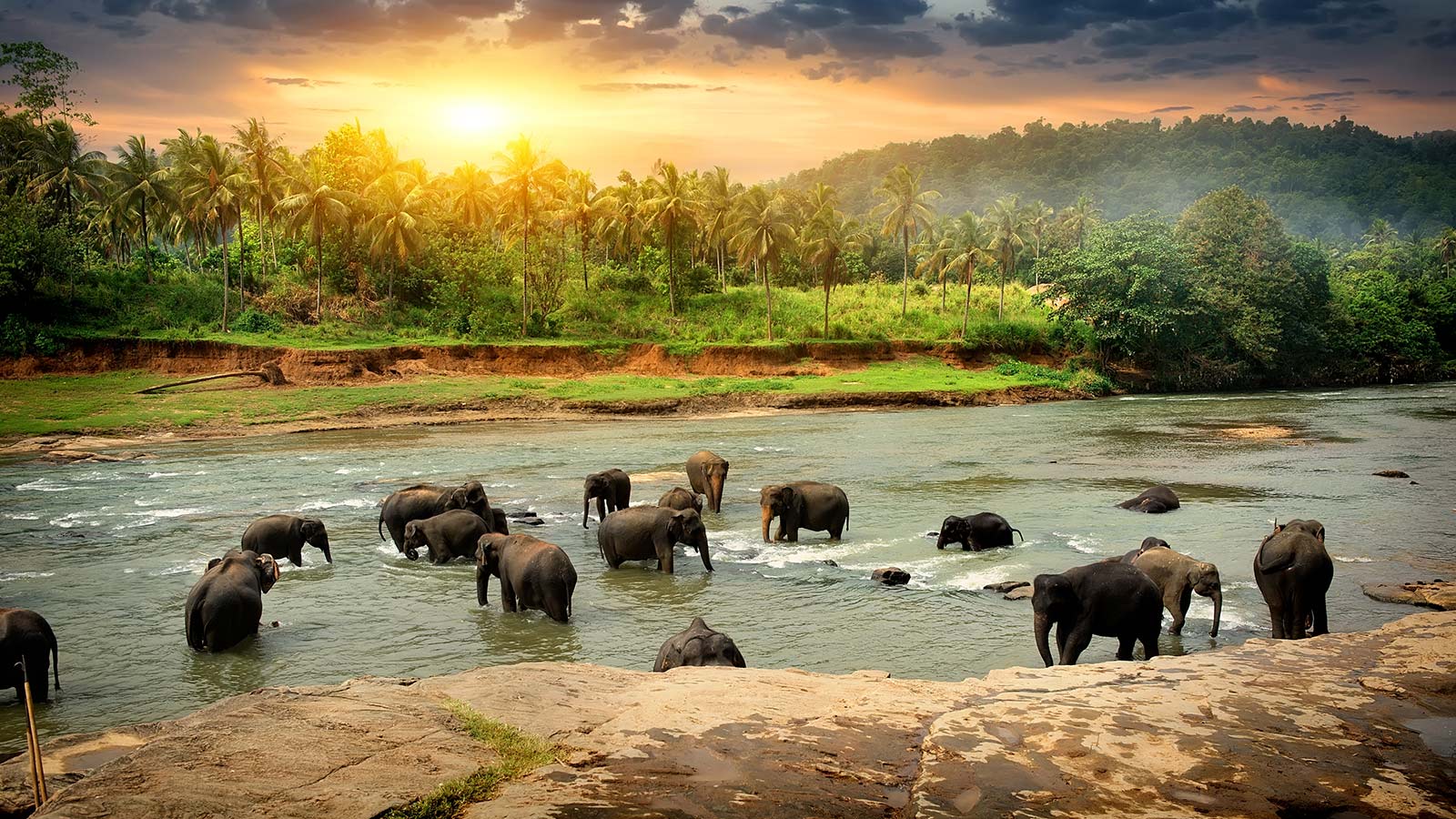 Day 2 is when the road trip truly begins. The drive from Colombo to Kandy, the former capital of Sri Lanka, takes about three and half hours. For a quick lunch before you drive into the city, halt at a riverside eatery called the Honey Pot and dig straight into the flavourful Sri Lankan curry rice dish that is served with a side of local greens, a yellow lentil curry, crackers and a sweet pickle and the local Thalapath fish gravy.
Surrounded by the central highland mountains, enjoy the lush green cover and a breezy ride as you enter Kandy. Perfect for all kind of visitors, Kandy has a lot of character with something in store for everyone. For the spiritual, there's the Temple of Tooth Relic, considered as the most important Buddhist temple that has a tooth relic of the Buddha. For the wildlife enthusiast, the Pinnawala Elephant Orphanage, that houses close to 100 elephants in their natural habitat is a definite draw.
My food recommendations in Sri Lanka is a long list of must-haves. Bursting with sharp spices, flavours, and sumptuous curries, rice is the centerpiece of every dish. Ditch the fancy restaurants and scout for local snack joints selling vegetable/egg/meat kottu rotti and string hoppers and a local variety of kaali jalebi called undu wel. String hoppers, a Lankan delicacy, made of rice, are a version of idiyappams from Kerala. Another delicacy that can easily be counted as comfort food is the local puttu  served with spicy chicken curry. Try it from The Vinci Caterers, a street side vendor, although they get sold out early evening. 
If you are looking for a cosy Airbnb, the Casa H property on the Mahaweli river, the 335-km lifeline of the country, is one of the hippest places to stay in town. 
Kandy to Galle 
Be prepared for a long leg of travel but with a few picturesque halts from Kandy to Galle. Take the first stop at the Embilmeegama Tea Factory at the outskirts of Kandy, famous for excellent Broken Orange Pekoe (B.O.P) and Orange Pekoe tea. Here, you can watch a quick tour of the process of making tea and also sample the many varieties of brews. My recommendation: avoid the high-priced and fancy sounding ones. We brought back the orange pekoe, a good black tea with rich flavour. It also makes for a great gifting option for your loved ones back home. 
Take the second halt at Susantha Spice & Herbal Garden. This government certified horticulture cum herbal medicine centre is a wonderland to cure the aches and pains the au naturel way. From natural medicines for diabetes to hair loss, all the ingredients are sourced from the jungles of Sri Lanka. 
Pro tip: Stock up while you're there; you cannot order them online.  
Ahangama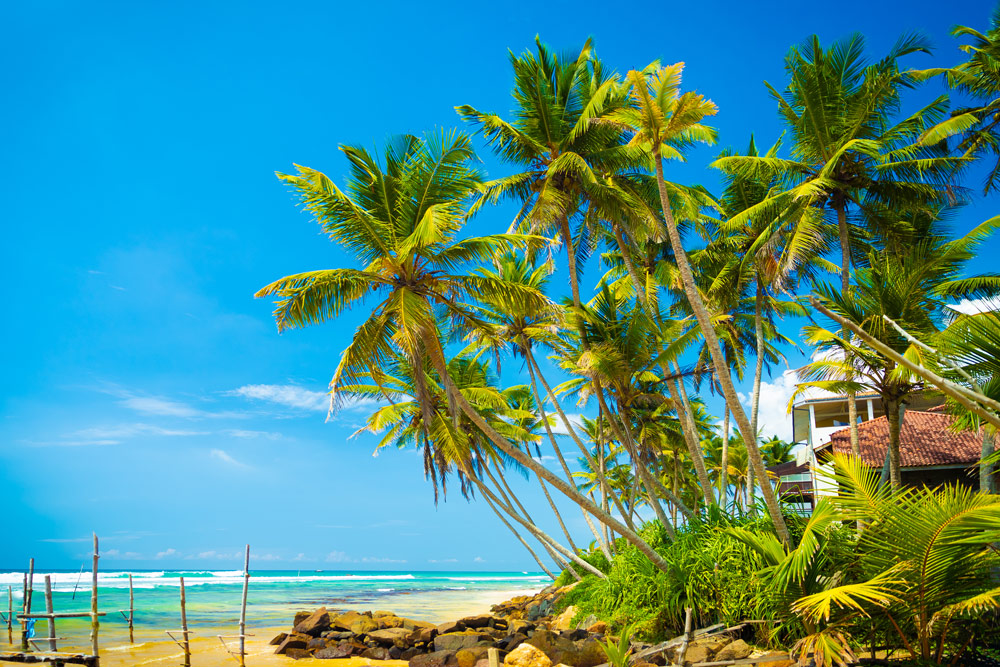 Winding into Galle, this is a surfer's paradise. Off-beat and non-commercial, Ahangama is a quaint coastal town located 27 km to the east of Galle. If you aren't feeling adventurous enough for surfing, there are other sailing activities that will catch your fancy. 
Stay at the 125-year-old heritage bungalow by the Cantaloupe Group replete with four poster beds, wicker furniture and good food—it's Sri Lankan hospitality at its best. A coastline with several scenic beaches, drive to the Weligama Beach, known for the beach side fishermen shacks, in the evening and dine at the Wijaya Beach in Unawatuna and catch a mesmerising sunsets over pizzas and French wine for company.
Unawatuna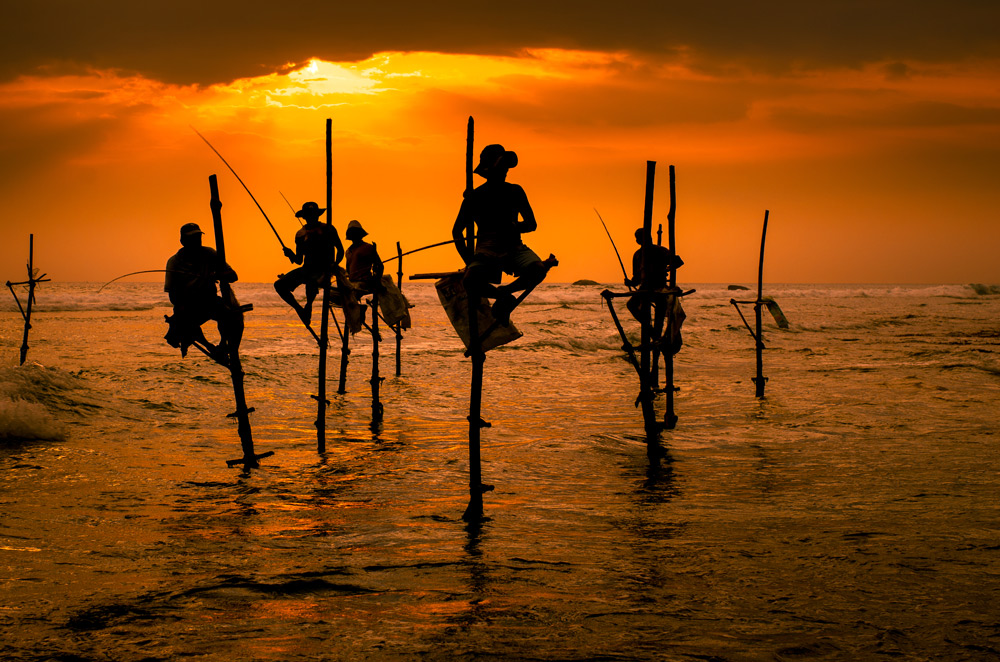 Unawatuna calls for a dedicated halt to take in the beauty. Ditch all your shopping and touristy activities and enjoy the unending expanse of the Indian Ocean lined by swaying coconut trees. You could consider staying at the beach front boutique property called Sielen Diva, right in the middle of Unawatuna. Considering there are just four suites on the first floor, booking well in advance is always recommended. It is not cheap, but it's worth every penny you spend to stay here. Head to the serene beach of Koggala which lies between Unawatuna and Weligama for a picturesque view of stilt fishing that is a huge attraction for tourists. The 300-year-old fishing method is unique to Sri Lanka and is considered a dying tradition. To catch these skilled fishermen- sitting on a narrow pole and using just a fishing rod- you have to visit the Koggala beach in the morning or evening only, believed to be the best time for a good catch.
 
Galle Fort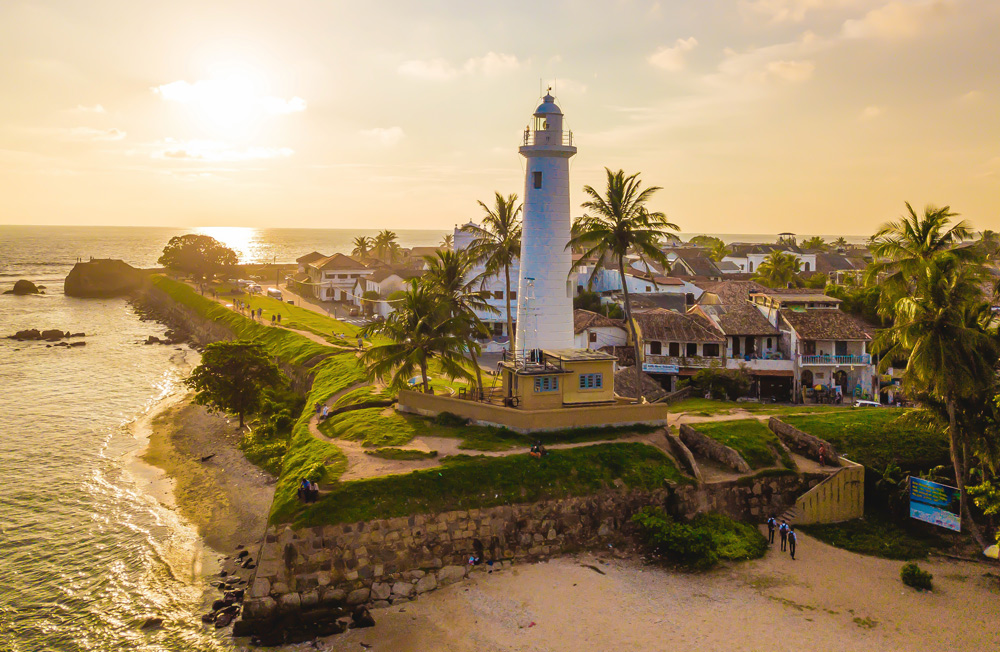 A perfect combination of beach and culture, Galle Fort is one of the most important areas in Galle. A UNESCO World Heritage Site, Galle Fort, was built by the Portuguese in 1588, then fortified by the Dutch from 1649.
The multi-ethnic and multi-religious population makes Galle Fort one of the favourite tourist hot spots. Bustling with beautiful stores, this is the place for all your shopping hauls. You will find the most beautiful Sri Lankan gems and jewellery, local souvenirs and goods, handwoven sarongs and home linen. 
Go for a stroll along the fort, the thick ramparts, and the churches. Visit Pedlar's Sreet where the action is at. For a coffee and gelato break, try out Isles of Gelato and you won't be disappointed.
Hop to Rampart Hotel for their lunch buffet, the beautiful view of the ramparts and the sea will make sure you leave with good pictures and a satiated tummy. They also serve a wide selection of Deviled dishes (influenced by Chinese, adapted to Sri Lankan sauce served with crackers).
Before leaving Galle, a visit to Jetwing Lighthouse Hotel rooftop or the beach side Sugar Beach Café is a must to catch a view of the gorgeous sunset.  
Back to Colombo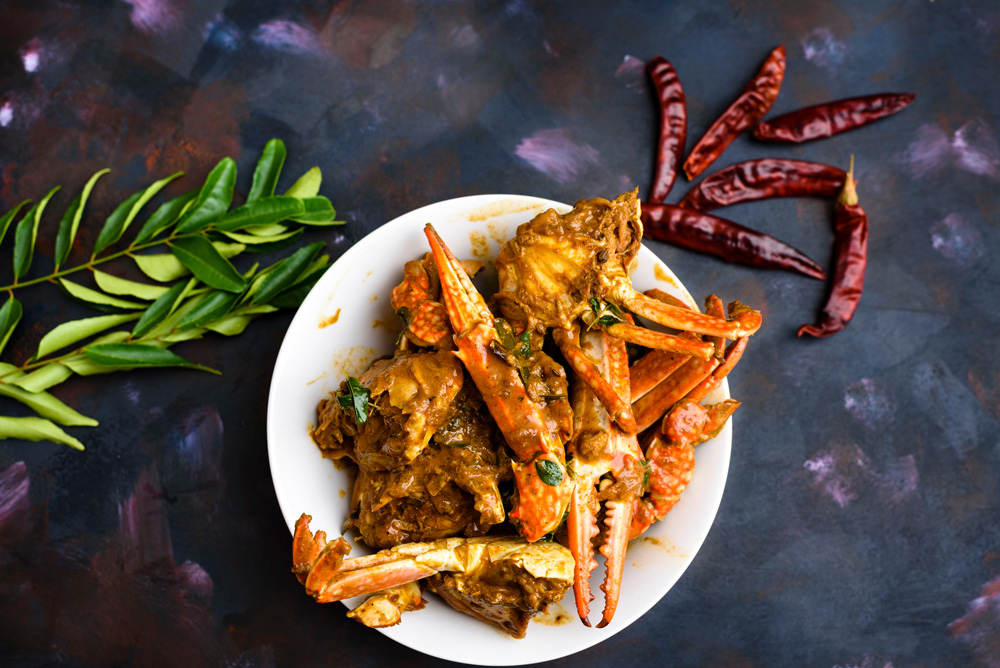 If you are still not done with shopping and eating, visit the Dutch Hospital area that gets buzzing in the evenings, particularly over the weekends.
We decided to go the Marine Drive, the side of Colombo that's fallen a bit off the chart, for lunch. And our choice was a hidden gem called MB Yaal. Recommended by a local, Yaal serves authentic spicy Jaffna cuisine. The prawn biryani, a local fish fry and really spicy crab curry were ordered. Leaving you with a runny nose at the end of the meal, MB Yaal is one of the hidden gems of you travel for food. 
House of Fashion, Odel, Barefoot and Cotton Collection feature in every local expert's shopping list for all things cotton and linen in Colombo. Don't leave the city without a visit to Noritake, the Lanka-Japanese store that sells elegant crockery, and has several celebrity patrons. There are multiple stores in Sri Lanka, the one in Wattala even offers factory rejects at great bargain prices. 
Whether you are headed inland to tea country, or to the cultural triangle, Sri Lanka fills you with its untouched beauty and a fulfilling culinary journey. But what touches the most is the zen-like attitude of the Sinhalese and the warmth they shower to all those who come visiting. Pack your bags now! 
---
COVID-19 rules for travellers in Sri Lanka
Apply for visa online on Visit Sri Lanka app.
A COVID-19 negative test result which no older than 96 hours before departure is mandatory. Vaccines are not considered at the moment.
A complete 'Health Declaration Form' needs to be presented to Sri Lankan officials on arrival.
Depending on the number of days you are in Sri Lanka, you will have to take three-four COVID-19 PCR tests.
You need to have COVID-19 insurance policy and pre-pay for test that will be conducted during your stay.
For the first 14 days, you need stay in 'Level 1' hotels.
Only a limited number of tourists sites are open to international travellers, currently.
---

All Photos: Shutterstock
Photo: Shutterstock