From nature and adventure to culture and cuisine, there's something for everyone on this list. 
1. Tawang, Arunachal Pradesh 
The Northeast of India continues to be a top draw for Indian travellers. Sabina Chopra, Co-Founder and COO, Yatra.com recommends Tawang in Arunachal Pradesh. "Home to a famous 400-year-old monastery and the birthplace of Dalai Lama, this stunning place is also known for its Madhuri Lake, Penga Teng Tso Lake, Sela Pass and Tipi Orchid Sanctuary. For a getaway from the scorching summer heat, this is one of the best places to visit in the month of April," she says. Also visit Ziro to witness Myoko, a unique friendship festival (usually mid to end March) celebrated by the eight Apatani tribes in the valley. 
2. Little known nooks of Goa 
Been there, done that, right? But there's more to Goa than its beach shacks and party vibe. Instead of guzzling endless beers, dive into a cultural experience. Try the sunshine state's favourite drink feni, a funky fermented spirit made from cashew apple. Better yet, visit the world's only feni cellar at Cazulo Premium Feni Distillery. The owner Hansel Vaz will you show you around his collection of antique garrafãoes, glass bottles used for storing feni. Stay back for a feni tasting followed by a local Goan dinner. The next day, explore some charming, heritage Indo-Portuguese mansions—the opulent 16th-century Figueiredo Mansion crammed with vintage furniture is a must-visit, as is the vast and airy, riverside Palácio do Deão that was built in 1787. 
3. Gushaini, Himachal Pradesh 
Explore Himachal Pradesh beyond the usual Shimla, Kullu and Manali circuit. Devendra Parulekar, Founder, SaffronStays recommends Gushaini, a quaint and serene village in the Tirthan Valley. "Just 1.5 hours from Kullu airport, it is perfect if you wish to forgo the conventional Himachal Pradesh itinerary," he says. The state is also high on the list for winter travel. "Currently there is immense interest from guests to experience snow, so destinations such as Mashobra are in demand," adds Amit Damani, Co-Founder, Vista Rooms.  
4. Kochi-Muziris Biennale, Kerala 
God's Own Country is always in vogue, Kerala ranked at No. 18 in Airbnb's 20 trending destinations (worldwide) for 2020. Its cultural capital, Kochi, has also features as one of the top 10 cities on Lonely Planet's annual Best in Travel list. One reason to visit is the Kochi-Muziris Biennale, one of the largest contemporary art festivals in Asia – expect colourful street art, cool installations, and more. After soaking in the art, head into Kerala's lush countryside. Daniel D'Souza, President and Country Head Leisure, SOTC Travel recommends Kumarakom "for its expanse of paddy fields, a network of backwaters, delicious local cuisine, and traditional kettuvallam or houseboats".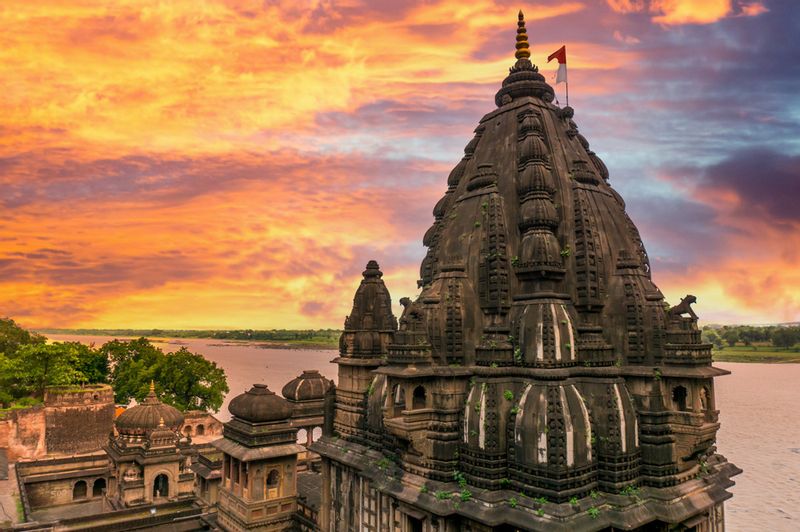 5. Maheshwar, Madhya Pradesh 
The 'heart of India' is an ideal destination for the culture traveller. Divyakshi  Gupta, a Mumbai-based travel blogger suggests visiting Maheshwar. "With its exceptionally clean ghats, Shiva temples, intricate architecture and jharokhas that gave glimpses of River Narmada, this humble city offered so much more than I expected. For me the highlights were the meditative boat ride along a very clean Narmada, and meeting the women weavers who weave the famous Maheshwari silk saris," she says. She recommends visiting Labboo'z Café near Shri Maheshwar Fort for home cooked meals under a canopy of trees. 
6. Keibul Lamjao National Park, Manipur 
Manipur is an underrated gem in Northeast India offering everything from adventure travel (e.g. a canoe ride inside Keibul Lamjao National Park, the world's only floating wildlife park) to sampling tribal cuisines and exploring the state's vast textile heritage. "The Meitei community is known for the finest silk gauze with abstract floral patterns hand-woven by the women around Bishnapur district," says Julie Kagti, Founder, Curtain Call Adventures, a boutique travel company that curates cultural trips to the Northeast. She also recommends visiting villages of the Rongmei community who use back-strap looms and create intricate patterns without tracing or marking, just using patterns passed on from mothers to daughters. 
7. Bhubaneswar, Odisha 
For serious foodies, Odisha is the place to be. "Odisha as a travel destination has been barely explored, and its cuisine and culture are highly underrepresented. With traditions that go back hundreds of years, Odisha has a unique identity distinct from its neighbouring states, offering sights, sounds, eats and experiences you will not find anywhere else in India", says Thomas Zacharias, ex-Chef Partner at The Bombay Canteen and O Pedro restaurants in Mumbai. He recommends the unassuming Kaka Hotel inside Ekamra Haat in Bhubaneswar, which offers an elaborate lunch thali with dishes such as  aloo chakata, mutton jhola, machha besara, and ghanta tartkari cooked in a homely style at an affordable price. 
8. Jawai, Rajasthan 
Rajasthan is a perennial favourite on any India travel list; the blue city of Jodhpur marked India's only presence on the annual New York Times 52 Places list for 2020. But step outside the main cities (their regal charm notwithstanding) to get up, close and personal with the big cats. Travel writer Charukesi Ramadurai suggests visiting Jawai where leopard conservation is the strongest in India. "It is not a national park with defined limits, the leopards roam more or less freely on the hills, part of the Aravallis," she says. Ramadurai recommends staying at the boutique Bera Safari Lodge, which offers wildlife safaris with experienced leopard trackers. 
9. Deorital Chandrashila, Uttarakhand
No India travel list is complete without a Himalayan trek! Uttarakhand has several scenic treks, some of which are suitable for beginner-level trekkers. India Hikes recommends the 6-day long Deoriatal Chandrashila Trek, which is rather rewarding as you see all the major summits in Uttarakhand. The trek has one of the best forest trails that is especially spectacular in spring when the rhododendrons blossom. March-May and September-December are the best times for this trek.  
10. Shantiniketan, West Bengal 
Just 165km north of Kolkata, Shantiniketan is quintessential Bengal. "The red earth, the utopian concept of global university or Visva-Bharati set up by Rabindranath Tagore, and the constant pursuit to uphold their cultural heritage make this Bengal town unique," says Amrita Das, Photo Editor, RoundGlass Sustain (a media repository of India's natural world). Tagore started the tradition of Basanta Utsav, an annual festival when the university students perform songs and dances to welcome spring. Das also recommends visiting Lipi Biswas's Studio Boner Pukur Danga to buy beautifully crafted ceramic pottery made of Shantiniketan's red earth. 
Photo: Shutterstock