One can never forget their first time in the forest—the smells, the sights, the sounds—a world quite different from the one we know. Every detail of the first time a tigress walked in front of my gypsy in Bandhavgarh, is etched in my memory. When the mighty feline looked me in the eye before she made her way back to the denser end of the forest is an unforgettable moment, to say the least. I always wondered about the keepers of the wild, the naturalists, guides, and conservationists, who have dedicated their lives to protecting this beautiful world, allowing us to experience it. 
Life in the jungle isn't easy and the stories of these unsung heroes of wildlife preservation in India often remain untold.  An example of this is the tales showcased on Zee Zest's show, Safari India - Welcome To The Wild hosted by Rannvijay Singha. 
Here are three such wildlife experts who share why they do what they do and what keeps them going despite the challenges.
Ratna Singh, Kanha Tiger Reserve, Madhya Pradesh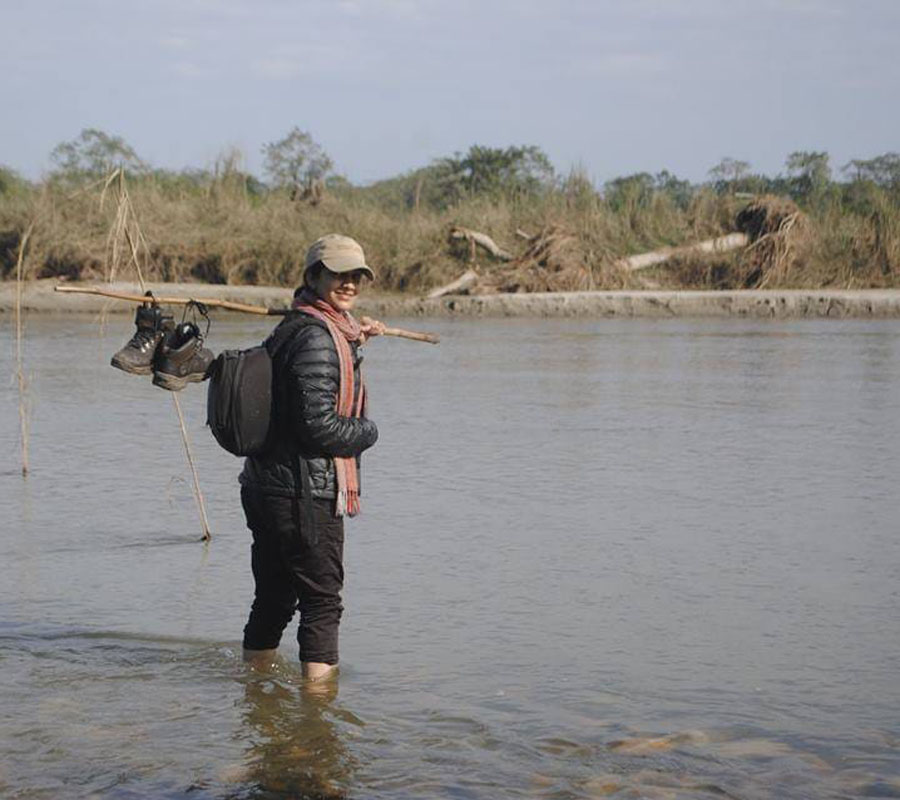 On a winter afternoon, at the age of three, when she sat playing in her verandah, she saw a tiger jump over the thorn fence that surrounded her home. Growing up in the remote village called Khairha, close to the Bandhavgarh National Park in Madhya Pradesh, Ratna Singh, India's first woman forest guide, was exposed to nature and wildlife at a very young age."Even though it was a couple of hours away from Bandhavgarh Tiger Reserve, it was actually an extension of the same forest. For those of us living in the village, it was common to hear about leopards roaming at night or a tiger coming to lift cattle from people's courtyards. We would hear jackals howling too and seeing wild animals was a part of life," she tells us.
At a young age, Singh went to boarding school in Lucknow and would return home only on long breaks and school holidays. "There were very few trains connecting us to the city back then and the railway station itself was 20kms away, so my father would drive us back and forth to Lucknow, which would take as long as 18 hours one-way as the roads were terrible," she remembers. This part of MP was unlike the densely populated Uttar Pradesh, you could drive for an hour and not see a single human. For school-going Singh it was a moment of elation when her father and her would drive out of Lucknow and cross the state border to MP to see the forest cover thickening.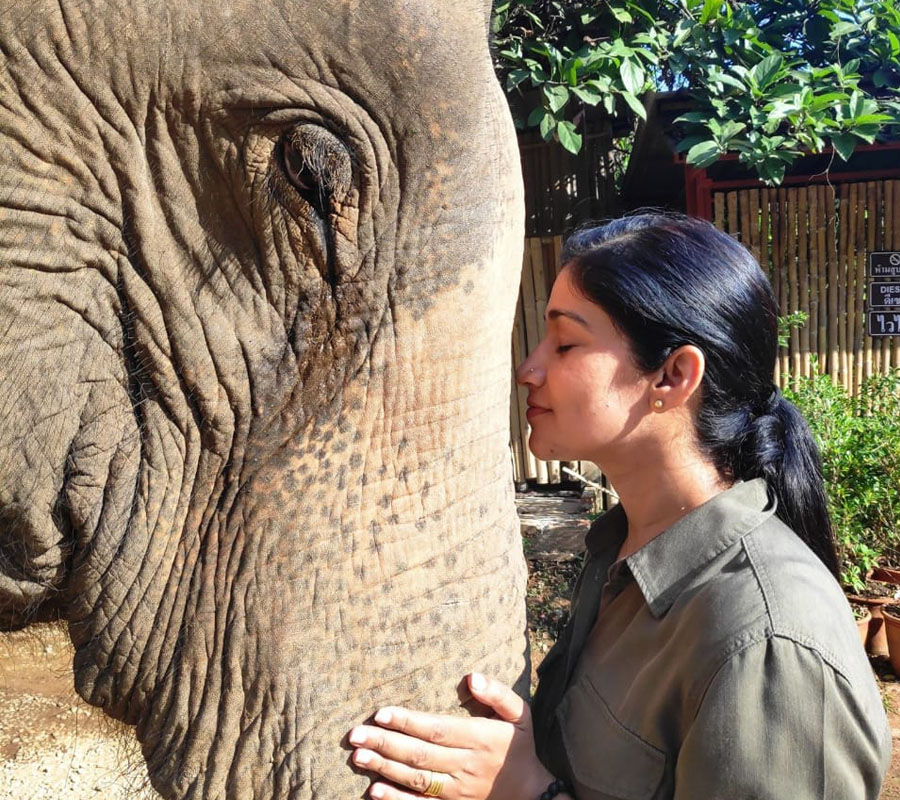 An all-rounder student, Singh's professional career saw her work for the UNHCR and the Red Cross before she enlisted in the 'naturalist training progamme' conducted by Taj Safaris. Though she had been accepted at the Oxford Brooks University, UK, for an LLM in International Law, she found herself drawn to the training programme. "Only men went to the forest to be naturalists and guides back then and everyone at home was surprised, and when my brother was going to drop me, he tried his best to talk me out of it. Honestly, I didn't think I'd make the cut. It was a five-week selection process that was like boot camp, and the training was physically demanding and mentally taxing. The trainers would drive you quite hard to prepare you, because your work in the field with guests, guides and locals, isn't easy," she explains.
Initially, it certainly wasn't easy for Singh as there had not been any women in the field before her. "I felt like a rare animal from the forest who people had come to see. One of the guests even asked for another guide for their safari, saying that they felt I was too polite and hence wouldn't have the required instinct or the drive to track a tiger. A lot of the trackers were not sure I could handle a large vehicle and drive on steep or rough tracks. However, my teammates and colleagues really looked out for me. I'm glad there is a lot more acceptability for women in the forests now."
In 2011, Singh was one of the mentors for the first batch of women guides in Kanha, MP. "The women were mainly from families who had been relocated from the forest and the forest department was giving them jobs. It's not just training in flora and fauna, but also soft skills and communication skills that guides need to get right. I really enjoy training people and creating these training modules."
When asked if she ever felt a fear of the wild, she laughs. "I have never been worried about my personal safety in the jungle. I will not go out in Delhi after dark, for the fear of people but I won't think twice before doing that in the forest. Having said that, I wouldn't be foolhardy, and I wouldn't tempt fate. If I knew there was a tiger movement happening, I would not try to go there."
Dinesh Chandra, Jim Corbett National Park, Uttarakhand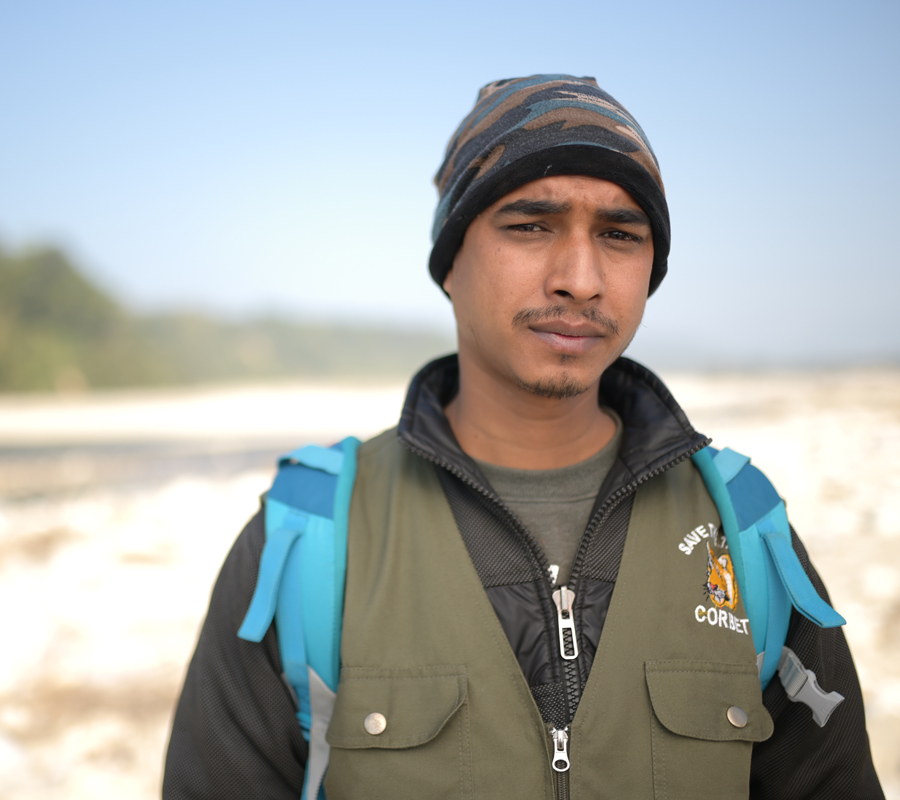 It was difficult for our Zoom call to connect to him. "The telephone and internet connection has been terrible here over the last few days. It's also very cold in the park these days," Dinesh Chandra, a senior naturalist at the Jim Corbett National Park tells us when we are finally able to see him on our screen. "Earlier, there was hardly any connectivity here. For young naturalists and guides these days, it's become easier to get information with Google but in our day, we relied more on books." "The internet gives limited information and does not cover the work you do in the field," he adds.
Born in Dhikuli village in the Reserve Forest area, which is divided by a thin road from Corbett National Park, Chandra started work as a naturalist and forest guide in 2006. "I worked under a few senior naturalists and gained experience, and I still learn from them. In 2006, I worked with the BBC, who were filming a documentary about Goonch (the local catfish found in the Ramganga river), and Golden Mahseer (a freshwater shark). We did quite a few expeditions over two years," Chandra tells us.
The safari slots in the park usually span around three to four hours, twice a day. However, Chandra prefers exploring the forest on foot to spot birds, which takes much longer, sometimes even all day. While this is not easy, Chandra loves his job. "Nature is beautiful and you can never get bored of it. There's something new to learn every day. Chandra believes that one's sight, smell, hearing, and other senses need to be sharp in the forest.  To be a naturalist or forest guide, one needs to be aware of the signs that nature gives and make decisions accordingly. When leading a group during the rains, should one go near the river? In April-May, the winds are strong so which parts of the forest should be visited and which ones should be avoided because trees fall. It's easier when you have grown up in the region because you also get accustomed to the ways of the forest," he says.
While Chandra admits that there was a time when he was scared of wild animals, he soon realised that animals can sense fear and are more prone to attack in such a situation. The important thing, according to him, is to find ways to co-exist. "There is a way to behave with animals; you need to know how to observe them from a distance. If you don't disturb them and don't get in their way, they won't harm you." He recalls his many encounters with Sita, the one-eyed tigress: "Between my home and my place of work, there's a 3 km stretch of a dense forest and in the evening, there aren't too many vehicles or people around. Sita lives with her three cubs in this area and I have encountered her on multiple occasions. Tigers usually make a mock charge, snarling and baring their teeth and it's their way of warning you to stay away. They are colour blind, so if something passes by them at high speed their first instinct is to charge at it. At that time you need to stay calm and not run. With experience, you learn these things," he shares.
Gerry Martin, The Gerry Martin Project, Bengaluru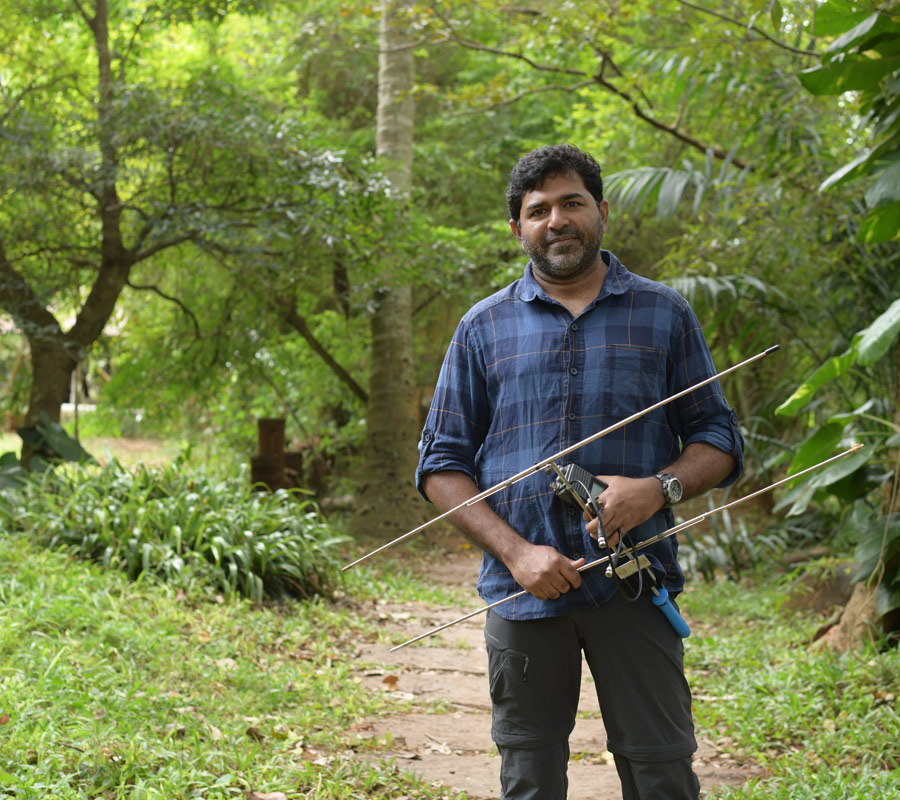 He was about four years old when he held a Red Sand Boa at a reptile park in Ahmedabad, but Gerry Martin's journey to becoming one of the most respected names in herpetological conservation might have begun even earlier. "My mother tells me that on a playschool picnic to a Snake Park, I apparently climbed into the Python pen with the keeper, but I don't remember that at all," he says, laughing.
Was there no fear, we ask, and Martin is prompt in his reply: "I think I realised very early in life that snakes wouldn't come after me if I didn't trouble them, thanks to my grandfather. As a child, I was fortunate to live on a farm and spent a lot of time watching snakes. Even today, when I do handle a venomous snake, I am not casual about it. There's always some level of worry, but I do know that the snake is not going to bite for no reason, so that helps," he says.
In 2000, Martin was selected as India's first National Geographic Channel Adventurer and then went on to work on various television series for BBC and National Geographic. Post this he trained educationists and facilitated experiential learning to create awareness about snakes. In 2010, The Gerry Martin Project was born. Apart from his conservation work, Martin trains snake handlers with the forest department. "There are many people who train others in how to handle a snake, which is fantastic, but very few people actually focus on how to do this so that the snake is as unstressed and unperturbed as possible."
Some things however have changed from the time Martin started. "No one used to talk about snakes earlier, but now, they are spoken about even from the conservation standpoint, which is incredibly heartening. Unfortunately, there is a lot of social stigmas attached to snakes. Conservation needs to be about creating awareness about the variety of snakes and that they will not bite for no reason."
"There is, however, a change in the level of tolerance for them. I remember being a child in our village and seeing an old lady sweep a Cobra out of her house with a long broom, in a completely matter-of-fact way. That doesn't happen much anymore, and as soon as any type of snake is spotted, people go ballistic and need it to be caught and moved," says Martin. "We think it is a rescue, but it is actually a removal. When snakes are moved to another location, they almost invariably die."
Most methods to deal with snakes are unscientific, believes Martin, and based purely on hearsay. "As rescuers, the most important thing is to show people how averse to striking, the snake actually is. The truth is that snakes aren't dangerous at all. Co-existence is actually understanding that there are snakes around and all we need is to be is vigilant."
Photo: Shutterstock