This international Tiger Day, we explore the life of the big cats with the help of an expert. Meet Mithun Hunugund, a wildlife photographer, who specialises in tracking big cats. His jaw-dropping photographs and videos, capturing every single mood and expression in the wild, are proof of it. In fact, he has also worked with National Geographic Wild on The Real Black Panther, a documentary. He is best known for his photographs such as The Eternal Couple, The Thirst, The Fire on the dark waters.
Where it all started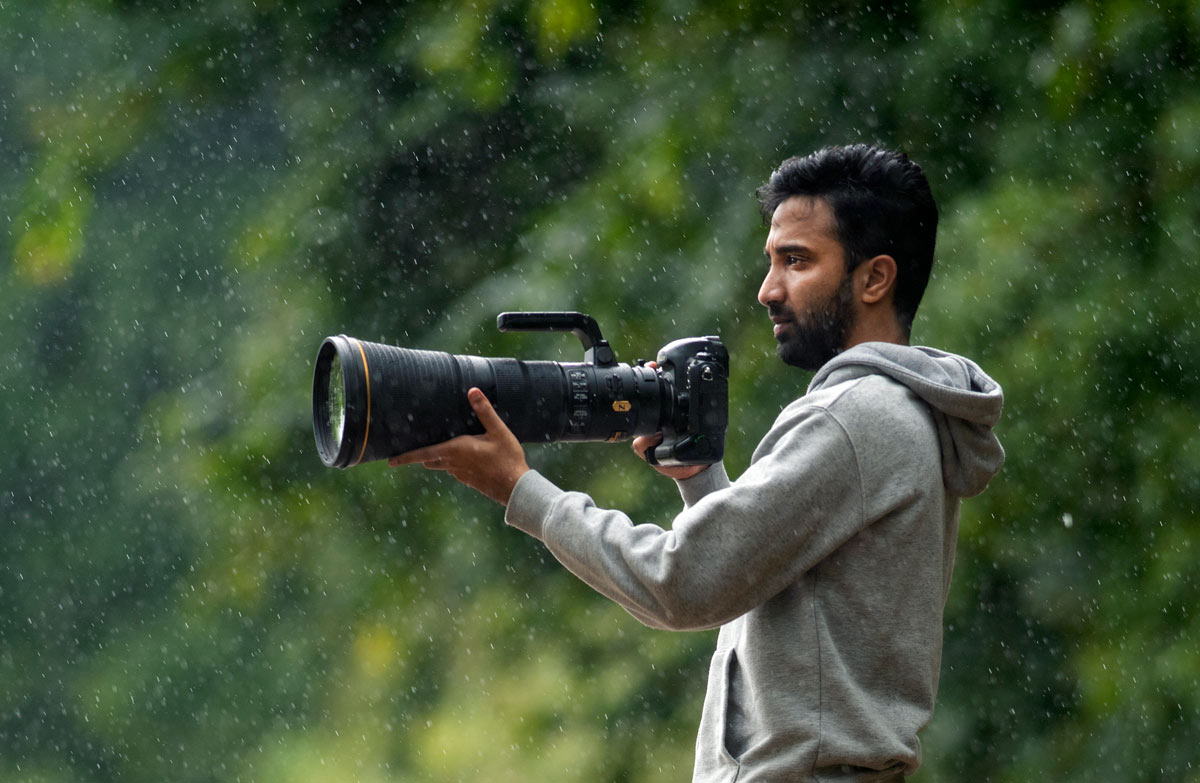 Hunugund's passion for wildlife since childhood drove him closer to the jungles of South India. Taking his love for the woods to the next level, he picked up a camera in 2008, and that's when he understood the power of it. However, it was only after he worked on a wildlife documentary with National Geographic, that he took up photography and cinematography as a full-time profession. Nature was always his biggest role model.
Be it waiting for seven days amid a heavy downpour in the Western Ghats, to capture the rare blue-eared kingfisher in his lens; or spending hours watching a leopard lazing on a tree with its little ones. Hunugund's passion for clicking birds and animals started with his favourite leopards, Monk and Moon. He has been following their journey for the past 12 years now, and says that their generation is still going strong.  
Speaking of his encounters with the tigers in the wild, he describes the big cat as true gentlemen. "If you give them respect and space coupled with a suitable habitat and connecting corridors, then they always avoid humans," he says.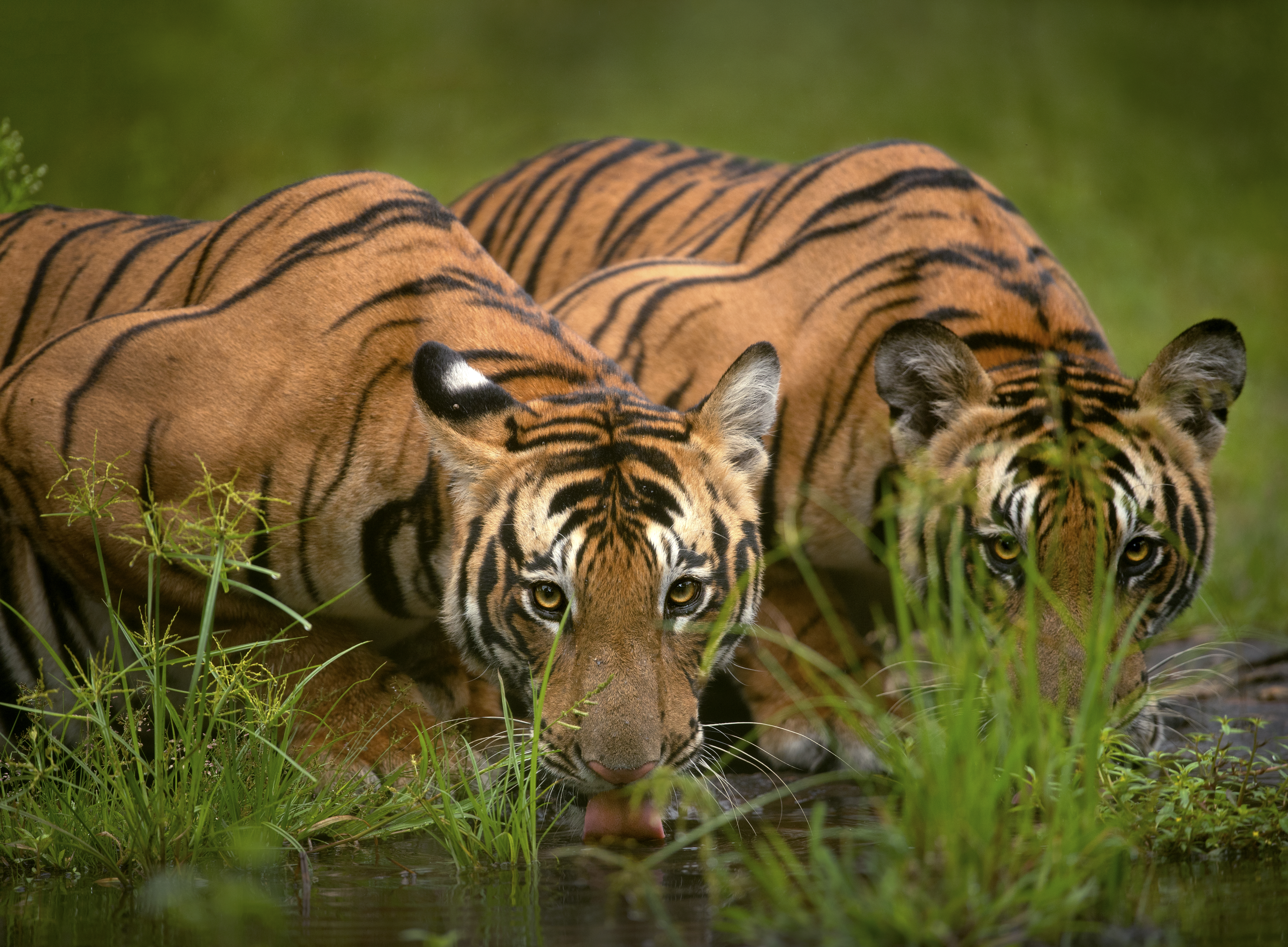 "One of my most memorable encounters was about a decade ago when I saw a tigress carrying her tiny cub in her jaws. It was emotional to see how the same powerful jaws that can kill with a bite can also be delicate enough to hold a cub. It was a rare sight," he adds.
Raised in South India, Hunugund calls spotting tigers in the wild a privilege as initially it was difficult to catch even a glimpse, thanks to their shy nature that would make them run away at the sight of a human.
"I would wait for hours just to get a glimpse of the stripes, but it was worth every moment. It taught me patience, my biggest virtue. Now, with the slight increase in their population, sightings have become more frequent," he says adding, "The sight of a tiger in the wild exudes power and a sheer majestic aura which is unmatched by any animal."
Behind the scenes of his most memorable clicks:
1. The incredible bond between tigress Kismet and her son  
Speaking about his recently shot video of tigress Kismet with her son, in the Kabini jungle, he reveals that he first spotted Kismet while she was roaring to call her cubs. "She had just come back to her cubs after killing a prey. Despite travelling for so long she hadn't even touched her meal because her priority was to feed her cubs. Listening to his mother's roar, her favourite son came running, all excited about the meal, while she kept waiting for the other two cubs to join," he explains.  
2. Tigers of the Hills
Another of Hunugund's gems is the video titled, Tigers of the Hills, shot at Biligiriranga Hills in Karnataka. BR Hills, he says offers a stunning landscape and a place where it's almost impossible to see tigers because the prey base is less compared to other parks.
"I was blessed to see a family of a tigress with two tiny cubs in the lush green monsoon forest. Tracked them in the pouring rains with pug marks and alarm calls all over. It was a waiting game and just a matter of time before they broke cover out in the open. They walked the track in one of the most stunning landscapes in southern India. To see this in a place where tigers are like ghosts and seen probably once in two months, was special indeed," he wrote on his Instagram.
3. Fire on the Dark Waters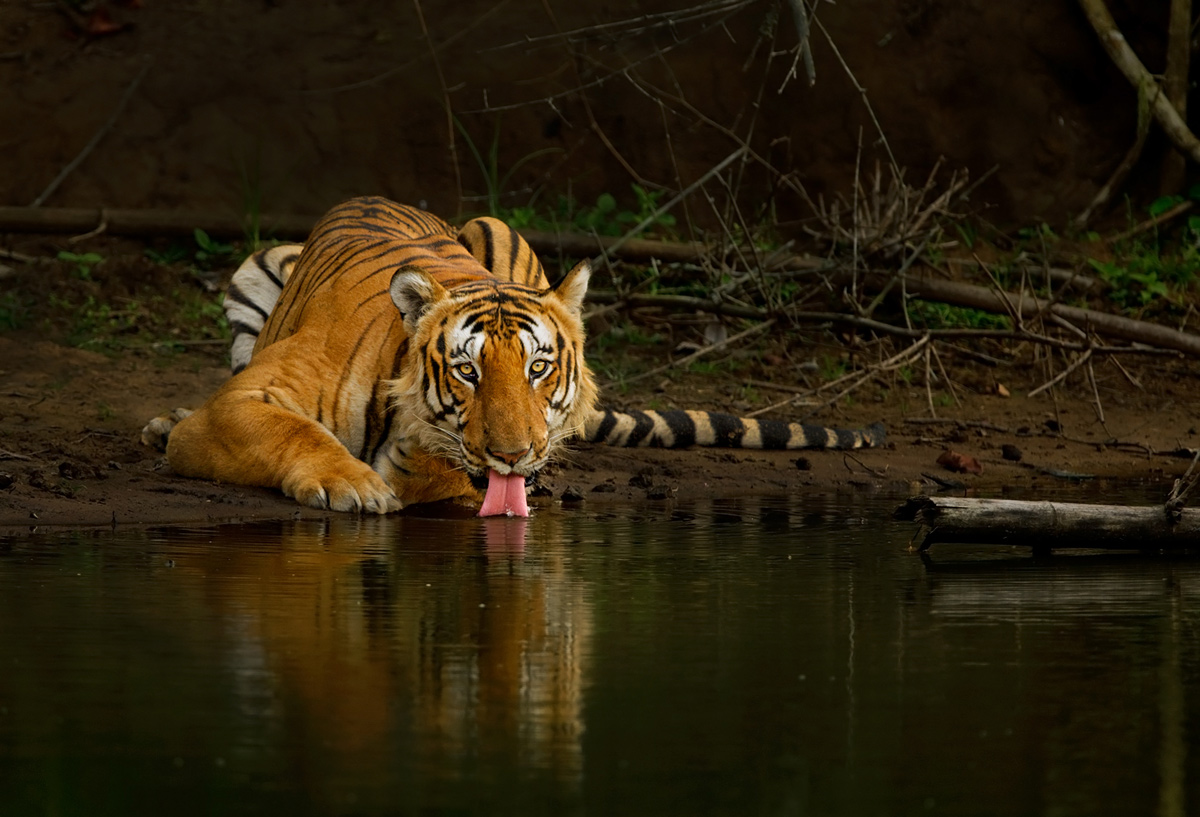 Captured during a private safari in Kabini, this he says was an image that he had in mind for a long time. He wanted to click a tiger drinking water and looking straight into his camera. "It happened on a golden winter evening when one of my favourite tigresses, Dindi, obliged and gave me one of my most memorable frames," he says.
4. The Temple Family from Kabini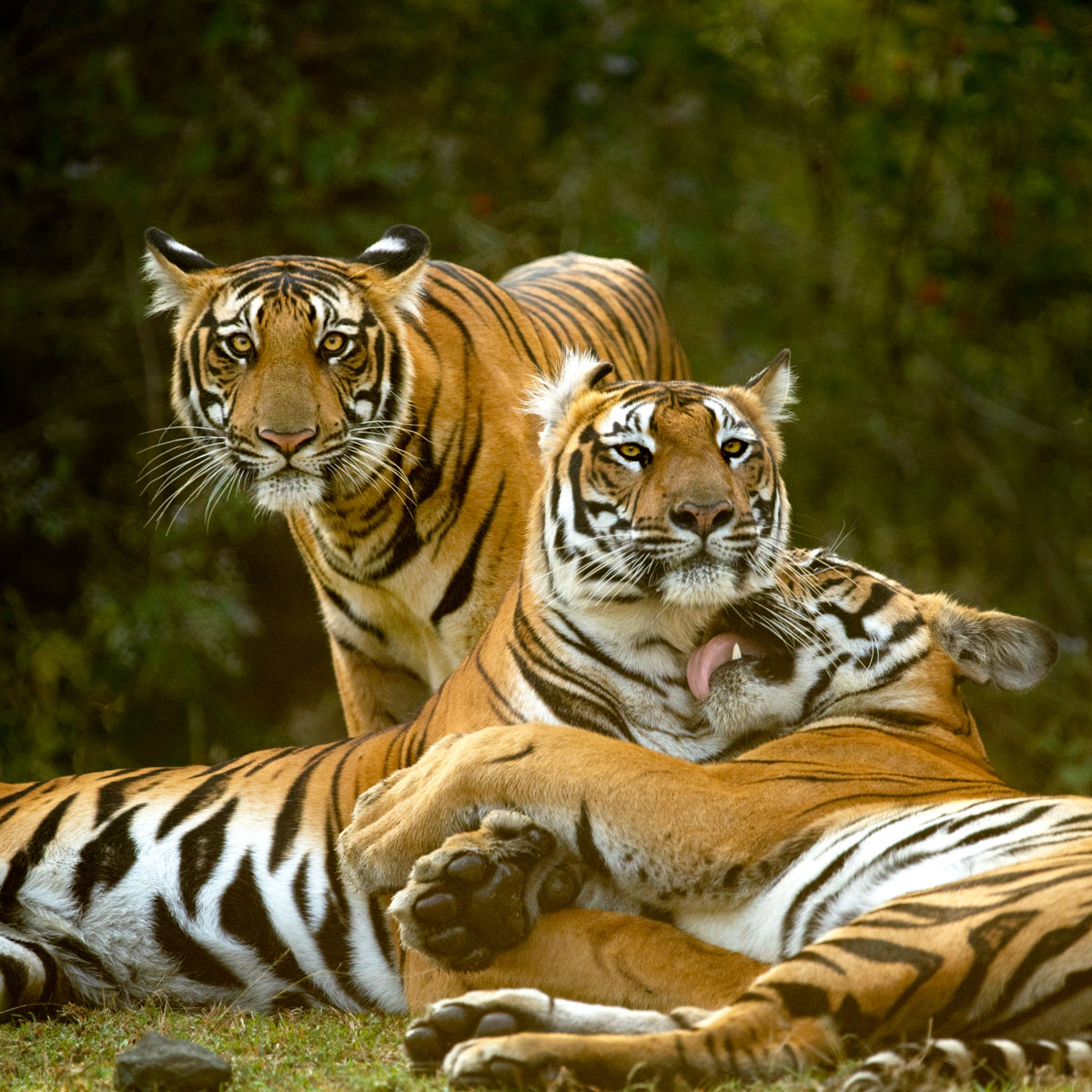 The Temple Family, with his favourite tigress and her two male cubs, was a star attraction last year. "They would spend a lot of time around the ancient ruins of a Chola temple. One of the cubs was extremely bold and the other very shy. It was fascinating to see their interaction," he adds.
5. The Eternal Couple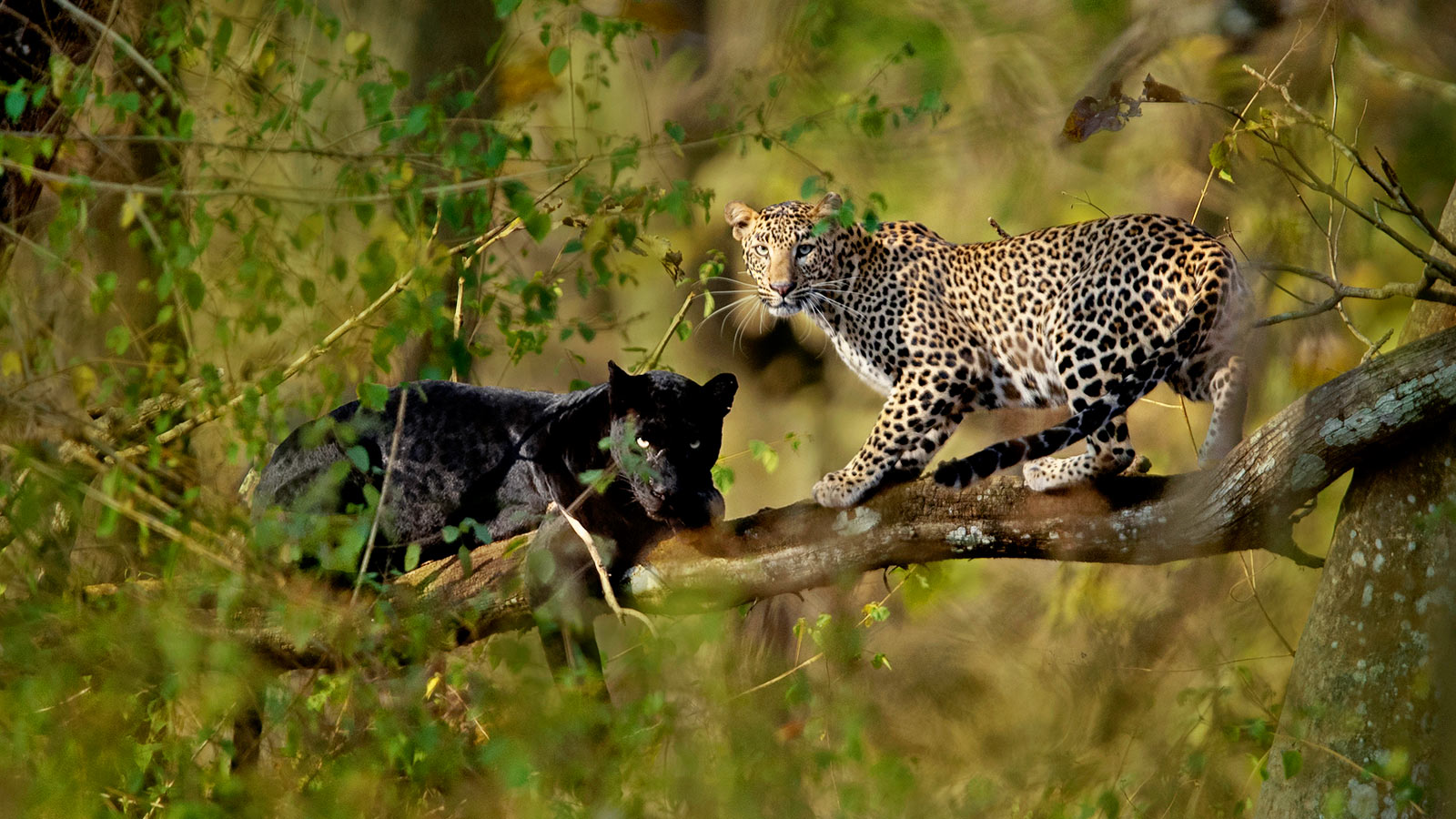 Other species of big cats that excite Hunugund are the panthers and leopards.
His click last year titled, The Eternal Couple, was much talked about. Saaya, a black panther, and Cleopatra, a leopardess, had united after courting for four long years. And, Hunugund had clicked the duo on a winter morning, after being alarmed by a deer.
"I can still close my eyes and relive that moment every single day of my life. There was certainly a lot of waiting and patience that went behind it. I had waited six days for this in the same spot since I could hear them mating about 100 metres away in the thick undergrowth but could not see them due to limited visibility. They had made a large kill and would not move until it was over. That is where the knowledge and years of experience of following and tracking the panther, came in handy. I just had to wait at one of his favourite paths where he would get her. It was at the edge of his territory, and he did this after six days, but it was worth the wait. I could even wait for six years for a moment like this," he tells us.
He calls this as one of his most challenging and memorable shoots, as it required a lot of effort, patience, and sacrifice.
Understanding the big cats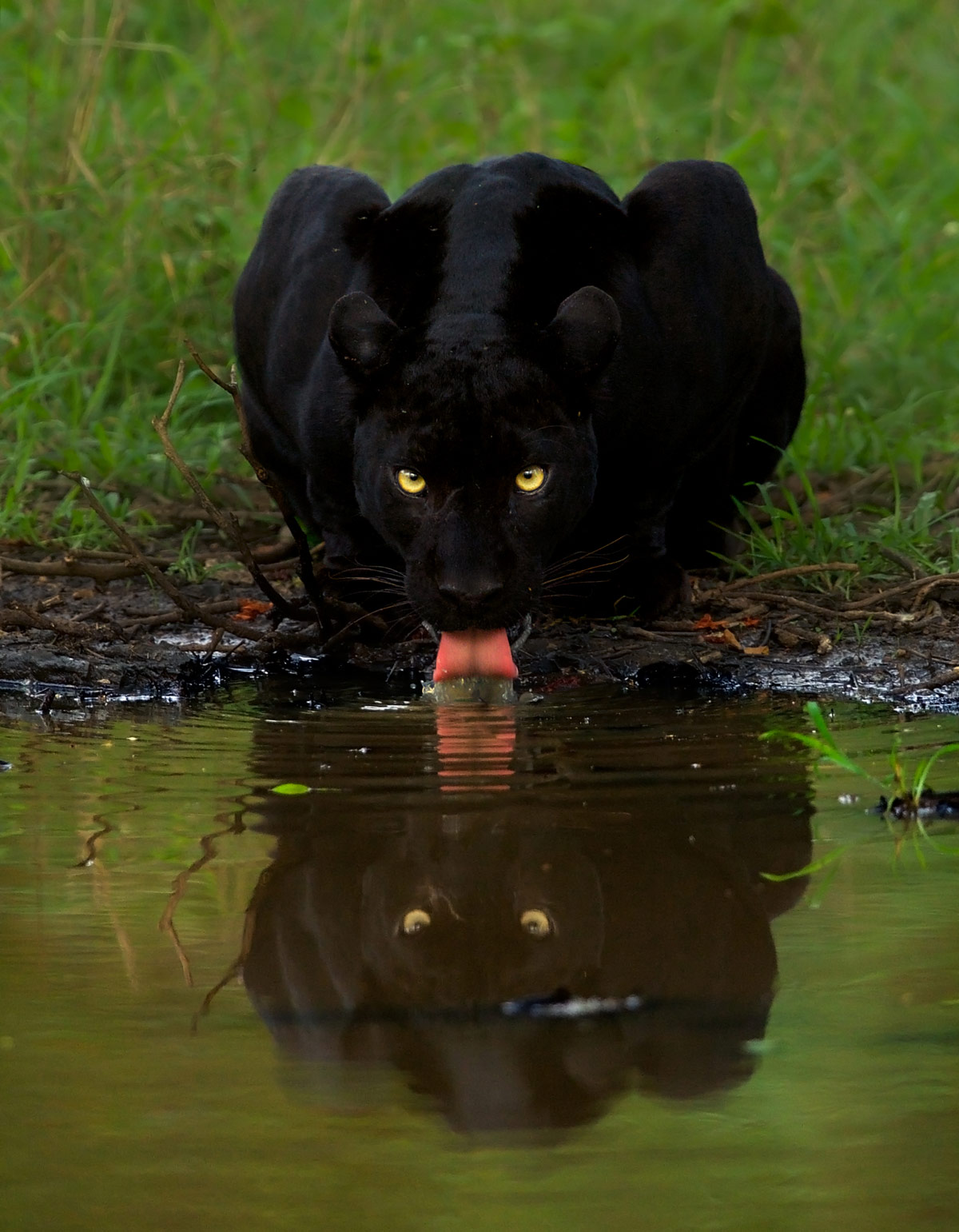 It is all about studying the behaviour of these animals over years.
When they wake up from their slumber and start yawning and licking themselves, that means that they are about to start moving, so it's time to be ready with the positioning and the camera settings.
You have to be on your toes most of the time. The animal could be sleeping one second and start chasing a langur the next.
It is challenging but unlike most other forms of photography, has an element of surprise. You never know what you are going to encounter at the next bend.
You could be waiting for days and months and years for that perfect shot. But when it happens, those few seconds are magical.
Touring the woods
Hunugund has been travelling and exploring wildlife for years now, and his offbeat favourites include the East African nations of Kenya and Tanzania. "The interwoven relationship between the Masai tribe and the wildlife around is amazing. They depend on the grazing grounds which are also used by the animals of the park and hence are always in conflict with each other. But it is well-managed and balanced. It is fascinating to see how they have lived like this for centuries together," he says.
He now plans to explore North East India, which he says is a different ball game all together with some stunning landscapes and endemic species.  
Some of the clicks from his bucket list include, the clouded leopards of the North East, the red panda in Sikkim, the birds of the Rann of Kutch, the polar bears in the Arctic, Jaguars of Brazil, Pumas of Patagonia, and more.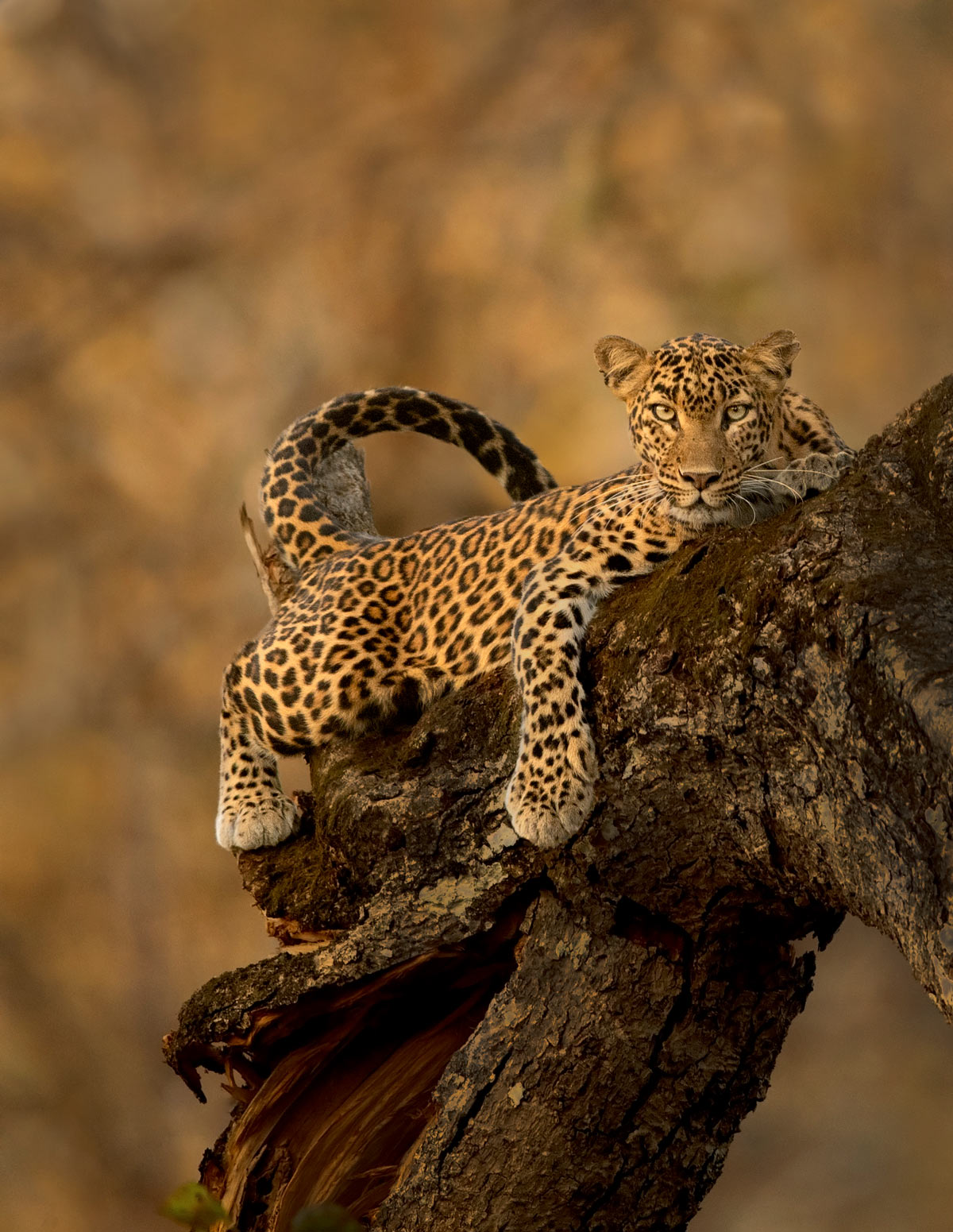 Customised wildlife tours 
If this, has you intrigued, Hunugund offers private, customised wildlife tours to tourists.
Offering a completely different insight into the jungles and their beings, the main focus on his tours remains on tracking the big cats. However, other animals aren't ignored either.
"It's about the history of the place and people, which are such a crucial part of any landscape. And of course, when the big cats show up it is again about the history of their lineage, generations, intricacies, and their behaviour," he says, adding that though there is no guarantee of spotting any animal since it is wildlife and it's unpredictable, but that's the beauty of it.
Photo: Mithun Hunugund