As you probably already know, Goa is a popular vacation destination. This tiny but dynamic state is known for its pulsating nightlife, beautifully preserved Portuguese landmarks and churches, exciting streets, and, of course, its dazzling white sand beaches. Travellers from all over the world come to Goa to experience the paradise that never fails to satisfy. While the most valuable mementoes are the recollections of unique things one has done in Goa, travellers can also bring back gifts for loved ones or even use them to pique the envy of others back home. The importance of buying becomes clear here, and the shopping opportunities are truly limitless. There are so many places to go shopping that it's like a carnival: from corner stores to huge shopping centres, from permanent markets to temporary flea markets that sprout up every few blocks. However, this article will help you distinguish the best places to shop in South Goa.
Best places to shop in South Goa
1. Colva Beach Market
Colva's seaside market is the place to go if you're on the hunt for fashionable clothing, thoughtful gifts, and trendy extras. If you look carefully, you can save a lot of money on everything, from high-end designer labels to reliable locally-made goods. It's a bonus if you're good at haggling as well.
Where: Colva Beachside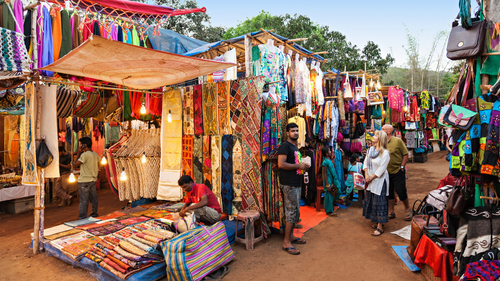 2. Palolem Beach Market
Palolem Beach Market sells everything a tourist would want, from clothing and accessories to local specialities. You can find the nicest accessories and outfits here, despite the fact that some people claim it seems more like a collection of stalls sprouted up near the shore than a real market. The market's self-described hippy vibe adds mystery and allure, drawing in even more interested observers and shoppers.
Where: Palolem, Canacona
3. Golden Heart Emporium
Do we have any readers among us? A trip to Margao's Golden Heart Emporium is in order. It is one of the best bookstalls in the state, as seen by its stacked-to-the-gills bookcases and its maybe best selection of genuine Goan literary artists. There's also a cyber café there where you and your pals can hang out and surf the web or have a little chit-chat.
Where: Abade Faria Rd, behind Post Office, Pajifond, Margao
4. Margao Municipal Market
Is the sight of something rare and lovely for sale enough to make your heart skip a beat? Among the many great places to shop in South Goa is the Margao Municipal Market. Shop for local spices and typically Goan ingredients, so you can take them back home to stir up recipes when you miss your Goa holiday. There is no better evidence of how relaxed and accommodating the vendors are than the fact that the market is closed from 1 to 4 pm. To avoid the hassle of trying to obtain a parking spot, you may wish to park further away and walk the distance. That extra time is yours to invest in exploring the depths of this market in search of some rare gems.
Where: Opposite Municipal Gardens, Margao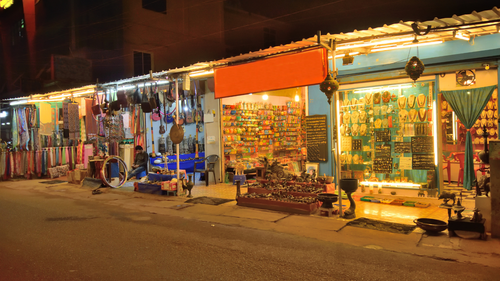 5. Jaali
Shopping for the best of the region's handicrafts is a must while visiting a place as artistically versatile as Goa. This is Jaali, a cute shop that contains an impressive array of Americana, including artwork, textiles, antiques, and clothes. The high quality of the wares offered here makes it a top destination for shopping in south Goa.
Where: Behind Patnem Beach, Canacona
6. Goa Animal Welfare Trust Shop
How about you rack up some credit on your good deed piggy bank while you shop? The Goa Animal Welfare Trust Shop is thus named because it truly allows customers to have their cake and eat it too.
Proceeds from this tiny thrift store's sales of used books and memorabilia from all across the state go toward supporting local animal welfare efforts.
Where: Old Police Station, Bansai, Salcete
7. Margao Covered Market
The covered markets in Margao, a tiny town in south Goa, are a popular destination for visitors. The primary items sold in such stores are famous food items in Goa, especially various types of fish and fish-related products.
This market is one of the best in Goa because of the wide variety of food that it sells, especially seafood. It is during the early morning that this place is the finest to be visited yet during the day too, the place retains its particular character intact.
Where: Comba, Margao
8. Gandhi Market
The Gandhi market, now one of the best shopping places to find the best deals in Goa, used to be known solely as a place to buy fresh food, especially produce. However, as time has progressed, this location has evolved into a have-it market, selling not just cheap clothing, but also purses and shoes.
Since the renovation, this market has become a subsection of the municipal market, yet its distinctive character remains unchanged.
Where: Sanscar Society, Margao
While you're holidaying in Goa, be sure to try the state's famous food, the famous Goan liquor. While there are several unique things to do in Goa, there are a lot of activities you can indulge in South Goa as well.
---
Photo: Shutterstock