What's Goa without palm-fringed shorelines, sunny beaches and the susegad vibe? While this is exactly what draws you to Goa each time, let your next trip be a true revelation when it comes to Goan food.
Goa is an unexplored foodie paradise that leaves you spoilt for choice with a mélange of cuisines and fine dine and local eateries, we suggest you ditch the European fare and explore the diversity and depth of authentic Goan flavours.
Here's a list of the top 10 Goan delicacies—vegetarian and meaty treats—that have stood the test of time and are all-time crowd-pleasers. All food is tried and tested by those who know their food the best. Get those bibs out and get ready to dig in!
1. Cutlet Pao at Teixeira's Fast Food
At the side of the Nossa Senhora dos Remedios chapel, on the banks of the Mandovi, is a four-seater restaurant called Teixeira's. It is named after the owner, Bernard Teixeira, a former bodybuilder whose passion is visible in the posters that cover its yellow walls.
A perfect snack for the evenings, people flock here in the evenings to take back parcels of the most popular and delicious cutlet pao in Goa. A fried, rava-coated slice of beef, marinated in local vinegar, is stuffed between the bread. The regular chutney is replaced with sliced cabbage and fried rava crumbs for an extra dose of crunch.
At Ilhas, Ribandar
Cost: Rs 80
2. Ros Omelette at Sandeep's Ras Omelette
If you haven't tried Ras or ros omelette in Goa, don't even call yourself a foodie. A quintessential Goan street snack, it consists of a chicken or mutton gravy (ras) made in xacuti style and served with an omelette. Garnished with chopped onions, lime and pao, ros omelette is a hearty meal when the hunger strikes. Sandeep (Bhonsale)'s gaddo (stall) was legendary at the Garcia de Orta garden near the Panjim Church.
The stall now boasts a new, permanent address. "I think he's the best because he actually serves chicken xacuti on top of the omelette and it's not just watered-down gravy with fading traces of xacuti masala in it. Served with toasted pao that makes a big difference, it's a favourite local joint that never disappoints," says food and travel blogger Jade D'sa from That Goan Girl.
At Navelkar Arcade, Dr Atmaram Borkar Road, Panjim
Cost: Rs 60
3. Choris Pao at Valanka Fast Food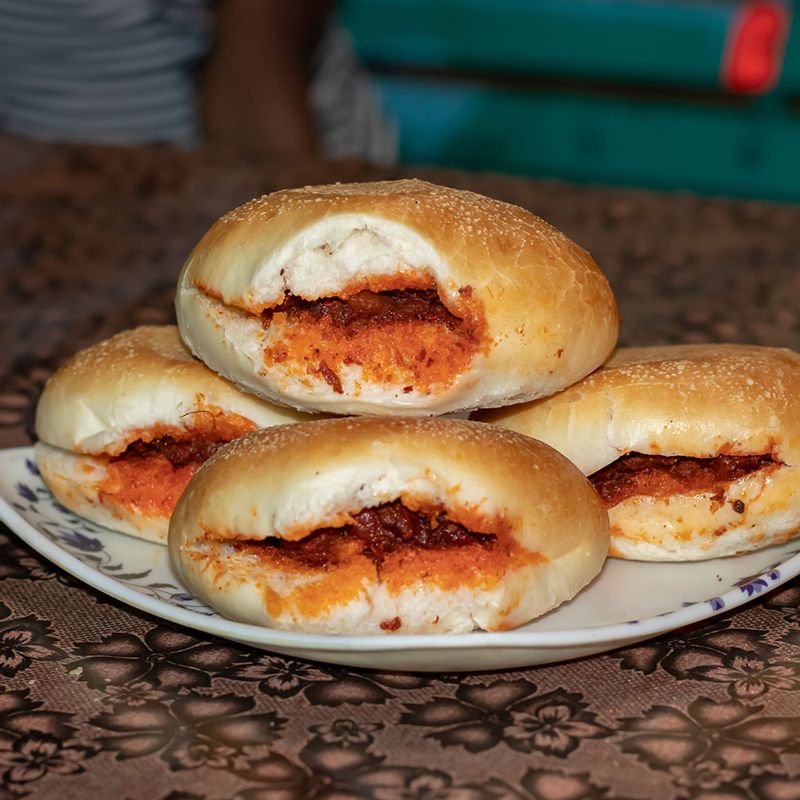 'Goencho Choris Pao, very tasty' is the sign outside a small shop attached to a home in Betalbatim. In the words of Valindo Godinho, content creator (Foodcrumbs.Goa), "It's the best in the state as they nail the bread to sausage ratio to perfection. The sausages have the right mix of fat, meat and spices. They do not add any additional items to the sausage bread, keeping it just the way it is supposed to be." Trust him when he says you never leave the place feeling unsatisfied!
Consistent and delicious, the tiny establishment–just one table with walls covered with religious figures and posters–is run by Caetano Tavares and his wife Santana; they named the place after their daughter. Godinho recommends the double choris pao with extra stuffing for a heavenly lunch.
At House No 93, Second Ward, Colva
Cost: Rs 50 (extra sausage bread)
4. Bhaji Puri at Café Tato
A treasured Goan snack, eaten as much for its flavour and ability to fill you up, as for its affordability, is bhaji pao or bhaji puri. Food and travel writer Shraddha Uchil first had a bite of the delicious bhaji puri at Café Tato during college–it became a ritual to stop at Tato's for a quick breakfast before heading into an examination.
"They have many bhaji options on the menu. My recommendation is the mix bhaji. It is a combination of sukhi bhaji–a semi-gravy preparation of lightly spiced, finely diced potatoes and patal bhaji– white peas cooked in a coconut-heavy, spicy gravy," she says. She recommends eating it with hot puris; pao is also an option. Try this authentic Goan dish for a simple yet filling homely food experience.
At G3, Souza Towers, Dr RS Road, near Municipal Garden, Altinho
Cost: Rs 35
5. Cutlet at Cheryl Bar and Restaurant
There are three watering holes in Curtorim – Cheryl, Cassiana and Lenny – vying for the top spot when it comes to making the best cutlets. For food and travel writer Fernando Monte da Silva, Cheryl tops the list. "There is a certain tenderness to the meat, which in all probability has been beaten into submission, before being rubbed with a spice mix, coated in breadcrumbs and then tossed into a flaming hot pan," he says.
The proprietor of the establishment, Clemente adds to the charm as he ambles about the place with a gap-toothed smile as warm as the cutlets themselves. A close brush with the warm susegad hospitality and good food makes for a memorable experience indeed.
At Curtorim - Macasana - Modcai Road, Macasana
Cost: Rs 100
6. Salted tongue at Club Nacional
If there's a Goan dish that hasn't travelled much outside of Goa is the salted tongue–a popular dish sometimes enjoyed as a bar snack. In this recipe, the beef tongue is immersed in a brine solution of saltpetre (a pink preservative preferred for curing) and then cooked till tender. The outer skin is discarded, and the meat is enjoyed cold, either plain or in a sandwich.
"The salted tongue at Club Nacionale is always on point–buttery soft, served warm, and with the right amount of saltiness," says Goan chef, Gracian De Souza. "It's best had by itself or in a hot crusted poe."
At Vaglo Building, MG Road, Altinho, Panjim
Cost: Rs 120
7. Sungta Bhaji at Gopika Hotel, Nuvem
There's a variation to mix bhaji, also equally loved, but with a twist of dried prawns. The Sungta Bhaji or prawn bhaji is like a patal bhaji but replaces the peas with beetroot. Dried prawns are added to the mix for flavour and give the vegetable dish a new twist that fish lovers can vouch for.
"It tastes really good and is ideal for a quick bite," says Schubert Fernandes, PR and communications professional, who enjoys his sungta bhaji at Gopika Hotel in his village of Nuvem. Gopika is a small non-fussy eatery with blue walls and usually filled with hungry hordes at lunchtime.
At Nuvem, down the road from Carmel College
Cost: Rs 50
8. Aamtachim Solam at Sydney Bar
Sydney Bar occupies a sweet spot in Old Goa overlooking a mangrove. The small space has a thatched roof and is known for its home-cooked Goan food. "The mother of the current owner makes this fabulous aamtachi solam. Small-sized prawns are boiled in tamarind water with raw chilli and onion. You snap off the head and toss it in your mouth. The light bites are delicious and packed with flavour," says Mackinlay Antonio das Merces Barreto, the owner of local adventure/tour company, The Local Beat.
At Old Goa
Cost: Rs 170
9. Samosa at Café Real
Freelance journalist Arati Das has a 20-year-old food tradition in Goa that involves a favoured snack that she calls the Goan samosa. Her place of choice is Café Real. "The Goan samosa is crisp, has a covering made of maida and salt, and stuffing of mixed vegetables. Deep-fried in ghee is what makes this samosa truly unique. Rich, full of flavour and filling, it comes served with green chutney and tomato ketchup.
At MG Raod, opposite Azad Maidan, Panjim
Cost: Rs 42
10. Pastéis de Nata at Nata Goa
Churrasco Do Patrao & Nata Café is a pretty place with outdoor seating in Anjuna. Café by day and a restaurant by night, on offer is typical Portuguese food and their most famous dish is the Pastéis de Nata or Portuguese custard egg tart.
"This place is a local legend. Their produce is consumed in a matter of hours. Fresh and perfectly crisp, the best time to head there and have them is around 4:00 pm to 5:00 pm when they do a second round of fresh bakes. They have to be eaten hot," says writer and F&B consultant, Nolan Mascarenhas.
At 907, Market Road, Pequeno Peddem, Monteiro Vaddo, Anjuna
Cost Rs 120
---
Photo: Shutterstock