In the wake of the Save Mollem campaign, Goa's natural beauty has hit the limelight. Did you know that in the small state of Goa there are seven wildlife sanctuaries and nature parks? The state is also one of the most popular destinations for amateur bird watchers and seasoned ornithologists. 
We give you reasons why you need to look at Goa with a birder's binoculars—Goa is classified as one of the endemic bird areas of the world. "It's a tiny place that holds a whopping 4% of the world's bird species," Revati Victor of Different Doors, a travel blog, explains. The diverse ecosystems here range from coastal, mangrove, estuarine grassland, wetland to the unique Western Ghats. While places like the Socorro Plateau, Chorao Island, etc, are popular bird-watching locations, "I was thrilled to discover the numerous avian species that have been arriving in my backyard at Arpora woods."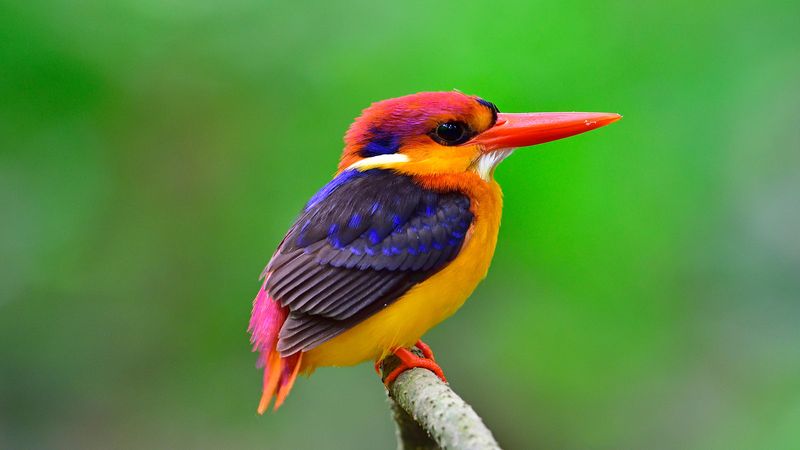 Bird watching? Sounds dull? Victor, who started birding to kill time on tiger safaris, debunks the myths, "It's a very meditative activity and no meant for just retirees!" As she started identifying bird species during her safaris, understanding their behaviour and the connection to the world around us, the more fascinated she became with bird watching. Birders spend long bouts of time in the quiet of the great outdoors without the easy indulgence of distractions. Bird watching is a great opportunity to reflect on your life or to just zone out and think calming thoughts. "Meditation can slow the decay of your brain's grey matter, which happens naturally as we age. There's also something inherently refreshing about the sound of a bird call, isn't there?" she muses.
Goa is home to more than 450 species of birds, 24 of these are endemic to the Western Ghats and 13 species are in Goa. Many of these bird species are found in Bhagwan Mahavir Sanctuary such as the Ceylon Frogmouth, Malabar Trogon, Black-backed Dwarf and Blue-eared Kingfishers, White-bellied Woodpecker, Great Pied and Malabar Pied Hornbills, Nilgiri Woodpigeon, Malabar Whistling-thrush, White-bellied Blue Flycatcher, Forest Eagle-owl, and Indian Pitta. Apart from the sanctuaries, rare bird species Asian Paradise and Tickell's Blue Flycatchers, Greater Racket-tailed Drongo, Heart-spotted Woodpecker, Flame-throated Bulbul, Velvet-fronted Nuthatch, and Dark-fronted Babbler, are found in green pockets throughout Goa. Victor had the opportunity to catch glimpses of three pairs of Collared Kingfisher in the Chorao Island mangroves from a boat, "but a creature sitting on a branch right outside my window, waiting for me one morning. The extremely elusive Indian Scops Owl, who sat staring at us all morning!" was the biggest highlight for her.
Revati Victor's birding gospels:
1. Silence will be rewarded
The quieter you are, the greater your chances of not scaring birds away. Go as early in the morning as possible (or at sunset) since bird activity typically halts during the heat of midday. 
2. Wait and watch 
Once you observe a bird for a while, it's behaviour will start becoming clear to you, you'll understand what it's doing - is it trying to court a mate? Is it hunting? Nesting? Wear comfortable shoes, a hat, and carry plenty of water - it makes all the difference.
3. Take your trash with you 
It is heartbreaking the number of times I've seen trash being tossed from cars by visitors and locals alike. 
4. Stop feeding the wildlife 
Their systems weren't made for biscuits and chips, and you're likely killing them with your kindness. Not to mention you're interfering with their natural foraging or hunting behaviour—monkeys have adapted quickly to beg on the roadside along Amboli Ghat for instance—and it's just not sustainable. 
Goa is one of those last bastions of easy to access expanses of natural beauty we have in India. There's so much more to see beyond the beaches and the nightlife. Particularly as tourism opens in these difficult times, exploring the natural areas as a great, safe way to enjoy the destination.
---
Photo: Shutterstock