Being one of India's most renowned tourist places, a trip to Ladakh has been on all our bucket lists for the longest time. Every time there is mention of Ladakh, the only thing that pops up in our head is a bike ride amid the snow-capped mountain ranges and vast sand beds of the district. However, Little Tibet has much more to offer.
This comprehensive guide will help you discover all the reasons why you need to visit Ladakh. Ladakh is home to 20 passes that make it the Land of High Passes as it offers its guests the pleasure of riding on the highest motorable road in the world, and much more that you may not be aware of.
15 Things Ladakh is Famous For
1. Monasteries
As the majority of its population practice Buddhism, the rugged terrain landscape of Ladakh is dotted with numerous monasteries. Along with religious and cultural significance, these beautiful monasteries attract visitors for their majestic architecture.
Although each monastery has a peaceful ambience, they are unique in one way or the other. Some of the most famous ones are Lamayuru, Mulbekh, Hemis, Thiksey, Alchi, and Likir.
2. The Zanskar and Indus Sangam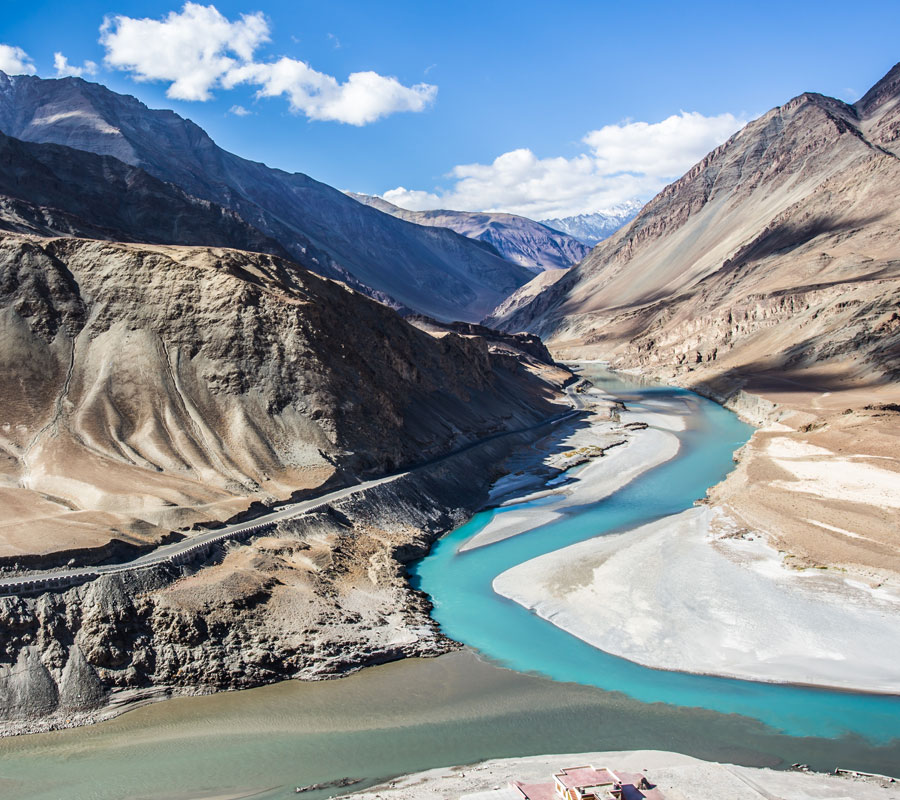 The natural beauty of all of Ladakh's fascinating spots is undoubtedly eye-catching. However, you will get a glimpse of heaven, when you witness the rivers Zanskar and Indus merging near the scenic Nimmu valley. The rivers are clearly distinguished by their colours. The confluence can be best viewed during the spring-summer months, which are March to May. The confluence point of the Indus and Zanskar rivers is located about 35 kilometres from Leh.
3. White river rafting
River rafting, an adrenalin-pumping activity, gives one of the best experiences of thrill in Ladakh. The 30 km stretch on the Zanskar River from Chilling to Sangam is nothing but a peculiarly intense experience. The best time to visit Ladakh for river rafting is June to September as during this period there is no snow.
4. Gurudwara Pathar Sahib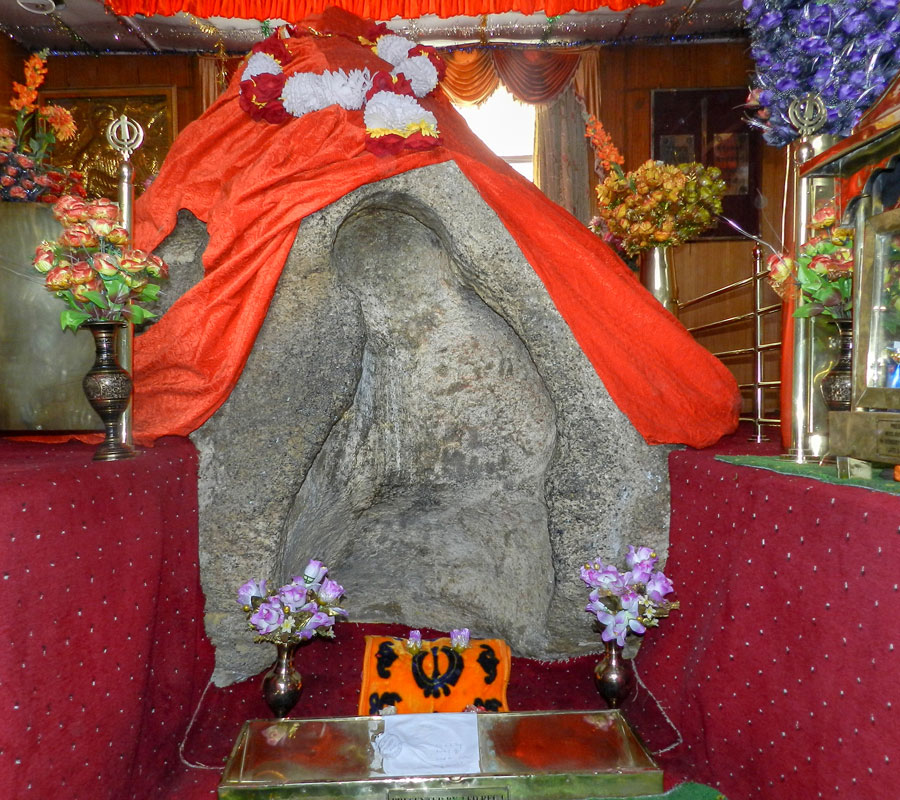 Next on the list of things Ladakh is famous for is Gurudwara Pathar Sahib. Interestingly, this revered place located on the Leh-Kargil road has a history. According to folklore, once Guru Nanak Ji was meditating at this place and an infuriated demon had thrown a big rock to obstruct his prayers. However, the boulder turned into soft wax that failed to harm him. Seeing this, the demon asked for forgiveness for his deeds and Guru Nanak Ji forgave him. 
5. Nubra Valley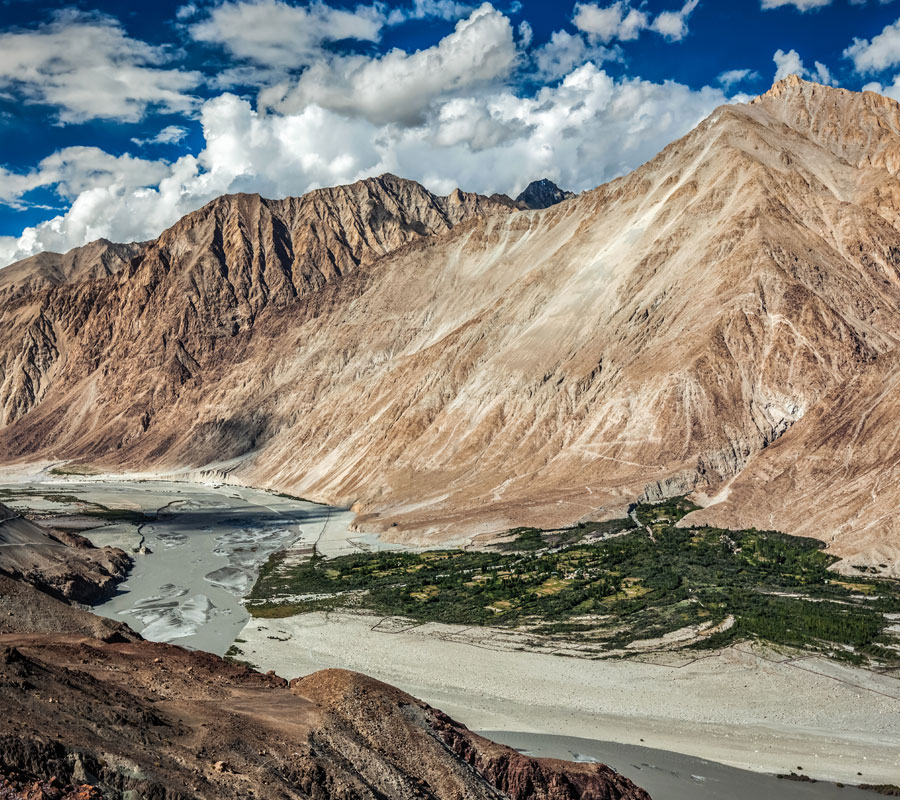 The paradisiacal location of Nubra Valley has mesmerised many adventurists and travellers across the globe—so, it is safe to say that a Ladakh tour will be incomplete if you don't visit the Nubra Valley. It is home to the Diskit Monastery, Hunder Sand Dunes, Samstanling Gompa, Yarab Tso Lake, and the villages of Turtuk and Panamik.
From April to June, the sun shines bright and keeps the day temperatures warm. On the other hand, from September to October, chill sets in the Nubra Valley. PostOctober, the Khardung La closes down due to excessive snowfall or rains. Thus, plan your Ladakh trip accordingly.
6. Highest motorable passes across the globe
Taking a road trip in the "roof of the world" is a must-do. In September 2021, India inaugurated the Umling La Pass in Ladakh. Apart from enjoying the ride, tourists can also see rare medicinal plants, participate in snow sports activities, see nomadic livestock, and much more here. Umling La Pass has also set a Guinness Book of World Records for constructing and blacktopping the world's highest scalable road.
7.Tso Moriri and Pangong Tso lake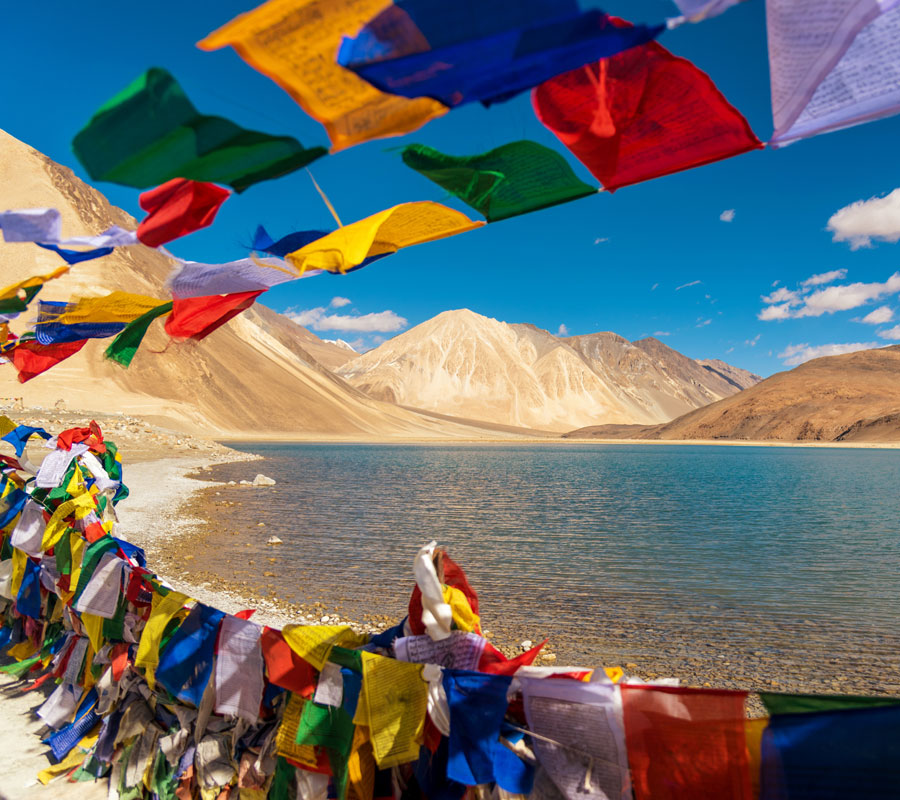 If you haven't seen Pangong Tso Lake in real life, its pictures on the internet will leave you wondering if the location is actually in India. Well, it is! While Pangong Tso is the most popular lake in Ladakh, Tso Moriri is the largest high altitude lake located in India. Pangong Tso will bless you with its breathtaking view, while Tso Moriri's beauty and serenity will leave a mark on your memories.
8. Magnetic Hill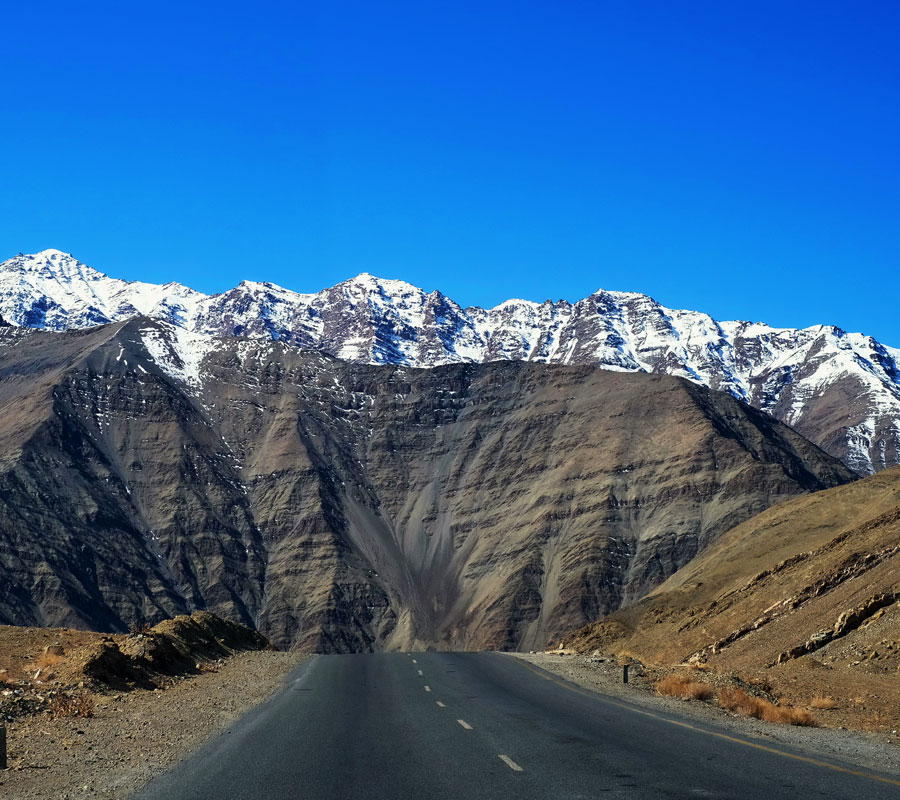 Magnetic roads are the stairway to heaven for many bikers and travellers. And, a living example of it is Magnetic Hill, located at a distance of 30 km from Leh n the Leh-Kargil Highway. The best time to visit the Ladakh Magnetic Hill is from July to September as the roads are clear at this time of the year and the weather is just right to explore Ladakh and its beauty.
Note: Stock enough snacks in your vehicle before you head for the Magnetic Hill in Ladakh as there are no eating joints and hotels in the region.
9. Hemis National Park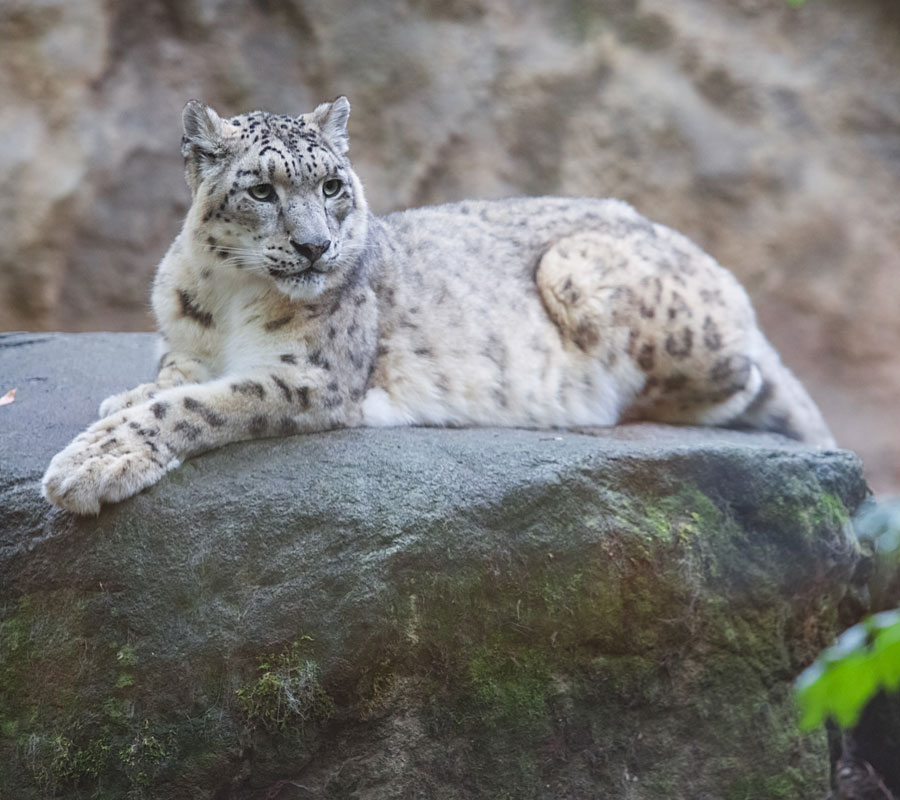 Located in the lap of immaculate valleys in Ladakh, Hemis National Park is one of Asia's most well-known natural habitats of the Snow Leopard. The altitude of Hemis National Park ranges between 3000-6000 meters, which makes it the highest in the country. The national park is named after the 400-year-old monastery, Hemis Gompa. The experience of witnessing the wildlife at a high altitude is rare. 
10. A soothing touch for your inner foodie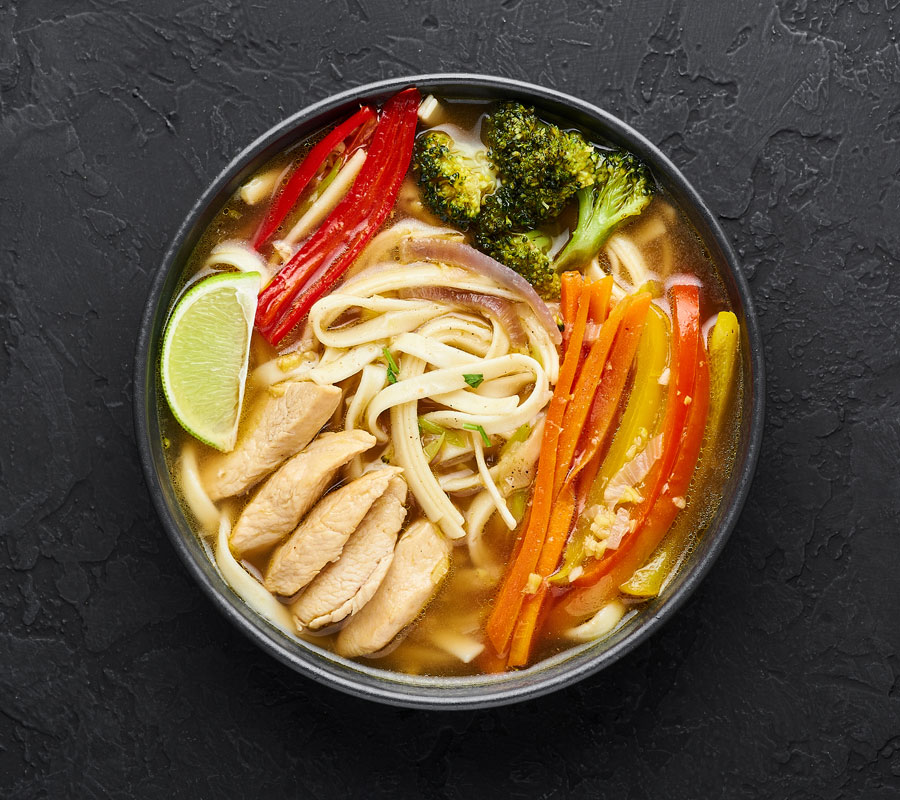 Yes! Apart from Ladakh's scenery, the food here is also one of the main reasons why Ladakh is famous. You will get some delicious momos and thukpa in the region. While momo is not an alien food for many of us, thupka is a Northeastern delicacy that refers to any soup or stew combined with or without noodles/pasta. You can also visit various top-notch Indo-Tibetian restaurants and eateries, where you can devour traditional Ladakhi food.
11. Adventurous bike trips
A tourist spot in India that has the world's highest motorable passes, it is quite obvious that the roads of the terrain can satisfy anyone's craving for an unforgettable enjoyable bike ride.
12. Campaign and trekking
Ladakh has a plethora of options when it comes to adventurous activities, including campaigns and trekking. Places like Chadar trek, Stock Kangri, Markha Valley, Nubra Valley, and Padum to Darcha route are good options for a trek. Meanwhile, camping sites at the lakes and valleys such as Pangong, Tso Moriri and Nubra Valley add to the list of reasons why Ladakh is famous.
13. People of Ladakh
Breathtaking landscapes, crystal clear skies, the highest mountain passes, and thrilling adventure activities are not the only reasons why Ladakh is a good place to plan a getaway. The extremely friendly people of Ladakh should top your list when it comes to exploring the district.
14. Hemis Festival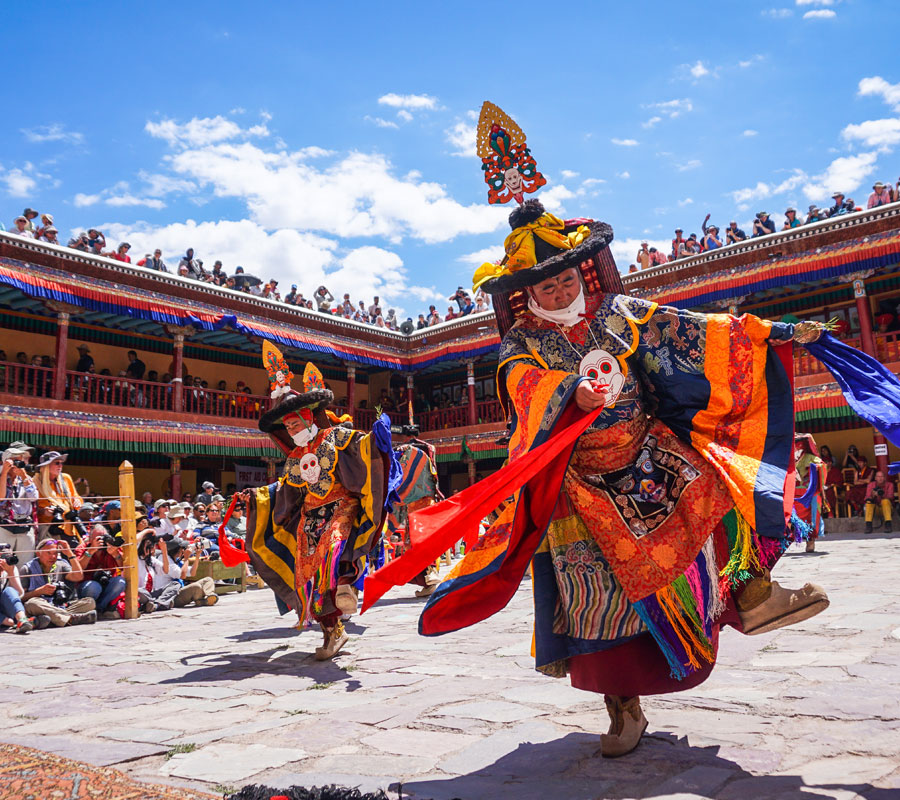 Hemis Festival is said to have originated in the eighth century. According to Tibetan and Buddhist Legends, Lord Padmasambhava, also known as Guru Rimpoche, is believed to be the local saviour who banished demons and evil spirits—and the festival is celebrated in his honour. This grand festival in Ladakh is all about its Buddhist citizens and their culture.
This year, the jaw-dropping celebration of the Hemis Festival will be hosted on July 8th, 2022 and will end on July 9th, 2022. The Cham dance is one of the main attractions of this festival.
15. Best apricots you've ever tasted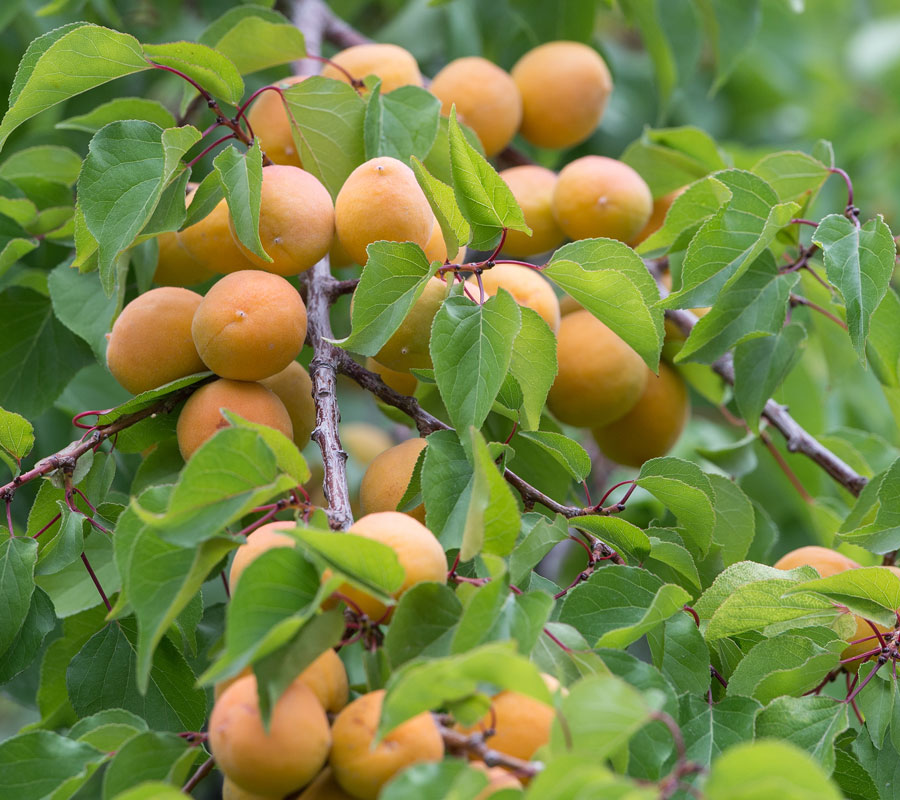 For the unversed, Ladakh is home to the world's sweetest apricots! Typically, apricots ripen in Ladakh during July, August and September. You can easily spot apricot sellers at the Khaltsi check-post.
These pointers are just the tip of the iceberg. There are still uncountable things to explore in Ladakh. Plan a trip to this most sought-after destination this summer for an unforgettable experience. 
Photo: Shutterstock