Ladakh's cuisine is perhaps one of the least known of India's regional fares. The general misconception is that it's all about momo and thukpa. For some variation, there's thenthuk (flat noodle soup with meat and veggies) and tingmo (steamed bread with or without filling). But these are Tibetan dishes that gained popularity in India after Tibetan exiles settled in places like Delhi, Dharamsala, Darjeeling, Sikkim, and Bylakuppe down south. So, what is Ladakhi food?  The traditional homestays on our off-road expedition 'Zanskar & Beyond' with Wander Beyond Boundaries were a revelation.
1. Explore the land of golden apricots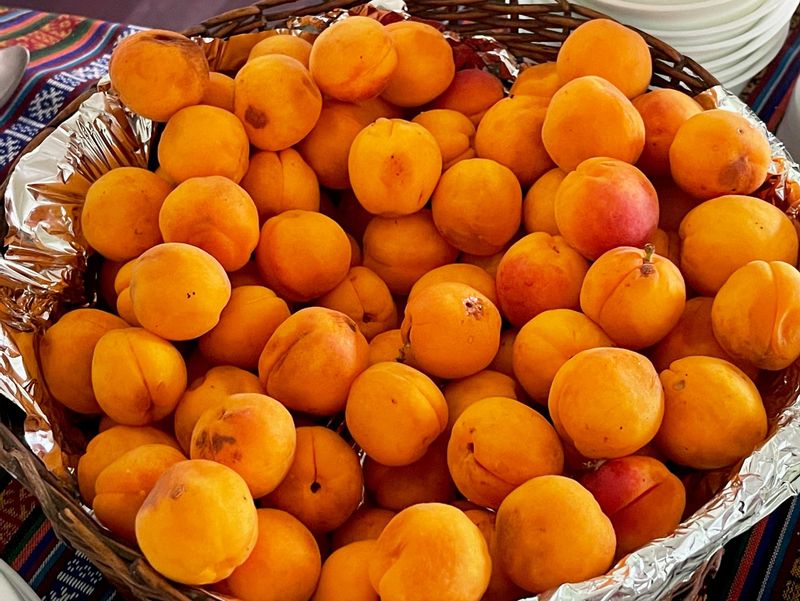 Driving from Leh towards Kargil, we turned right on Indus Valley Road chasing the course of the Indus. Spotting an apricot seller at Khaltsi check-post we bought a packet. Nidhi Salgame, our team lead, and organiser smiled. "There's plenty of apricots where we're going." Khaltsi is the biggest market for apricots that come from the Batalik area further ahead. We were staying with the Brokpas, a tribe believed to be of Aryan descent known for their floral headdress, and vibrant costume. Hotel Aryan Residency at Biama, served as our base to explore the nearby Aryan villages of Dah and Hanu. Located in a green, elevated grove surrounded by a kitchen garden, it overlooked the turbulent Indus. 
Ladakh is a high-altitude cold desert with sparse vegetation, so everyone maintains a garden to supplement their diet with fresh greens, vegetables and fruit. Our host Skidzum Lundup and her mother-in-law Tsering Palmo were tending to their patch when we arrived. At dinnertime, besides a regular spread, they served an unusual buttermilk curry with greens called gantursh paired with pappa/paba (steamed barley balls). A staple food in Ladakh, barley is roasted into flour called tsampa or sattu, often mixed with butter tea, steamed into dumplings, or made into soups. Steamed tsampa is an acquired taste with a strange consistency of soggy cardboard. Thankfully, the accompanying chilli chutney, or, in our case, the tart buttermilk curry, made it palatable.
2. Devour Chhurpi and Chhang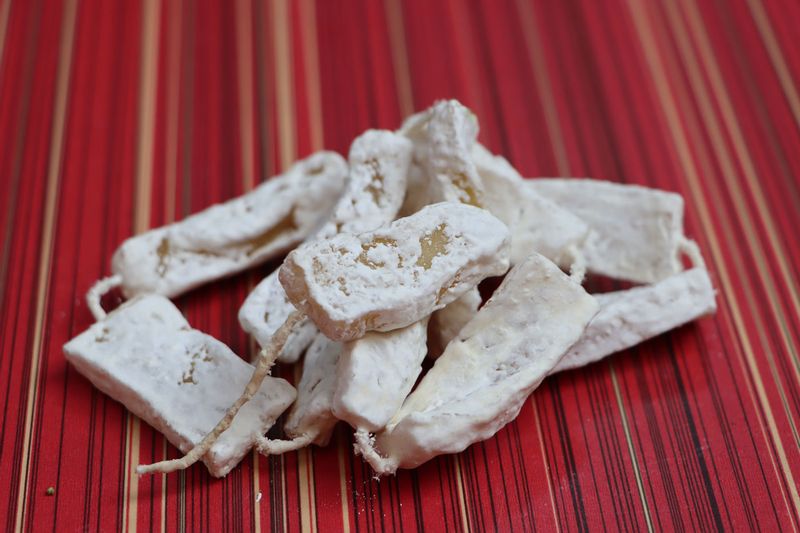 The only thing that rivals tsampa's blandness is chhurpi, the famous Ladakhi yak cheese. Being tasteless, it is often left to ferment till it acquires a tangy, bilious temperament. It's wrapped in jute, pressed hard to rid moisture, cubed and smoked over a fire. The hard dehydrated chhurpi feels like a pebble in the mouth staying for hours and releasing its juices in a miserly fashion! But being protein-rich, it's sustenance in this unforgiving terrain.
Barley is also fermented to brew chhang (beer). We tried the rarer tipple gun chhang, made from fermented green grapes. A village tour through apricot orchards had us gorging on them straight off the trees. Apricot is consumed in many forms – fresh, sundried, stewed, and made into a compote called chemush. The overripe ones are fed to livestock. Even seed or apricot stone is useful, yielding a tiny almond-like nut called giri. Ground apricot seeds are mixed with steamed flour nuggets to make nutritious tapu.
3. Dig into Dastuk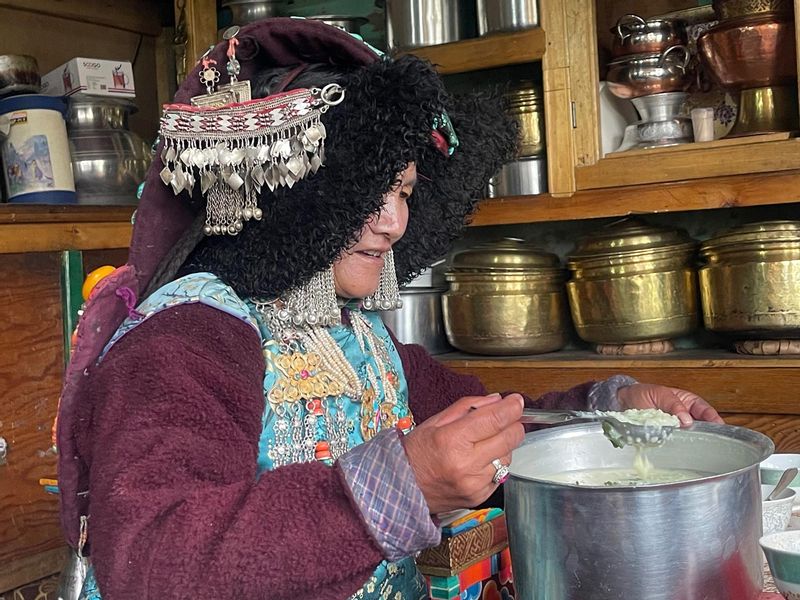 Leaving Biama, our WBB convoy continued via Kargil and Drass towards Zanskar. At Rangdum, our highest overnight stop perched at 13,000 ft, we stayed in a traditional home where we scooped into skyu (dumpling soup), potato with greens with rice for dinner, and delicious dastuk for breakfast. Best consumed on cold wintry mornings, dastuk is Ladakhi comfort food – a rustic porridge of rice, yak milk and butter, salt, pepper, wild greens, and capers!
4. Plate full of mok-moks or momos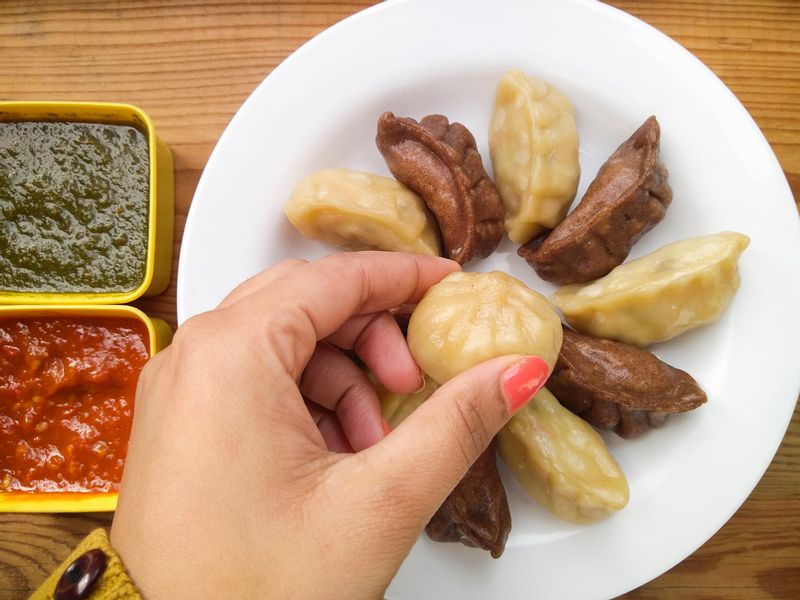 At Changtang Restaurant in Padum, Zanskar's district headquarters, we tried a local Zanskari meal of tchupsay (local bow-tie pasta stew-like chutagi), skyu, and the most divine mok-moks (or momos) stuffed with mutton, chicken, and spinach and cheese. In cold regions, soupy dishes fortified with meat, vegetables or homemade pasta and dumplings provide much-needed comfort and nourishment and work as hearty one-pot meals. 
At the remote village of Purne overlooking the confluence of the Lungnak and Tsarap chu rivers, our hostess, Stanzin Garskit helps her mom and sister run Dolma new campsite. A Ladakhi YouTube sensation with a degree in Hindustani Classical music from Delhi University, she churned out everything from parathas, veg momos, and flavourful mutton curry with the welcome addition of turnip, perfect with rice. We headed back via Lamayuru to Leh where we were dying to go back to Alchi Kitchen.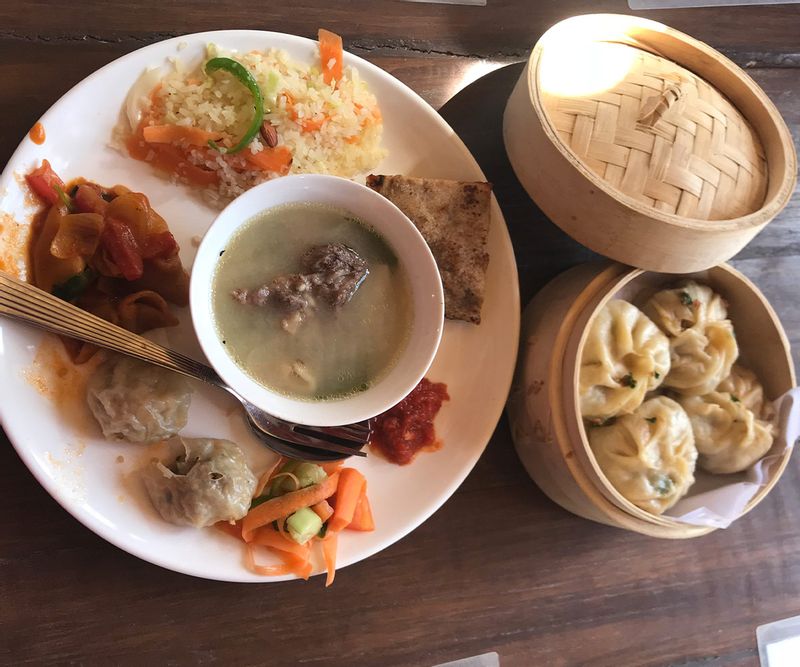 5. Ladakhi cuisine at Alchi Kitchen  
Chef Nilza Wangmo is one of Ladakh's earliest celebrity chefs who shone the spotlight on traditional Ladakhi cuisine, served with contemporary aesthetics. She set up Alchi Kitchen in her village before opening a branch in Leh's Old Town. On a previous trip, we tried skyu (cap-shaped wheat pasta stew), chutagi, khambir (fermented Ladakhi bread) and the assorted platter of apricot, walnut, and chocolate mok mok – described as 'little bites of heaven'. Old Town's streets near Gurudwara Datun Sahib are lined with bakers presenting various breads eaten with tea or salty gur-gur chai (yak butter tea). Alchi Kitchen, Leh was closed due to the pandemic, so our host Stanzin Norboo of The Saraha recommended another local gem – Namza Dining.
6. Stop at Namza Dining
Attached to the lovely Namza Couture run by designers Padma Yangchen and Jigmet Diskit, 'Namza' literally means costume in Ladakhi. Their restaurant is a tribute to the long-lost tradition of preparing a hearty feast for weary Silk Route travellers. Set near the main market, the tiny cafe has a snug indoor section and a large outdoor table overlooking a kitchen garden. Our gang tried nearly everything on the menu from za thuk (nettle soup) to gyathuk (spicy thick noodle soup), gyuma (meat sausage), kisir (buckwheat pancake) with walnut sauce, and chutagi to khambir (Ladakhi bread) with mutton curry. The star was Yarkandi Pulao topped with fried onions and dry fruits, served with two mok moks and clear soup. And how could dessert not have apricots? The apricot and blueberry cheesecakes were sublime. 
7. Sample local food at The Grand Dragon Ladakh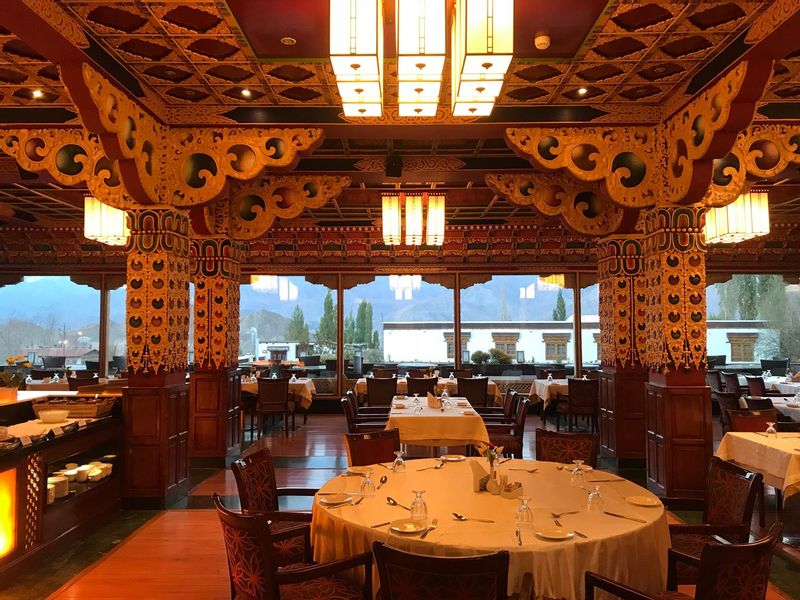 Another dining option for delectable local food is Zasgyath at The Grand Dragon Ladakh where food can be savoured with stunning views of the Stok Kangri range. A sit-down dinner on an earlier trip specially curated by owner Danish Din gave us the chance to sample special items like timstuk (wheat pasta soup with black gram), nang (Ladakhi sausage), shapta (meat curry), phingsha (glass noodles), taint (Ladakhi saag) and tingmo (Tibetan steamed buns)! Designer duo Jigmat Norbu and Jigmat Wangmo of Jigmat Couture maintain an exclusive textile museum studio and curate signature dining experiences on request at their adjoining house.
8. Luxury dining at Syah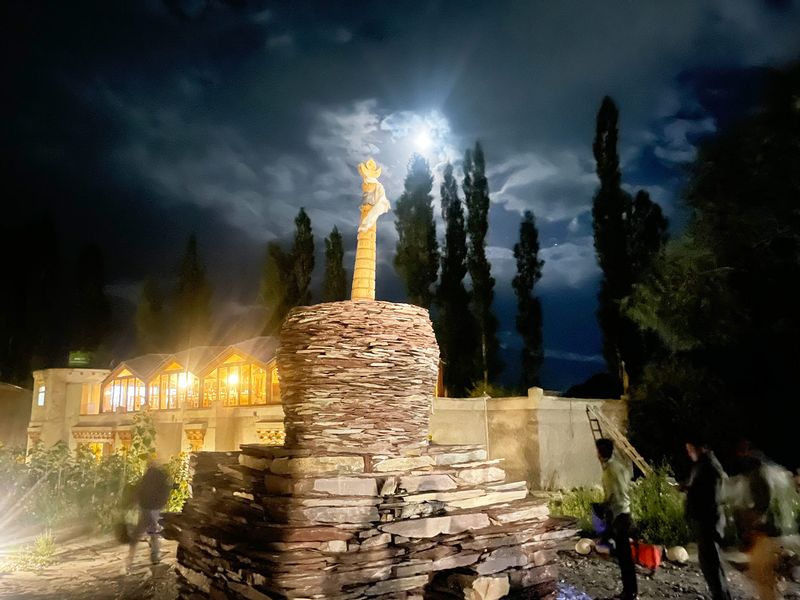 Yet, nothing prepared us for a fine dining experience in Leh that challenged even gourmet offerings in gastronomy hubs like Mumbai, Delhi or Bangalore. As a finale to our Zanskar expedition, our WBB team decided to treat ourselves to an exotic 8-course menu at Syah. Located at Ladakh Sarai in Saboo village, 15 minutes from Leh, the farm-to-table restaurant is run by hotelier Rigzen Namgyal and helmed by Chef Pankaj Sharma. Named after the sia or syah (wild rose) flower that lends its name to Siachen, the restaurant presents Ladakh-inspired flavours with top-notch plating, international finesse, and pairing of textures. 
The opening course was a salad with foraged chik weed, wild marjoram, and dandelion, followed by stuffed lamb mince timok with grape leaf tempura and clear vegetable soup – the highlight of the evening. Using a reverse infusion technique akin to a lab experiment with a burner and round bottom flask, we watched the fascinating process and relished the result. The humble dastuk (rice porridge) was elevated to gourmet fare, complete with potato crisps and carrot leaf salsa. Seabuckthorn, used as a wonder food in 'Leh Berry', the juice developed by The Defence Research and Development Organisation (DRDO) to combat high altitude sickness, was presented as a popsicle dusted with roasted cumin – the perfect palate cleanser. Another local produce is tau or buckwheat featured like a pasta sheet layered with hops, smoked chicken and wild garlic flower. The chutagi came with bokchoi, lamb dumplings, and mountain sorrel while the barley doughnut with apricot jam was paired with brown sugar toffee sauce. There is indeed much more to Ladakhi food than the humble momo!
Catch Anurag Mallick and Priya Ganapathy as Dude Aur Deewani on Zee Zest!
FACT FILE 
Wander Beyond Boundaries
Ph 9717002058, 95605 80993
Instagram: @wbbxol 
www.wanderbeyondboundaries.com
Where to Stay:
The Grand Dragon Ladakh, Leh
Ph 01982-255266, 9906986782, 9622997222 
The Saraha, Fort Road, Leh
Ph 94198 11680, 98588-11511
Hotel Aryan Residency, Biama
Ph 9419871958, 9419178798
Hotel The Kaiser Palace, Kargil
Ph 7889558054, 8491005569
Hotel D'Meadows, Drass
Ph 01985-274214, 9419176311
Hotel Grand Moonland, Lamayuru
Ph 9419888508, 9797446683
Where to Eat
Namza Dining
Zangsti Road, Near Marathon Office, Leh
Ph 9821418187
Alchi Kitchen, Leh/Alchi
Ph 01982-227129, 9419438642, 9906348635
Syah, Ladakh Sarai, Saboo
Ph 01982-244066
Changtang Restaurant, Padum
Ph 7006064852, 9419478195
Anurag Mallick and Priya Ganapathy are travel and food writers 'loosely based' in Bengaluru. They've authored guides and coffee table books including 'Southern Comfort: Southern American Soul Food' a cookbook for the USDA, set up the award-winning restaurant Oota Bangalore and curated the India episode of Gordon Ramsay: Uncharted, Season 2. They run Red Scarab Travel & Media, customizing solutions for the hospitality industry and feature as 'Dude aur Deewani' in a food-based infotainment show for Zee Zest. 
---
Photo: Banner: The Grand Dragon, Ladakh, Leh/Anurag Mallick and Priya Ganapathy