When it comes to travelling, I only have one rule, say yes to every plan. So, when my husband's (Rohit) work trip required him to drive a Jeep Wrangler to Patnitop in Jammu from Navi Mumbai, I promptly offered to be a copilot. Over the years, people have often questioned our choices; 'Why do you want to go on a bike all the way to Bikaner?', 'Why can't you just fly to Goa and back?' I've never had an answer for them, but I sure had tons of stories to tell from those epic road trips. And here's the story of how we drove a car that doesn't like tarmac to a terrain that it lives for. 
Day 1: Navi Mumbai - Ahmedabad 
(or wherever we reach by sunset)
Heading to Jammu to find snow was the plan but getting 4 hours heads-up is going to be a challenge! But one day at a time - water (check), snacks (not enough), warm clothes (six layers should be enough, right?). 
Crossing Thane and reaching Hotel Ahura, on National Highway 48, for breakfast had never taken this. Turned out, it was a long weekend and the entire city of Mumbai decided to reach Ahura at the same time. But with a little scooting and sliding we managed to get our Omelette Pav and Sulemani Chai away from the crowd. Next stop Ahmedabad.
To be honest, the bike trip we did after Unlock 1 to Bikaner was far more comfortable. The car was way too noisy making me unsure how the next 10 days will pan out. All I needed was a good meal, a hot shower, and a soft bed, and thanks to last-minute deals I got it at DoubleTree By Hilton in Ahmedabad.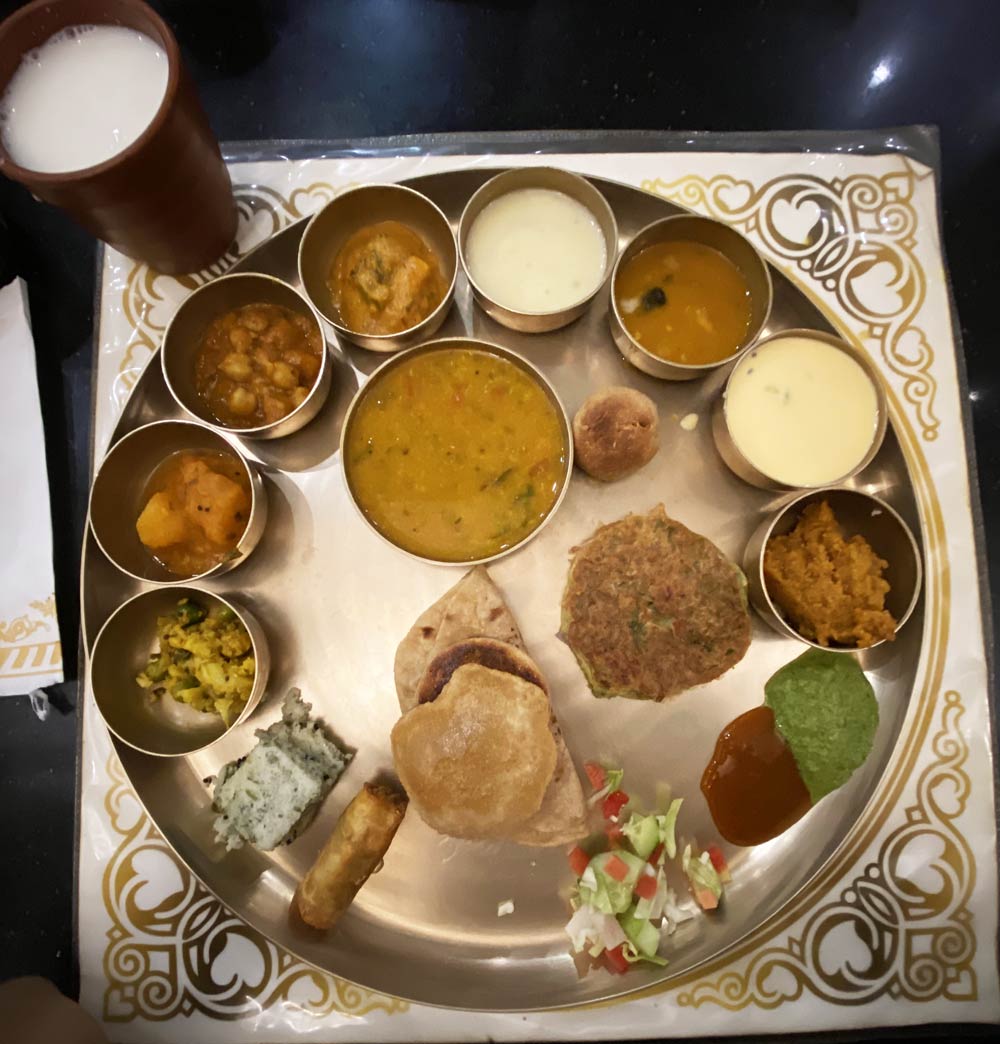 Gujarati thali is my jam! Can I finish it? I'm not sure, but I wanted to drown myself in the sweet kadhi and eat at least 20 of those mini chapatis. I ate one! Eesha Shah, founder of Ahmedabad-based group called Foodaholics Of Ahmedabad suggested Gordhan Thaal with a fair warning against paneer on the thali, which apparently is an incorrect representation of what a traditional meal looks like. But I didn't mind it! 
Day 2: Ahmedabad to Jodhpur
I've missed breakfast buffets during lockdown! Jammu could wait for a few hours, but I wasn't planning on leaving without indulging at the breakfast buffet at DoubleTree. Rohit thought it would be cheap to ask the hotel staff to refill our empty bottles instead of buying fresh ones. They not only refilled our water bottles but also added some chocolate chip cookies! 
I wonder why people associate the term arid/dry with Rajasthan's landscape, through my eyes it has so much character. You don't need a signboard to tell you that you are in the state, we spotted so much wildlife on the way - wild boar, deer, nilgai, a tiny fox. Although driving at night here must be super scary. 
I did not come prepared for a Jodhpur this cold! A temperature of 9 degrees C and three blankets were not enough. Reminder to self: must buy more warm clothes for Jammu. Once we reached Jodhpur, our dinner was homemade Laal Maas. I sometimes feel ashamed of how little I can eat, today was that day. 
Day 3: Jodhpur to Amritsar
Hangry is a real thing, and the intensity of it increases when you are on a road trip. We left so early this morning that breakfast (very disappointing) only happened at noon and the tension in the car was increasing. Thank god there wasn't traffic on the road! The idea was to eat at a nice Dhaba, but most of them gave me the heebie-jeebies and others were shut. 
We finally found a good spot for lunch at around 4:00 PM. It is endearing how Indians want to know everything about you in the first meeting itself. At lunch, the restaurant owner asked us everything down to our pin code! He also didn't shy away from giving us an earful for being on our phone while eating. 
After 15 hours on the road and I was still rather fine, I wonder what was in that lunch. 
Day 4: Break day at Amritsar
I wanted to check out the much-touted food scene in the city but was left underwhelmed. How can a city that has so much culture and international tourists be so dirty? I tried, but I could not eat anywhere inside the old city.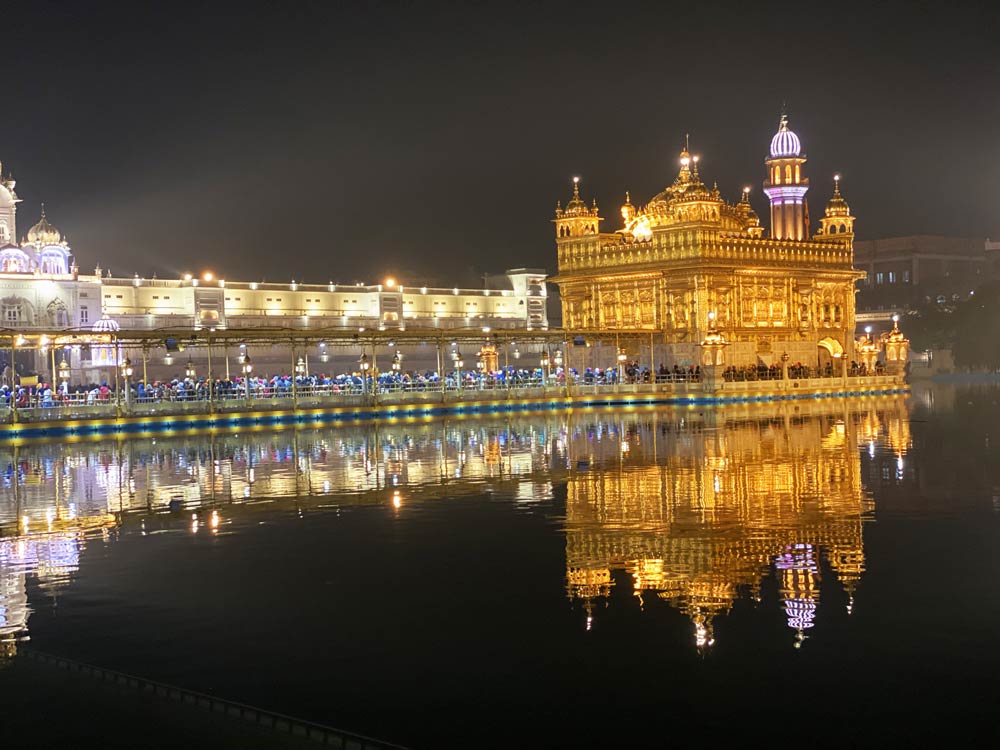 Some describe their visit to the Golden Temple as 'calming', as for me, I was screaming in my head. No social distancing and lack of masks gave me anxiety. So, we simply left. But we decided to give the temple another try later at night thinking we could enter the temple with lesser people around. I shouldn't have—they asked us to remove our masks and the calm within me was so broken.
With just a few hours before sunset, we decided to drive up to the Wagha Border, after all, it was Republic Day. The parade was cancelled but just the sight of those two magnificent flags left me teary-eyed and with goosebumps. The milestone to Lahore, the calmness of the guards and the whole atmosphere was the complete opposite of what the capital was facing. Irony! 
Day 5: Amritsar to Patnitop (Jammu)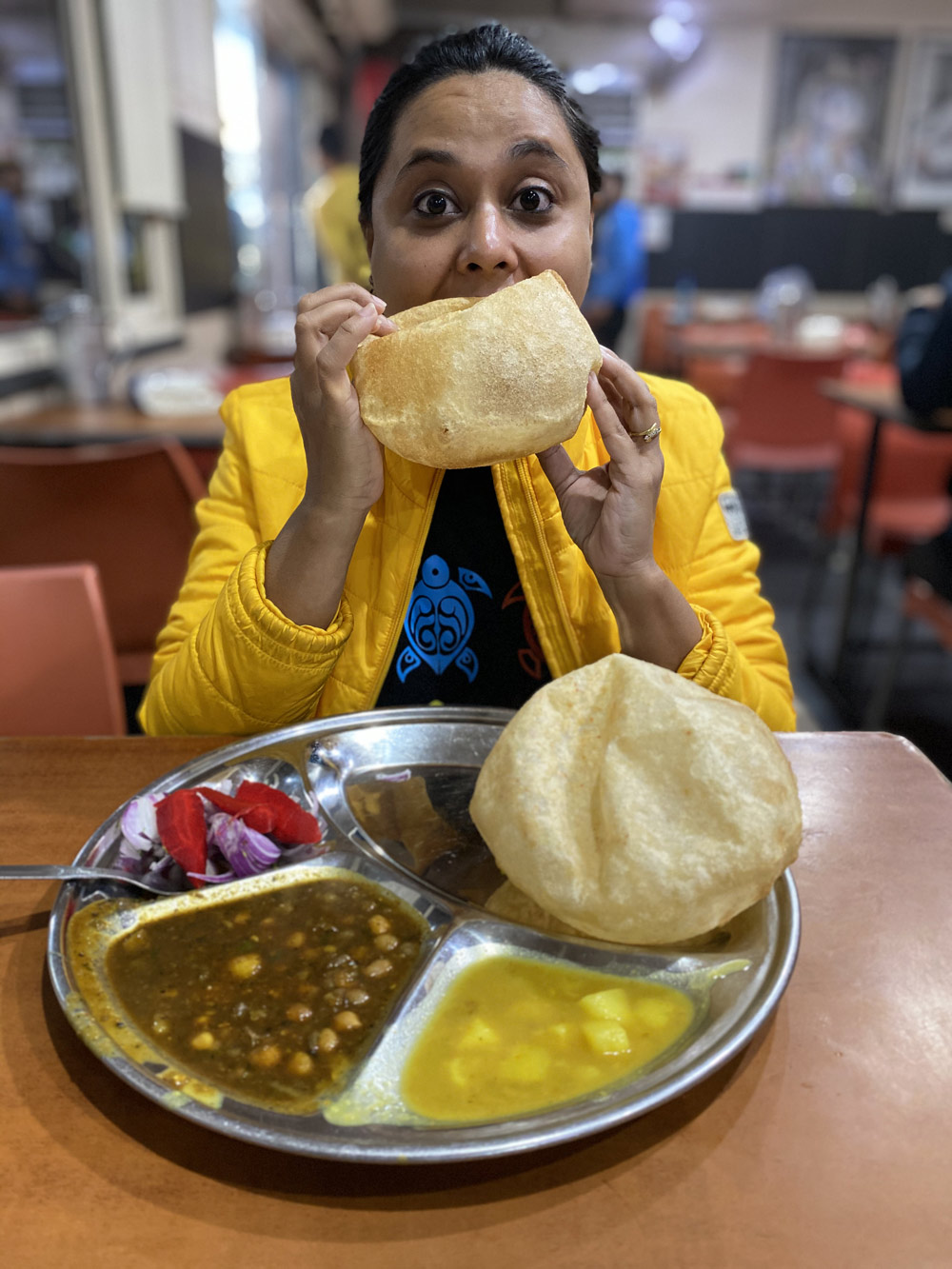 I take back my words, this car is fun. Especially when you need to go off-road to beat traffic. We reached just in time for dinner. Thankfully, we had belted Chole Kulche at Kanha Sweets before leaving Amritsar because we got nothing to eat (again) on the road.
I did not know Punjab has such amazing oranges. The landscape started with mustard fields followed by orange orchids. We sneaked into one and requested the owner to give us two bottles of juice. He agreed and thank god for that because Jammu welcomed us with an hour-long traffic jam. 
Somewhere between that traffic snarl, we spotted a tiny restaurant that served dal-chawal and rajma. Simple joys of life! 
Day 6: Where is that snow, bro?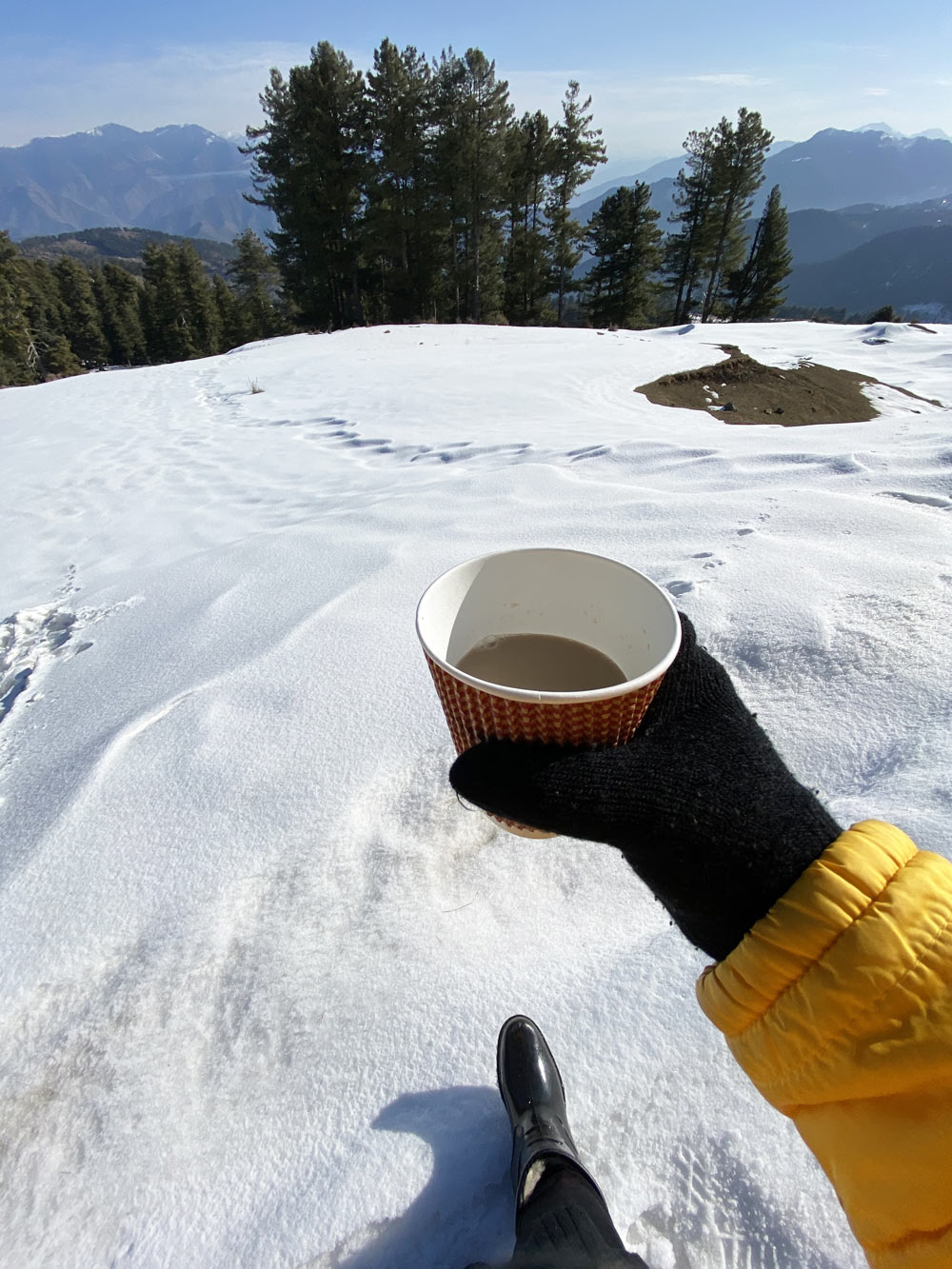 We reached Patnitop post-sunset, and I was promised snow. Which was a no show. Before setting off on this road trip, I pictured a cottage enveloped in snow. All I could see here was dirty brown snow outside my room. 
There was snow, but a couple of hours ahead from Patnitop at Sansar. But no-one told me that -4 degrees C and bright sun are a deadly combination, and that sunscreen is very important… 
The return
On our way back, I didn't want to get on a flight but we were flying out of Delhi. I was glad we kept an extra day in hand because we got stuck in the farmers' protest outside of Delhi with no concrete road in sight. Thanks to the Jeep we were in, we simply followed a tractor through a farm and got ourselves to the airport just in time for our flight.
Photo: Banner - Shutterstock; Inside - Kasturi Gadge