I never meant to travel slow. During my initial days as a travel writer, I was filled with an insatiable desire to go everywhere, and experience everything. Some of my closest friends dreaded going on a holiday with me because I pushed them to rush from one touristy spot to another. From the moment a trip was on the cards, I'd start to research multiple websites, read countless 'things to do' articles, look for friends who had visited the place, and get in touch with local acquaintances for tips and suggestions.
I'd want to tick off all the bucket-list places and major attractions and eat out at all the top-rated cafes and eateries. I'd cram my itinerary to the point that I'd return home feeling worn out. Moreover, my knowledge about the destination, its culture, food and people remained half-baked as I had no time to go deeper and discover the true essence of the place.   
Why do we do this? Perhaps, because of the fear of missing out. Most of us also look for value when we're spending time and money to get to a destination. We want to squeeze every last drop out of our time in a new place. Several trips later, I realised value comes from being fully present in every moment and truly immersed in the environment and the experience.
I realised that I found true joy when I decided to see one place, instead of five, at my own pace, and took time to breathe in and process my feelings while I was there. I stopped running behind must-sees and instead started focussing on the little pleasures of travel—living with a local family, learning to cook native specialities in home kitchens, sauntering down sleepy villages, forming deep, life-long connections with people, mastering fun phrases in the local language, watching the artisans and craftsmen at work, browsing through local food markets, or simply laying on the rolling meadows, looking at the sky above. Slow travel, in a way, has shaped my life choices and encouraged me to embark on an inner journey.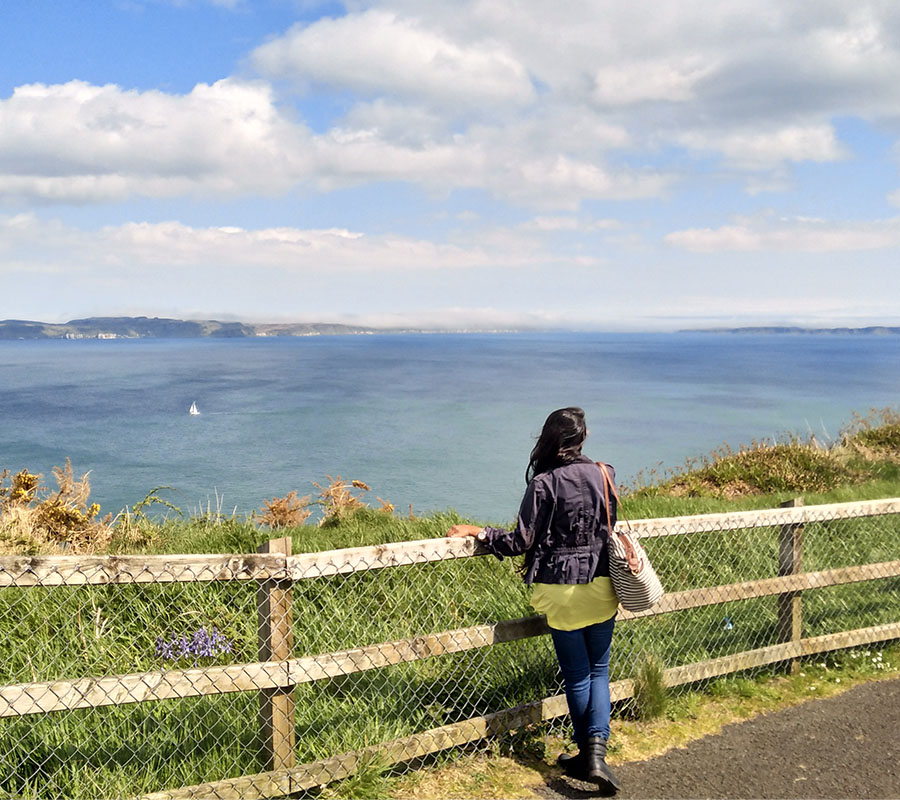 During my recent three-day trip to Amsterdam, I deliberately skipped several major sights. I didn't make it to top museums and shopping districts and instead bicycled around the city and beyond, spent an afternoon picnicking in the Vondelpark and enjoyed my evenings people-watching while sipping on local beer or Aperol Spritz. I left the city feeling blissful and content.
On another trip to Himachal Pradesh with my family, I spent a few nights at a 150-year-old ancestral house in Chaminoo, a small, tourist-free hamlet located 8 km from Chamba. Running with the view of the misty mountains, feasting on the freshest food cooked using Himachali spices and finding calm in the gurgling sound of the water from the stream behind the homestay were the highlights of our time in Chaminoo.
One night, everyone at the homestay got together around a bonfire, shared stories and laughter and crooned retro Bollywood numbers until late hours. This sort of travel might not work for everyone, but it allows me to connect with the destination in a unique, meaningful way.
One of my favourite travel memories remains a river cruise in the Amazon Rainforest of Peru where I was disconnected from the outside world for five days. With no internet connectivity or cellphone network, I spent my time watching the dolphins frolicking in the mirror-like waters of the Pacaya Samiria National Reserve, staring at the ever-changing landscape from the panoramic windows of my room, bonding with the kids living in river-side villages, kayaking, canopy walking, spotting anacondas and other rare species of the Amazon; mainly investing in experiences that touched my soul.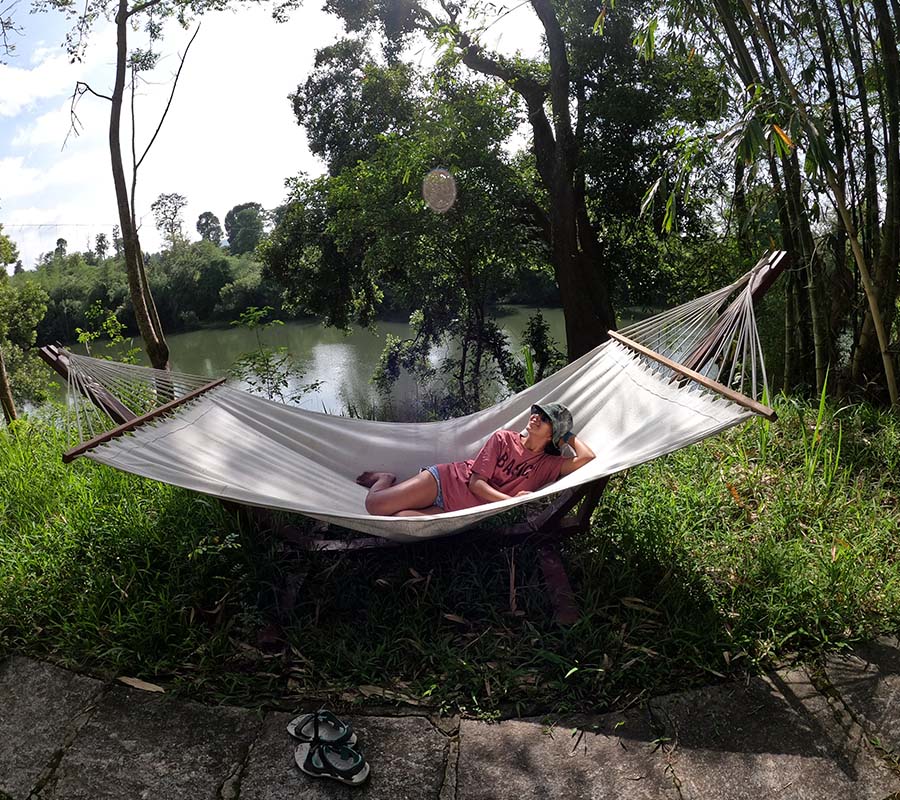 Today, if I look back, I notice that all my treasured travel moments have a healthy dose of slow in them. Giving up on the peer pressure to pack in all the Instagrammable locales has been a liberating experience. I have managed to find depth and meaning in my experiences every time I have looked at travel as a journey instead of a race. Not being bound by time forces you to reflect and dive into yourself and savour the real joy of travel.
In the process, you also join the sustainability movement. By travelling slowly, you are being gentle to the environment, decreasing your carbon footprint, positively impacting the resident communities and retaining the integrity of the destination. If you haven't done it till now, take one slow-paced trip to understand how travel can not only be invigorating but also transformational.  
Here are some of the top slow travel experiences around the world:
1. Mindful cycling in the countryside of Amsterdam, Netherlands 
Being the bicycle capital of the world, Amsterdam is equipped with an elaborate network of cycle paths and lanes which make biking safe and comfortable for all age groups. Explore the city and its quiet countryside roads on comfortable Dutch grandma bicycles that come with three gears.
Book Mike's Countryside Bike Tour and pedal your way through the gorgeous Vondelpark and ride along the Amstel River beyond the edge of town. Bike through the Dutch polder landscape with its rectilinear ditches and dikes. Pass a cool community of houseboats to understand how the boats went from being the hippie community's home to upmarket accommodations owned by the wealthy and discerning.
The four-hour guided tour is your chance to witness some of the remaining authentic windmills and visit an eccentric Dutch farmer's centuries-old cheese farm and clog (wooden shoes) factory. Here, you learn the traditional art of clog making and even sample delicious Gouda cheese. The tour begins and ends at A-Bike Rijksmuseum and gives you a glimpse into the Dutch lifestyle and traditions. Since you cover around 21 km on a bicycle, a good level of fitness and biking skill is necessary.  
What I loved: Exploring a new place on foot could be daunting while driving around in a car could be too rushed. For me, biking offers just the perfect pace. With biking, you end up with a much more realistic impression of the place and a better understanding of what it feels like to "live like a local". What's more? Cycling is slow, sustainable and rewarding in a unique way.
Duration: 3½ to 4 hours
Book: Mikes Bike Tours
2. Soaking in the geothermal lagoons of Iceland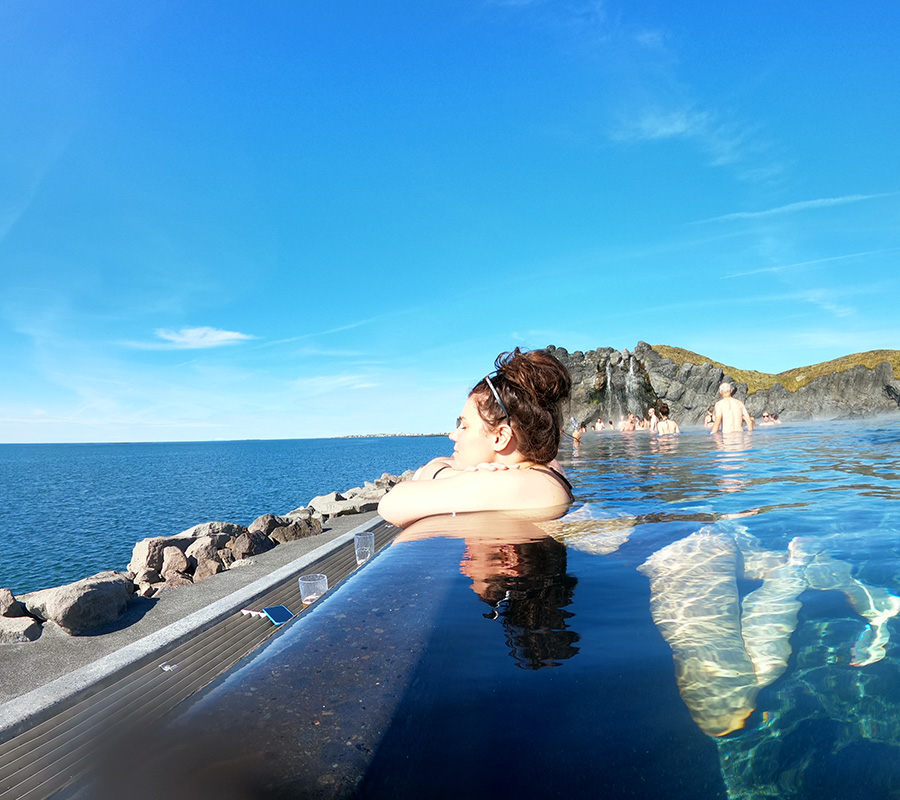 For Icelanders, relaxing in the mineral-rich geothermal waters of a hot spring is not only a favourite pastime but also a way to reconnect with themselves as well as others. The country boasts an array of natural hot water pools, each offering a unique bathing experience. 
A thermal spa nestled on a cliff only minutes from downtown Reykjavik, Sky Lagoon is an ode to old Norse bathing culture weaved together with modern Nordic design. It is known for its unique seven-step ritual that focuses on deep relaxation, well-being and stimulation of mind, body and soul. Let your lagoon time be followed by a cold plunge, a sauna with a view, cold fog mist, body scrub, steam and the lagoon to finish. 
What I loved: I went to a lagoon straight from Reykjavik airport (as soon as I landed) to experience the restorative powers of the Icelandic soak. The experience was not only calming but also quite hassle-free. Since the lagoons provide all the facilities including lockers, changing rooms, showers, towels, toiletries as well as plastic bags to store your wet clothes, all you have to carry with you is your swimsuit. Most lagoons have a little bar in the middle of the water body so that you can sip on wine, champagne or a healthy fruit juice while enjoying the soak. Pure indulgence!
Duration: Take your own sweet time 
Book: Sky Lagoon
3. Reconnecting with self through ecstatic dancing in Ticino, Switzerland 
Founded by trained dancer Michela Di Savino along with her group of spiritual friends, The Innerwalk Project brings together travel and spirituality through experiences that connect you with nature, music, and above all, yourself. They plan one-day excursions as well as two to five-day retreats in different scenic locales in Switzerland. Think quiet beaches, hidden waterfalls, grottos, lakes, glaciers, bridges, unexplored hilltops and more. 
Their excursions usually include a short and easy hike from 15 up to 45 minutes, a brief about the experience and warm-up with the travel guide, a DJ set with radio frequency headphones and dance, yoga or meditation.
For example, my experience in Arcegno started with a short 20-minute hike to the top of a hill. We were requested to hike in silence and focus on the sounds of nature. After reaching the top, each of us was given a pair of headphones and encouraged to move spontaneously to music. These movements are often referred to as ecstatic dance — a form that has no specific steps and freely follows the music, leading to a trance and a feeling of ecstasy. You can choose to find a corner and be on your own or interact with others as you move. An infusion of serenity, inspiration and freedom, these dance, yoga and meditation sessions are a fantastic way to get rid of blockages and inhibitions and, at the same time, meet like-minded people seeking spiritual growth. It's a great experience to squeeze into your holiday. 
What I loved: I loved the unique idea behind the experiences and the fact that they are open to all age groups. The music journey is created live through a portable console — silent, respectful and minus electricity. A lot of attention is paid to the music selection for each experience. Expect everything from African drum beats and traditional Mongolian music to Indian classical and Buddhist chants. A truly integrated experience in nature, it is bound to nourish the mind and body and create room for self-acceptance and exploration. 
Duration: 1 to 5 days
Book: The Innerwalk Project
4. Cooking and dining in the wild at Wild Coast Lodge Yala, Sri Lanka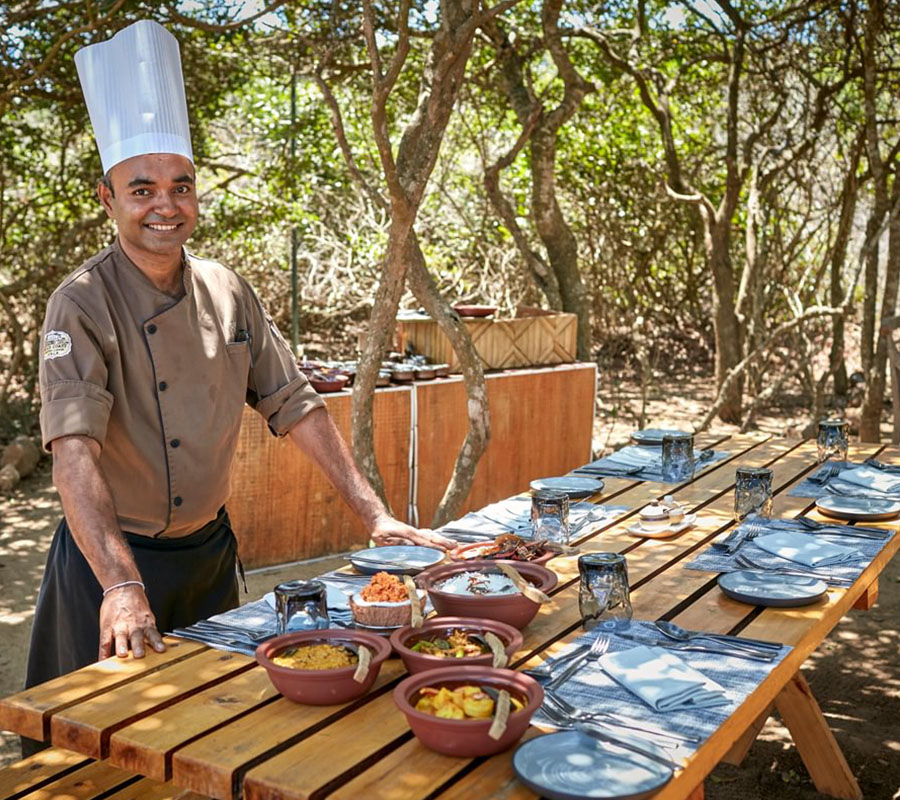 A trip to the island of Sri Lanka is an opportunity to learn about its rich cuisine which is influenced by its geography. Perched above a rugged stretch of beach and bordering Yala National Park, The Wild Coast Tented Lodge organises an interactive Sri Lankan cookery class on request. A hands-on introduction to the island fare, the session includes learning the basics of Sri Lankan cuisine and its core ingredients, creating your Sri Lankan spice mix, mastering some local cooking techniques and making your lunch under the watchful eye and instructions of a knowledgeable chef.
During the private cooking session at Wild Coast Lodge, my partner and I rustled up an elaborate meal consisting of Sri Lankan prawn mustard curry, dhal curry, tempered green beans, jackfruit curry, spiced eggplants and fried okra. Cooking in an open-to-sky kitchen, set on a rugged beach is a unique experience. The class is followed by a meal in the wild — mainly enjoying the harmony of flavours and spices on your plate with the drama of dining privately on a wild coastline.  
What I loved: While cooking itself is therapeutic and emotionally rewarding, cooking in the wild is a fun, immersive experience. When you do it with your partner, it's a great bonding exercise too. 
Duration: 2 hours
Book: Wild Coast Lodge Yala
5. Getting off the grid in Doubtful Sound, New Zealand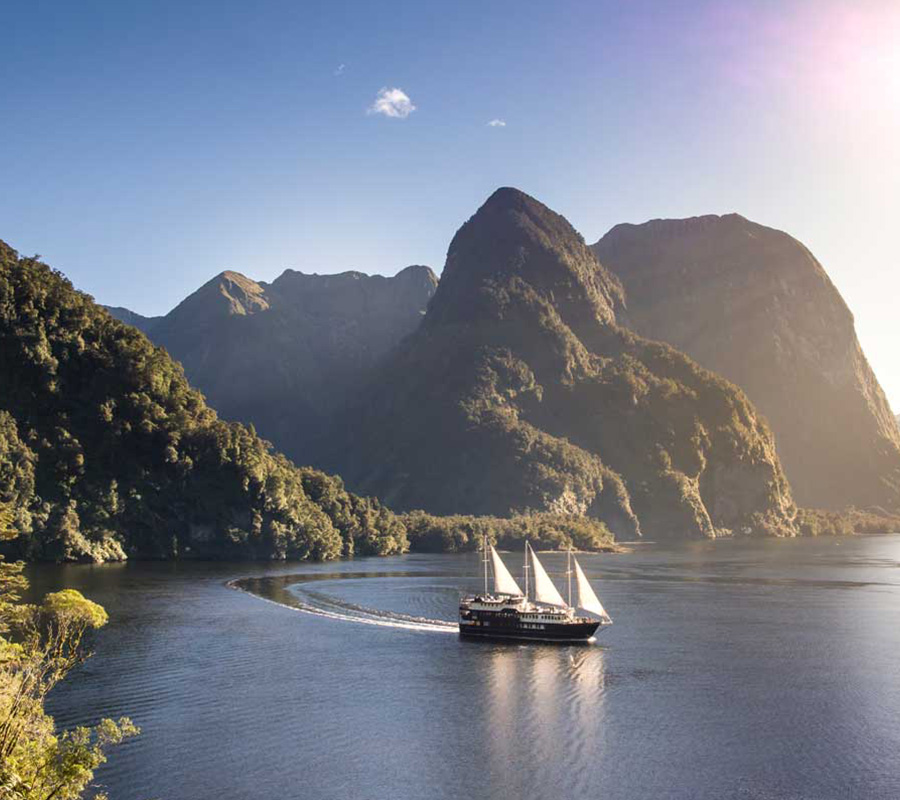 Humbling in size and beauty, Doubtful Sound is one of New Zealand's largest fjords – almost three times the length of the touristy Milford Sound. An overnight bed and breakfast wilderness cruise in this massive sound is a great way to dive into the country's remote corner and encounter its rugged peaks, verdant rainforests, and twisting, hidden inlets in utter seclusion. 
A journey aboard the Fiordland Navigator begins with a 30-minute catamaran cruise across the beautiful Lake Manapouri, followed by a 45-minute road transfer through Wilmot Pass. Soon, it's time to check into your comfortable cabin onboard the Fiordland Navigator that's designed to mimic the region's traditional trading scow. 
After the boat is anchored in a sheltered cove, you can swim in its freezing waters or step into the vastness of the sea by opting for the kayaking adventure. The sheer scale and magnitude of the sound are sure to overwhelm you as you paddle. Spend the evening watching the sun go down with a can of local beer or enter the wheelhouse to chat with the captain before indulging in a lavish three-course dinner buffet. The following morning begins with a hearty breakfast and further exploration of the fiord before the Fiordland Navigator makes its return journey back to Deep Cove. 
While cruising the sound, you have good chances of encountering native wildlife including fur seals and curious, bottle-nosed dolphins.
Coach connections are available from Te Anau and Queenstown. 
What I loved: The overnight cruise is a great way to slow down and enjoy the calm and quiet of nature. During my time on the cruise, the captain turned the engine off for a few minutes and requested all the passengers to gather on the deck and observe silence. In those distraction-free moments, I could feel the fresh air on my face and listen to the sound of the wind in the trees and the sweet chirping of birds. I left the sound bathed in a unique inner glow.
Duration: 1½ days
Book: Real NZ
6. Getting lost in the charming Cotswolds villages, UK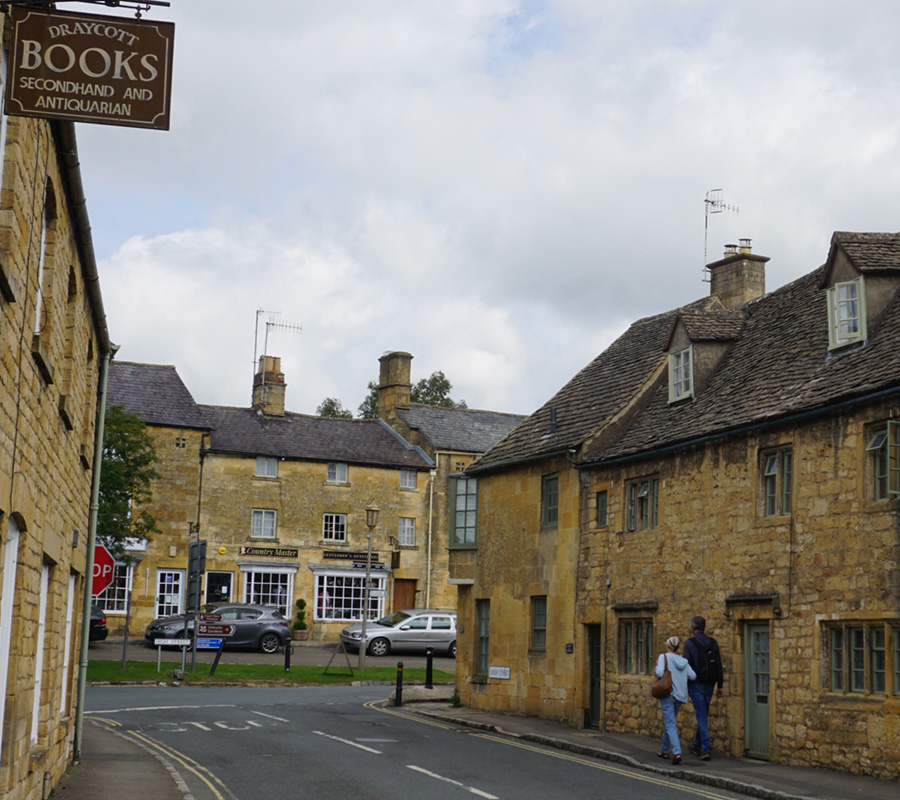 Escape the hustle and grandiosity of London and spend a day in the bucolic, quintessentially English Cotswolds villages with Go Cotswolds. Their "Cotswolds in a Day" tour is a reunion with all things old school — honey-stone hamlets, picnics and the red telephone box.
Board the train from London Marylebone to Moreton-in-Marsh, one of the six significant train stations in the Cotswolds. Don't miss the spectacular scenery as the train traverses unspoiled English countryside along its 86-mile route, passing dramatic Malvern Hills and some quaint towns. 
After arrival in Moreton-in-Marsh, get ready to meet your guide and travel the narrow country lanes in the comfort of a 16-seater Mercedes minibus. Your very first stop is the picturesque town of Chipping Campden, famed for its ancient thatched cottages sitting gracefully on Sheep Street. You feel as though you have stepped back into the 1940s. Next, stroll around Bibury — the most beautiful village in the Cotswolds — at your own pace. 
To wind up the long day, find yourself a cool, shaded spot and dip your feet in the gently flowing River Windrush, which runs through the centre of the village Bourton-on-the-Water, also referred to as the 'Venice of the Cotswolds'.  
Among other places covered during the day trip are Dover's Hill, Worcestershire's Broadway Tower and the pretty market square of Stow-on-the-Wold which is full of small eateries and gift shops.
What I loved: For someone who appreciates the countryside charm, it's quite easy to fall in love with the landscapes, lavender fields and honey-hued buildings of the Cotswolds. The Go Cotswolds Day Tour gives you ample time in every village so that you can enjoy the simple pleasures of the English countryside without feeling rushed. 
Duration: 1 day
Book: Go Cotswolds
7. Meditating with the view of the ruins in Hampi, India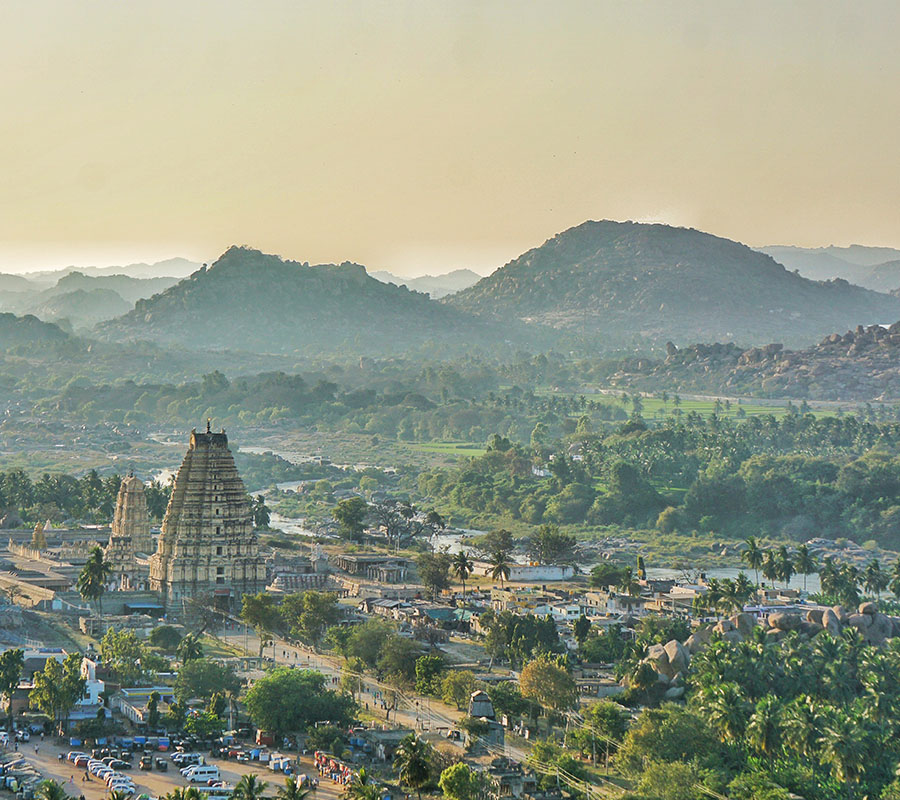 Located in the centre of Hampi, the peak of Matanga Hill is probably the highest point in Hampi and the best spot to get an aerial view of the historic town. For a mesmerising experience, consider a guided evening trek with Evolve Back Hampi. 
The resort guide takes you on the mildly-challenging boulder-strewn trail dotted with abandoned shrines and caves which you can explore while pausing to catch your breath. Locals say that the steps to the top were constructed during the Vijayanagara era (sometime during the 14th century) and have survived the vagaries of time, nature and man. 
Reaching the top of Hampi's Matanga Hill isn't all that difficult. It is a quick 30 to 45-minute hike. The views change drastically after every couple of steps so take a few breaks and observe the landscape as well as the evening sky. However, what you'll see from the top is spectacular. At one corner, you see the Turthu Canal serenely making its way through banana plantations while on the other end, there's the Tungabhadra River that flows through the town. In the distance, the Virupaksha Temple looms. You can also look down to see the Achuta Temple complex as well as abandoned bazaars and Hampi's rock-studded landscape.
What I loved: The hilltop of Matanga is one of the most serene spots for sunset meditation which is the highlight of the entire experience. Meditating with the view of the ruins is so surreal. It leaves you speechless!
Duration: 3 hours
Book: Evolve Back Hampi
8. Romancing the rail with a trip from Cusco to Machu Picchu in Peru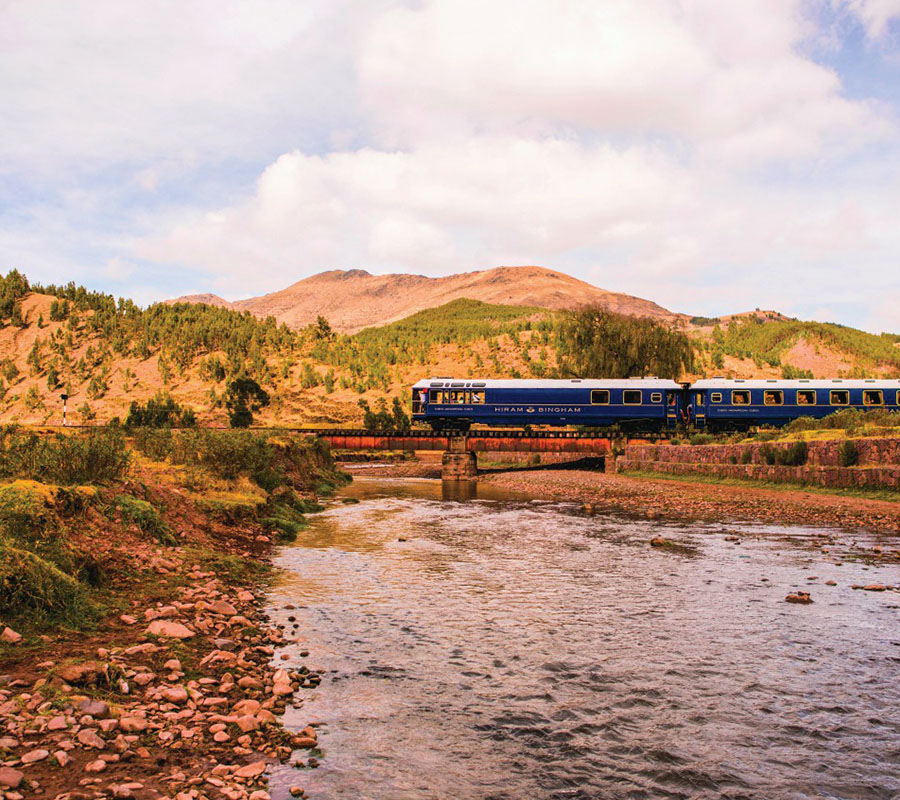 Train journeys reveal a country as flights can never do. For a trip to the UNESCO World Heritage Site of Machu Picchu, opt for a first-class voyage aboard the enchanting Belmond Hiram Bingham train that departs from Poroy station, located on the outskirts of Cusco. Your uber-luxurious South American sojourn kickstarts from the moment you arrive at the train station where you get the first look at the train's deep-blue coloured carriages modelled after the British Pullman carriages of the 1920s.
After enjoying an exuberant performance by traditional Andean dancers dressed in colourful garb, get ready to grab a glass of Pisco sour, sit back and take in the unmatched views of Peruvian landscapes from your window seat. As the train slowly moves towards Aguas Calientes following the fast-flowing Urubamba River, the scenery turns more dramatic with narrow valleys and towering mountain peaks dominating the skyline. Traditional Peruvian music played by local musicians in the train's observatory car sets the tone for an unforgettable trip to the citadel. 
The three-and-a-half-hour train journey is the only way to get to the Inca ruins other than hiking the arduous 4-day Inca Trail that goes through the Sacred Valley. While Inca Rail and Peru Rail are budget options, Belmond Hiram Bingham train gives you a chance to indulge in a delicious three-course meal and savour local wine in vintage carriages made out of polished wood and brass. The Hiram Bingham service runs every Tuesday, Wednesday, Thursday, Saturday and Sunday. The inbound journey includes a bus transfer to your hotel located in Cusco's city centre.
What I loved: The rhythm of the wheels, the guard's piercing whistle, Peruvian hawkers selling their wares at various stations, and a luxurious meal with a view; all these come together to create certain magic onboard the Belmond Hiram Bingham. 
Duration: 3½ hours 
Book: Belmond
9. Floating in the dead sea in Israel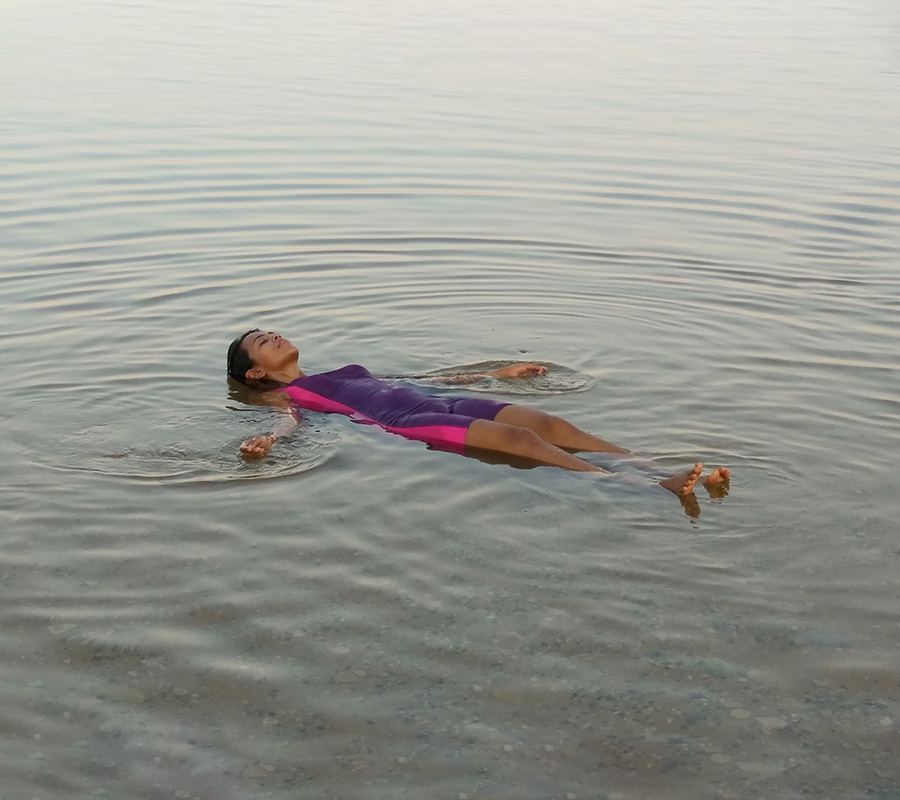 If you haven't been to the Dead Sea, you haven't been to Israel. Known in Hebrew as Yam Ha-Melakh (the Sea of Salt), it is situated 400 m below sea level — the lowest point on dry land. Just lay back, relax and enjoy this natural phenomenon at one of the beaches at Ein Bokek, in the southern Dead Sea.
The minute your feet and legs are in the salty water, you feel as if they are being pushed up, and as you go deeper, you feel your body become lighter and more buoyant. Try bringing your favourite book or newspaper along to read while you bob with ease. Indeed therapeutic! Or even better, mask yourself with the mineral-rich mud and let it work its magic on your skin.
Since the region enjoys a higher atmospheric pressure with more oxygen, as well as lower levels of harmful ultraviolet rays, you can stay in the sun for hours without sunscreen and not get a tan. Bring the therapeutic Dead Sea mud, minerals and water back home in the form of natural skin care products sold in the region.
Quick tip: Do not plunge into the Dead Sea, but gently let your feet float as you rest your back on the waters. If you don't wish to hit the beach, many hotels like the Isrotel boast an in-house Dead Sea water pool that offers an indoor floating experience. 
What I loved: The Dead Sea, which is part of the long border between Israel and Jordan, takes a different avatar around sunset time. The towering Jordanian mountains and the sky illuminated with shades of crimson and orange give the water a tinge of shimmering golden, a spectacle you won't get over easily. 
Duration: Stay as long as you want 
Book: Isrotel Hotel
10. Living with an artisan family in Kutch, Gujarat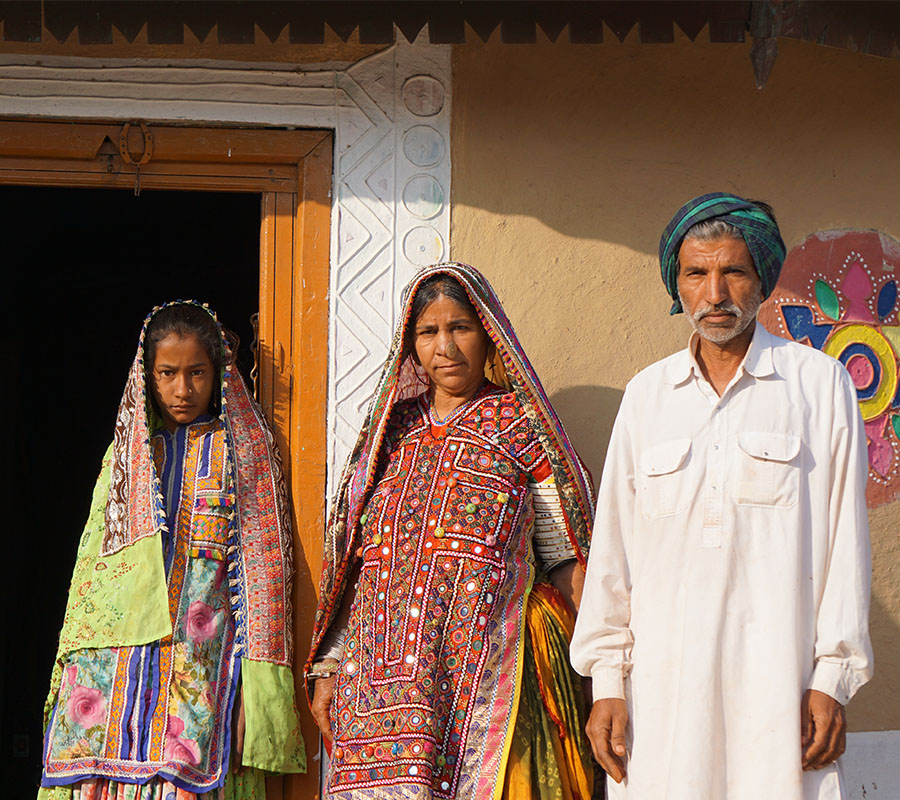 Kutch is a fusion of several semi-nomadic communities that migrated here from as far as Sindh, Baluchistan and Afghanistan, nearly five centuries ago. For a deeper understanding of the region, its culture and its people, spend a few nights in a bhunga (circular mud hut) with a local family. Elaborate in design and artistic elegance, and painted in vibrant colours, bhunga are closely linked to the identity of Kutch. 
Located in Hodka village, around 60 km from Bhuj, the Hodka Zeel homestay is run by Umrabhai Kana and his family. The homestay is a great base for an immersive travel experience which involves learning about the local ways of living and feasting on simple Kutchi cuisine. Moreover, Hodka is home to artisan families that are not only warm and welcoming but also profoundly committed to their art forms.
While living here, you can watch the leather artisans at work and learn about Kutchi embroidery from the womenfolk. If you manage to build a connection with the local families, they will readily share with you their migration stories as well as the little details about their lifestyle in the hot, arid desert.
What I loved: By choosing to stay in a bhunga instead of a hotel, you're experiencing all aspects of slow travel — connecting with the local people, their cuisine, culture and way of living as well as supporting the local economy. More importantly, by the time you reach the end of your trip, you realise you've found a home away from home and a life-long friendship. 
Duration: 1 to 4 nights  
Book: Hodka Zeel
11. Walking with the penguins at the Stony Point Nature Reserve, South Africa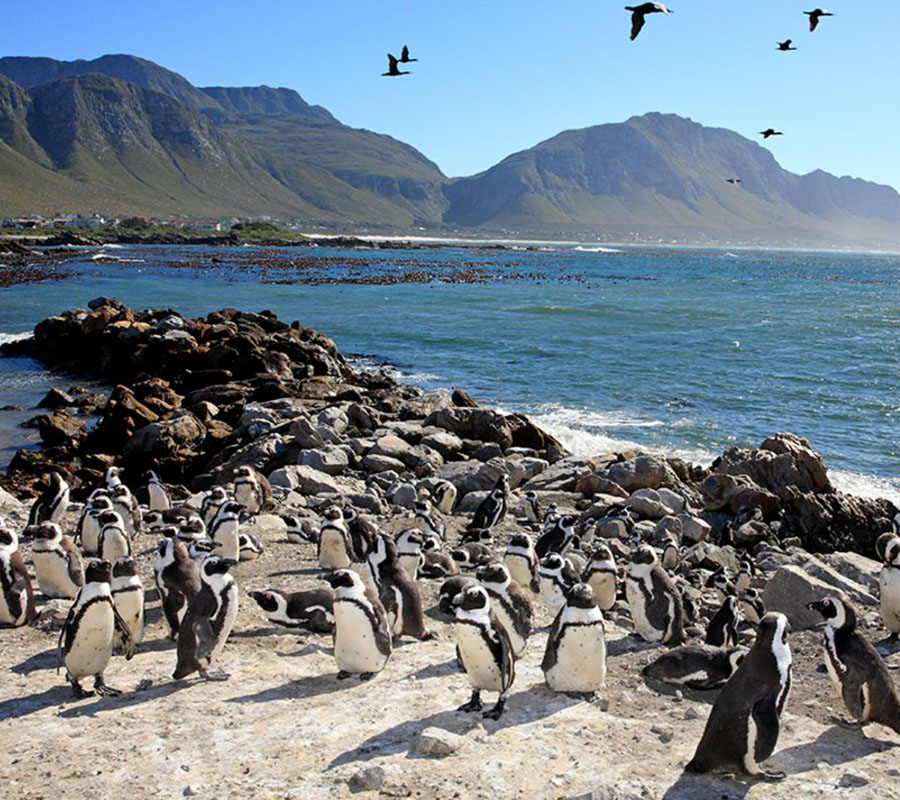 A 70 to 90-minute drive from Cape Town, Stony Point Nature Reserve, located in the quaint coastal town of Betty's Bay, is home to a unique colony of African penguins. With roughly 3,600 penguins, it is the third-largest breeding colony of African Penguins in the world — a huge increase from the original two settlers who arrived in 1985.
When here, you have the chance to see the adorable flightless birds up close, via the boardwalk through the colony. Observe the penguins go about their daily activities in their natural habitat, without disturbing or disrupting them. Since Betty's Bay is less popular and touristy than Boulders Beach, there are fewer people here and you get your own time and space with the penguins. 
There is more for the birding enthusiast in you. Also present in the colony are three species of cormorant as well as Hartlaub's Gulls and Kelp Gulls which forage in the colony. Rock Hyrax, more commonly known as the Dassie, can be seen on the surrounding rocks.
Stony Point Penguin Colony is a must-visit for wildlife lovers.
What I loved: Thousands of lovable penguins, gorgeous coastal scenery consisting of the shimmering deep blue ocean and the backdrop of the rugged mountains, all come together to create a memorable experience. 
Duration: 2 to 3 hours
Book: Cape Nature
12. A calming wander around a lavender farm in Barossa Valley, South Australia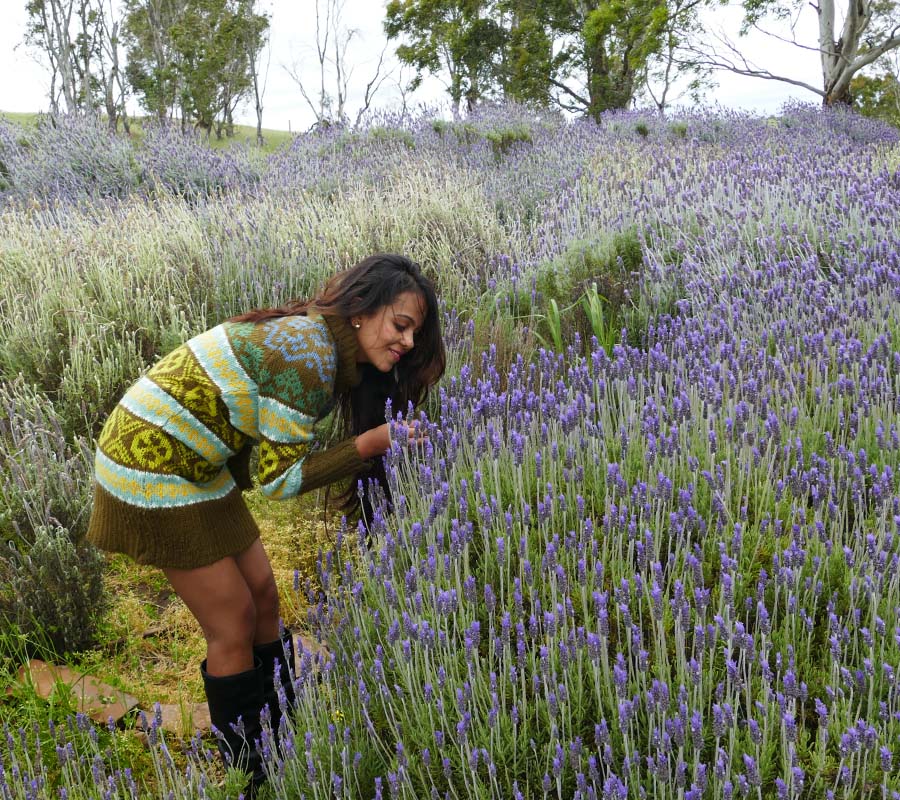 Walk amid a dreamy bed of lilac and breathe in the magically-calming scent of lavender at the Lyndoch Lavender Farm which boasts 90 lavender plant varieties. This two-hectare working farm is situated amid beautiful rural surroundings, with an abundance of birds, butterflies and other wildlife. 
The lavender comes to life in the spring, blooms all summer and is dried and collected in late fall. So, make sure to plan your visit accordingly. Touring the Lyndoch Lavender Farm is an opportunity to learn about lavender and the processes behind its farming as well as enjoy the serenity and picturesque views.
Head to their cafe and treat yourself to a lavender iced or hot chocolate and their locally-flavoured cheese and meat platter. Can't get enough of the purple flowering plant? Carry the aroma back home by choosing from a whole lot of lavender-based products like essential oils, bath salts, linen spray and lavender-flavoured cookies, chocolate toppings and more. 
What I loved: The lavender farm is complete with perfectly-positioned benches where you can sit and enjoy the lilac scenery to your heart's content. 
Duration: 2 to 3 hours 
Book: Lyndoch Lavender Farm
Photo: Shikha D