Savouring the taste of stracciatella (vanilla with chocolate bits) gelato, strolling around a piazza flanked by pretty, pastel-coloured mansions, crossing paths with convivial locals conversing in Italian, and taking in the atmosphere of dolce vita that fills the air—I am somehow transported to Italy. However, it is only when I come face to face with sharp Alpine peaks and experience Swiss punctuality with public transport, I come to realise that I am in Ticino, Southern Switzerland's Italian-speaking region. 
Every once in a while, I fall in love with a place and the way it makes me feel. The more I explore the place, the deeper I fall for it. The destination consumes me in such a way that the feeling of warmth and glee stays for days after I've returned home. This is exactly what happened when I first set foot in Lugano, the largest city in the canton of Ticino. My romance with Ticino began even before I reached there. The panoramic views on the train journey from Zurich Flughafen to Lugano, via Switzerland's German and French regions, were charming enough to leave me speechless. All I could say to myself was, "Be still, my heart". 
A boat ride somewhere between Italy and Switzerland
Lugano makes for a fantastic base to explore Ticino and its quaint lake-side villages. Being 63% Swiss and 37% Italian, Lake Lugano is situated between Lake Como and Lago Maggiore, and boasts a strategic setting in the heart of the Swiss Italian district. It's hard to believe that a quick boat ride across Lake Lugano could take you straight to Italy.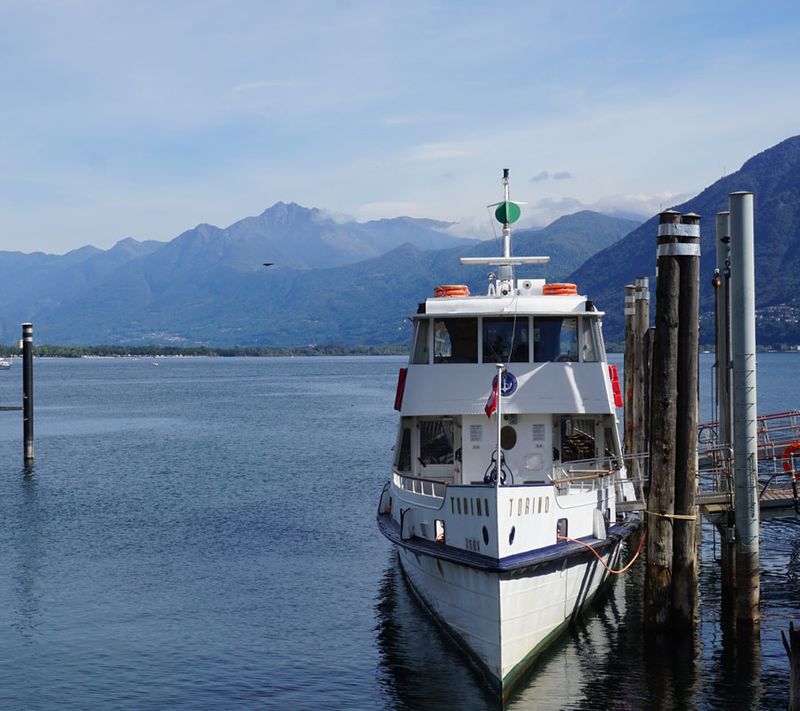 When boatwoman Gabriella Monfredini Rigiani offers me a tour of the glacial lake in her sassy pink boat, I can't say no. It is my chance to immerse myself in the beauty of the numerous flawless villages located on the banks of the lake and get close to the local way of life. "Since a very young age, I have been close to the waters and this has always been a great inspiration for me. I had a fun childhood swimming and fishing in the lake. Once I reached the age to have my boat, I began my life exploring the lake. I have always identified myself with the lakeside and its special energy," says Gabriella who grew up in Melide, a picturesque hamlet on the shore of Lake Lugano. 
The first lakeside village I set eyes on is Gandria, the last Swiss village before the Italian border. Most houses in Gandria date back to the 16th and 17th centuries and are embellished with frescoes and stucco decorations. "The mountaintops in front of it are already Italian territory, but the conglomeration of houses visible at their feet are still on Swiss soil. These are the Cantine di Gandria, the cellars where the past residents would store their wine, cured meats and cheeses," says Gabriella. Until 1936, when the road was built, the village was accessible only by water or via rugged trails. Hence, the residents practised fishing along with horticulture, viticulture, and livestock farming to be self-sufficient.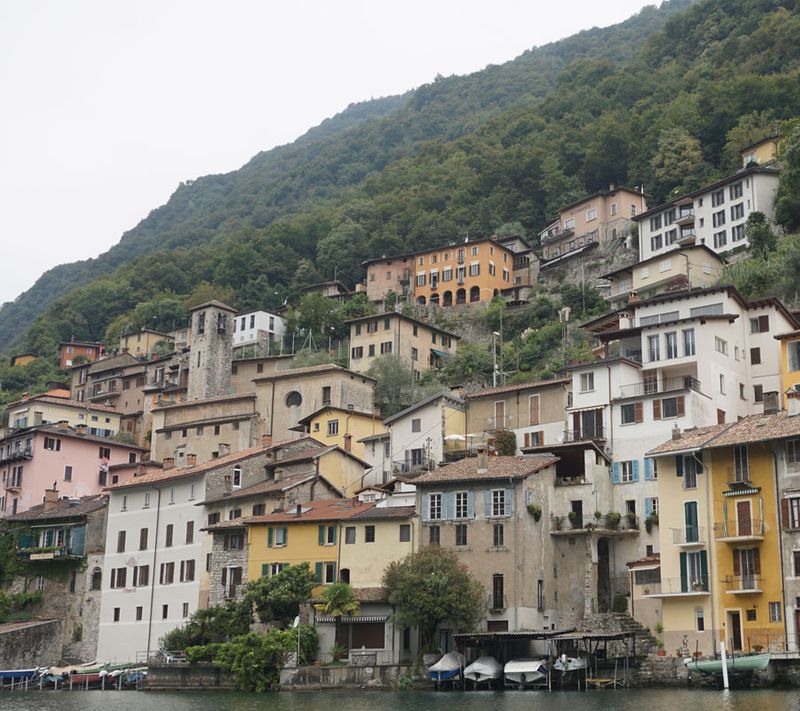 No one knows Lake Lugano as well as Gabriella does. This means I can visit some of the region's hidden gems in her company. As we wind along the eastern shore of Lake Lugano, we reach Grotte di Rescia—a series of caves unified to a single complex at the beginning of the 20th century. The seven caves represent a rarity as they originate from the inside of flowstones, made of travertine (a type of limestone). Over the ages, water has dug a sequence of holes in the travertine, depositing spectacular concretions. Rescia caves offer the chance to take a close look at the "life" of a cave, from its still-in-progress active state to the fossil one. This spot is also where we witness the gorge of Saint Julia with its waterfall, which is about 70-metre high.
Gabriella says it's time for a little picnic on board. So, we find ourselves feasting on the freshest grapes, peaches poached in wine, and homemade Cabello, an Italian sweet bread loaf that tastes of star anise, cinnamon, and ginger among other spices. Since Gabriella belongs to Melide, she is happy to take me through the lanes of the ancient village, sharing tales of the time when Melide was an important trading post. Melide is also known for Swissminiatur, a museum that showcases miniatures of famous buildings in Switzerland.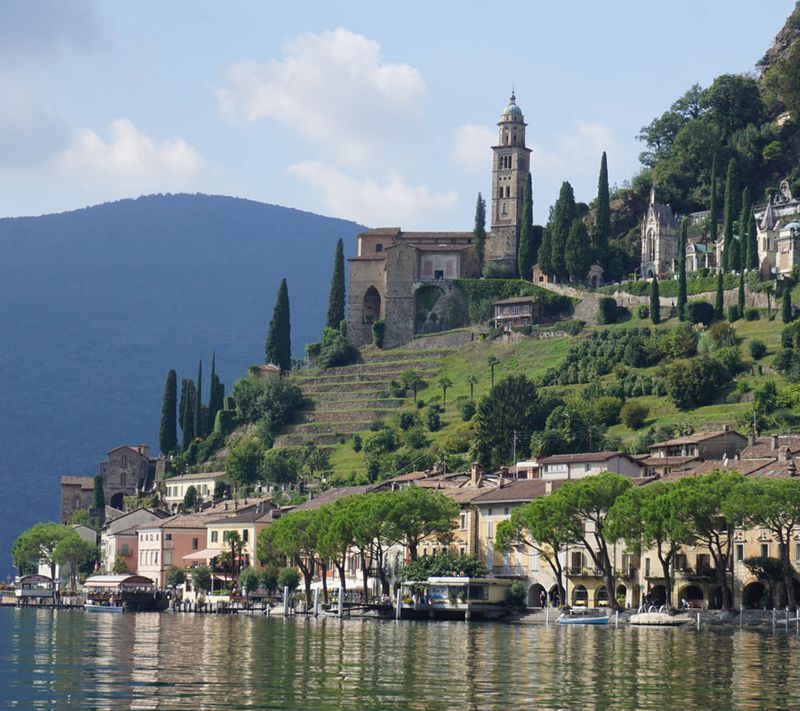 Among other villages, we explore Morcote which was voted the most beautiful Swiss village in 2016. This little village has ample restaurants, cafes and gelato shops clustered in the shade under medieval arcades. Walking along Morcote's lakeside, I discover simple architectural styles sided by noble homes such as the palazzo Paleari (Paleari Palace) with a stucco-decorated facade and the Torre del Capitano (Tower of the Captain) that preserves a mullioned window and traces of frescoes. Cross the centre and its narrow alleys to take the long stairway (about 400 steps) that climbs up towards the sanctuary of the Renaissance-Baroque-style church Santa Maria del Sasso (Saint Mary of the Rock). 
A saunter down Lugano's historic centre
The heart of Lugano beats in its well-preserved and romantic centre with narrow streets and hidden squares, and what better way to explore the place than on foot. So, here I am walking down from Paradiso towards the picturesque lakeside promenade, dotted with linden and magnolia trees. Heart-shaped leaves of linden trees add a dreamy whimsy to the sheltered street.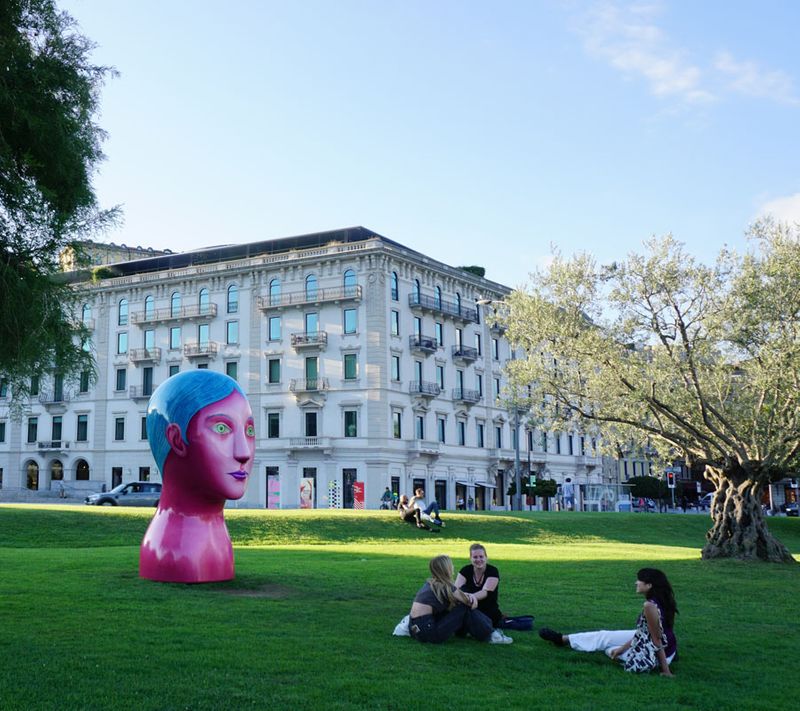 Admiring what are considered Lugano's finest historical buildings, I have reached the Belvedere Garden which is a tempting place for a short rest. The 11,000 square meter garden is filled with 14 modern and abstract sculptures by local Ticino artists. Behind it is the new Lugano LAC Arts and Culture Centre, next to which is the Santa Maria Degli Angioli church—built in 1499 and hosting an early Renaissance masterpiece, reputed as being the most famous fresco of that period in Switzerland.  
If shopping is on your agenda, Via Nassa is Lugano's historical street with different kinds of shops selling jewellery, clothing, gastronomy as well as antiques. Considered Lugano's elegant "living room" surrounded by old buildings including the Neoclassic Palazzo Civico (Town Hall), Piazza della Riforma is where you see locals socialising over wine and beer after a busy day at work.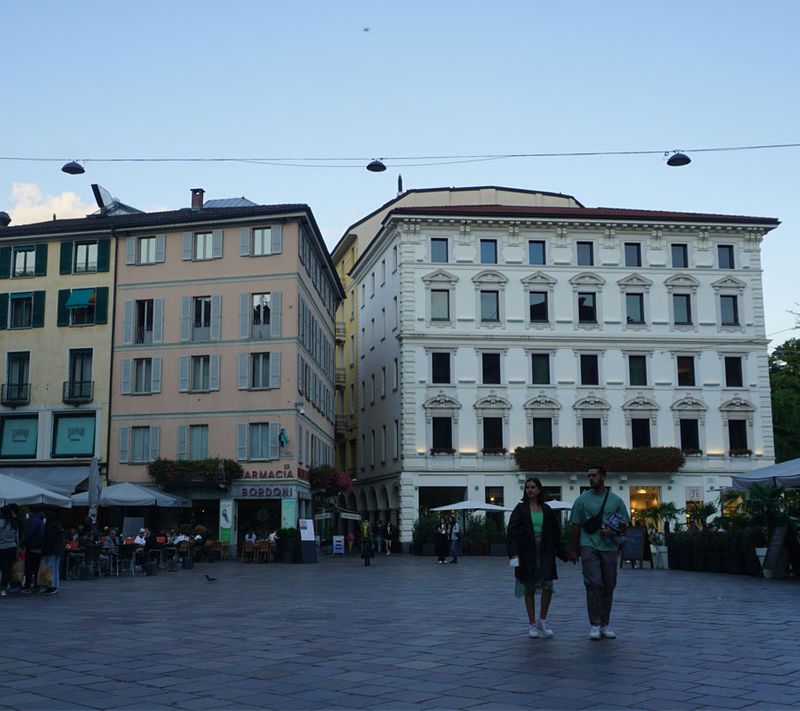 It's sunset time and I am looking for a serene place to pause and admire the scenic view of Monte Bré, Monte San Salvatore and Campione d'italia. That's exactly when I come across Parco Ciani. The tranquillity and aura of this enchanted place and its English and Italian-style gardens characterised by flower beds, velvety green lawns, sculptures and fountains leave me mesmerised. 
The other part of the park, extending from the boathouse to the River Cassarate, is dominated by trees native to Ticino woodlands: oak, linden, plane, and maple. From the river's mouth, the view over the city is particularly delightful. I stick around until late evening to witness the spectacular view of Lugano city, with lights reflecting in the lake. I can't help but be awed.
ADD THESE TO YOUR TICINO ITINERARY 
CASTLES AND THE WEEKLY MARKET IN BELLINZONA   
The capital city of Ticino canton, Bellinzona, is known for its castles—a medieval military architecture complex inscribed on the World Heritage List UNESCO since 2000. The antique ruins of three fortresses—Castelgrande, Castello di Montebello and Castello Sasso Corbaro—are the most significant masterpieces of fortification art of the Middle Ages in the Alpine region.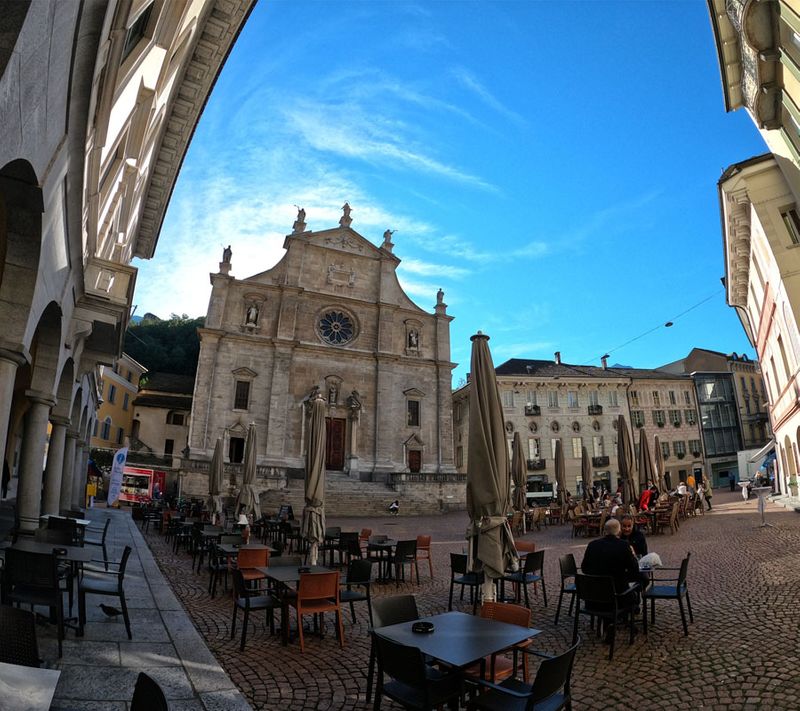 It also boasts of an authentic old town and church Santa Maria Delle Grazie that dates back to the end of the 15th century, and preserves a magnificent Renaissance fresco of the crucifixion—with fifteen scenes depicting the life of Christ. The church is certainly worth a visit. 
However, you must try and make it to Bellinzona on a Saturday morning, when the lively weekly market is held. While the origin of this market dates back to ancient times, today it showcases approximately 120 stands, most of them offering traditional Ticino food products. Watching the residents of Bellinzona and nearby towns enjoying having a chat in front of the stands, just like in the past, certainly makes you nostalgic.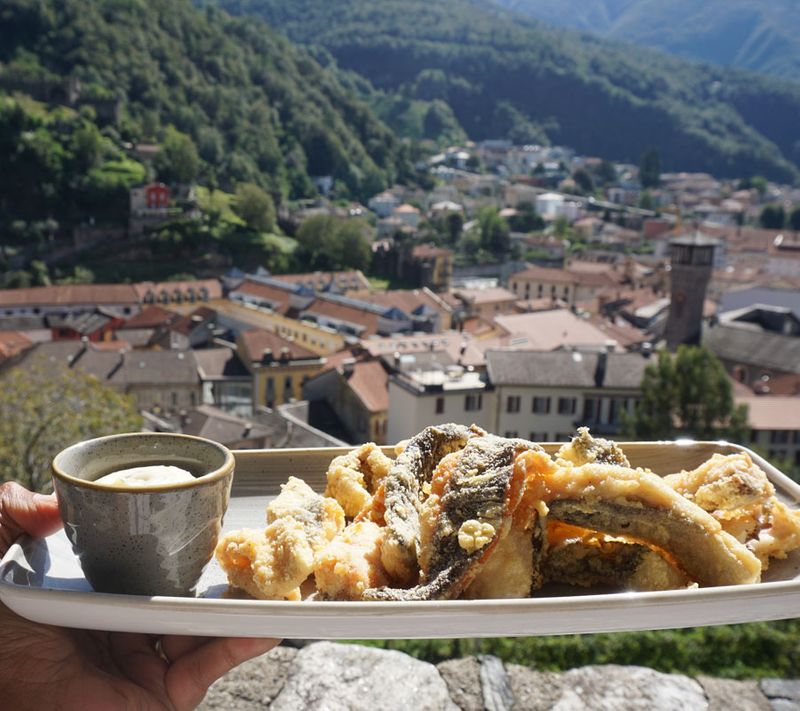 For a culinary break with a view, head to Grotto San Michele in Castelgrande. It offers both typical Ticino cuisine and a splendid view of the historical city. 
THE FLAMBOYANT SQUARE OF LOCARNO 
A convenient 20-minute train ride from Bellinzona, Locarno is a resort city on Lake Maggiore at the base of the Alps. The showstopper of the city is its Piazza Grande, distinguished by a 700-meter-long succession of harmonious porticos built in the Lombard architectural style, and hosting numerous businesses and restaurants. Old palaces face the main street that is animated with the musical show "Moon & Stars" and the International Film Festival during the summer season. 
Get lost in one of Locarno's cobblestone pathways to find locals going about their day-to-day life. I spot a septuagenarian woman painting the facade of her home, a little public library housed in a structure that looks like a telephone booth and ample chic boutiques, shaded cafes, inns and pizzerias where one can slow down over a meal.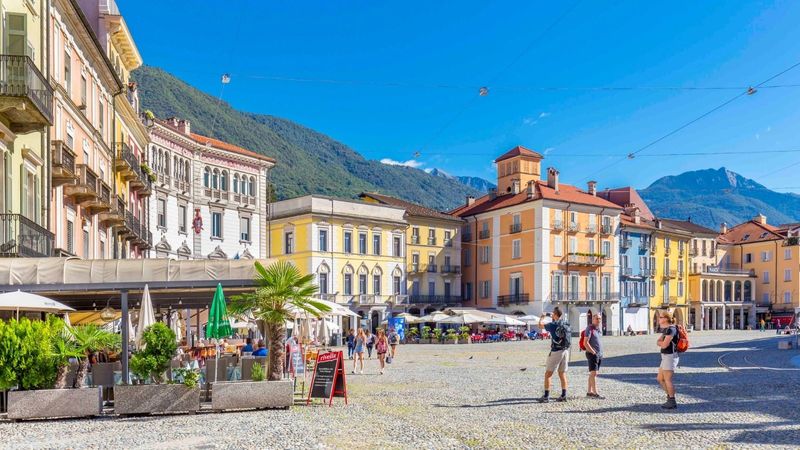 KNOW YOUR BASICS 
Italian is the official language of the canton

1 Swiss Franc equals 81.72 Indian Rupee

Ticino is home to more than 4,000 metres of hiking trails
HOW TO REACH TICINO
While Lugano-Agno airport is the most convenient arrival point, Ticino is also easy to reach from Milan and Zurich. The Swiss Federal Railway network FFS links Ticino to the major European cities and can be reached directly from Basel, Zurich, and Milan. The 57 km Gotthard Base Tunnel has revolutionised access to Ticino.
WHEN TO GO 
Lush and Mediterranean, Ticino is a year-round destination. However, it is simply gorgeous in the spring that starts as early as mid-March here. In the summer season, lakeside activity surges, and the weather can be slightly hot at times. The weather is milder in winter than elsewhere in Switzerland.
WHERE TO STAY
A stone's throw from the lake in Lugano, Hotel De La Paix makes for a great stay option with a strategic position. The hotel's Al Barilotto restaurant serves delish, homemade wood-fired pizzas and high-quality Swiss grilled meat in a rustic atmosphere with exposed beams and red and white checked tablecloths. Also, there is no shortage of vegetarian and vegan items on the menu.
Hotel De La Paix
Viale Giuseppe Cattori 18
6900 Lugano
TIP: CLUB SWITZERLAND WITH ITALY
While Lugano has a population of around 68,000, more than 70,000 Italians travel to this Swiss city for work every day. Yes, Milan is just a little over an hour's drive from Lugano which means you can easily pack two countries in one trip.
---
Photo: Shikha D and Shutterstock