Around this time last year, I was ascending the Hampta Pass—one of the most dramatic pass crossings in the Himalayas. Standing atop the pass at 14,000 ft, I saw the lush Kullu valley—peppered with tall trees, meadows, and wildflowers on one side and the arid, stark landscape of Lahaul—with barren mountains and almost no vegetation—on the other. They were two very different worlds, exactly like my time in the mountains and my life back in the city. 
During the six-day trek, I navigated my way through unknown terrain, overcame weather challenges, crossed icy-cold rivers, and survived on basic food cooked at the campsite and the essentials I had packed in my seven-kilo backpack. Every evening, my temporary home was pitched in the middle of a vast wilderness, so that I could wake up to a new, breathtaking spectacle of nature at sunrise. No cars. No horns. No sirens. All I could hear was the soft murmur of the breeze in the trees, the gurgling sound of the river, and sweet birdsongs. I was far from comfort and luxury yet close to bliss and serenity.   
When I returned from the trek, I was enveloped in a marvellous sense of well-being. I was glowing from within. All the fatigue I was earlier experiencing from spending countless hours working on my laptop had vanished. I felt like I was ready to take on the world. Being a travel writer, I have gone on several short hikes in some magnificent places around the world but the Hampta Pass trek was my first experience of vigorous hiking for more than a day, involving camping outdoors. It turned out to be a meditative experience that not only changed my perspective on life but also my view of trekking in India. I realised that the diversity, drama, and beauty of landscapes in India are unlike anywhere else on Earth.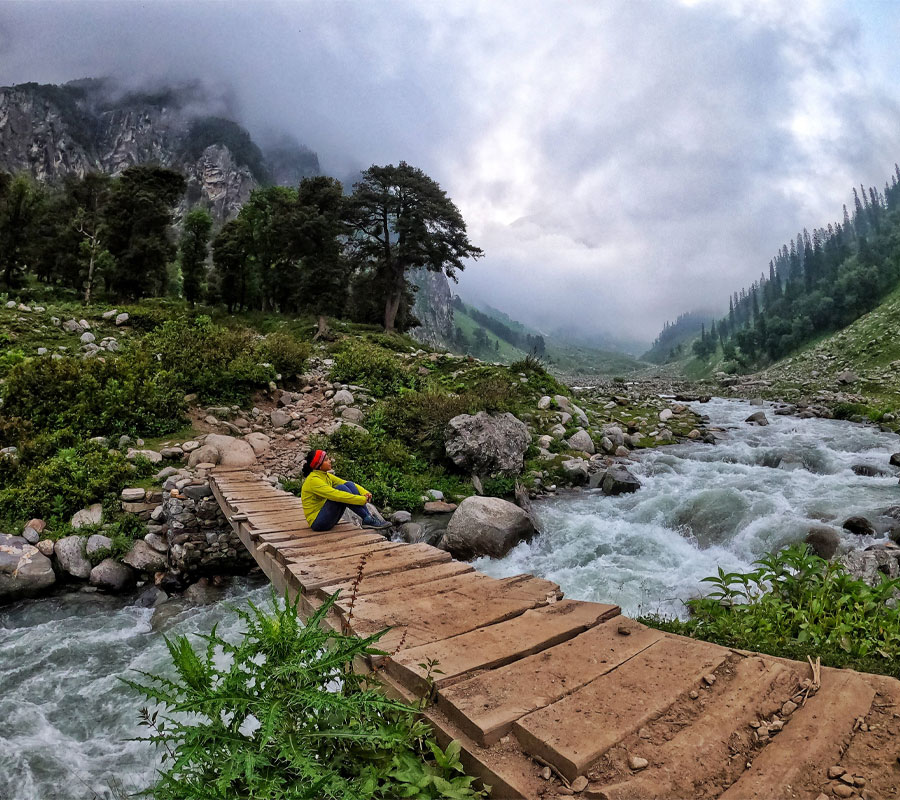 Many would say hiking is just walking. What's so special about it? I'd say hiking is like attending an outdoor school. It teaches us important life lessons that could have the power to change our lives. We learn to live off the grid, be present in every moment, see, taste, and smell the little things on the way, connect with landscapes and people around us, embrace the local ways of living, and appreciate and respect nature. Hiking is all about allowing ourselves to embark on an inner journey. 
Moreover, walking is the slowest form of travel. It offers a reconnection with nature as well as our roots, even if it is just for a couple of hours or days. The chance to move unencumbered and at our own pace through different types of terrain offers us a taste of what daily life was like for our ancestors. Sunshine, cold, or rain—they walked far and wide over mountains and deserts, grasslands and jungles, gathering or growing their food, and looking for shelter. They breathed the freshest air, soaked up the sun, read the natural elements around them to measure time, sang and danced around a fire on happy days, and slept under the blanket of stars. Tapping into the energy of the Earth was a part of their life and perhaps, that is why they were stronger and fitter than us. 
Today, we use cars and bikes more than we use our feet. While giving up on the luxuries of modern, urban life may seem impractical, what we can do now and then is go for a hike or perhaps a trek. It has umpteen benefits for our mind, body, and soul. Most importantly, walking drastically cuts down on our carbon footprint by reducing our fossil fuel consumption. Thus, in helping ourselves, we are also helping the environment and what better than that? 
Life lessons and rewards from hiking and trekking around the world 
1. Forge a bond with strangers, rediscover relationships
Sometime in October 2015, my friend from Hong Kong and I decided to go on a wellness break to Dehradun in Uttarakhand. The Himalayas are a great backdrop for yoga, massages, meditation, and all things rejuvenating. One of the mornings, we took off on a day hike to the Kunjapuri temple which is one of the 52 Shaktipeeths in Uttarakhand and located at an elevation of 1,645 meters above sea level. Since the trek was organised by the resort we were staying with, we had some hiking enthusiasts join us for the sunrise climb. We were joined by a yogi from Australia and a 50-something solo traveller from Germany, with two local guides leading the hike. As we all walked together, we spoke about our backgrounds, professions, relationships, and everything in between. The conversation was fascinating. As we reached the temple, we sat together and took in the sunrise and majestic views of the snow-laden peaks of Chaukhamba, Swargrohini, Bandarpunch, and Gangotri. It was a beautiful shared experience. While the hike itself was pleasurable, I realised that what truly made it special was the company.
When a group of people walk the same trail, they already have one thing in common: a shared love of nature. Or perhaps a shared pursuit of adventure. More importantly, there are no electronic disturbances and conversations seem to flow effortlessly, bouncing around from topic to topic. In fact, in those few hours or days, we share our joys and sorrows and end up talking more intimately with our trek mates than we do with friends who are with us for years. I have always been someone who appreciates silence and solitude over the chaos of large gatherings. I like to spend quality time with myself and my loved ones. Nevertheless, I realised that talking to strangers on my travels, especially on walking trails, regularly enriches my life. These unfiltered interactions tend to stay with me for a long time.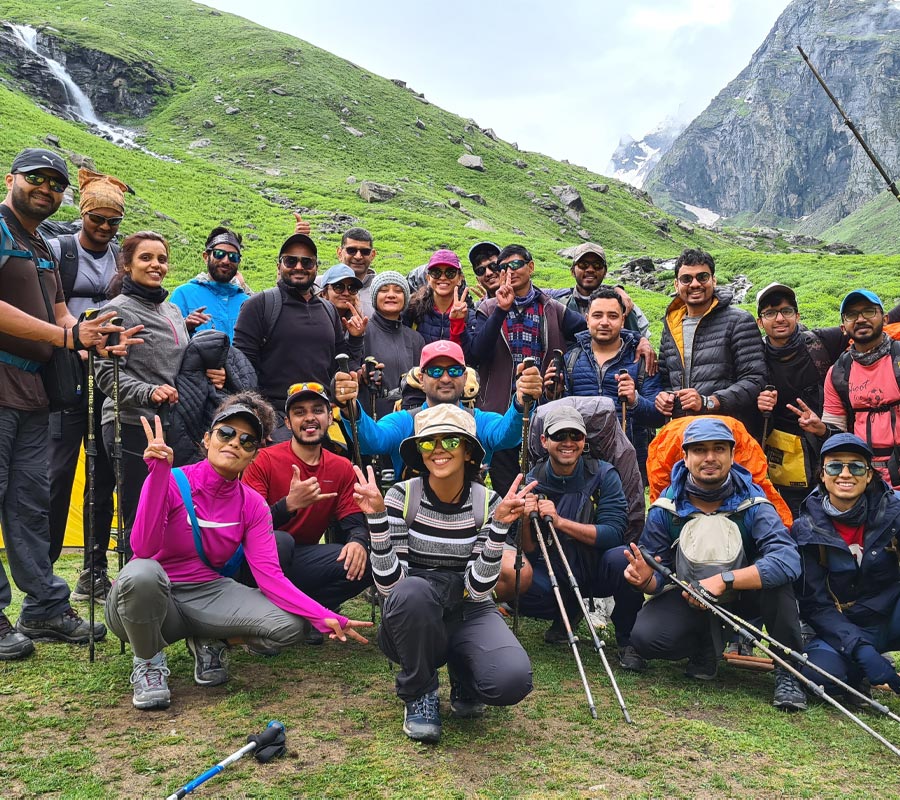 I have also hiked in large groups where team effort is key. It often involves creating a human chain to cross knee-deep rivers, carrying each other's backpacks, helping each other on difficult boulder sections, and even offering moral support to those struggling with footwork. Trekking gives us ample opportunities to put a smile on a stranger's face. It's a real-life experience that when we are kind to others, we achieve greater things in life.  
2. Inculcate environmental consciousness and respect for nature 
Mendenhall Glacier, located outside of the capital city of Juneau in Southeastern Alaska, stretches for 12 miles (19 kms) and is home to some otherworldly ice caves. After knowing that Tongass National Forest offers many opportunities to get fairly close and personal with the glacier, I made sure to reserve a spot for the Mendenhall Glacier Hike shore excursion during my cruise trip from Vancouver to Alaska. We had a remarkable start as we happened to spot seven bears within the first 45 minutes of being in the forest. While Tongass National Forest is reputed for being one of the places with the highest density of black bears in the world, spotting the adorable creatures in their natural habitat isn't all that easy. We were indeed lucky!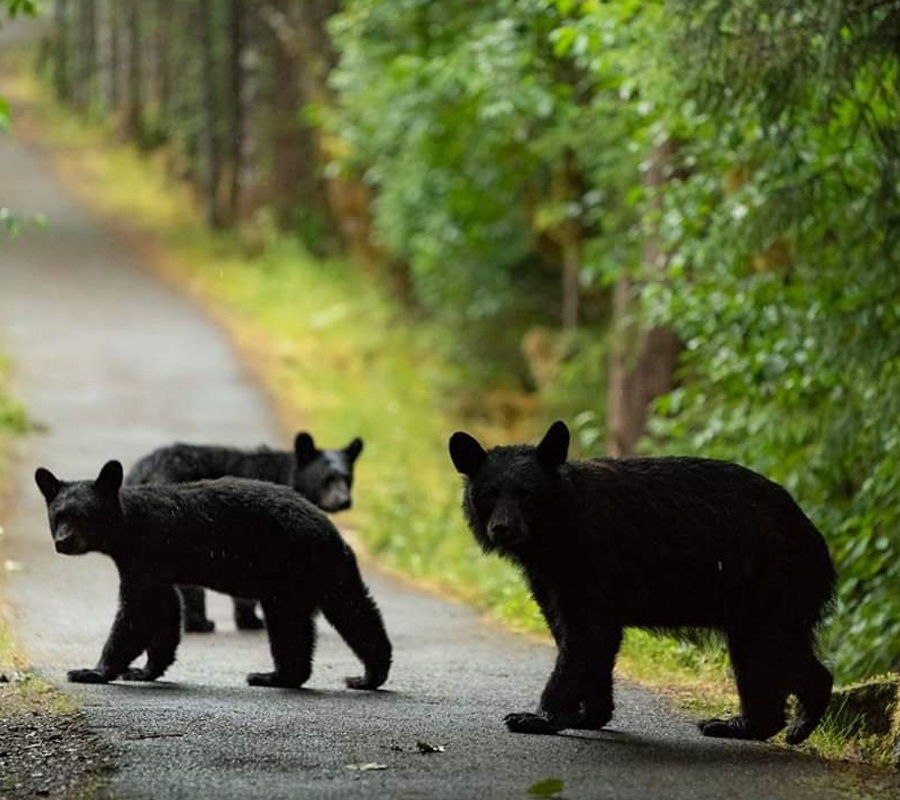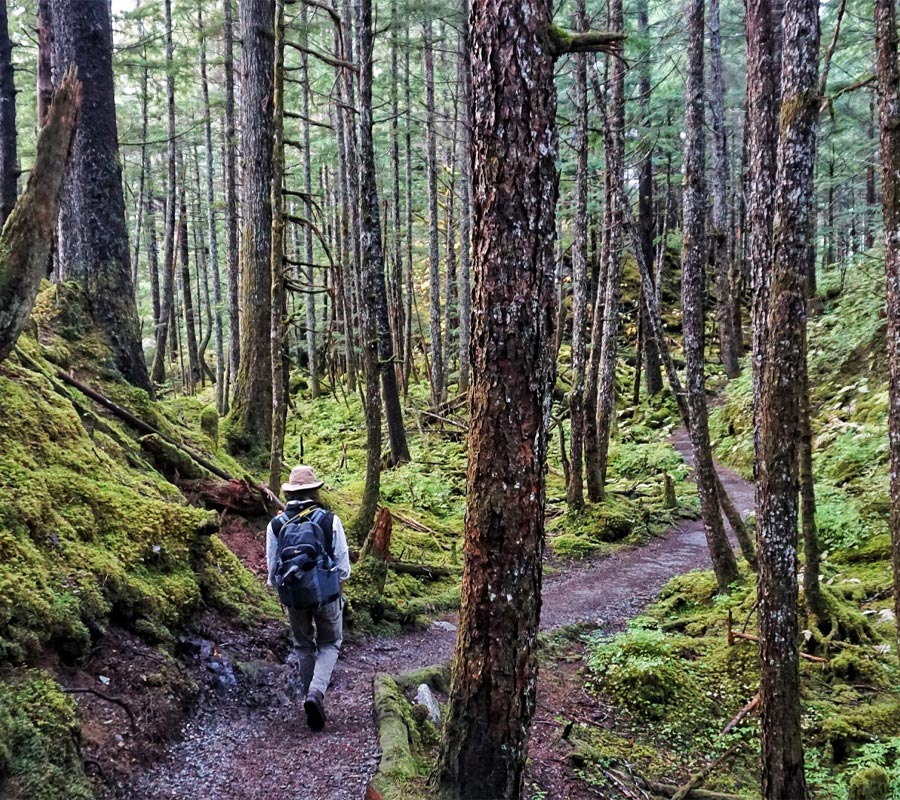 We kept walking through uneven terrain, some steep pitches, slippery screes, and a series of stairs only to enjoy a glorious view of the Mendenhall Glacier overlooking Mendenhall Lake and the forest. With autumnal colours in full bloom, it was a sight to behold. However, my ecstasy soon transformed into despair when I learnt that the glacier is fast retreating. Alaska is experiencing the brunt of global warming more than any other place in the world, said our guide. It was disheartening to know that the glacier is in the phase of rapid retreat and that nothing concrete can be done to save it. I couldn't digest the fact that the stunning piece of creation that is the glacier will be soon destroyed. Moreover, we were also made aware of the reality that Tongass National Forest, which is a buffer against climate change, is being threatened by ongoing congressional attempts to clear-cut rare and valuable old-growth trees. For the very first time, I had a strange ache in my heart and a million questions in my mind. I left feeling humbled, responsible, and more mindful of the intersection of human progress and wildness.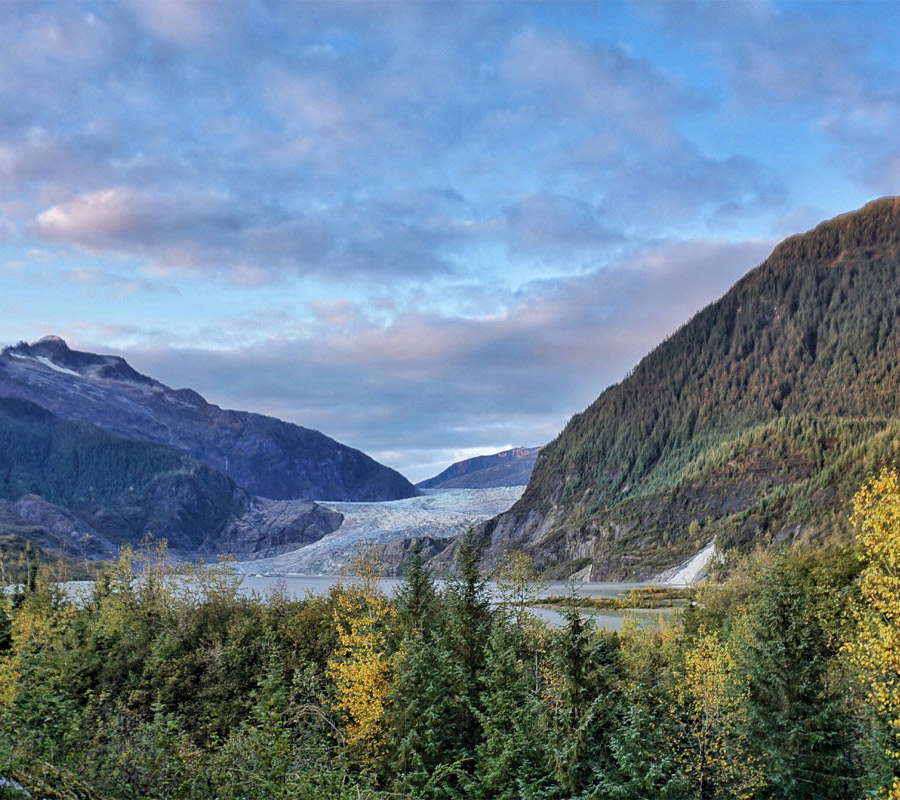 Hiking plays a significant role in raising environmental awareness by teaching us about the natural environments we often find ourselves in. Several Indian trekking companies are taking green initiatives and encouraging trekkers to leave mountains better than they found them. For example, India Hikes provides every trekker with a pouch or bag at the beginning of the trek in which they can put their garbage or any pieces of trash that they may find on the trail. Such initiatives are real-life examples of how our everyday activities can be damaging to the environment and what we can do to mitigate their impact on an individual level. This way, we start feeling a sense of personal responsibility towards nature. 
3. Develop confidence and an unshakable belief in yourself, be inspired  
With over 65,000 kilometres of way-marked trails, Switzerland is a paradise for hikers. During my trip to Switzerland last year, my travel writer friend and I happened to hike on the panoramic trail from Muottas Muragl to Alp Languard in the high mountains above the village of Pontresina in the Upper Engadine Valley. The seven kilometre DIY trek turned out to be a challenging one as we had to make it to the endpoint within a stipulated time to be able to catch the last chairlift back to the town centre.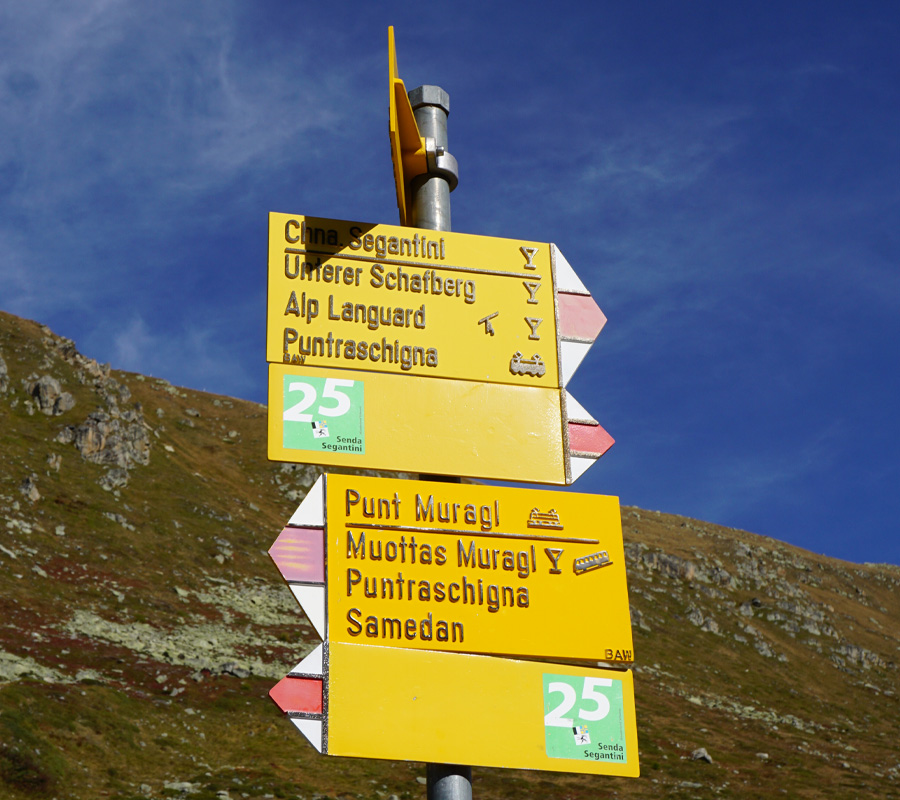 Since it was my first hike minus a guide or a Google Map, I had no choice but to educate myself about following the right directions using trail markers and a physical map. We were tired and anxious but we also knew we had to stay alert and keep moving. Hiking can force us out of our comfort zones and teach us a lot about ourselves, our strengths and our limitations. How do we deal with our fears and challenges? Do we give up easily or push ourselves to do better? How do we cope with emergencies? Hiking can help us find answers to all these questions and more. The activity serves as a mirror that reveals our true capabilities and pushes us to do better physically, mentally and emotionally. For me, my DIY hike experience in Pontresina gave me a confidence boost reminding me of the fact that we, as humans, can do it all, provided we are open to new experiences and willing to learn.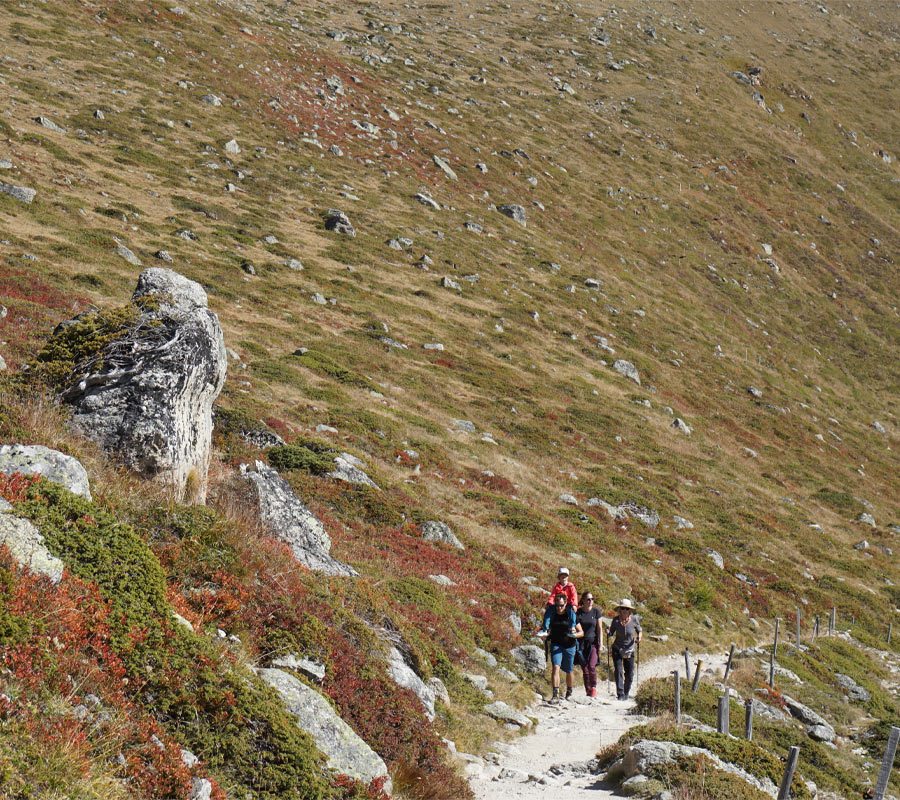 At the same time, I learned that hiking is something people of almost any age can do mainly because we are largely in control of how much we put into hiking. It is easy to choose hikes that are suitable for us or match our needs, preferences, and fitness level. During my hike to Alp Languard, I saw families hiking together—children hiking with their parents and grandparents, septuagenarian couples walking effortlessly for miles, and young couples carrying their toddlers on their shoulders and hiking at their own pace while taking in the vistas. I was inspired by the Swiss and their love for hiking. According to recent statistics, 2.7 million people between the ages of 15 and 74 who live in Switzerland identify themselves as active hikers. It equals 44% of the population between those ages. This tells us just how seriously the Swiss take hiking. 
4. Find joy in the simple pleasures of life, not material possessions 
There's something about walking in the wild that makes you want to do it again and again. During our trip to Kodaikanal—a little hill town in Tamil Nadu—my husband and I made sure to stay away from the tourist trap and take in the serenity of Kodai's dense forests, lakes, and high mountains. One morning, we set out on an impromptu hike in the Vattakanal forest. Luckily, our resort's in-house naturalist was free and offered to join us. Rich in flora and fauna, the forest is home to more than 3,800 varieties of trees, shrubs, and herbs and more than 600 varieties of ferns. We learnt to identify the healing herbs of South India, smelled the rejuvenating aromas of eucalyptus and lemongrass, and tracked the footprints of leopards and wild boars. Amidst rare single fern trees, cinnamon and shenbagam flower trees, and Himalayan cherry trees, we saw butterflies and birds such as the black and orange flycatcher, flame back woodpecker, red-whiskered bulbul, hoopoe, scaly breasted muniya, and Eurasian blackbird. Throughout the trek, we were treated to stunning valley views and crisp, mountain air.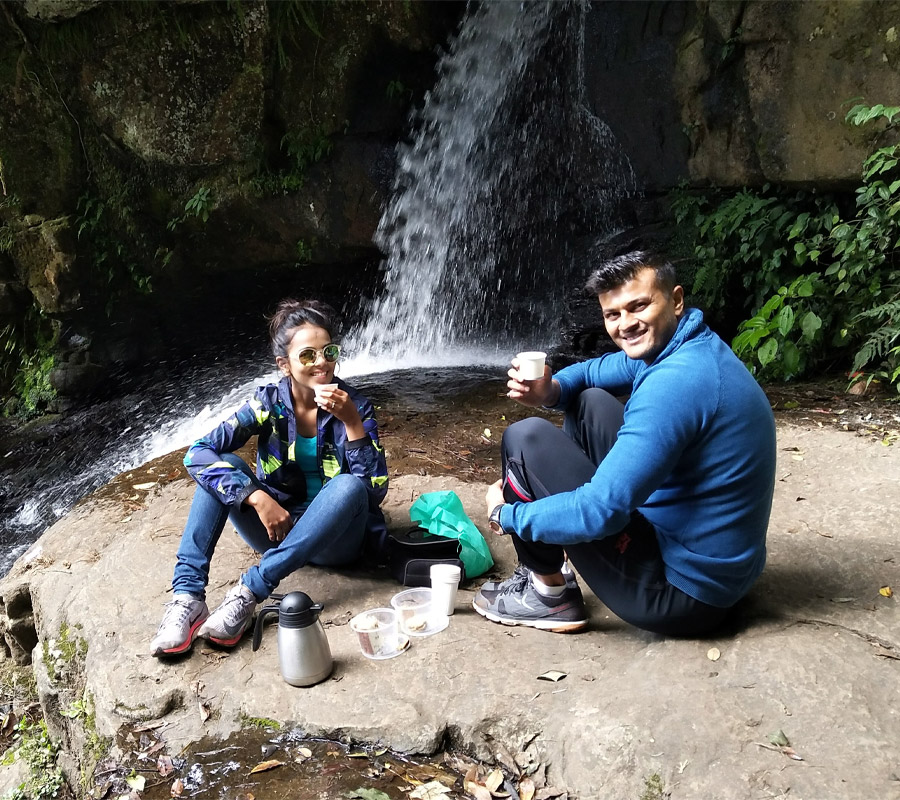 When we saw a waterfall and decided to take a break, our naturalist pulled out a flask, paper cups, and a container from his bag. We sat at the foot of the waterfall and enjoyed filter coffee and cookies in silence, trying to grasp the varied sounds of the forest—the chirping of birds, the buzzing of insects, and the gushing of water. At that moment, a simple picnic in the wilderness seemed like the most extraordinary and luxurious experience. It was a reminder of the fact that some of the best things in life are free. Material possessions are great, but happiness doesn't come from the items we own. Simple luxuries of everyday life can bring us true joy and contentment no matter what our income, location or situation. In this way, hiking teaches us the art of being grateful.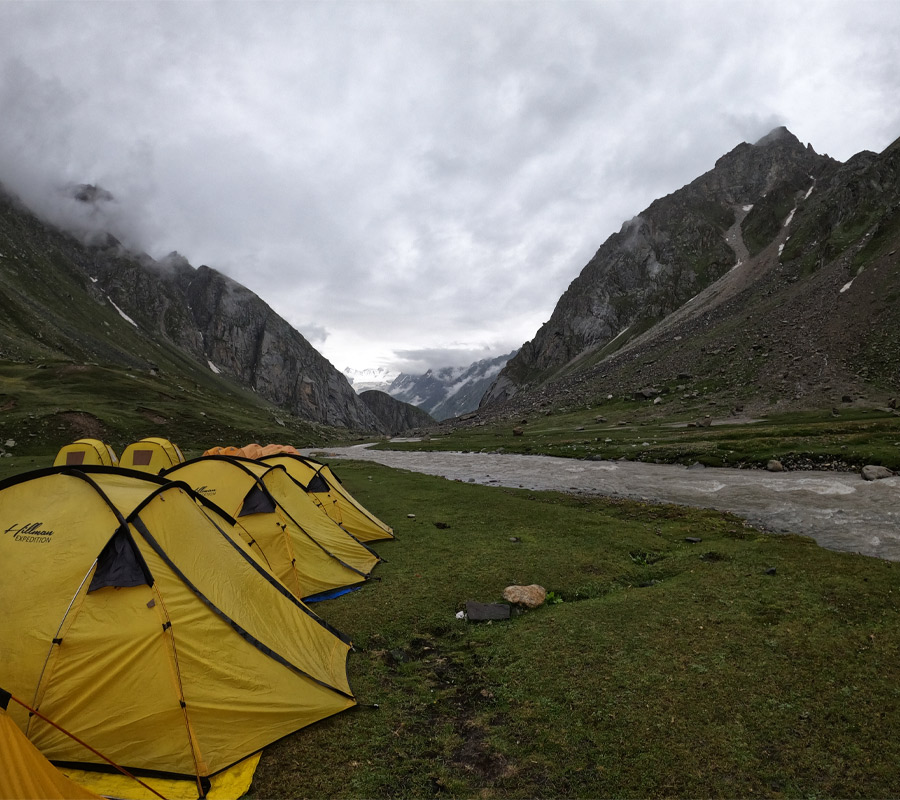 5. Disconnect from technology, reconnect with nature 
Often called the 'The Lungs of the Earth' or 'World's Largest Pharmacy', the Amazon Rainforest in Peru makes up 60%cent of the country's territory and shares its borders with Ecuador, Colombia, Brazil, and Bolivia. I had the opportunity to spend four nights cruising the Amazon's labyrinth of rivers and discover the true essence of the tropical rainforest. We were told that hiking through the heart of the Amazon basin and exploring trails that cross the Pacaya Samiria National Reserve is an absolute must. So, we donned our knee-high black rubber boots and walked in the rain, through narrow paths and treetop walkways, surrounded by massive ceiba trees that seemed to touch the sky. 
We stopped every few feet so that our naturalist could point out the little details about the flora and fauna of the forest. We learnt that the shallow waters and lakes of the Amazon basin are the only place in the world where you get to witness water lilies with pads that grow over 4ft in diameter, large enough to support the weight of a small child. We saw poison dart frogs smaller than a fingernail, leaf-cutter ants carrying leaves to their nest, tamarin monkeys leaping from tree to tree, sloths hanging from the trunks, anacondas lurking in the swamps, and toothy caimans and turtles sunbathing along riverbanks. Butterflies and flamboyant birds like scarlet macaw, toucans and parrots added a dash of colour and vibrance to the greenery. Our naturalist explained that many of the trees and plants in this ecosystem of unrivalled size have medicinal properties that are used by the local inhabitants. Sadly, the western world has tested only about one per cent of the plants in the forest.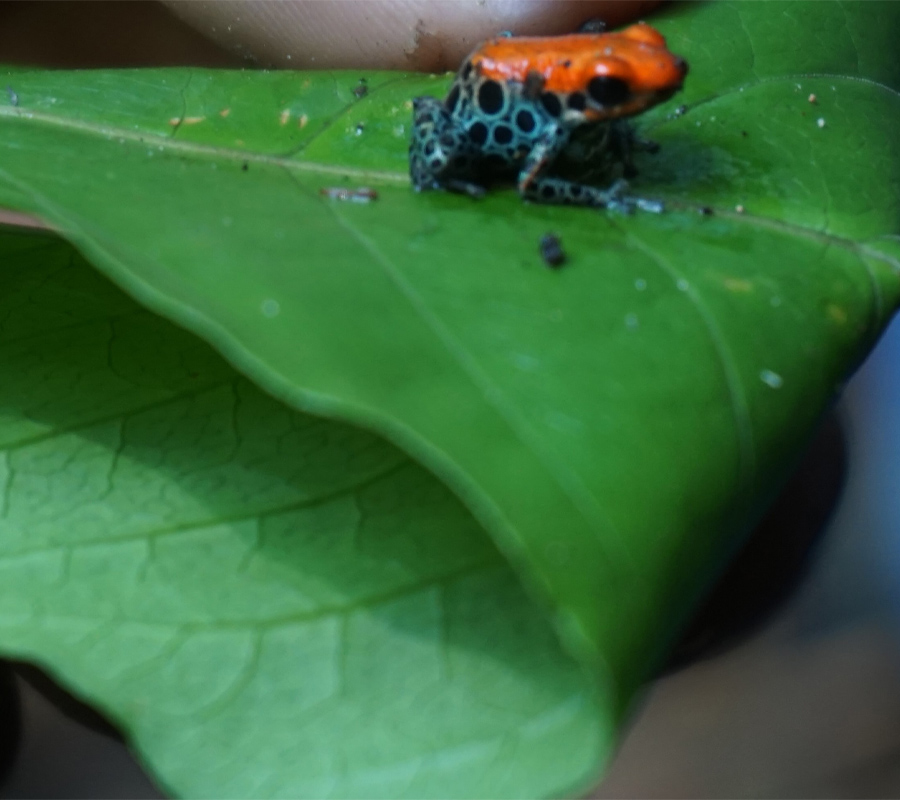 Hiking in a place with the highest density of biodiversity in the world will always be one of the most memorable travel experiences for me, more so because of the disconnection from technology. The absence of a WiFi signal and cellphone network allowed me to fully immerse in the healing power of nature, leaving my senses awakened. It reminded me of the term shinrin-yoku or forest bathing that emerged in Japan in the 1980s. A physiological and psychological exercise, walking in the wilderness and consciously connecting with what's around us not only works as an eco-antidote to tech-boom burnout but also bridges the gap between us and the natural world.
Quick tips for first-time trekkers and hikers 
Start with a day hike before you opt for a longer trek

Going on a DIY hike? Follow the signs and stick to marked routes.

For a longer trek, joining a group with a reputed trekking organisation is advisable. Having an expert guide ensures safety.

Pick a climb that suits your fitness level. If you're someone who doesn't exercise regularly, make sure to start working out a few days or weeks before the big day. Work up to build your stamina.

Never underestimate the terrain. Always be well prepared.

Carry fewer clothes and toiletries than you need. However, make sure to pack right. Always carry layers.

Invest in the right pair of shoes. Your boots are your best friend on the trail.

Use a trekking pole and use it correctly. It maintains your stability and balance.

Pay attention to altitude and carry necessary medication

Pace yourself well. Remember, it's not a race.

Maintain a good liquid intake and eat well while trekking. It is easy to feel dehydrated and dizzy in the mountains.

Be sure to leave no trace.
Photo: Shikha D