Dalhousie is a popular hill station in the Chamba district of the Indian state of Himachal Pradesh, not far from the city of Chamba. At an elevation of 1,970 metres (6,460 feet) above sea level, it is perched above five hills. The Earl of Dalhousie, the British Governor-General in India, established Dalhousie town as a summer residence and gave it his name.
From New Delhi, the quickest route to Dalhousie is via air to Sri Guru Ram Dass Jee International Airport, followed by a taxi ride of 6 hours and 32 minutes. The trip from New Delhi to Dalhousie on the bus takes about 10 hours and 10 minutes.
Dalhousie is the ideal place to visit during a winter long weekend with your friends, family, or your partner, and here's a list of some of the most beautiful spots you can visit while there. 
1. Panch Pulla waterfall
Panch Pulla, which translates to "five bridges," is a waterfall formed by the confluence of five separate streams. This is definitely one of the most beautiful views that Dalhousie has to offer, perfect for your eyes that are sore from working on the laptop.
The park now features a memorial to the rebel Sardar Ajit Singh. Trekkers, photographers, and hikers all find peace and quiet here, especially during the monsoon season.
How to reach: 3.5 minutes from Gandhi Chowk, Dalhousie
2. Sathdhara Falls
Satdhara, as its name suggests, is a collection of seven springs that flow into a single pool at the bottom. These crystal clear waters, which originate in a verdant setting, are an absolute must visit when in Dalhousie.
A trip here is one of the highlights of every trip to Dalhousie; here, perfection is merely a plus, and the sound of cascading waterfalls is soothing enough to induce sleep. If you plan on taking a swim in the refreshing waters, bring along some dry clothes just in case.
Distance: Satdhara waterfall may be found on the way to Panchpula.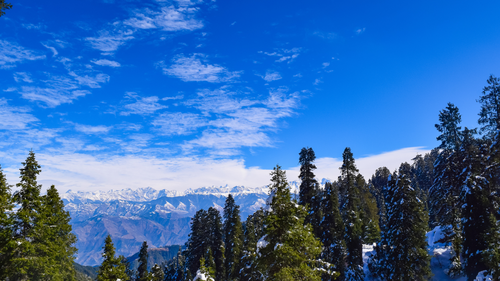 3. Garam Sadak
The name sounds weird, right? The street got its name after the blazing sun that hits it during daytime, making it a HOT street, in the literal sense! This little street is lined with trees and is home to a cluster of convenient stores where residents can get their daily needs met. Always remember to bring a camera and snap some pictures. The roadway is safe and inviting at any time of day or night, though torchlights are recommended.
How to reach: 2. 7 kilometers away from Dalhousie.
4. Tibetan handicraft market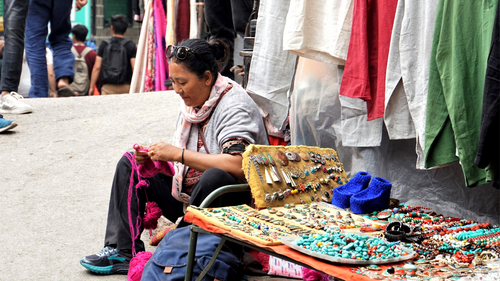 If shopping is your thing, Dalhousie has one of the most beautiful markets that are a must visit for any shopaholic! The wonderful carpets, wall hangings, jewellery, bags, shawls, scarves, and much more that can be found in the Tibetan handicrafts market are sure to please any and all shoppers. And if shopping is not of your interest, you can visit this market for the variety of local food stalls that serve the most lip-smacking food. Take enough money and you will return satisfied.
How to reach: It's 2 km away from Bakrota Hill, Dalhousie
Open Hours: The hours will be from 2:30 to 9:30 pm
5. Ganji Pahadi trek
The name Ganji Pahadi, which means "Bald Hill," comes from the fact that there is very little vegetation on top of the hill. Hikers adore this hill because it provides a beautiful vantage point and the trail, which begins in Panchapula, is easy to moderate in terms of skill.
Surprisingly, this hike is popular year-round, but especially so during the winter because it typically receives a lot of snow during that time of year.
As a pro tip, remember that there will be no restaurants or convenience stores in the area, so come prepared.
How to reach: Hiking up to Ganji Pahari from Dalhousie, Panchapula is just 6 km away.
6. Kalatop Wildlife Sanctuary
Kalatop nature sanctuary is one of Dalhousie's famous places, bringing with it an impressive variety of native trees, plants, animals, meadows, and even snow-capped mountains. A number of interesting nature trails allow you to trek or walk through the area with your friends, getting up and personal with wildlife like the Himalayan Monal, the Eurasian jay, the pines, and the enchanted environment.
Furthermore, one feels revitalised by the water streams that ultimately discharge into the Ravi river, which is obstinately located to the north of the sanctuary.
How to reach: Dalhousie is about 8 km away from the town's centre
Hours: The hours of operation are Monday through Friday, 7 am to 6 pm
Places to visit in and around Dalhousie
7. Khajjar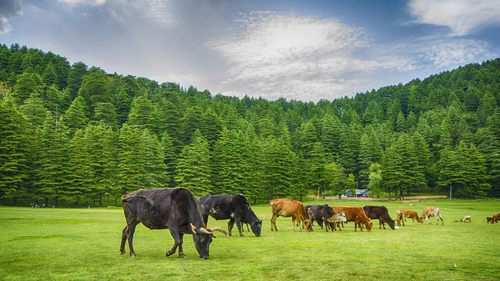 Khajjiar, in the Chamba district of Himachal Pradesh, is a stunning hill station just 21km from Dalhousie and 20km from Chamba. Located at an elevation of 1,951 m in the Kalatop Khajjiar Sanctuary, this area is sometimes referred to as the "Switzerland of India" due to its location at the base of the Western Himalayan Dhauladhar ranges. It's not just one of Himachal's most visited and beautiful attractions, but also a popular destination in its own right.
Khajjiar is the jumping off point for several treks, including those to Chamba, Dalhousie, and the Kalatop Wildlife Sanctuary, earning it the nickname "Gulmarg of Himachal Pradesh." Khajjiar to Dainkund is a 3.5-km (2.2-mile) easy to intermediate hike. The Pholani Devi Temple in Dainkund is the endpoint of a hike that begins 6 km earlier, on the Dalhousie-Khajjiar route. This walk is great for novices and younger hikers because of the clearly marked track and gentle elevation gain. This hike is worth it for the stunning vistas and idyllic camping it provides. In the months of April and May, zorbing explodes in popularity as a fun pastime.
8. Dainkund Peak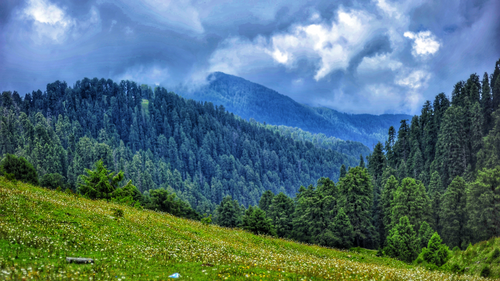 Saved the best for last - Walking up to one of Dalhousie's highest peaks, you'll be able to get a good look at Dainkund peak, where the paths sway in the gentle wind, revealing a breathtakingly beautiful view of snowcapped mountains. Trekking to the peak is not only simple, but also exciting; novice hikers will enjoy the challenge.
Incredible views of rivers, meadows, and waterfalls unfold as the summit comes into view. This undoubtedly is one of the most beautiful places to visit in Dalhousie.
How to reach: From Dalhousie, the trek to the camp is about 13km
9. Boating at Chamera Lake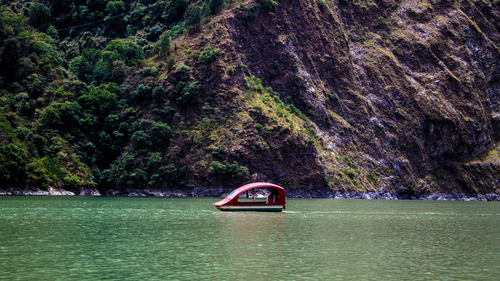 Enjoy the timeless beauty of the lake by boating in it and bragging about how it was artificially created on the Chamera dam. The sight of the lake, framed by verdant hills, is soothing to the spirit. Spend some time relaxing by sitting or camping by the water's edge, or hop in a boat to do some fishing and hang out with friends or a significant other. One can relax and enjoy the morning while being engulfed by the serene beauty of this magnificent sight.
How to reach: From Dalhousie, you are looking at a 30 km trip
Hours: Daily hours are from 7:00 am to 5:00 pm
10. Chamunda Devi Temple
The Chamunda Devi temple, dedicated to the Hindu goddess Kali, is stunning inside and out, and is one of the most famous places to visit in Dalhousie. The grounds of the temple, where many deities are kept, are only around 2km away. It is characterised by intricate carvings and bright flags, and it is encircled by verdant greenery, creating an atmosphere of peace and tranquilly. Visiting Dalhousie's historic buildings is one of the most relaxing activities available.
Distance: Dalhousie to Chamba Valley is 128km away
Travelling to Himachal Pradesh is always a great idea. Unless you're one to follow the travel trends for 2023, then you might have more than just Dalhousie on your bucket list. 
---
Photo: Unsplash; Shutterstock