Talking about Himachal Pradesh will be incomplete without mentioning the state's snow-clad mountains, fresh air, lush green valleys, and tranquil environment. However, there is one facet of the state which is often missed. And, that is Himachali cuisine. From sweet to spicy, the Land of Gods' platter has something to treat every kind of foodie. Siddu, Madra, Babru, TudkiyaBhath, and many other food items from Himachal Pradesh should be on your bucket list for your next culinary trip to this Pahadi Indian state.
11 Traditional Food of Himachal Pradesh
1. Siddu
Although siddu is a local side-dish, you cannot leave Himachal Pradesh without trying it. This popular Himachali dish is commonly eaten with ghee during the winter season to maintain body temperature and boost energy. On the other hand, it is often served with lentil broth (dal) or pudina chutney. Meanwhile, siddhu also complements the main course of mutton or some vegetables.
The hero ingredient for this Himachal Pradesh dish is wheat flour. Cooking siddu is a bit tedious and time-consuming, but the taste of the bread makes it seem worth it. Travellers can easily devour siddhu in local cafes and restaurants.
2. Madra
Madra falls into the category of traditional food in Himachal Pradesh. Madra, a quintessential part of the wedding menu in the hilly state, is very popular and commonly found in the Chamba and Kangra regions. Madra is rich in vitamins, minerals, fibre, and protein that help maintain good gut health, aids digestion, and improve bowel movement.
A bowl of madra features a rich blend of chickpea and the goodness of yoghurt. It tastes best with hot steaming rice and other similar delicacies. 
3. Babru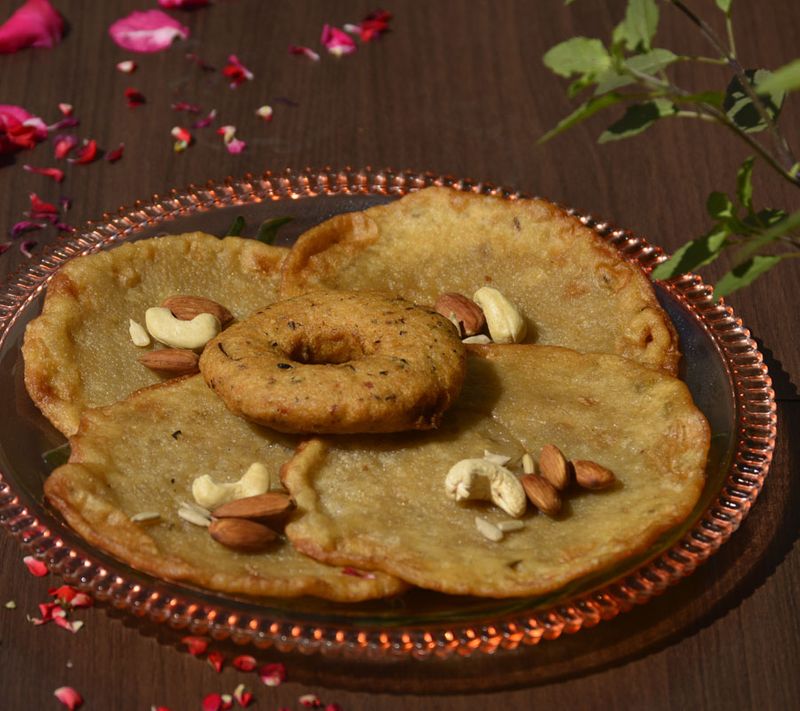 The next famous food of Himachal Pradesh is Babru, a Himachali kachori. This Pahadi kachori features a unique twist as compared to the conventional kachoris of North India. The crisp and scrumptious kachori has the stuffing of black gram paste which is added to the kneaded dough. The delectable Babru tastes best with tamarind chutney. It is also served as a complementary dish with Madra.
The best babru is generally found in Shimla. Apart from being a good option for breakfast, Babru can be relished as a quick in-between snack. Each bite of this mouth-watering appetiser will leave you craving for it more.
4. Tudkiyabhath
Tudkiya Bhat is a delicious flavourful rice pulao, cooked using spices like cinnamon, bay leaf, chilli powder, ginger, garlic, cardamom, lentils, potatoes, onions, tomatoes, and yoghurt. This Pahadi version of pulao is usually served with mashed dal. The rice dish is largely found in places in the Chamba district of Himachal Pradesh.
When having TudkiyaBhath, squeeze some lemon juice on top to give an additional kick to your taste buds.
5. Bhey
Don't forget to taste bhey or spicy lotus stems on your trip to Himachal! This Himachali delicacy is exclusively found in the state, so your culinary trip is incomplete if you haven't tried this one. Thinly sliced lotus stems are cooked with ginger, garlic, onions, and gram flour.
Bhey can be found in every household of the locals as Himachali people are very fond of this food item. It is a filling evening snack. You can also have this Himachal Pradesh food item during lunch or dinner.
6. Aktori
If you have a sweet tooth, Aktori is a treat for you. Although it is a sweet dish, Aktori is a healthy dessert. It is mostly prepared during festivals. It is a pancake made with buckwheat leaves which are further cooked in wheat flour. Interestingly, this sweet dish originates in Spiti Valley. Aktori is often served with ghee and honey. 
7. Dham
Dham or dhaam is a traditional platter from Himachal Pradesh. This is specifically prepared during celebrations and festivals. It includes rice, curd, rajma, and lentils and is flavoured with jaggery and boor ki kadhi. The unique feature of this dish is that it is prepared by special chefs known as 'botis'. As dham is an integral part of Himachali cuisine, if you are ever invited to a Pahadi wedding or festivities, don't miss it!
8. Chha gosht
The next on the list of special food items from Himachal Pradesh is a dish for hardcore non-vegetarians. The dish is prepared with marinated lamb, which is cooked in a gravy of gram flour and yoghurt. Indian spices such as cardamom, red chilli powder, coriander powder, bay leaf, asafoetida, and ginger-garlic paste are used to flavour the curry and the aroma of these spices amp up the overall taste of this dish. Chha gosht, also known as meat bhath, tastes best when served with rice.
9. Kullutrout 
Originating from the hilly state of Himachal Pradesh, this non-vegetarian recipe is easy and hassle-free. The mild spicy flavours of this dish will leave you craving it. Interestingly, Kullutrout is touted to be one of the healthiest and tastiest kinds of river food in Himachal Pradesh.
Kullutrout is best enjoyed with steaming white rice. As the name suggests, you can find the best of the best trout in the Kullu region of Himachal Pradesh.
11. Kaalechanneka khatta
Along with babru, kaale change ka khatta also goes exceptionally well with Madra. The tangy and sour flavoured authentic Pahadi dish is generally served along with plain steamed rice. The dish is said to be found mostly in the Kangra region of Himachal Pradesh. The sour curry is made from black chickpeas (kale channe) cooked in a tangy and spicy gravy flavoured with tamarind (imli).
12. Mittha
As the name suggests, mittha is a traditional sweet dish of Himachal Pradesh. The aroma and taste of roasted dry fruits such as raisins, almonds, and many more, give an additional kick to this lentils-based dessert. Moreover, its nutritional value can instantly charm any health freak. Don't forget to treat your sweet tooth with this super delicious yet healthy dessert.
---
Photo: Shutterstock