If you think the influx and increase in popularity of alcoholic beverages in India is a new phenomenon, you're in for a surprise!
From time immemorial, the need to preserve excess produce has been second nature to Indians, and as a result, once all the pickling and drying was done, in came fermentation and distillation. If you think only international brands make the best spirits, trust the local Indian tribes who have a distinctive brewing culture to take you on a spin with the local variants.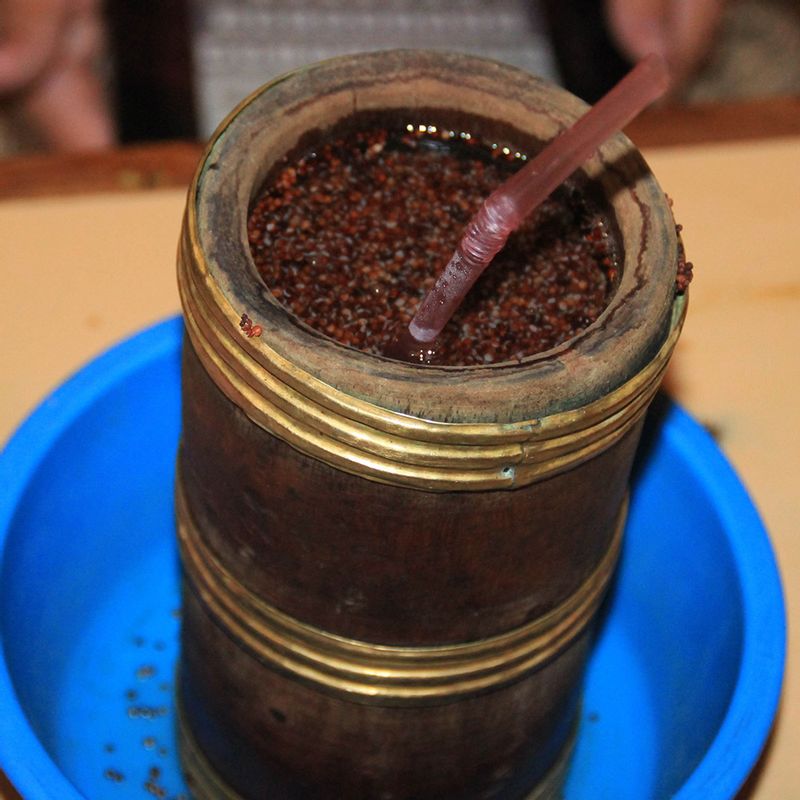 The Himalayas is a hotbed of local brews that are a part of their traditions, celebrations and festive occasions. Some of the best-kept secrets that are waiting to be discovered by the contemporary world—the local brews here aren't made from grains and cereals that need to be imported but are made from whatever is available locally, such as barley and millets. What is even more intriguing is that many of these local spirits are said to have medicinal properties.
Here are five Himalayan brews that you simply cannot ignore.
1. Chaang
If the beauty of Ladakh doesn't mesmerize you, try some chaang with it! Depending on which part of the Himalayas you are in, the grain of chaang will change. In Ladakh, chaang is made with barley, but as you move eastward towards Sikkim, barley is replaced with finger millets (ragi) and rice as the favoured grain for the brew.
The brewing process is very similar to modern-day beer. Barley or millet grains are cleaned and boiled. A yeast or started culture is mixed with the boiled barley and left to ferment. When the sugars from barley get converted to alcohol, the liquid is filtered multiple times to get chaang.
In Ladakh, chaang is consumed cold in summer and warm in winter. The brew is said to have nutritional and medicinal properties which help the locals to cope with the extreme weather conditions they live in.
2. Lugdi
Chaang—has a different avatar in Himachal Pradesh—known as Lugdi. Made of either barley or rice, it is a rudimentary form of brew that the women from the villages surrounding Manali make at home. It is usually brewed in summer and saved for the harsh winter months.
Lugdi's recent claim to fame is its cameo in the popular Hindi film Yeh Jawaani Hai Deewani where the protagonists, Ranbir Kapoor and Deepika Padukone are seen sipping on it to keep themselves warm on a trek.
3. Tongba
Ace bartender Yangdup Lama informs us that Tongba, the local brew popular in Sikkim and mountains of West Bengal (Darjeeling, Kalimpong, etc) is prepared for ceremonious celebrations and religious offerings in the hills.
Similar to the brewing process of chaang, millet grains are cooked and left to ferment with the help of a culture. This is where the process changes gears—the grains are left in a warm place to allow the fermentation to kick-start. The fermented congealed mass is then transferred into an air-tight space for approximately six months till it is ready.
The fermented ragi grains are put in a bamboo glass which is then topped with warm water. "As long as there is a steady supply of hot water, the fermented seeds can be stretched into several rounds of warm, yeasty beer," explains Lama. The good part is it can last for the night—you can keep refilling the glass with warm water till you feel the potency of the drink has waned.
4. Apong
A departure from chaang and tongba brews, Apong is a traditional rice beer made by local tribes in Assam. There are two varieties of Apong—Nogin and Poro. The former is a summer brew while the latter is a winter brew. Poro is made from black rice and is said to be more labour-intensive—it uses ashes from burnt rice husks and straw in the primary culture.
"Starter cakes called E'pob are made by crushing rice with medicinal plants, each providing a unique health quotient (and sweetness) to the drink," writes Rini Barman in her essay 'Hands That Brew' in the book Centrepiece: New Writing And Art From Northeast India.
From weddings to festivals, Apong is an integral part of several socio-cultural and religious rituals. If you are visiting a local home on your next trip, don't be surprised if you are handed a glass of Apong as a welcome gesture.
5. Kiad
As you travel out of Shillong, the capital of Meghalaya, you'll find tin shacks serving jadoh (local meat and rice comb) along with a milky white brew known as Kiad. Compared to its other hilly cousins, Kiad is a relatively young rice brew said to have been introduced in Meghalaya by a Welsh missionary as a cure to a several ailments.
The white-hued drink is served in a bamboo tumbler with gentle fizzing and bubbling. Over the years, the drink has become a staple for celebrations, big and small. Even though it needs to be diluted, it is still not meant for the faint-hearted.
---
Photo: Shutterstock