If fashion reflects our times, this year's biggest moments spoke of a turbulent world. When it came to style, it showcased a variety of moods — lurching between cosiness and glamour, edginess and extravagance, futuristic and nostalgic.
As we teetered between a post-pandemic desire to get dressed up and look extra, and a more down-at-heel mood, fashion in 2022 has been a heck of a ride. Bringing the curtains down to 2022, we relive some of the iconic fashion moments of this year:
1. Redefining maternity fashion
The year 2022 was arguably the year that maternity dressing finally got yanked into the present — thanks to Rihanna. During her pregnancy announcement, the star wore a hot pink Chanel bomber jacket with only one button done up, leaving the rest undone to reveal her bump. The garment almost seemed like a curtain call at the theatre throwing the spotlight on the protagonist.
From a sheer black dress worn over lingerie during Paris Fashion Week in March 2022 to a variety of crop tops and bandeaus that bared but also celebrated Rihanna's belly, she rewrote the rules of maternity wear, one look at a time. Her wardrobe throughout 2022 has shown that what people wear while pregnant doesn't have to be all frump.
2. Barbiecore energy
A lot was said about hot pink in 2022, and the chokehold it had (and still has) on everyone. The unapologetic hue shot to fame with designer Valentino's signature 'Pink PP' collection, consisting of all-pink looks that were impossible to ignore. Valentino's passion for pink fueled — and perfectly coincided with — Barbiecore's rise.
Hot pink became even stronger when Margot Robbie was spotted cycling in candy-coloured cycling shorts in the new Barbie film. Pink Barbie merged with pink Valentino when Piccioli sent a unique shade down the runways and streets.
3. Deepika Padukone goes global
Deepika Padukone had an incredible year! From being part of the Cannes jury to being the first Indian to become a Louis Vuitton House ambassador followed by unveiling the FIFA World Cup 2022 trophy, all decked up in the brand's finest pieces. This year, the actor certainly cemented her status as one of the most powerful global fashion icons.
4. Y2K fashion makes a comeback
From micro-mini skirts to bare midriffs, cargo pants to cut-outs and sparkly shoulder bags to jeans — the more low-slung the better — all things Y2K were firm favourites in 2022. Favoured by Gen Z the most, the Y2K mood was perhaps best appreciated by those too young to remember when it emerged the first time around.
The tiny skirt that Miuccia Prada sent down the Miu Miu catwalk at her autumn/winter 2022 show was a vibe-shifting moment in the entire fashion world.
5. The spray-on dress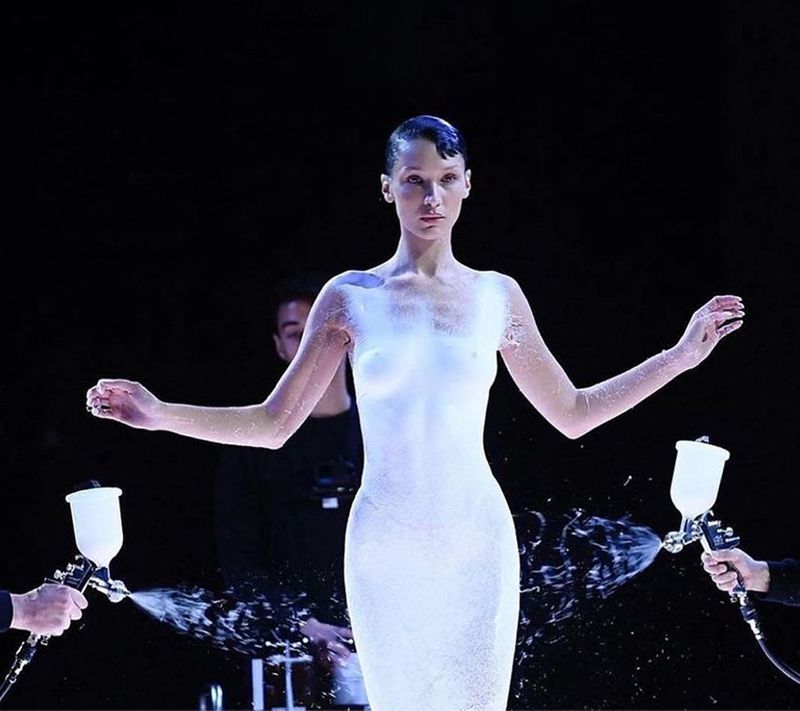 We saw drama and technology come together with the well-orchestrated stunt at Coperni's spring/summer 2023 show in October. It had all the internet-breaking ingredients to dominate fashion fans' feeds. When the Parisian brand sprayed a dress on supermodel Bella Hadid, it was an innovative meeting of the best minds in fashion and science, with the spray made up of Fabrican, a liquid created from both natural and synthetic fibres.
It reminded many of Alexander McQueen's iconic 1999 Spring showcase, where robots spray-painted black and yellow streaks across a white dress worn by Shalom Harlow. Almost a quarter of a century later, spectators were awed by what can be achieved at the intersection of fashion and technology.
6. Sabyasachi in NYC
It is no secret that India's top couturier, Sabyasachi Mukherjee, incorporates a touch of Calcutta into not only his styles but also his stores. A beautiful baroque boutique opened on Christopher Street this year, showcasing Sabya's intricate craft, adding a rich and exquisite cultural element to the year and his contributions to the Indian fashion history.
7. Grand spotlight on Gaurav Gupta's avant-garde couture
From the Oscars to the Grammys, the Gaurav Gupta Couture label has had a busy season on the red carpet. From Megan Thee Stallion making an appearance at the 2022 Oscars in his GG Fantasy Biomorphic gown; Cardi B followed it up in another gown in her music video remix of No Love to Jennifer Hudson in a gold vintage ensemble for the 2022 Producers Guild Awards in LA, the designer's avant-garde couture creations are finally getting the grand global spotlight they deserve.
AlsoRead2
8. Playfulness in menswear
The year was a win for the playfulness and sexiness that have been welcomed into menswear of late. Remember when actor Timothée Chalamet caused a stir by wearing a backless Haider Ackerman jumpsuit on the red carpet? In recent years, however, there have been more and more queer and gender-fluid aesthetics on the red carpet: Lil Nas X, Troye Sivan, Dan Levy, Ranveer Singh and Harry Styles, to name a few. Men on the red carpet intentionally or unintentionally reshaped public perceptions of what a man can and should be. Special mention: we are cheering on menswear's growing embrace of skirts.
9. Celebrating grunge fashion
If you were looking for an embodiment of daring, unconventional, and often gravity-defying style, Julia Fox, the Uncut Gems actor became the go-to girl this year. When Fox appeared at Paris Fashion Week in February sporting dramatic black eyeliner, denim and leather looks, she became an edgy, international fashion muse.
The competition for grunge fashion remained strong, thanks to Wednesday Addams from the hit Netflix series Wednesday. The punk and goth style seems to have a firm hold on the fashion world. Dark elements are being mixed with romantic lace, florals, and even disco shimmer details with ease to create striking looks.
---
Photo: Instagram/Featured Celebs