Whether one is into high fashion or just attempting to avoid being too over the top, clothes play a significant role in our lives. Unfortunately, they can quickly become expensive, not to mention that constant shopping also leads to a lot of discard which in turn affects the environment to a large extent. How can you then combat this from the perspective of protecting the environment as well as your wallet?
Investing in used clothing is a fantastic strategy. Additionally, rather than throwing away your old stuff, you should give them away. The adage 'one man's trash is another man's treasure' is true.
Learning how to mend and repurpose your clothing is another method to cut costs. You can employ countless life hacks to restore your clothing to brand-new condition. Or, if you want to improve, apply one of these simple hacks to transform garments into something completely different. Try these cool hacks at home, they are not only useful but can also be a lot of fun.
1. Tie & dye clothing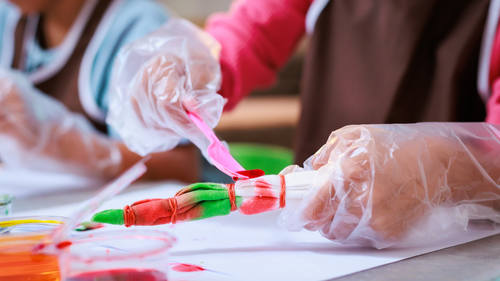 These bright and comfortable outfits are popular, but good quality tie and dye is expensive. No stress, you can do a tie and dye project at home! Finding some white cotton sweatshirts, sweatpants, zip-up jackets, or shorts (pre-washed if fresh) is all that is required. Rinse your clothing, fasten it with rubber bands, and start tying dye with as many or as few colours as you choose. After you're done, store the wet clothing in a plastic bag for 6 to 8 hours before washing (to avoid a mess). This style hack will definitely save you money in the long run.
2. Embroidered T-shirt shoulders or pockets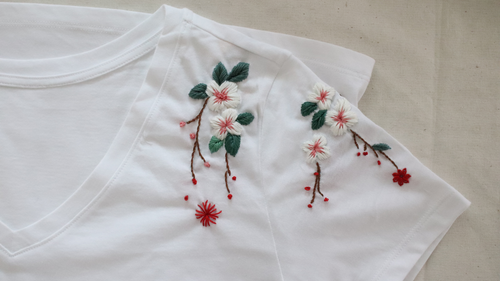 You can stitch a neat, adorable pattern more quickly and easily if you use an embroidery hoop. You may easily add your own flair to your outfit if your T-shirt is too simple. You may add a  small design, like a strawberry, cheerful face, flower, or heart, to your t-shirt's pocket with a needle and thread. For cleaner results, print out your desired image and trace it for beginners, or follow instructions on YouTube. We suggests buying a pre-printed water soluble canvas that you can print your design on because this skill could be challenging for beginners.
You lay the canvas on top of the fabric and stitch the printed design using it as a guide. When you're done, gently hand wash your design; the canvas disappears mysteriously, leaving only your design on the garment An embroidery hoop can help keep your design in place while you work.
While this DIY hack may seem time consuming, it is definitely rewarding, and is guaranteed to make you one of the stylish people in any room.
3. Paint your jeans or stitch on a patch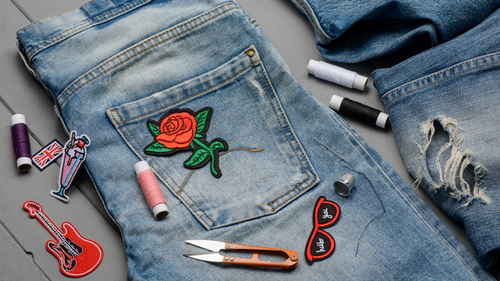 Try adding some flair to your denim pants using acrylic paint if you find that they all have the same appearance. It's a wonderful exercise to make a unique piece of art that will get you compliments, whether you choose to paint the entire flare or just the back pockets. To stop the paint from cracking, just apply a fabric medium or acrylic polymer. Look for fewer stitches anywhere you plan to paint on any pair of jeans. Your canvas will function better if there is more empty space. Secure areas you don't want paint dripping into with painter's tape. To brighten up your pattern, use glitter glues and gems. This DIY style hack is fun, easy and a quick DIY to do with your friends. 
Alternatively, you can stitch a ready patch of your choice. This is a great way to cover up any stains or a tear in your jeans too. 
4. Paint your shoes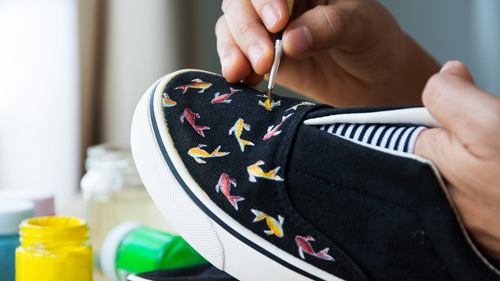 Lost interest in your boring shoes? Fabric paint markers are the solution. Directly on the shoes, doodle a design, then go over it with your fabric pen. To get cleaner lines, use painter's tape. This DIY hack is perfect for anyone with an artistic side.
5. Iron-on T-shirts
By printing your favourite image or photo and ironing it onto your tee with transfer paper, you can recreate the 2000s look with any basic shirt. In order to prevent receiving a mirror image of the original, remember that it is preferable to use dark shirts for light-coloured graphics (and vice versa). For the best results, use cotton shirts because the necessary heat can melt polyester or acrylic. This DIY hack is for ideal for the person who wants a reaction with minimal effort.
6. Fringe all the way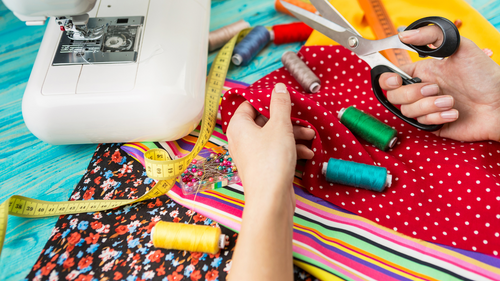 A fringe is the easiest way to instantly turn an outfit into boho-chic. Scissors are all you need for this easygoing look! To ensure that your tassels are even, draw our lines first with chalk. When you're ready, begin cutting your tank top, blouse, or dress upward, and presto. Jeans too can be transformed to create a similar appearance. Simply cut the bottom of your denim with precise scissors, then fringe it with a sewing hook for a vintage frayed appearance.
If you're wondering how to make green fashion choices, DIY clothing hacks are also a great way to do just that. You can transform your old clothes into something new and unique. While there are several sustainable fashion brands today in the market, don't forget to take a peek into your wardrobe before you shop for more clothes.
---
Photo: Shutterstock