If you've been following the internet, especially Instagram, in the past few years, you must have noticed a tremendous demand for small tattoo designs. Miley Cyrus and Kylie Jenner are a few celebrities to get small tattoo designs,  and it's no surprise why they're so popular. Even Bollywood actresses such as Priyanka Chopra and Deepika Padukone are part of the tattoo club.
What's great about small tattoos is not just their size but also these tattoos are easy to place on any part of your body, including in-between your fingers. Small tattoo designs are also less expensive than the usual complex and intricate designs. In case you are scared about the process, you can start by searching for small tattoo ideas to get an idea about the tattoo you want.
1. Cursive script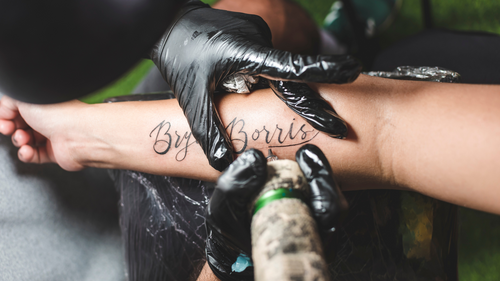 If you believe in a quote or a word that is close to your heart, you must consider looking through a cursive script tattoo design. In this case, you can maybe pick just a letter instead of an entire word. This tattoo can be placed anywhere as it really looks stylish. Cursive script tattoos are personal and perfect for people who want a subtle yet stylish small tattoo design. Among the Bollywood celebrities with tattoos, Priyanka Chopra is one to have a cursive tattoo. 
2. Zodiac sign
A zodiac sign tattoo is another popular small tattoo design. It is personal and speaks a lot about your traits (naturally because it reflects your zodiac sign!) It is a great choice for small-design tattoo lovers. Zodiac sign tattoos are not just stylish, but also meaningful.
3. Tiny heart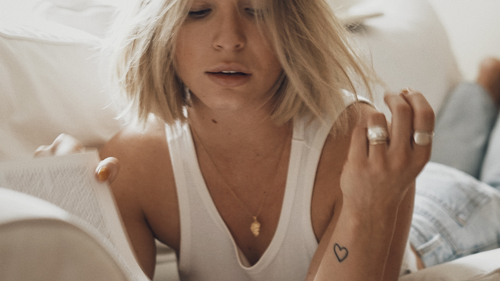 One of the famous small tattoo designs is the little heart design and you can never go wrong with. You can choose to go with the commercial heart shaped tattoo or opt for an intricate human heart design. The tiny heart design can be in multiple colours, or even in just plain black as a sketch.
4. Music notes
Music lovers, raise your hands! This tattoo design is perfect for all music aficionados who want to express their deep and passionate love for music. Music note tattoos are one of those small tattoo designs that not just signify love for music but also look very chic.
5. Butterfly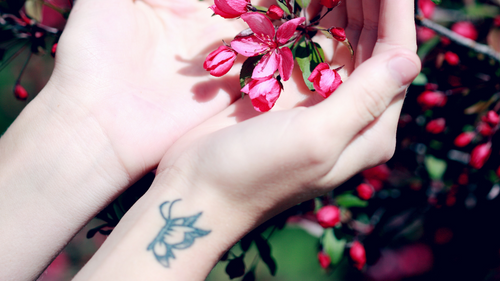 All you nature lovers, this is a great way to showcase your love for all things living! You can never go wrong with this tattoo design as the design is cute, and is something that looks elegant at the same time.
6. An 11:11
We all know what spotting 11:11 means and how excited we get. How about getting an 11:11 tattoo design that is a sign of all your wishes that you are waiting to make true. 11:11 is spiritual and meaningful. This small tattoo design is perfect for everyone who is a firm believer in the magic of 11:11. So all you spiritual folks, this is your sign to consider getting this tattoo designed. 
7. Text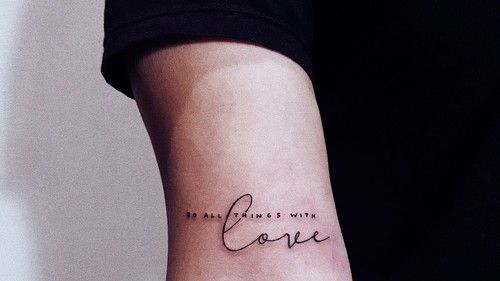 While cursive-style tattoo designs are a preferred choice, a basic text tattoo or a combination of both is a good idea. This small tattoo idea may be basic but looks great once done. The idea is to pick any word that is close to your heart and carries deep significance. Some popular words include karma, hope, gratitude, love, magic or names of your parents, companion or kids.
8. Airplane or paper plane
If you are someone who is a travel enthusiast, this tattoo is for you. These tattoos simply signify your love for travel and that you would want to be travelling the world and explore various places. Let's choose this tattoo as the perfect reminder for you to explore the world and live your life to the fullest.
9. Tiny leaves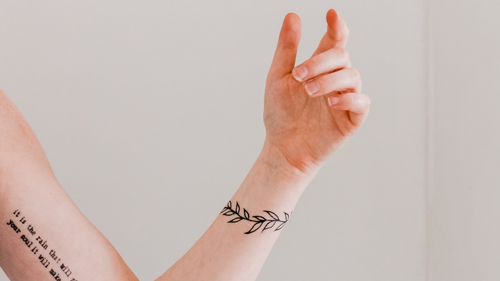 Floral tattoos are common small tattoo designs, but the tiny leaf design is a classic small tattoo design that must be on your wish list of tattoos. You can never go wrong with these classic tattoos. You can choose any colour/design you like, and experiment with the various patterns too.
10. Matching couple tattoo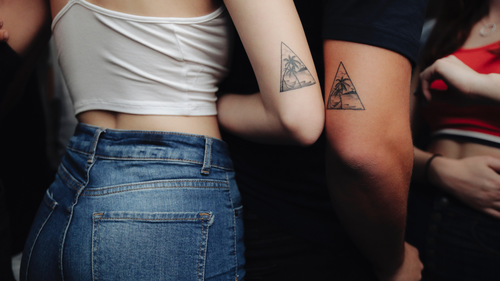 If you have a partner who is equally passionate about tattoos, you must go for a matching small tattoo idea. A tiny heart is the most common design of all. These matching tiny tattoos are not just romantic, but they're easy to conceal and is the sweetest way to depict your strong and lifelong bond of companionship and love!
FAQs
What are a few things to know before getting a tattoo?
Here are some things to know before getting a tattoo.
1. Do not drink any caffeine or alcohol as they both thin the blood.
2. Drink enough water for a week before you get the tattoo and especially 48 hours before you get inked. Minimum 2L water is recommended.
3. Avoid taking any tablets like aspirin at least 24 to 48 hours before getting inked.
4. Wear loose and comfortable clothes when you are going to get inked.
How do I prepare for tattoo pain?
Here are some tips to keep in mind:
1. Get a good night's sleep
2. Stay hydrated
3. Eat well
4. Avoid alcohol consumption 24 hours before you get inked
5. Stay calm and composed
6. Stay distracted during the process
7. Carry snacks
8. Carry painkillers, if need be
How old do you have to be to get a tattoo? 
In India, there is no legal age to get inked. However, it is important to remember that getting inked is something that stays with your lifelong, and that is something you should be ready for. So, it's very important to be very sure of the design you finally pick.
---
Photo: Unsplash