How many of us are guilty of secretly flipping through the pages of zodiac queen Linda Goodman's book, only to discover the spiciest details about our love matches? Well yes, there couldn't be a better throwback memory. The sheer joy of drowning in the mystical world of astrology has always been exciting, to say the least. Of course, the naysayers may raise an eyebrow or two, but let's face it — love or hate whimsy, but you can't ignore our attachment with the stars, planets, and beyond.
For as long as we can remember, Indians have relied on a variety of gems and jewels to help them tide through turbulent times; there is a sentimental value attached to such pieces. There was the clunky astrology-inspired jewellery of the yesteryears; cut to now, there are several new-age jewellery brands that offer the most stylish and striking baubles that you just can't take your eyes off (even if you don't believe in astrology).
Whether you are a caring Cancerian, a feisty Leo, or a magnetic Scorpio (or any other zodiac sign), there is a huge collection of trinkets, neckpieces, and even earrings that will speak to your soul.  Pick a style armour of your choice, and pair them with your favourite outfits – trust us, they are easy to style!
But before we give you a lowdown on the best brands to shop zodiac-inspired pieces from, we asked a few top-of-the-line jewellery brands to spill the beans on why this trend has turned into a rage, over the last few years. Here we go!
Why are zodiac-inspired pieces in vogue?
The last two years have been unreal in several ways, so much so that we have been latching on to anything that gives us a glimmer of hope. Vidhi Gupta, Co-founder — Zariin Jewelry believes that fashion has always served as a reflection of the prevailing times; being the much-needed tool that is often comforting during uncertainty. 
"These tough times have triggered the need for people to look for personal jewellery that has a deeper meaning. The recurring turbulence has pushed people to lean on astrology and figure out their association with the stars. It has also made them realise the vastness of the universe and its mystical ways. Zodiac-inspired jewellery works as the perfect reminder of that connection we have with our birth month, and the stars," she adds. 
For Vandana M Jagwani, Creative Director — Mahesh Notandass, it's the relatability factor that makes such pieces so popular. "Everyone loves figuring out their key characteristics and traits, and zodiac signs have proved to be quite accurate over time. Zodiac-inspired jewellery makes the consumer feel personally connected with the things they wear, which is why it's such a hit today," she shares.
Accessories and jewellery have always been a girl's best friend; no wonder, there is an increased demand for zodiac-inspired jewellery, feels Shyamala Ramanan, Business Head — Mia by Tanishq.
"Customers these days are seeking pieces that they can connect with at a deeper level; they aren't solely focused on the aesthetic appeal. At Mia by Tanishq, we have given our customers a new way of wearing zodiac signs through birthstone pendants and bracelets," she says. 
Here are six brands to indulge in zodiac-inspired jewellery
Looking for the best brands to stock up on zodiac-inspired baubles? We've got you covered!
1. Zariin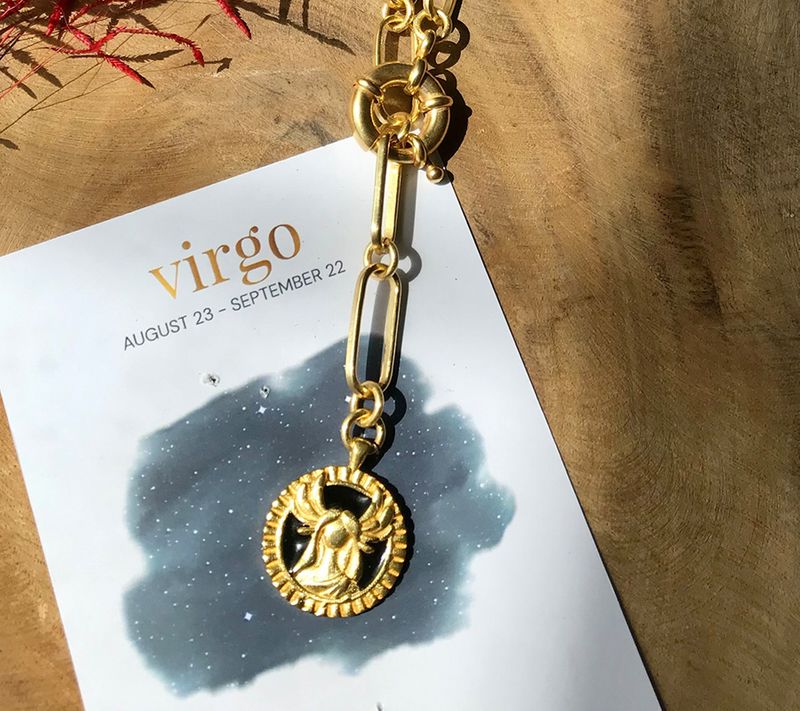 A popular jewellery label, Zariin offers two zodiac collections — Stoned and Linked. The Stoned collection was designed way before the pandemic hit, shares Vidhi.
"It's a beautiful collection with delicate pre-layered necklaces that hold the gemstone associated with the particular zodiac. Surprisingly, our bestselling collection Linked was conceptualized just before Covid-19 struck. It was like the universe wanted us to create this collection for these trying times," she quips.
At Zariin, they have always wanted their zodiac collections to score high, both in style as well as significance, and that reflects in their creations.
"These 22 karat link chain necklaces with zodiac medallions have delivered and how! Loved by celebrities, tastemakers, and editors, this necklace is our ode to the Zariin woman and her unapologetic personality," she adds.
2. Mahesh Notandass
"A central design element of our neckpieces are the zodiac symbols. With gold and silver accents, these pieces are ideal for everyday wear. This collection is our way of giving the consumer something personalized and unique than just focusing on aesthetic appeal," shares Vandana. 
3. Tipsyfly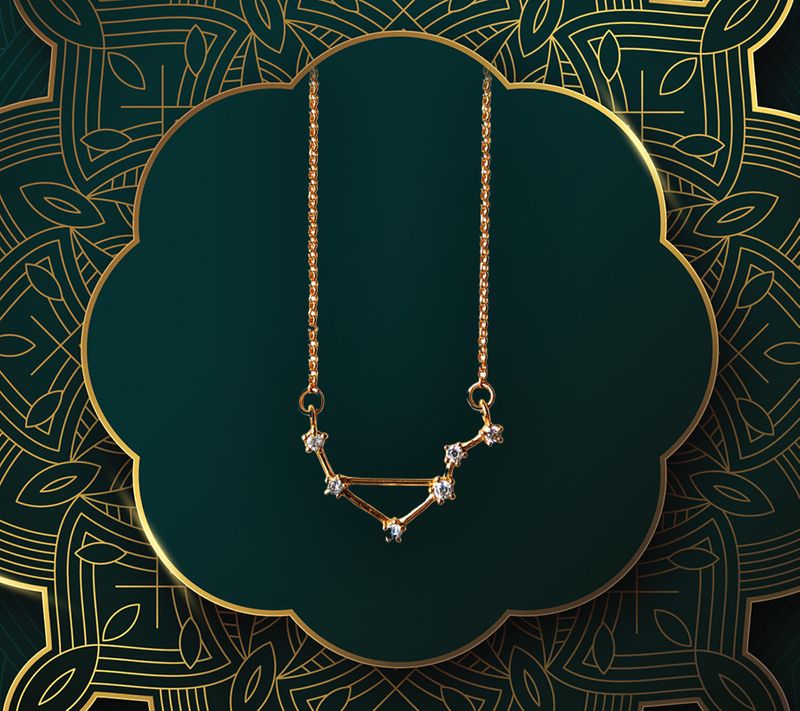 At Tipsyfly, there are different variations of their zodiac line in the form of rings, medallions, and necklaces. The brand is a celebration of style, individuality, femininity, and power.
"Our most popular design is a constellation-inspired zodiac studded with zircon crystals. We also have a more statement gold-textured piece inspired by the 12 zodiac symbols," says Aditi Motla, Co-founder — Tipsyfly.
4. Mia by Tanishq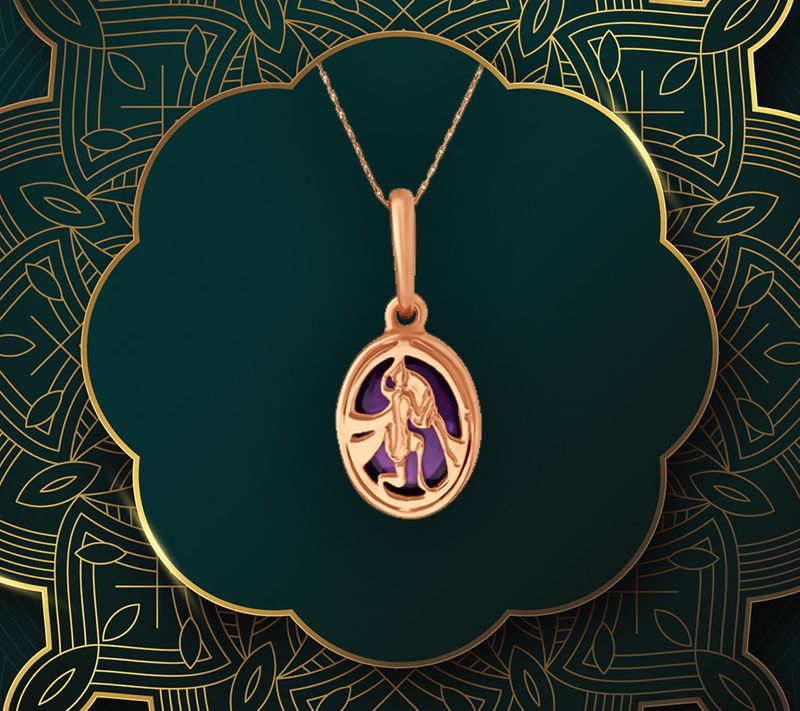 "These are in radiant colours supported by zodiac signs and their associated constellation. With two detachable charms—one with your birthstone and the other with your sun sign, Mia by Tanishq's birthstone collection is the perfect pick-me-up for anyone wanting to incorporate a pocket-friendly option of zodiac-inspired jewellery into their rotation of baubles. These dainty and versatile pieces add an elegant touch to any outfit you wear," shares Shyamala.
5. Raf Fine Jewellery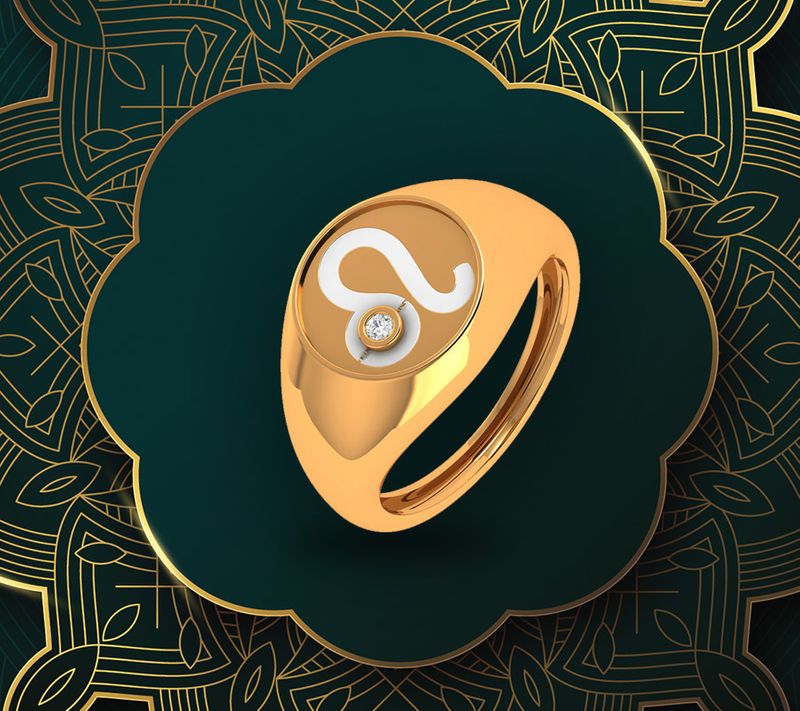 "Each piece designed by the Team at the Raf studio comes from a bespoke collection; nevertheless the Novel Charm collection consists of all the zodiac signs; we incorporated this element in this line after we saw an increasing trend for the same," says Radhika Fatehpuriya, Founder — Raf Fine Jewellery.
6. Surabhi Fine Crafted Jewels
The Jaipur-based bespoke jewellery house generally makes zodiac-inspired pieces on order. It has the zodiac sign as the central theme with complementary motifs around it, to depict a touch of royalty, explains Surabhi Kasliwal Godha, Founder — Surabhi Fine Crafted Jewels. The jewellery is personalized and intricate, and can be flaunted as party wear or fashion jewellery.
There are also other brands like MISHO designs and Swarovski that offer beautiful zodiac-inspired creations.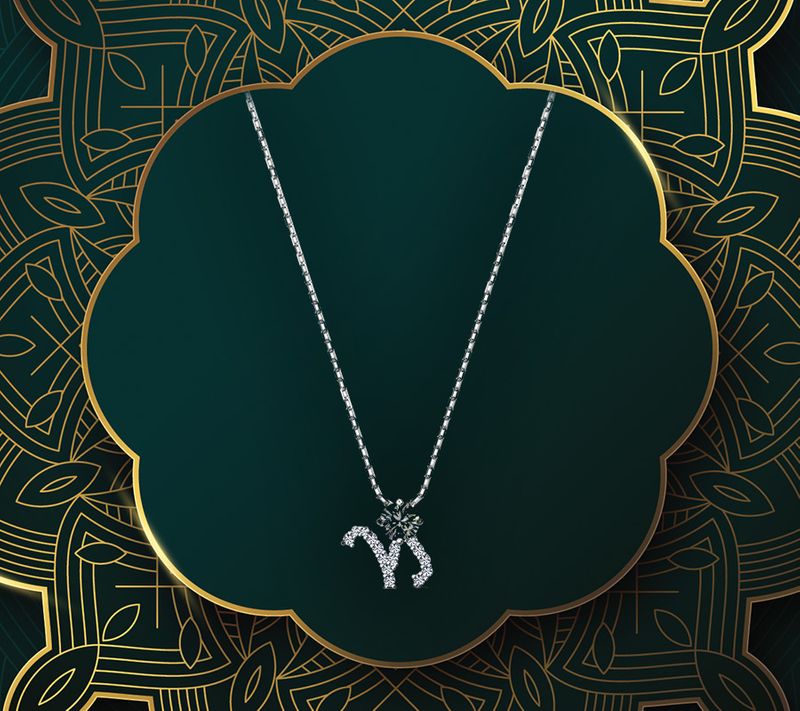 Tips to style zodiac-inspired pieces
Zariin's Stoned necklaces are dainty, everyday wear kind of pieces that work well not only with your summer outfits but with winter knits as well. The necklaces make a great option for someone who wants to soak in all the benefits of the associated gemstone and yet be elusive. These look great when worn against the skin. The Linked necklace is super stylish, trendy, and versatile. Style it as a lariat, pendant necklace, offset necklace or simply wrap it around your wrist," shares Vidhi.

Designed to fit into your daily wardrobe, the designs are simplistic and minimal. Whether it's workwear, a casual T-shirt, or a dress, these versatile pieces combine well when worn individually or layered, recommends Vandana.

Tipsyfly's zodiac necklaces are extremely popular and customers like to layer them with their birthstone necklace to create a truly personalized stack.

Mia by Tanishq's trendy zodiac-inspired pieces can be stylishly stacked with their range of alphabet pendants.

"The zodiac collection can be carried onto oneself in more than just one way, right from a minimal piece in charmer chains onto the neck or as a statement on your fingers," advises Radhika.

Pairing Surabhi Fine Crafted Jewels' zodiac-inspired earrings with gorgeous Jamdani weaves or tissue lehengas is a great way to stay subtle and make a statement at the same time. A plain chikankari kurta with simple golden hemming would also work beautifully.
---
Photo: Banner: Shutterstock | Inside Images: Featured Brands