Tattoos are charming pieces of art that have a special meaning and evoke nostalgia in people who get them. Like millions of others, Bollywood actors also have a penchant for tattoos. From Priyanka Chopra and Deepika Padukone to Arjun Kapoor—here's a list of nine Bollywood celebs who have gotten inked. Bonus: Scroll down to read the interesting stories behind their tattoos.
1. Priyanka Chopra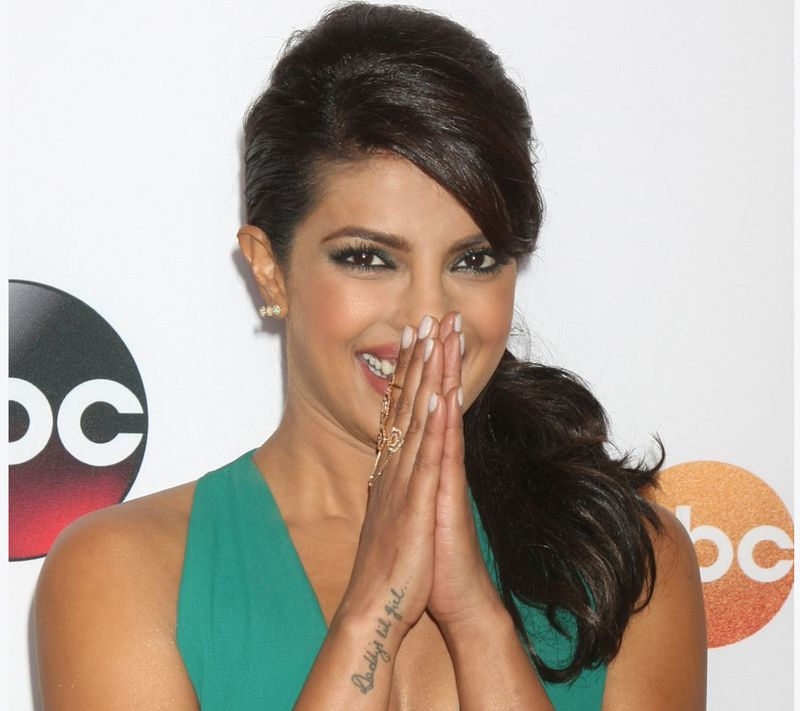 Are you a Bollywood buff? If yes, you might have noticed actor Priyanka Chopra's tattoo that has gained a lot of attention. Her tattoo that reads, 'Daddy's Lil Girl…' is memorabilia in honour of the actor's deceased father, Ashok Chopra. The tattoo is written in late Mr Chopra's handwriting.
The Quantico actor has been very vocal about her love for her father. She has talked about their bond in many interviews. In an old interview, Chopra revealed that she misses her father, who was her biggest pillar of support. She exclaimed that he attended all her award functions and would cheer for her from the audience.
2. Dia Mirza
Dia Mirza, an impeccable actor and climate change advocate, also got inked a few years ago. The actor got the word 'Aazad' tattooed on her wrist. Sharing the news of her tattoo to the world, Dia wrote, "My Tattoo reads - आज़ाद - because we are all Born #free (sic)." Interestingly, this was the actor's first tattoo.
3. Sonakshi Sinha
Another Bollywood actor to have gotten bitten by the tattoo bug is Sonakshi Sinha. She got her first tattoo in Budapest during the shooting for her film Force 2(2016). Sinha decided to get a tattoo spontaneously. She was doodling on her foot when the idea of getting inked struck her. 
Sonakshi's first tattoo resembles a chandelier. She also has another tattoo on her collarbone that she got recently. 
4. Deepika Padukone
If you are a Deepika Padukone fan, then you might have noticed her 'RK' tattoo that she got while she was dating her ex, Ranbir Kapoor. However, did you know the actor has another tattoo on her ankle? Deepika got the tattoo on her ankle in 2010, and she described it as the 'most painful experience'. The anklet-like tattoo also has her initials 'DP' in it.
5. Kangana Ranaut
The Queen actor has a few tattoos too. The actor who often gets embroiled in controversies for her bold statements got inked to celebrate her fearless attitude. She has a tattoo of a warrior princess on her neck. The tattoo has three elements: crown, wings, and sword—each representing something unique. Kangana first got this tattoo when she was young, but the actor recently updated it. Many also believe that the actor has an angel tattooed on her ankle.
6. Saif Ali Khan  
The 'Nawab of Pataudi' made a grand gesture when he got his partner Kareena Kapoor's name inked on his arm. The actor, who has had a few failed relationships in the past, wanted to honour his partner and showcase his unconditional love for her.
7. Akshay Kumar
Although Akshay Kumar doesn't shy away from performing daredevil stunts, he has always stayed away from getting inked. However, in 2007, the actor got his son Aarav's name inked on his upper back. Soon after, he got his daughter Nitara, and partner Twinkle's name inked in his shoulders. 
8. Varun Dhawan
This might come as a shock to many, as only a few people know that actor Varun Dhawan has a tattoo. The actor's tattoo was first discovered during the promotions of his film Kalank (2019).
Varun has the number 24 inked behind his ears. While 2 is inked in deep red, the number 4 is inked in black. Although no one knows the meaning behind the tattoo, many fans have linked it to the actor's birthday, which falls on April 24.
9. Arjun Kapoor
Actor Arjun Kapoor is close to his mother and sister. However, only a few know that the actor has got the word 'Maa' and letter 'A' (initial of her sister Anshula Kapoor) inked on his wrist. The actor also is believed to have more tattoos. One of them is 'per ardua ad astra', which translates to 'from adversity to stars.'
 
---
Photo: Instagram/diamirzaofficial and Shutterstock