Even while renovating your kitchen can be a large and expensive undertaking, it is possible to do it yourself and enjoy the satisfaction of having designed your own distinctive and useful kitchen while saving money. Here are some guidelines to assist you in organising and carrying out a DIY kitchen renovation with the perfection finish on your cabinets!
Your kitchen's appearance can be updated affordably by painting the cabinets. You can produce a finish that looks polished and lasts for years with the correct planning, tools, and methods. Use this article as an inspiration to finally do the DIY kitchen renovation you've been dreaming of.
A step-by-step tutorial on how to paint kitchen cabinets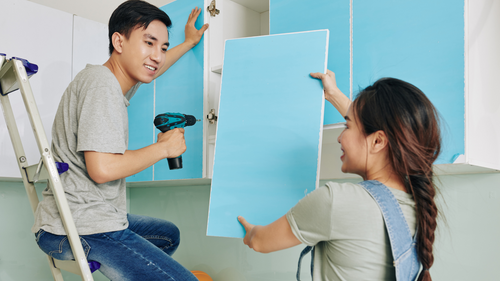 1. Clean
Before you start painting or staining, make sure the surface is clean and clear of any residue, grease, or dirt. You should also lightly sand the surface. Clean the surface with a degreaser or a mixture of warm water and soap, then sand down any blemishes or scratches using fine sandpaper (220-grit). The first step for any renovation is to clean up the surfaces.
2. Fill any holes or imperfections
Fill any holes, cracks, or surface flaws with wood filler. Before using the sandpaper to smooth up the filler, give it enough time to dry completely. Until the surface is flawlessly smooth, repeat this procedure as necessary.
3. Prime, like you would for make up
The first step in achieving the ideal finish for kitchen cabinets is to prime the surface. It helps to establish a homogeneous base for the paint or stain and can also aid in preventing moisture absorption, which can eventually cause the finish to peel or crack. Apply a high-quality primer with a brush or roller in even, thin coats that is appropriate for the kind of surface you are working on. Before moving on to the following step, let the primer completely dry.
4. Paint or stain
If you're painting your cabinets, pick a premium paint that is made especially for use on kitchen cabinets. It might be necessary to use two or more coats, letting each one dry completely before moving on to the next. Select a high-quality, oil-based stain that is suitable for the sort of wood you are working with for the stain finish. Use a brush or rag to uniformly apply the stain, and be sure to adhere to the manufacturer's recommendations for the quantity of coats to use and the intervals between applications of drying time.
5. Protection is everything
Applying a layer of polyurethane or another protective finish can help protect your kitchen cabinets and keep them looking wonderful for years to come. As a result, the surface will be sealed and the paint or stain won't eventually peel or split. Apply the finish in even, thin coats, letting each coat completely dry before adding the next, and pick a finish that is appropriate for the kind of surface you are working on.
6. Final touches
After the topcoat has fully dried, you can apply any optional finishing touches to your kitchen cabinets, including new hardware or ornamental embellishments.
What colour can you pick for your kitchen cabinet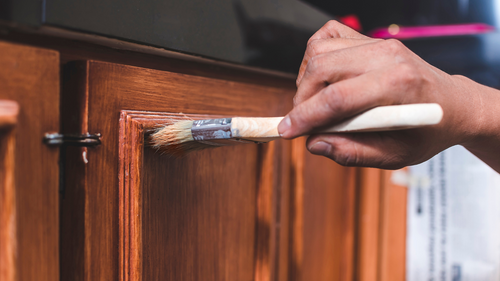 The look and feel of your kitchen can be significantly improved by selecting the proper colour scheme. To get you motivated, consider these popular kitchen cabinet colour schemes:
White: A timeless option, white kitchens are always in style. They provide a simple, classic appearance that works well with many other types of styles and patterns.
Grey: Grey is a common colour choice for kitchens because it offers a sleek and contemporary appearance. There are various alternatives to pick from, ranging from bright and airy tones to darker and moodier tones.
Blue: Blue is a peaceful colour that can give your kitchen a hint of peace. There are various possibilities to pick from, ranging from bright and energising colours to darker and more dramatic shades.
Green: Green is a natural colour that can bring the outside in and make your kitchen feel quiet and pleasant. For a peaceful atmosphere, go with gentle, subtle colours, or make a statement with brighter, bolder tones.
Yellow: A sunny colour, yellow may enliven and warm up your kitchen. To bring a bit of optimism to your room, go for bright, sunny hues, or pick for softer, more subdued tones for a subtle flash of colour.
Black: Black may bring drama and elegance to your kitchen because it is a strong, sophisticated colour. For a fashionable contrast, pair with white or neutral accents.
Neutral: Classic neutral colour choices that can make your kitchen feel cosy and inviting include beige, taupe, and cream. For a unified and elegant design, combine with natural elements like wood and stone.
The look and feel of your kitchen can be significantly impacted by selecting the proper colour scheme. So, ensure your cabinets complement your kitchen colour ideas. Take the time to plan your kitchen renovation as per your preferences in terms of style and design from traditional white to striking black. And, don't forget to consider a few IT gadgets for your kitchen to modernise it a little. 
---
Photo: Shutterstock